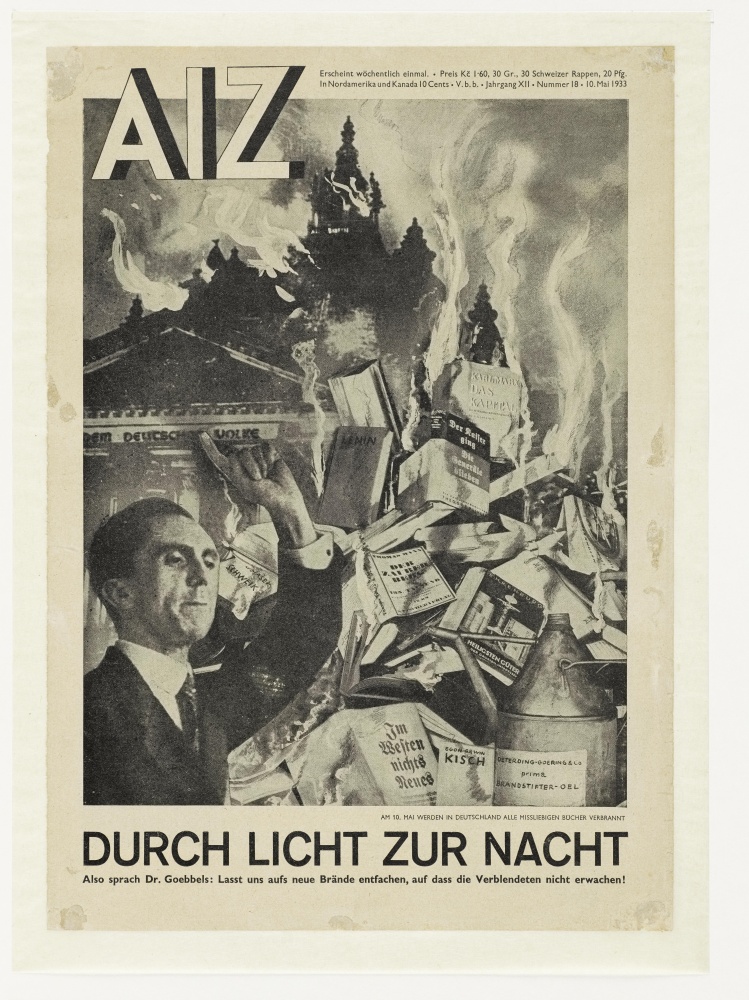 John Heartfield (1891-1968)
His Political Engagement and Private Life in London
Rosa von der Schulenburg, Berlin
November 4, 2020 @ 12:00 pm

-

1:00 pm

|

Free
WATCH THE RECORDING OF THIS EVENT HERE.
Lecture featuring
Rosa von der Schulenburg, Head of the Art Collection of the Academy of Arts in Berlin
Moderated by
Rachel Stern, Executive Director of the Fritz Ascher Society in New York
John Heartfield (1891-1968) was a German visual artist who pioneered the use of art as a political weapon. This presentation starts with preliminary remarks about John Heartfield's bequest in the Akademie der Künste in Berlin and shows how it is accessible nowadays. A short introduction of how all began follows, showing the background of the birth of Heartfield's political photo-montages (World War I, Dada, Communist Party, Willi Münzenberg's Die Arbeiter-Illustrierte-Zeitung in short AIZ), glances at Heartfield's first exile stage in Prague and then focuses on his 12 years as an emigrant in London, asking how a German communist artist could continue working in exile in Great Britain during the war.
Dr. habil. Rosa von der Schulenburg is the Head of the Art Collection of the Academy of Arts in Berlin. She trained as a restorer for paintings and sculptures, studied art history, history and German, dissertation on George Grosz and the legal prosecution of his satirical art during the Weimar Republic, collaboration on various exhibition projects (including Bibliotheca Palatina, Matthaeus Merian the Elder, Pacifism between the world wars, blue – the color of the distance), worked for several years in an auction house, in the antiquarian book and publishing industry (Heidelberg) and in the Museum of Applied Art (Frankfurt / Main), from 1993 to 2000 research assistant at the Institute for Book Studies at Gutenberg University Mainz, 2001 habilitation on Art in Exile at Goethe University Frankfurt / Main, from 2001-2003 visiting professor (DAAD guest lecturer) at Concordia University and at McGill University in Montréal, 2004/05 Consultant for the exhibition project "Die Zeit im Blick. Felix Nussbaum und die Moderne" on behalf of the Felix-Nussbaum-Haus, Osnabrück and editor of the catalog of the same name, since 2005 head of the art collection of the Akademie der Künste, Berlin, from 2008 also lecturer for art history at Humboldt University in Berlin. Publications mainly on modern and contemporary art (partly under the pen name Rosamunde Neugebauer).
The event is part of our monthly series
Flight or Fight. stories of artists under repression, which is generously sponsored by Allianz Partners.
Image: John Heartfield, 
Durch Licht zur Nacht
, Titelseite der Arbeiter-Illustrierten-Zeitung, 1933, Nr. 18, Kupfertiefdruck
© The Heartfield Community of Heirs / VG Bild-Kunst, Bonn 2020
Akademie der Künste, Berlin,  Inv.Nr. JH 2195
John Heartfield (1891-1968). Sein Politisches Engagement und Privatleben in London
John Heartfield (1891-1968) war ein deutscher bildender Künstler, der Pionierarbeit im Umgang mit Kunst als politische Waffe leistete. Diese Präsentation beginnt mit einigen einleitenden Bemerkungen zu John Heartfields Vermächtnis in der Akademie der Künste in Berlin und zeigt, wie es heutzutage zugänglich ist. Es folgt eine kurze Einführung in die Anfänge und den Hintergrund der Geburt von Heartfields politischen Foto-Montagen (Erster Weltkrieg, Dada, Kommunistische Partei, Willi Münzenbergs Die Arbeiter-Illustrierte-Zeitung, kurz AIZ). Es folgt ein Blick auf Heartfields erste Exilphase in Prag und konzentriert sich dann voll und ganz auf seine 12 Jahre als Auswanderer in London und fragt, wie ein deutscher kommunistischer Künstler während des Krieges weiterhin im britischen Exil arbeiten kann.
Dr. Rosa habil. von der Schulenburg, geb. 1958 in Augsburg, Ausbildung zur Restauratorin für Gemälde und Skulpturen, Studium der Kunstgeschichte, Geschichte und Germanistik, Diss. über George Grosz und die juristische Verfolgung seiner satirischen Kunst zur Zeit der Weimarer Republik, Mitarbeit an diversen Ausstellungsprojekten (u.a. Bibliotheca Palatina, Matthaeus Merian d.Ä., Pazifismus zwischen den Weltkriegen, Blau – Farbe der Ferne), mehrjährige Tätigkeit in einem Auktionshaus, im Antiquariats- und Verlagswesen (Heidelberg) und im Museum für Angewandte Kunst (Frankfurt/Main), von 1993 bis 2000 wissenschaftliche Mitarbeiterin des Instituts für Buchwissenschaft an der Gutenberg-Universität Mainz, 2001 Habilitation zur Kunst im Exil an der Goethe-Universität Frankfurt/Main, von 2001-2003 Visiting Professor (DAAD-Gastdozentur) an der Concordia University und an der McGill University in Montréal, 2004/05 Beraterin für das Ausstellungsprojekt Die Zeit im Blick. Felix Nussbaum und die Moderne im Auftrag des Felix-Nussbaum-Hauses, Osnabrück und Herausgeberin des gleichnamigen Katalogs, seit 2005 Leiterin der Kunstsammlung der Akademie der Künste, Berlin, ab 2008 zudem für einige Jahre Privatdozentin für Kunstgeschichte an der Humboldt-Universität zu Berlin. Publikationen vor allem zu Kunst der Moderne und der Gegenwart (teils unter dem Autorennamen Rosamunde Neugebauer).
Share This