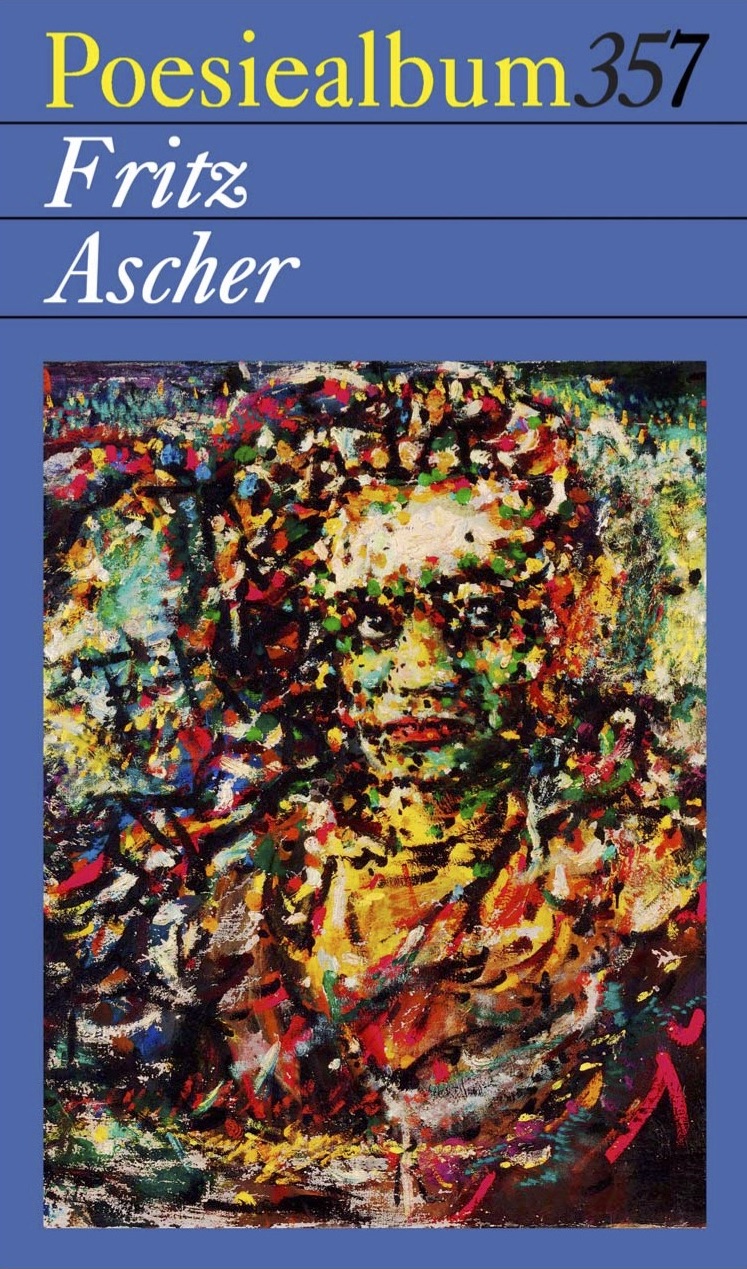 "Narr der ich bleib…"
Poems and Artwork by Fritz Ascher
Preview of "Poesiealbum" by Märkischer Verlag
November 6, 2020 @ 7:30 pm

-

8:30 pm
Reading of Poems by Stephan Weigelin and Reflexion on Artwork by Julia Diekmann
The event previews a "Poesiealbum" of Fritz Ascher's poems, which will be published in December 2020 by Märkischer Verlag Wilhelmshorst, in the series "Ostracized Poets – Burned Books."
"Fritz Ascher's poetic voice rises at a time when his artistic voice is forced to fall silent. Fear of death, hunger and immobility, isolation and loneliness are his daily reality. In this situation he writes poems in which he shares his thoughts and innermost feelings and creates unpainted pictures. Ascher's poems are authentic, tender and powerful, and live from the expressive, creative use of language." Rachel Stern "… we can now safely include him in our canon of German artists of the 20th century ..". Tom L. Freudenheim "He conveys both the intensity of his thought processes and his sensitivity to and use of words as well as their nuances and sound patterns. Above all, he demonstrates the indomitable spirit of the artist Fritz Ascher, which no circumstance, regardless of the medium, can prevent from creating with vehement and gentle force." Ori Z. Soltes
Due to the corona protection regulations, the number of participants is limited and registration is required.
Forum Jacob Pins
Westerbachstr. 35/37, 37671 Höxter
T: +49 (5271) 694 74 41
E: forum@jacob-pins.de
www.jacob-pins.de
The exhibition is on view until November 29, 2020, Tuesday – Sunday 10:00 am – 5:00 pm.
DEUTSCH
Lesung einer Gedichtauswahl von Stephan Weigelin und Bildbetrachtung von Julia Diekmann.
Die Veranstaltung stellt das "Poesiealbum" mit Fritz Aschers Gedichten vor, das im Dezember 2020 im Märkischen Verlag Wilhelmshorst in der Reihe "Verfemte Dichter – verbrannte Bücher" veröffentlicht wird.
"Fritz Aschers poetische Stimme erklingt zu einer Zeit der erzwungenen Verstummung seiner bildnerischen Stimme. Todesangst, Hunger und Immobilität, Isolation und Einsamkeit sind seine tägliche Realität. In dieser Situation schreibt er Gedichte, in denen er seine Gedanken und innersten Gefühle teilt, und ungemalte Bilder entstehen lässt. Aschers Gedichte sind authentisch, zart und kräftig, und leben vom expressiven, kreativen Sprachgebrauch." Rachel Stern" …wir können ihn jetzt sicher in unseren Kanon deutscher Künstler des 20. Jahrhunderts aufnehmen…" Tom L. Freudenheim "Er vermittelt sowohl die Intensität seiner Denkprozesse als auch seine Sensibilität für und seine Benutzung von Worten sowie deren Nuancen und Klangmuster. Vor allem demonstriert er den unbezwingbaren Geist des Künstlers Fritz Ascher, den keine Umstände, unabhängig vom Medium, daran hindern können, mit vehementer und zarter Kraft zu schaffen." Ori Z. Soltes
Share This