In December 2020, The Fritz Ascher Society for Persecuted, Ostracized, and Banned Art published
Immortality, Memory, Creativity, and Survival: The Arts of Alice Lok Cahana, Ronnie Cahana and Kitra Cahana.
Starting with the Holocaust survivor Alice Lok Cahana, the book investigates three generations of the Cahana family and their art in the context of biological and psychological research, which allows a deep understanding of how trauma and especially the Holocaust experience is remembered. This interdisciplinary publication offers an important contribution to the fields of Holocaust studies, art history, history, psychology, and biology.
The publication is edited by Ori Z Soltes. With contributions by Eva Fogelman, Natan P.F. Kellermann and Larry R. Squire.
Generously sponsored by the Consulate General of the Federal Republic of Germany in New York.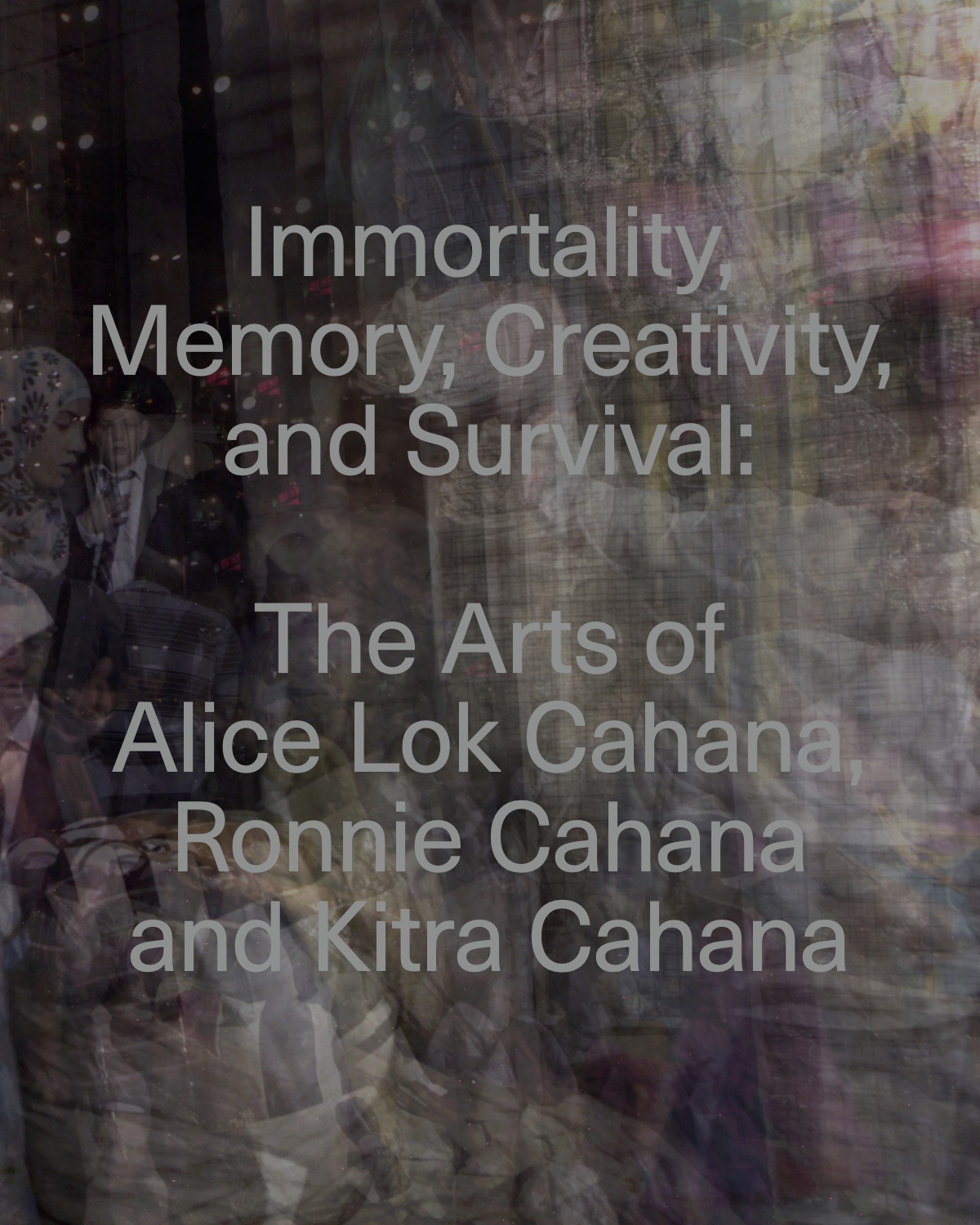 Please click the book cover above to see a PDF of the publication.
First reactions:
I just read the book "Immortality, Memory, Creativity, and Survival." It is magnificent, moving, haunting, encompassing and so very beautiful. It does honor to your entire family and offers a visual and poetic legacy. It is a work that I will cherish and read again.
Michael Berenbaum, Scholar, Professor, Rabbi
I so enjoyed the webinars … the introduction to transgenerational transmission of trauma and your family's huge contribution!  But seeing the book, the art, poetry and photography… and the personal commentary and family photos was beyond moving and inspirational!!
Alice's art is incredibly haunting, moving, uplifting and so so significant!! Your poetry, Rabbi Cahana, is lyrical, poignant, sensitive, magical and deeply touches the spirit and soul! Kitra's photography captures the essence of humanity, its beauty, fragility, strength and endless capacity to overcome with love! Karen, your beautiful descriptions of meeting this gazellelike man and then, we know, becoming the quiet force beneath the wings of this incredible family is magnificent. It's a book that I will go back to over and over again.  
Joyce Gampel, Psychotherapist

"Immortality, Memory, Creativity and Survival" arrived a few days ago.  It's a marvel, everything a book should be.  Full of delight and pain, it tries to (and does so successfully) make the experience of reading a miracle of human endeavour.
I have picked it up, looked at random pages, over and over. It's there for endless hours of skimming (sometimes) and scrutiny (often).  
Roslyn Pinker, Former School Principal
"Memory, Empathy and Image:
The Art of Luise Schröder (Germany) and Kitra Cahana (Canada)"
September 13, 2021
"Alice Lok Cahana – Beyond 'The Last Days': Familial Continuity, Creativity, and Immortality"
With Michael Berenbaum, Michael Z Cahana, Ken Lipper, Ori Z Soltes
June 10, 2021
"Trauma, Memory and Art"
An interdisciplinary virtual conference
with Ori Z. Soltes, Larry R. Squire,
Natan P.F. Kellermann and Eva Fogelman
Moderated by Rachel Stern
November 9, 2020
"Immortality, Memory, Creativity, and Survival:
The Arts of Alice Lok Cahana,
Ronnie Cahana, and Kitra Cahana"
Lecture by Ori Z Soltes, Washington DC
November 18, 2020
"Legacy and Creativity:
The Filmmaking and
Photography of Kitra Cahana"
Kitra Cahana in conversation with Ori Z Soltes
November 25, 2020
"EARLY ISRAELI AND AMERICAN ARTISTS:
RE-VISIONING THE HOLOCAUST," 4/17/23
In honor of Yom HaShoah, this talk by Georgetown University professor Ori Z Soltes focuses on three Israeli and three American familiar and unfamiliar artists working in very diverse styles and not typically thought of as focusing on the Holocaust. Each of them, however, has offered powerful reflections on the defining catastrophe of the twentieth century.
"Journey of Hope: Surviving the Holocaust"
HoustonPBS 2005
"Journey of Hope" by Stephen Spielberg tells the inspirational stories of three individual Holocaust survivors– artist Alice Lok Cahana, philanthropist Naomi Warren, and school speaker Walter Kase. This HoustonPBS production was nominated for a regional Emmy in 2005.
"Between Art and Record Keeping –
Artistic Representations of the Holocaust", 2021
Visual art during and after the Holocaust, by victims and survivors eloquently contradicts the famous comment by Theodor Adorno that "after the Holocaust to make art is barbaric." On the contrary, it was and is necessary: as part of the record of events as they were transpiring, and as part of the human response to horror–to express anger, to raise questions, to offer healing–in the time after those events.
"AS SEEN THROUGH THESE EYES"
Conversation with film director Hilary Helstein, 2023
As poet Maya Angelou narrates this powerful documentary, she reveals the story of a brave group of people who fought Hitler with the only weapons they had: charcoal, pencil stubs, shreds of paper and memories etched in their minds. Hilary Helstein, director of the award-winning documentary "As Seen Through These Eyes" spoke with Rachel Stern, director and CEO of the Fritz Ascher Society New York, about the making of her documentary.
Helene Klodawsky and Sabine Rollberg discuss "Undying Love. Stories of Romance, Marriage and Rebirth in Displaced Persons' Camps", 2021
Undying Love tells the poignant, enduring, and miraculous love stories of the survivors of World War II. Against the brutalized landscape of post-war Europe, this film focuses on how survivors struggled to reconstruct personal identities and forge intimate relationships.
Kitra Cahana: "My father, locked in his body but soaring free"
TEDMED 2014
In 2011 Ronnie Cahanasuffered a severe stroke that left him with locked-in syndrome: completely paralyzed except for his eyes. While this might shatter a normal person's mental state, Cahana found peace in "dimming down the external chatter," and "fell in love with life and body anew."
2013 ICP Infinity Awards: Young Photographer – Kitra Cahana
Blurring the line between subjects and friends, Kitra Cahana captures a deep and rare level of intimacy with her subjects. As a documentary and fine art photographer, her images explore anthropological, social and spiritual themes through a human perspective. Cahana continues to explore new aspects of photography, while pushing boundaries and questioning rules.
"A Different Kind of Force—Policing Mental Illness"
NBC Left Field 2019
Law enforcement officers are increasingly the first responders to incidents involving people with mental illness. This documentary offers an unflinching look at the crisis in the U.S. mental health system today by exploring the complex and often fraught relationship between the mentally ill and law enforcement.
Dancing Towards The Light, 2018
Directed by Kitra Cahana and Ed Ou. Cinematography by Kitra Cahana and Ed Ou. Edited by Kevin Klauber.
Nunavut has the highest suicide rate of any province or territory in Canada. But in the town of Arviat, young people have found salvation in dancing. Their annual competitions have become legendary — and a way to heal emotional wounds.
Perfecting the Art of Longing, 2021
Directed by Kitra Cahana. National Film Board of Canada.
Cut off from his loved ones due to the pandemic lockdown, a quadriplegic rabbi in a long-term-care facility is filmed remotely by his daughter. Offering powerful meditations on love and hope, Perfecting the Art of Longing shows us what it means to be alive in a state of profound isolation.