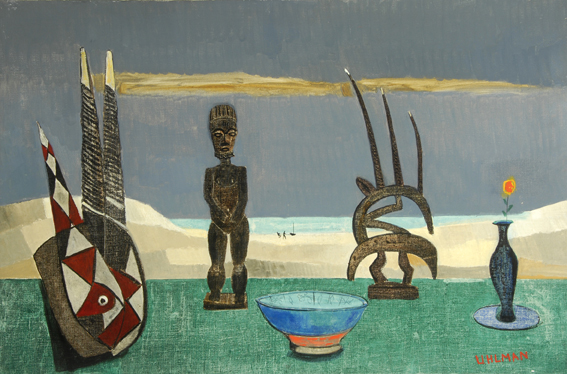 From Émigré to Englishman: Fred Uhlman, 'Painter of Dreams'
Lecture by Dr. Nicola Baird, London
September 13, 2023 @ 12:00 pm

-

1:00 pm

|

Free
Manfred [Fred] Uhlman was born on 19th January 1901 in Stuttgart, Germany, the eldest child of Ludwig Uhlman (1869–c.1943), a textile merchant, and his wife, Johanna Grombacher (1879–c.1943), both of whom were later to perish at Theresienstadt concentration camp. He studied law at the Universities of Freiburg, Munich, and Tübingen, graduating with a doctorate in 1923. In 1927 he joined the Social Democrat Party, becoming its official legal representative in 1932.
Image above: Fred Uhlman, Still Life with African Figures, oil on canvas, Hatton Gallery, © the artist's estate / Bridgeman Images. Photo credit: Hatton Gallery
In March 1933, after a warning that his arrest was imminent because of his political affiliations, he fled to Paris. There, unable to work as a lawyer he began to paint, encouraged by his cousin, Paul Elsas, who was himself a painter, and German émigré art historian, Paul Westheim, who championed individualism and chronicled the lives of 'Artists, spiritual warriors, society's outsiders, who have lived the adventurous life of the creative spirit'.
In Paris, Uhlman was celebrated as a 'naïve' artist for his 'pictorial fantasies' and 'poetic', 'childlike vision.' Inherent in Uhlman's paintings is a peculiar sense of unreality which, by evading exact periodisation, allow them to function as mythic histories of no time.
Fred Uhlman, Les avions, c. 1938-39. Oil on canvas, Royal Academy of Music © the artist's estate / Bridgeman Images. Photo credit: Royal Academy of Music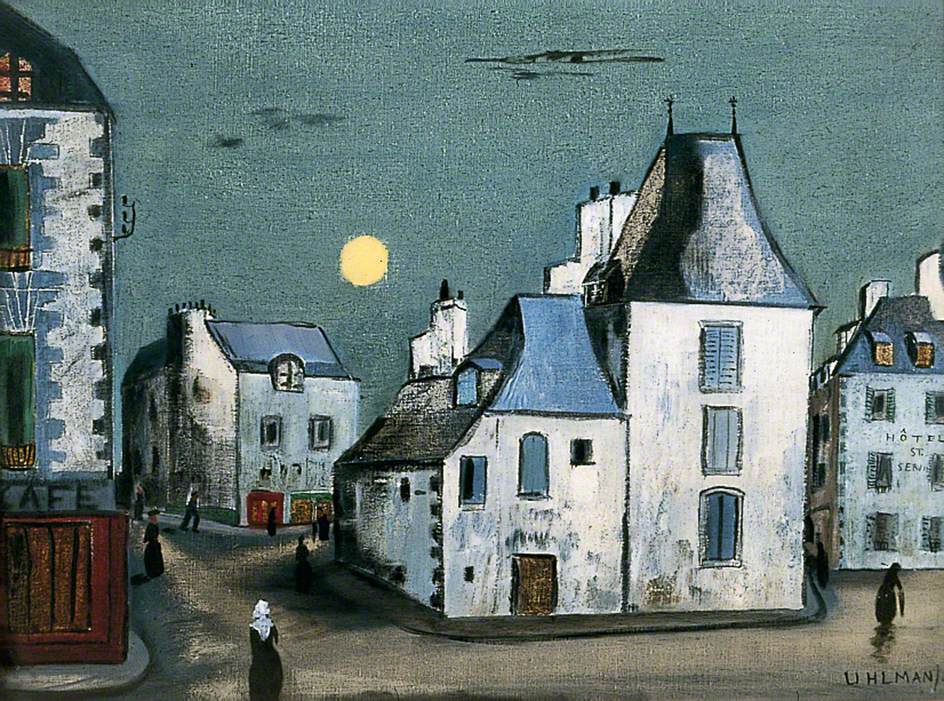 Fred Uhlman, Street Corner in St Servan, 1949, oil on canvas, York Art Gallery, © the artist's estate / Bridgeman Images. Photo credit: York Museums Trust
On 3rd September 1936 Uhlman immigrated to Britain, he had no money and was little able to speak English. Two years later he and his wife Diana, née Croft, settled at 47 Downshire Hill in Hampstead – a haven for refugee artists including John Heartfield, pioneer of photomontage. There, they co-founded the Artists' Refugee Committee – assisting the flight of many artists from Czechoslovakia in the wake of the Munich Agreement – and the Free German League of Culture, an anti-Nazi refugee organization whose members included Oskar Kokoschka and Stefan Zweig. Uhlman's work was included in the Exhibition of Twentieth Century German Art at the New Burlington Galleries in 1938 – the first and last major exhibition in which art produced in Nazi occupied countries was displayed (until the end of the war) – under the heading 'artists now working in this country'.
In June 1940, nine months after the outbreak of the Second World War, Uhlman, along with thousands of other 'enemy aliens' was interned by the British government at Hutchinson Camp on the Isle of Man. He was released six months later and reunited with his wife and daughter, born during his internment.  A selection of the drawings he produced in internment were published by Jonathan Cape, under the title Captivity, in 1946.
After 1945 he became internationally known, exhibiting, for example, at the Graphisches Kabinett, Bremen (1954). A large-scale exhibition of his work was last held at the Leighton House Museum in London in 1968 and he has since been largely forgotten. Uhlman is the author of The Making of an Englishman, 1960 and the enduringly popular novella, Reunion, 1971 (adapted for film by Harold Pinter in 1989 and for stage by Ronan Wilmot in 2010).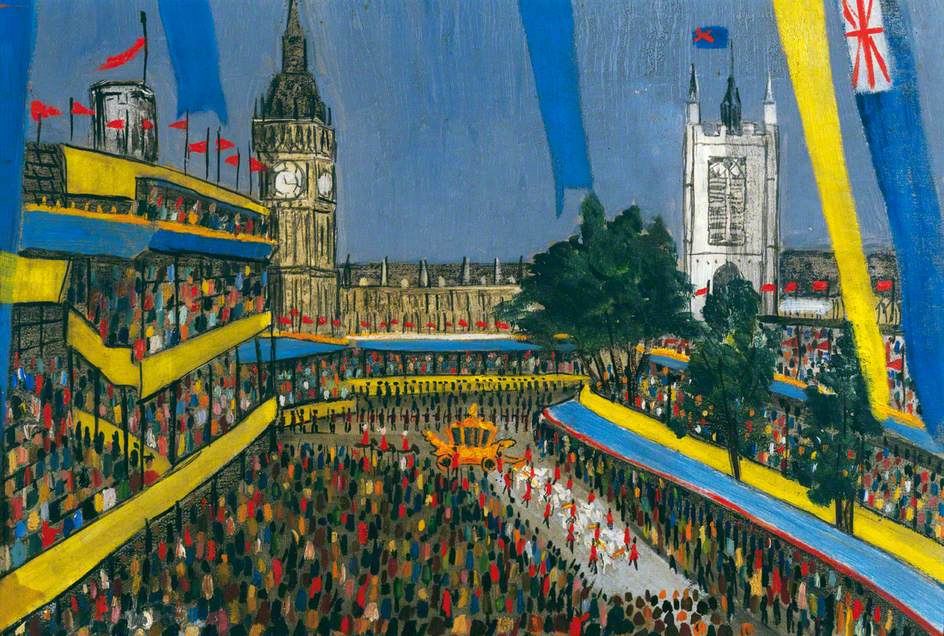 Fred Uhlman, Parliament Square, Coronation, 1953, oil on board, Government Art Collection, © the artist's estate / Bridgeman Images. Photo credit: Government Art Collection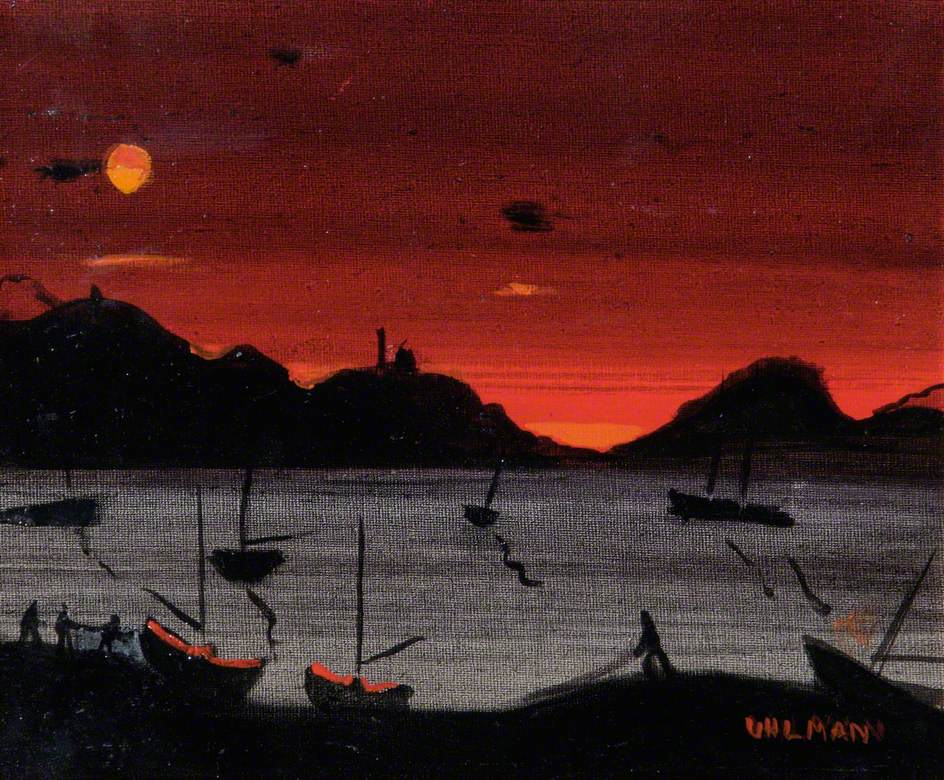 Fred Uhlman, Brab, c. 1971, oil on canvas, London Borough of Camden, Town Hall Extension © the artist's estate / Bridgeman Images. Photo credit- London Borough of Camden
Dr Nicola Baird is an independent researcher, writer and curator affiliated with the Centre for the Study of the Networked Image, London South Bank University. In 2018 she curated the retrospective 'The Making of an Englishman': Fred Uhlman, a Retrospective at Burgh House, London and the Hatton Gallery, Newcastle and edited the accompanying publication. She also curated the exhibitions Czech Routes to Britain: Selected Czechoslovak Artists in Britain from the Ben Uri and Private Collections (Ben Uri Gallery, 2019), an exhibition of the early work of Gustav Metzger, a German Jewish artist and activist born to Polish parents (Ben Uri Gallery, 2021), and Knots: Jonny Briggs x Burgh House: Contemporary Interventions into an Historic House (Burgh House, 2021-22). She is a contributor to the International Yearbook of Futurism Studies, the Journal of Avant-Garde Studies and the Journal of Modern Periodical Studies and has spoken at conferences in the UK, Belgium, Czech Republic, Portugal and New Zealand.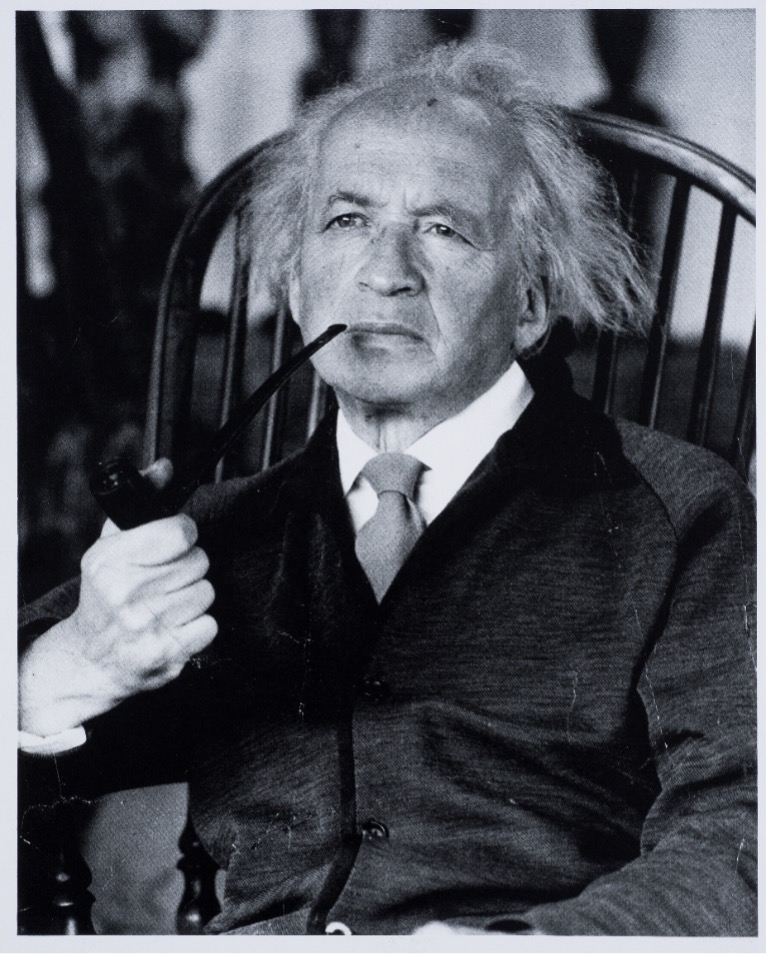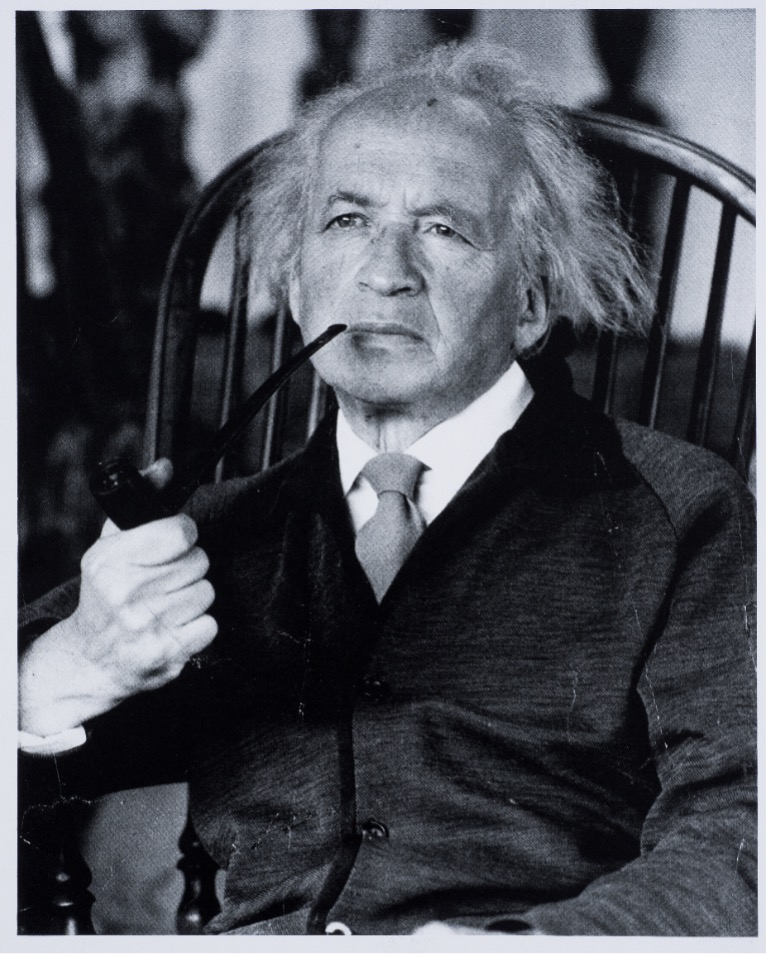 Fred Uhlman with the pipe he was well known for smoking, c. 1970s © Estate of Fred Uhlman
This event is part of the monthly series "Flight or Fight. stories of artists under repression," which is organized by The Fritz Ascher Society for Persecuted, Ostracized and Banned Art, New York. Future events and the recordings of past events can be found HERE.
WE ARE HALFWAY THERE! Please help us achieve our goal of raising – before the end of the Jewish year – $8,000.00 to support our virtual lecture program. Your donation helps us organize programs that discover and commemorate artists persecuted by the German Nazi regime. In learning about their lives and art and discussing the historical and cultural context they lived in, we aim to understand history better to help create a better future for us all.
The Fritz Ascher Society is a not-for-profit 501(c)3 organization. Your donation is fully tax deductible.
YOUR SUPPORT MAKES OUR WORK POSSIBLE. THANK YOU.
Share This