Happy September! The air here in New York is crisp and smells like fall.
In two weeks we ring in the new Jewish year by celebrating Rosh Hashanah, making this the last two weeks of our SUMMER FUNDRAISING CAMPAIGN.
Your donation helps us organize programs that discover and commemorate artists persecuted by the German Nazi regime. In learning about their lives and art and discussing the historical and cultural context they lived in, we aim to understand history better to help create a better future for us all.
WE ARE HALFWAY THERE, raising $8,000.00 to support our virtual lecture program! Please help us reach our goal with your tax-deductible donation.
With this month's first virtual program we further explore the plight of artist refugees, who were interned as "enemy aliens" at Hutchinson Camp on the Isle of Man:
WEDNESDAY, SEPTEMBER 13
12:00 pm EST / 18:00 Uhr CET
"From Émigré to Englishman:
Fred Uhlman 'Painter of Dreams'"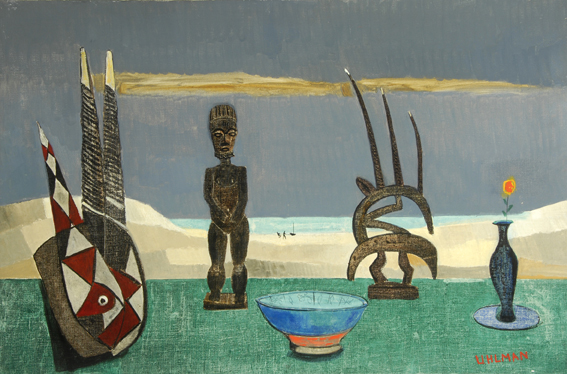 Fred Uhlman, Still Life with African Figures, oil on canvas, Hatton Gallery, © the artist's estate / Bridgeman Images. Photo credit- Hatton Gallery
Manfred [Fred] Uhlman (Stuttgart 1901-1985 London) was born into a well-established Jewish family. He became a lawyer, joined the Social Democrat Party in 1927 and became its official legal representative in 1932. In March 1933, after a warning that his arrest was imminent because of his political affiliations, he fled to Paris. There, unable to work as a lawyer he began to paint, encouraged by his cousin, Paul Elsas, who was himself a painter, and German émigré art historian, Paul Westheim, who championed individualism. He became known for his 'pictorial fantasies' and 'poetic', 'childlike vision.'
Lecture by Dr. Nicola Baird, introduced by Rachel Stern.
If you missed Simon Parkin's talk about the group of world-renowned artists, musicians and academics who turned Hutchinson camp into history's most extraordinary prison camp, you can watch the recording here:
With our next event, we turn our view to the United States during the 1930s:
WEDNESDAY, SEPTEMBER 27
12:00 pm EST / 18:00 Uhr CET
"ART FOR THE MILLIONS:
American Culture and Politics in the 1930s"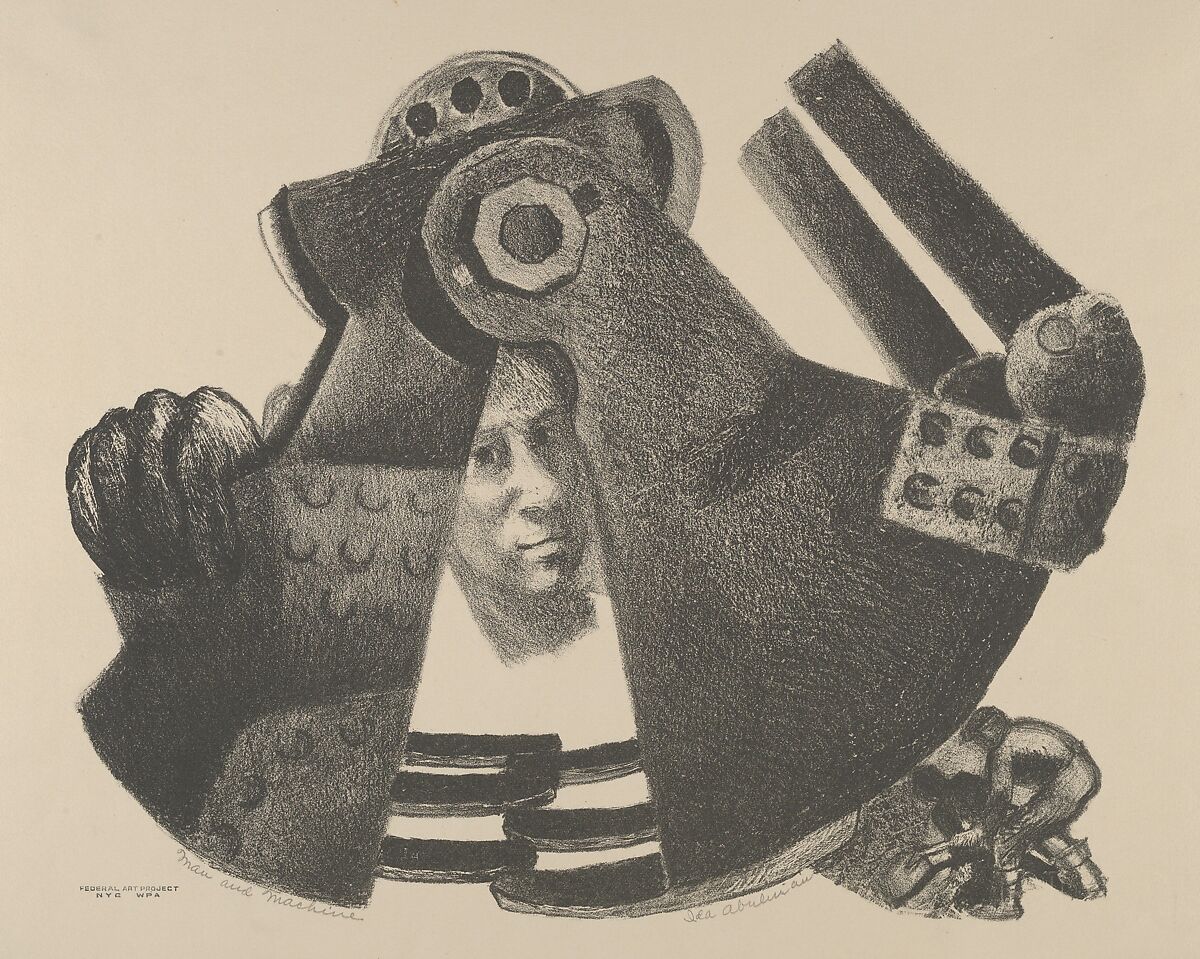 Ida York Abelman (American, New York 1910–2002), Man and Machine, ca. 1939. Published by WPA
The 1930s was a decade of political and social upheaval in the United States, and the art and visual culture of the time reflected the unsettled environment. Americans searched for their cultural identity during the Great Depression, a period marked by divisive politics, threats to democracy, and intensified social activism, including a powerful labor movement.
The exhibition with the same title opens September 7 at The Metropolitan Museum of Art in New York and is on view until December 10, 2023. It features more than 100 works from the collection and several lenders, and explores how artists expressed political messages and ideologies through a range of media, from paintings, sculptures, prints, and photographs to film, dance, decorative arts, fashion, and ephemera.
Lecture by Allison Rudnick, Associate Curator in the Department of Drawings and Prints at the Metropolitan Museum of Art and curator of the exhibition.
And then there is our exhibition in Leipzig, Germany, which was organized by the GRASSI Museum für Völkerkunde, the GRASSI Museum für Musikinstrumente, and the Fritz Ascher Society in New York:
UNTIL OCTOBER 8, 2023:
"Emmy Rubensohn, Networker and Music Patron –
from Leipzig to New York"
GRASSI Museum in Leipzig, Germany
Emmy Rubensohn (Leipzig 1884-1961 New York) was a networker, music patron, concert manager and author of letters. Born in Leipzig in 1884 as the daughter of the Frank Jewish entrepreneurial family, she attended Gewandhaus concerts and collected autographs from an early age. From 1907 her house in Kassel became a cultural meeting point, where composers and performers such as Wilhelm Furtwängler, Walter Braunfels and Ernst Krenek and artists like Oskar Kokoschka and Benno Elkan made guest appearances.
From 1933 Emmy and her husband Ernst were exposed to increasing threats from the Nazi regime. Emmy organized concerts for the Jewish Cultural Association to enable Jewish musicians to earn an income. In 1940 the couple fled to Shanghai via Berlin. There, too, Emmy surrounded herself with music and culture and organized concerts. In 1947 the couple managed to emigrate to New York.
Wherever she was, Emmy Rubensohn maintained a global network of artistic friends.
After her husband's death in 1952, Alma Mahler Werfel became her closest friend and confidante in New York.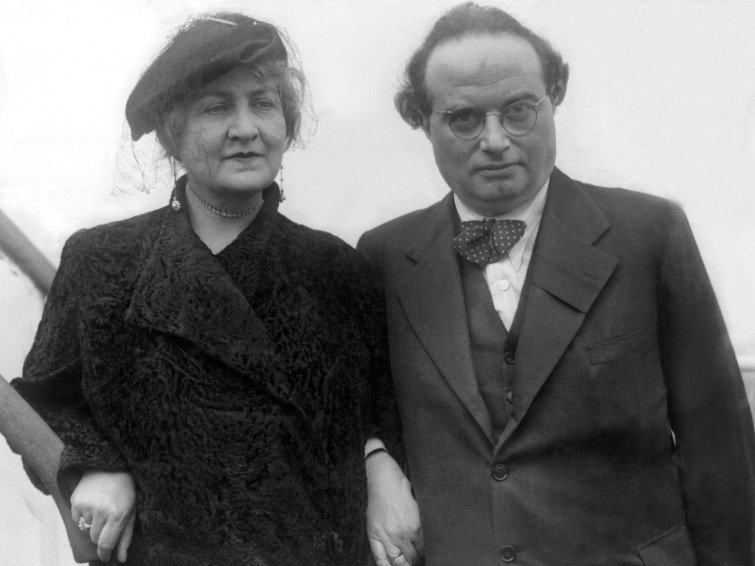 Franz Werfel and Alma Mahler Werfel in New York
The writer Franz Werfel and his wife Alma Mahler Werfel were saved from Nazi persecution by Varian Fry, the American journalist who managed to rescue some 2,000 individuals from France between 1940 and 1941 – using methods both legal and not.
To find out more about Varian Fry and the Rescue of Artists watch Ori Soltes' lecture:
We wish you a good start of the fall season and look forward to seeing you online.
All best wishes,
Rachel Stern
Executive Director