Dear Friends,
During the first half of the 20th century, the numbers of people migrating were second only to today. What do we know about their experiences? How do artists, with their particular set of sensibilities respond to their own migration? 
Today, we are proud to announce the virtual project "Identity, Art and Migration" which investigates US immigration of European refugees during the first half of the 20th century through the lens of seven artist case studies: Anni Albers, Friedel Dzubas, Eva Hesse, Rudi Lesser, Lily Renée, Arthur Szyk and Fritz Ascher. 
In the upcoming weeks, we discuss the seven artists featured in this project, and introduce and discuss interdisciplinary scholarship about "Identity" and "Migration" in two virtual conferences. All virtual programs will be recorded, downloaded to YouTube and integrated into a virtual exhibition, which will be launched in January 2022.
Our programming starts tomorrow:
Wednesday, October 13, 12:00pm EDT:
Eva Hesse (1936 – 1970): Returning to the Source?
Featuring Helen Charash and Ori Z Soltes PhD
Join us for a conversation about Eva Hesse's art and familial background, featuring Eva Hesse's sister Helen Charash and Ori Z Soltes, PhD, Teaching Professor at Georgetown University in Washington DC, moderated by Rachel Stern, Director and CEO of the Fritz Ascher Society in New York.
Eva Hesse arrived to the United States as a 3-year-old, was raised in a community largely of Holocaust survivors, and by her Twenties was a rising star on the New York art scene, contributing a unique voice to the shaping of post-Abstract Expressionist art. A key turning point in her innovative art was a return visit to Germany on an artist fellowship. How do we understand the work of this brilliant figure whose life suddenly ended, from brain cancer, at the age of 34?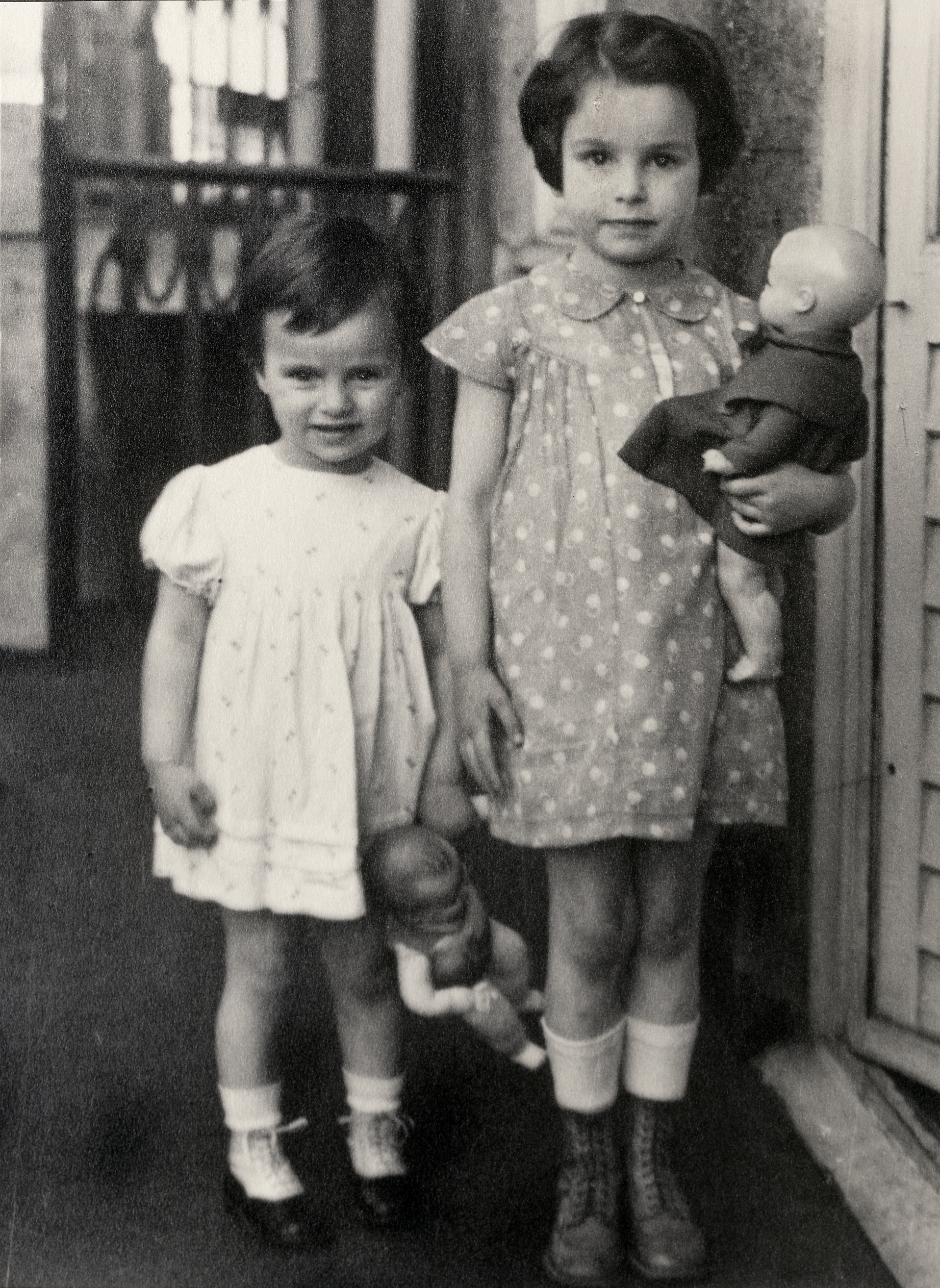 Eva and Helen Hesse © The Estate of Eva Hesse. Courtesy Hauser & Wirth © 2021 Estate of Eva Hesse. Galerie Hauser & Wirth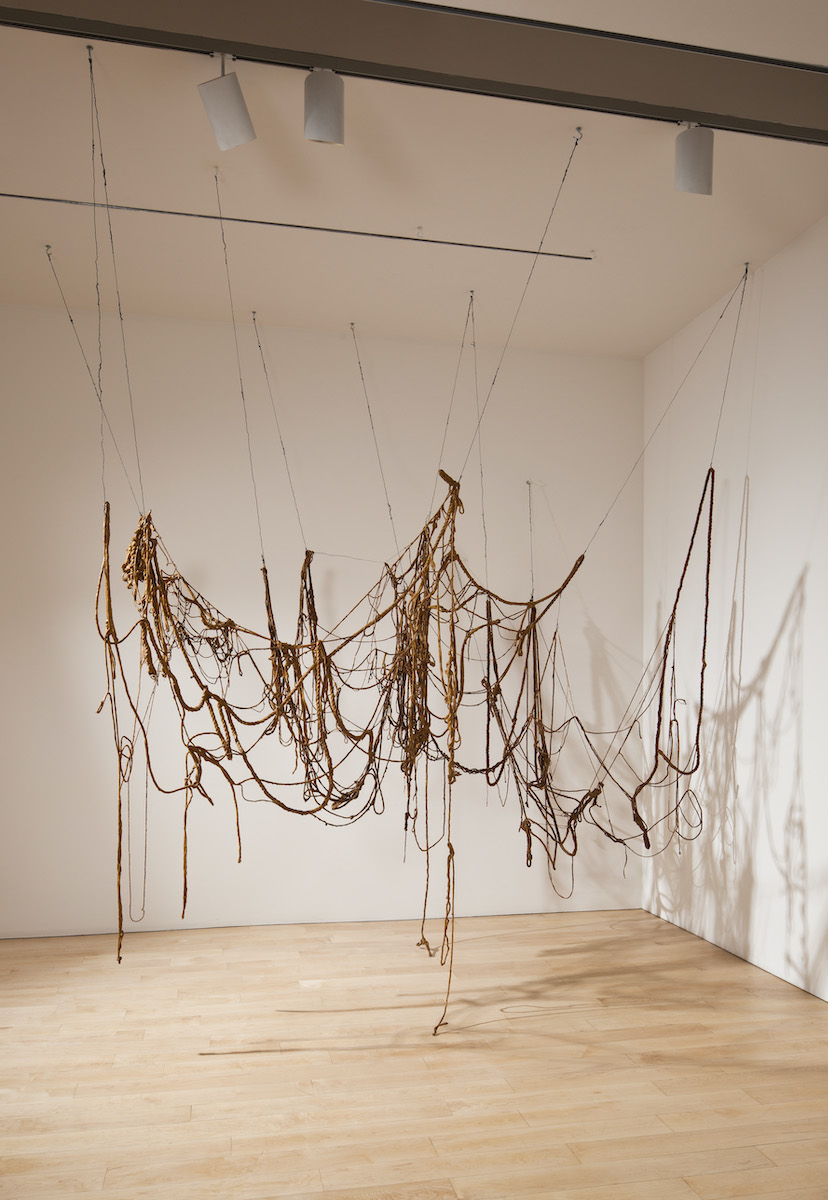 Eva Hesse, No Title, 1969-70. Latex, rope, string, and wire, dimensions variable. Whitney Museum of American Art 88.17a-b. Whitney Museum of American Art, New York. Digital Image © Whitney Museum of American Art/Licensed by SCALA/Art Resource, NY © 2021 Estate of Eva Hesse. Galerie Hauser & Wirth
Wednesday, October 20, 12:00pm EDT:
Rudi Lesser (1902 – 1988): The Forgotten and Rediscovered Artist
Featuring Lillie Johnson Edwards, PhD and Ori Z Soltes, PhD
Rudi Lesser, a graphic artist already gaining significant recognition in his twenties in Germany, survived the Holocaust in Scandinavia. Interestingly, he immigrated to the US just after the war, in 1946, and although achieving success in New York–and as the founder of the graphic arts department at Howard University in Washington, DC–never felt at home here. He returned to a different Germany, in 1957, where he lived in relative poverty and obscurity–but apparent contentment–for the remaining thirty years of his long life.
Lesser was one on over 10 Jewish refugee professors at Howard University and among the more than 60 at Black colleges, primarily in the South. Like other Jewish and white progressives and liberals of his era, he was a member of the NAACP (National Association for the Advancement of Colored People).
Featuring Lillie Johnson Edwards, PhD, Professor Emerita of History and African American studies at Drew University in Madison, NJ in conversation with Ori Z Soltes, PhD, Teaching Professor at Georgetown University, Washington DC. Moderated by Rachel Stern, Director and CEO of the Fritz Ascher Society, New York NY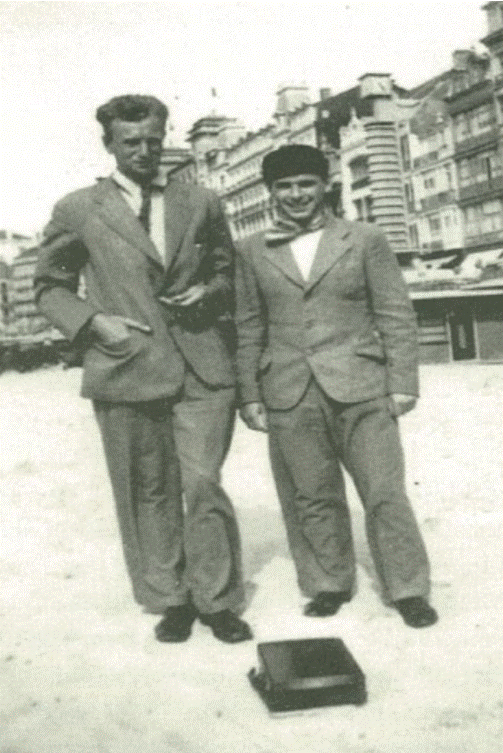 Rudi Lesser and Felix Nussbaum, 1936. Photo: Gudrun Lesser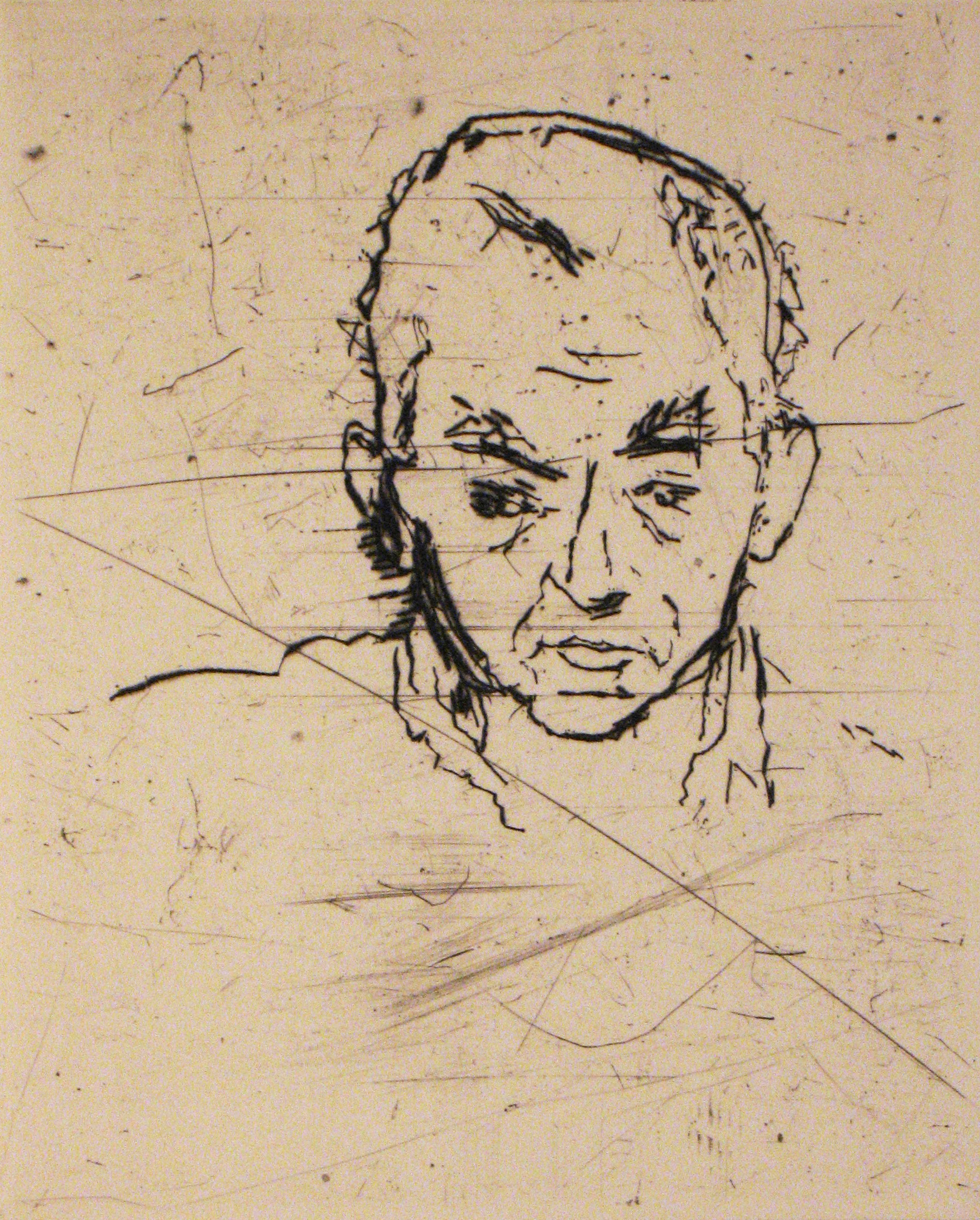 Rudi Lesser, Self-Portrait, 1987. Drypoint etching; 5¾  x 4½ in. Private Collection, Berlin © Volkmar Reichmann
October 27, 12:00pm EDT:
Remembering Friedel: An Intimate View of Friedel Dzubas (1915 – 1994)
Featuring Karen Wilkin and Sandi Slone
The painter Sandi Slone and the curator/critic Karen Wilkin both knew the German-born abstract painter Friedel Dzubas (1915-1994), professionally and personally, and frequented his studio during his years in Boston, where he taught and made some of his most characteristic work. They will share their recollections of the artist and his work. Moderated by Rachel Stern, Director and CEO of the Fritz Ascher Society in New York.
In a prolific career that spanned nearly five decades, Friedel Dzubas (b. Berlin, 1915–d. 1994, Newton, Mass.) articulated his mature style by the 1970s, creating a striking visual language from counterpoised abstract shapes of brushed color that he juxtaposed, overlapped, and opened to reveal his gessoed grounds. Yet, in prior years, Dzubas's early work in Berlin were influenced by Expressionist artist of the two primary groups known as Die Brücke and Die Blaue Reiter. As Dzubas told curator Charles Millard in 1982, "Their unheard-of brashness of color; that was really brave. That was very exciting. Color's an emotional thing. These people not only spoke directly; they felt deeply. There was passion." His early pen and ink watercolors embed the bold coloration of these artists, and once in America (1939), their influence carried over into the striking colors of his works of gestural abstraction in the 1950s. Considered a Second-Generation Abstract Expressionist by the time he visited his family in Berlin in 1959, twenty years after his initial immigration, he underwent a transformative change during his ten-month sojourn in Germany. His conflictual feelings about his mixed Jewish-Catholic background could be felt in the paintings devoid of coloration that he began there. A series of twenty-one black and grey oil "drawings" of allover linearity with titles such as Other Side, Monk, Temptation, Cavalry, Last Station, and Vesper, some in tondo format and others in large-scale vertical rectangles, speak to the effect on him of a spiritual crisis even as he justified these works as responses to his abiding love of the Baroque churches he revisited while there. This split in identity was never resolved: his Jewishness, though never far from his mind, was never spoken of during his lifetime in America.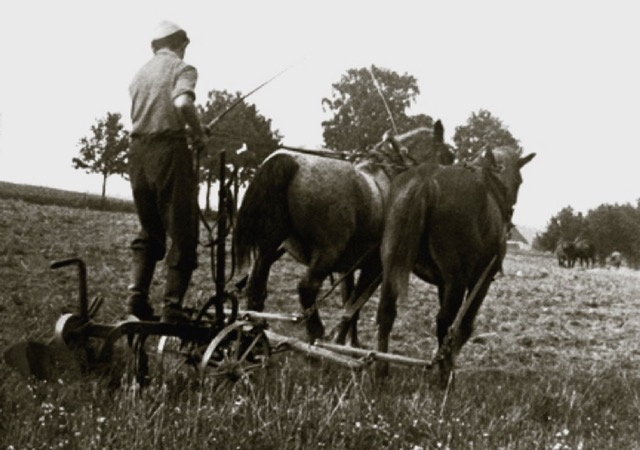 Friedel Dzubas harrowing a field with a team of horses, a privilege reserved for the Praktikanten (training assistants) at Gross Breesen, Silesia, Germany, ca. 1937–38. Courtesy Heidi Landecker. Photo restoration, Morgan Dzubas © Estate of Friedel Dzubas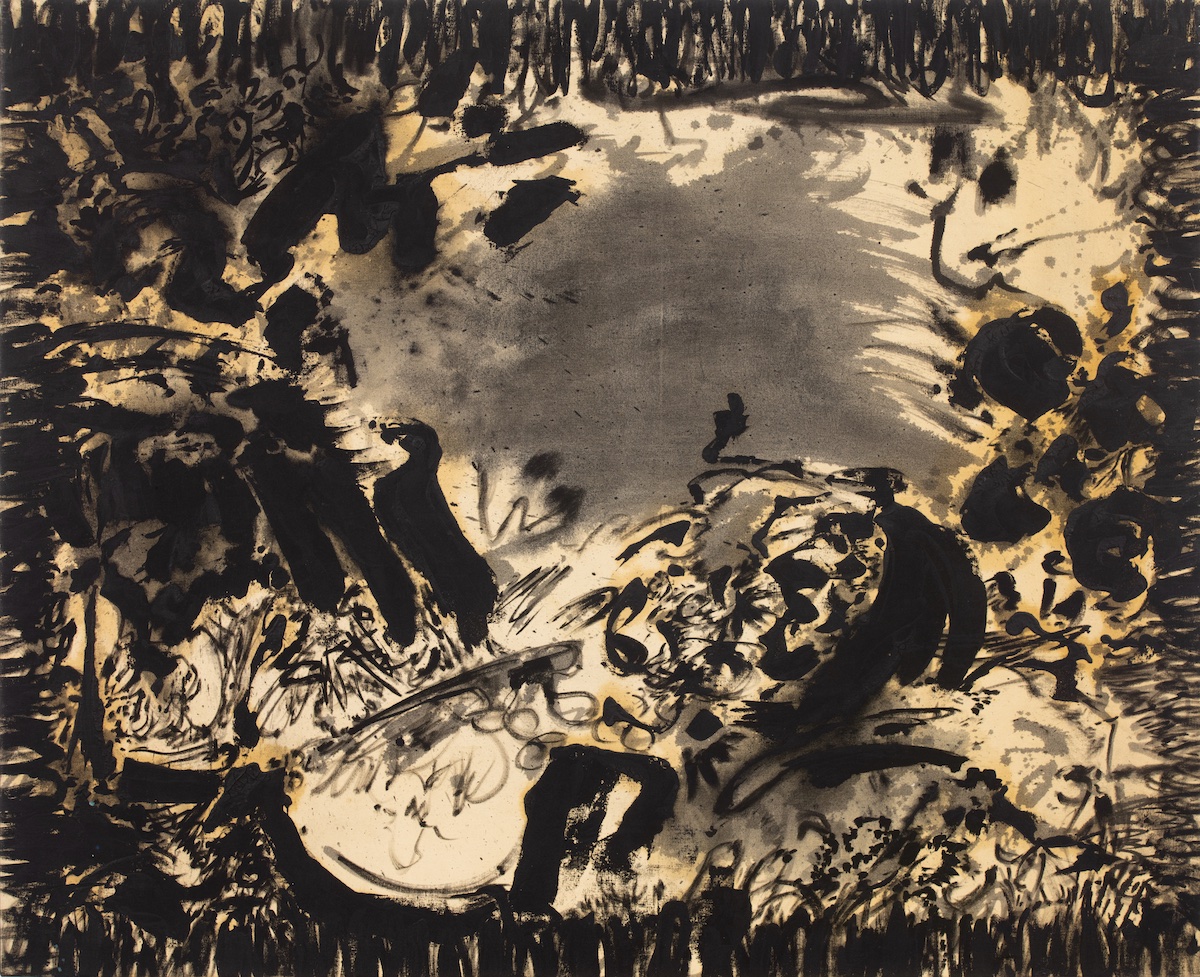 Friedel Dzubas, Self-Portrait, 1961. Oil on canvas, 43 ¾ x 54 in. (111.12 x 137.1 cm) Friedel Dzubas Estate, Inventory no. 055 Photography by Jason Mandella © Estate of Friedel Dzubas