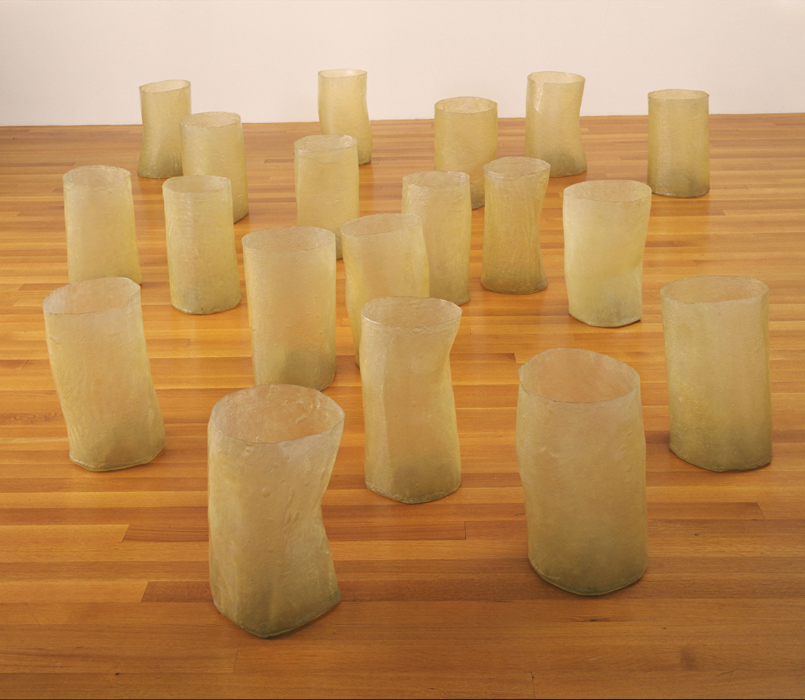 Eva Hesse (1936–1970): Returning to the Source?
Featuring Eva's sister Helen Charash and Ori Z. Soltes, PhD
October 13, 2021 @ 12:00 pm

-

1:00 pm

|

Free
Eva Hesse arrived to the United States as a 3-year-old, was raised in a community largely of Holocaust survivors, and by her Twenties was a rising star on the New York art scene, contributing a unique voice to the shaping of post-Abstract Expressionist art. A key turning point in her innovative art was a return visit to Germany on an artist fellowship. How do we understand the work of this brilliant figure whose life suddenly ended, from brain cancer, at the age of 34?
She was born into an observant Jewish family in Hamburg, in a Germany being devoured by the Nazis. She and her older sister Helen were sent to the Netherlands in 1938—when she was not even three years old—through the Kindertransport program, but they were able to rejoin their parents not quite six months later. The family moved on to England and was able to immigrate to the United States by 1939, settling in Manhattan's Washington Heights. This was an area of the city to which many Jewish refugees from Germany arrived during the years that followed.
Image above: Detail of Eva Hesse, Repetition 19, III, 1968. Fiberglass and polyester resin, nineteen units, each 19 to 20 1/4″ (48 to 51 cm) x 11 to 12 3/4″ (27.8 to 32.2 cm) in diameter. Museum of Modern Art 1004.1969.a-s. Gift of Charles and Anita Blatt © 2021 Estate of Eva Hesse. Galerie Hauser & Wirth, Zurich
Join us for a conversation about Eva Hesse's art and familial background, featuring Eva Hesse's sister Helen Charash and Dr. Ori Z Soltes, Teaching Professor at Georgetown University in Washington DC, moderated by Rachel Stern, Director and CEO of the Fritz Ascher Society in New York.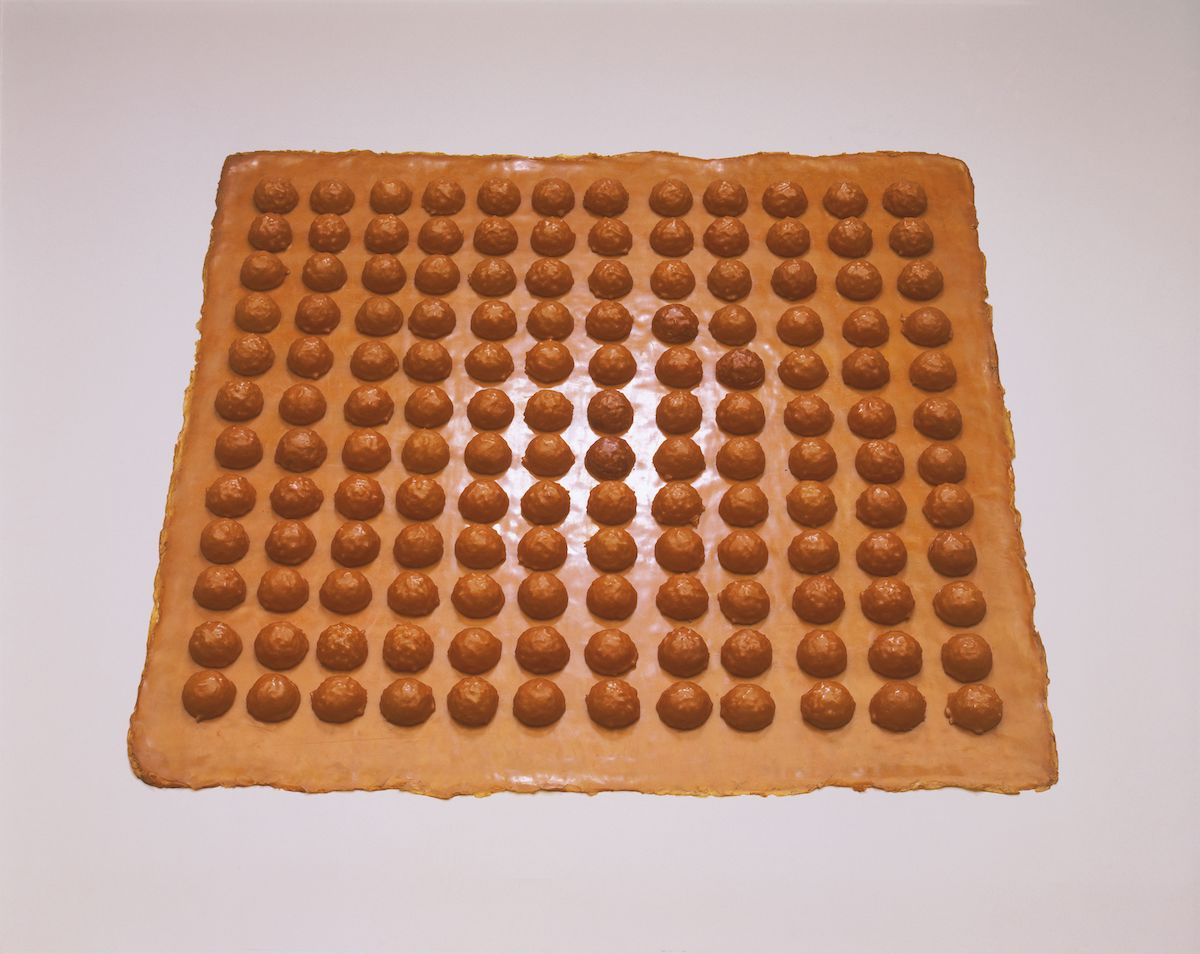 Eva Hesse, Schema, 1967. Latex, 42 x 42 inches (106.7 x 106.7 cm) Each (144 individual pieces): 1 3/8 x 2 1/2 inches (3.5 x 6.4 cm). Philadelphia Museum of Art 1979-185-1. Gift of Helen Hesse Charash, 19. © The Estate of Eva Hesse. Courtesy Hauser & Wirth
Born in Hamburg, Helen and her younger sister Eva were put on a Kindertransport to Holland as soon as possible after Kristallnacht.  In 1939 the Hesse family, now reunited , were able to immigrate to America and settled in Washington Heights.  Helen went on to graduate with honors, from Hunter College, marry, and have 2 children before going back to earn a Masters' degree in Library Science.
After her sister's untimely death in 1970, while still working full time in the school system, Helen took on managing her sister's estate and immersed herself in navigating the art world. She was mentored and guided by Donald Droll and later Barry Rosen. Together, with Barry, they guided the representation of the artist to important galleries, initially Fourcade Droll, then Droll Kolbert and later Robert Miller. Hesse is currently a part of the Hauser Wirth family.
In addition to giving press and television interviews about her sister's work, Helen was also a part of the Eva Hesse documentary movie.  Her passionate commitment to protect the legacy of her sister remains ongoing.
Dr. Ori Z Soltes teaches at Georgetown University across the disciplines of theology, art history, philosophy and politics. He is the former Director and Curator of the B'nai B'rith Klutznick National Jewish Museum where he curated some 80 exhibitions. He is the author of several hundred articles and catalogue essays, and the author or editor of 25 books, including The Ashen Rainbow: The Holocaust and the Arts; Symbols of Faith: How Jewish, Christian, and Muslim Art Draw from the Same Source; and Tradition and Transformation: Three Millennia of Jewish Art and Architecture and Immortality, Memory, Creativity, and Survival: The Arts of Alice Lok Cahana, Ronnie Cahana and Kitra Cahana (FAS 2020)
Eva Hesse and Professor Josef Albers at the Yale School of Art and Architecture, ca. 1958. Photographer unknown. © The Estate of Eva Hesse. Courtesy Hauser & Wirth
This is the first event of our online project "Identity, Art and Migration" in which we investigate US immigration of European refugees during the first half of the 20th century through the lens of seven artist case studies: Anni Albers, Friedel Dzubas, Eva Hesse, Rudi Lesser, Lily Renee, Arthur Szyk and Fritz Ascher.
What is it that defines human identity? DNA? Language? Culture? Landscape? Polity? Or is it a combination of all of these factors? How do the sources of identity make it easy or difficult for individuals who migrate from one location to another—by choice or under duress—not merely to adapt but to become fully comfortable within their new home? How do artists, with their particular set of sensibilities—and who are purveyors of, respondents to, and shapers of culture—respond to their own migration? How do they transfer the diverse identity norms of the worlds they leave behind to the new worlds into which they arrive? Can they translate from one language of images to another? 
Each one of the seven artists featured in this project was affected in different ways by Nazi policies and came as a refugee to the United States, to remain or not to remain here—or hiding within Germany throughout the war. The life and work of each of these artists addresses the issue of identity and the particulars of its expression from slightly different angles. As a compendium, they all serve as an intensified and emphatic articulation of the broader issues of relocation, transformation and the psychological and cultural self as a centerpiece of human being.
Generously sponsored by the Consulate General of the Federal Republic of Germany in New York.
Share This