In the 1940s, Erwin Blumenfeld established himself in New York as one of the leading photographers. Join us online to hear Paris-based granddaughter Nadia Blumenfeld Charbit give her personal insights into his life and work:
WEDNESDAY, JUNE 7
12:00 pm ET / 18:00 Uhr CET
"Erwin Blumenfeld (1897-1968),
from Berlin to New York.
A Life in Photography"
Erwin Blumenfeld, The red cross, for Vogue US, 1945. © Erwin Blumenfeld Estate
"No medium of expression is art unless it becomes a vehicle for successfully transmitting an emotion from the one using to the one viewing it – and if it does this what difference is there what raw materials are used?"
Photographer Erwin Blumenfeld (1897-1969) survived two world wars to become one of the world's most highly-paid fashion photographers and a key influence on the development of photography as an art form. An experimenter and innovator, he produced an extensive body of work including drawings, collages, portraits and nudes, celebrity portraiture, advertising campaigns and his renowned fashion photography both in black and white and color. Yet one of the most innovative photographers of the 20th century is little known today – and the reasons for this lie in his unconventional lifestyle.
The photographer's grandson Remy Blumenfeld explores the life of Erwin Blumenfeld in his 2013 documentary "The Man Who Shot Beautiful Women." With contributions from leading photographers Rankin, Nick Knight and Sølve Sundsbø; and 82 year old supermodel, Carmen Dell'Orefice.
Now this is a big treat for those who are in New York: Philip Orenstein's lithograph "The Big Cheese" from 1991 and 2001 is on view in the Johnson Gallery of the Metropolitan Museum of Art throughout the summer:
Philip Orenstein, The Big Cheese, 1991 and 2001, Lithograph with adhered decals printed on three sheets.
The triptych depicts the Isle de France, the ship on which the artist and his family emigrated to the United States in 1949. The ship is surrounded by images of the artist and his family, the town Houdan, where the Orenstein brothers were hidden during World War II, symbols of wartime Europe and America, as well as quotes from Parisian graffiti.
Philip Orenstein (b. 1938) became a visual artist and professor of art at Rutgers University in New Brunswick.
To find out more about the artist, watch Philip Orenstein and Dr. Nadine Orenstein speak about "Seven Murals by Philip Orenstein (b. 1938). A French-Jewish Perspective on France During World War II":
As I am writing this newsletter, the preparations are in high gear for our upcoming exhibition:
"Emmy Rubensohn, Networker and Music Patron –
from Leipzig to New York"
GRASSI Museum in Leipzig, Germany
June 25 – October 8, 2023
Please join us for the opening of the exhibition on June 25 at 3:00pm at the Grassi Museum, which is also the official opening of the Jewish Week Leipzig.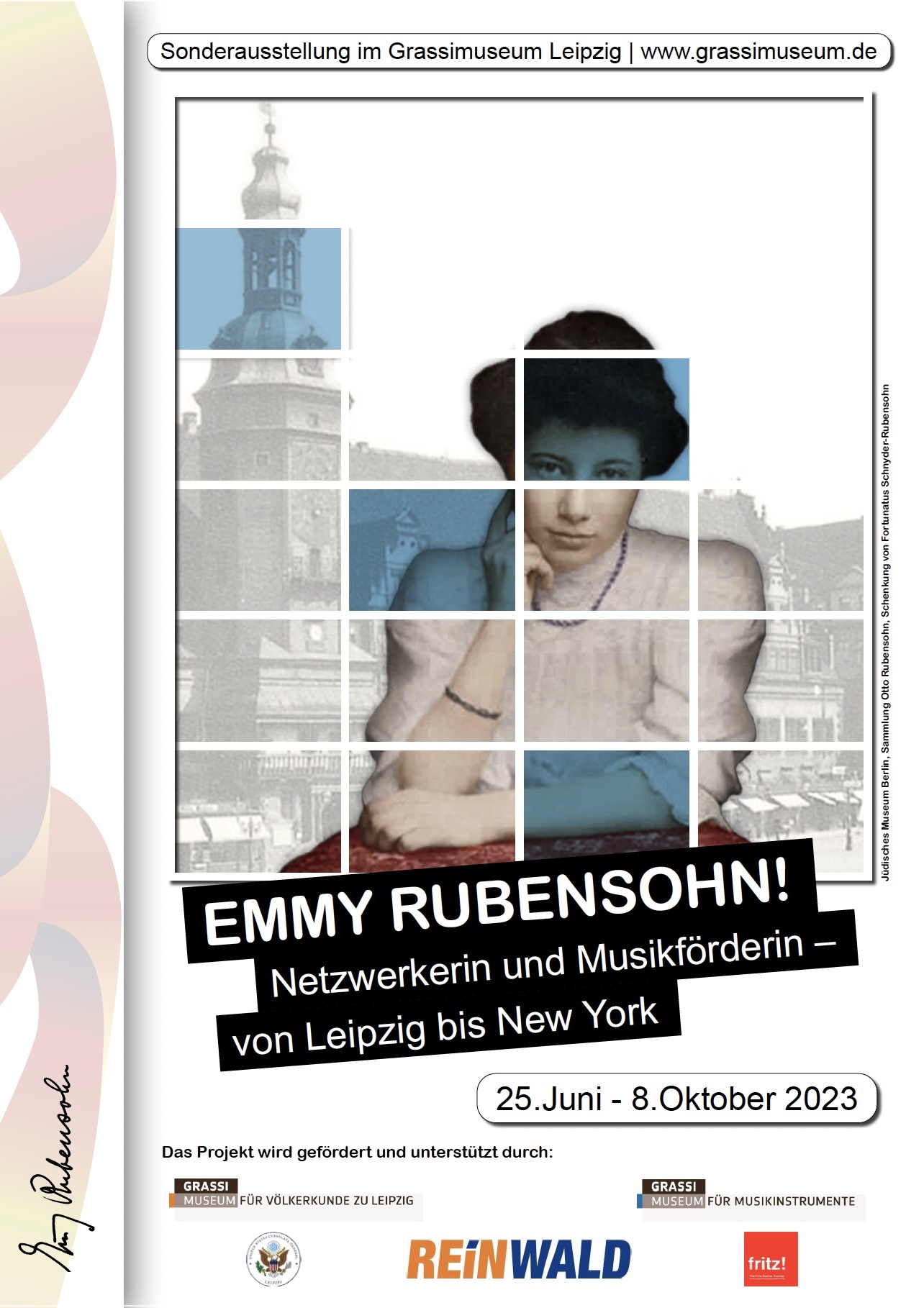 We are very excited about a newly discovered drawing by Fritz Ascher (Berlin, 1893-1970) – thanks to a private collector from Soest, Germany, who approached us!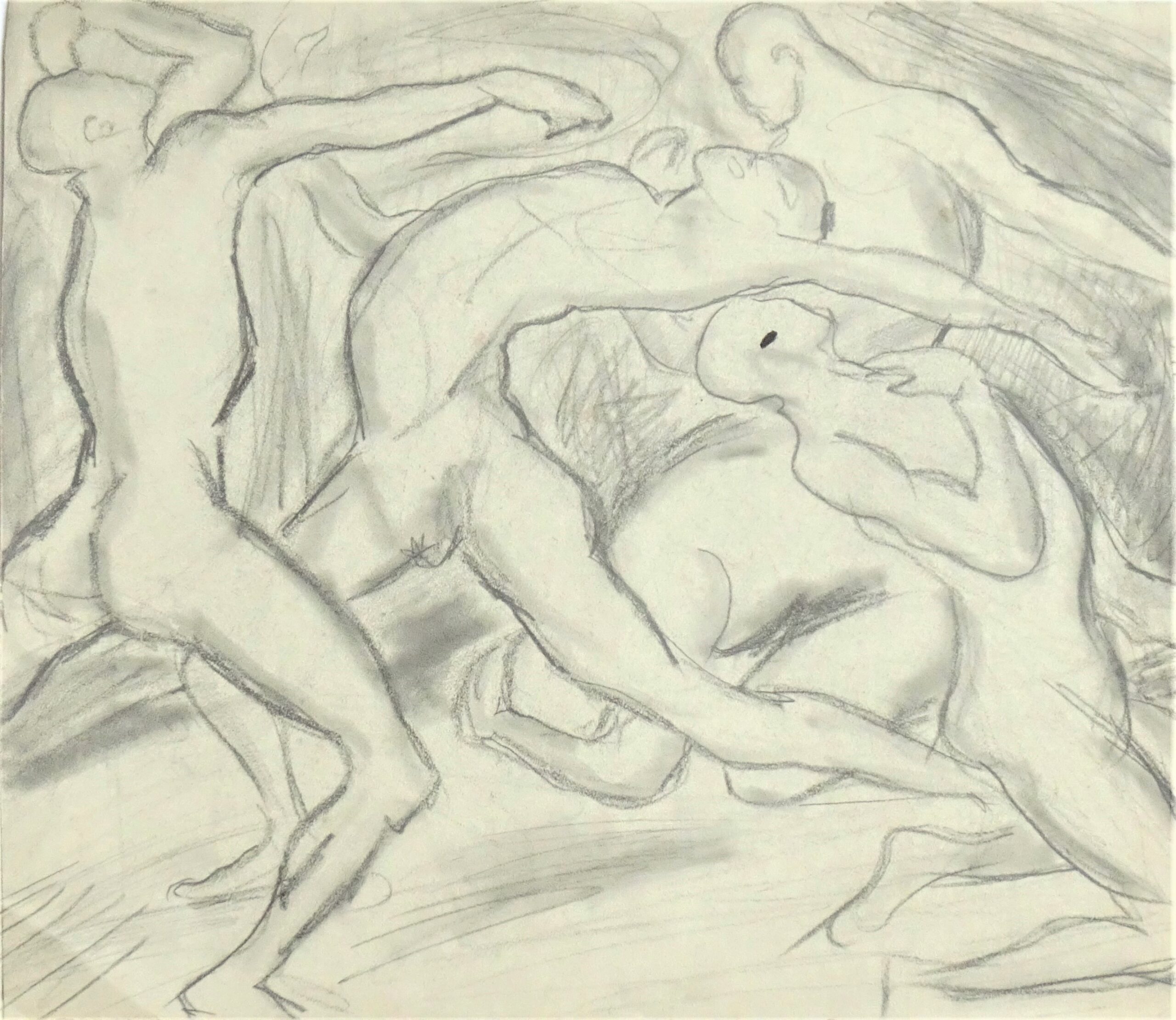 Fritz Ascher, Figural Study, 1910 (as annotated on verso). Graphite on paper, 32.8 x 38 cm. Private collection
In this study of nudes, Fritz Ascher might refer to August Strindberg's autobiographical novel "Inferno," where, in the introduction, he describes the condition of the Earth: "Cold and gloom, plague and hunger ravage the people. Love is transformed to deadly hate, and childlike obeisance to parricide. People think they already are in Hell."
If the date, 1910, annotated on the verso of the sheet, is right, it is the earliest depiction of this theme known by the artist. We'll keep you posted as we conduct further research.