Erwin Blumenfeld (1897-1968), from Berlin to New York.
A life in photography
Talk by granddaughter Nadia Blumenfeld Charbit, Paris (France)
June 7, 2023 @ 12:00 pm

-

1:00 pm

|

Free
Photographer Erwin Blumenfeld (1897-1969) survived two world wars to become one of the world's most highly-paid fashion photographers and a key influence on the development of photography as an art form. An experimenter and innovator, he produced an extensive body of work including drawings, collages, portraits and nudes, celebrity portraiture, advertising campaigns and his renowned fashion photography both in black and white and color.
In this talk, Paris-based granddaughter Nadia Blumenfeld Charbit gives her personal insights into the life and work of the photographer Erwin Blumenfeld. Introduced by Rachel Stern, director of the Fritz Ascher Society.
Image above: Erwin Blumenfeld, Double Self-Portrait with Linhoff, Paris, 1938 © Erwin Blumenfeld Estate 
Born to a Jewish middle class family in Berlin in 1897, Erwin Blumenfeld received his first camera when he was 10 years old and started photographing and developing films in his parent's bathroom. After his service in World War I, he moved to Amsterdam, where he became part of the Dada art movement, alongside artist Paul Citroen (1896-1983) and George Grosz (1893-1959). He married Paul's cousin Lena in 1921 and opened a leather goods store on Kalverstraat to support his growing family. However, business was not good and he started to photograph the clients coming into his shop. He had found a darkroom at the back of his store and practiced developing and various experiments such as solarizations and superimpositions, inspired by magazines and their photographers, such as Man Ray.
In 1933, in reaction to Adolf Hitler's rise to power in Germany, Blumenfeld produced a series of photomontages: on a portrait of the Führer, he painted tears of blood and superimposed a skull. Here, Blumenfeld portrayed the Führer as an embodiment of death –  an image that was later used in Allied propaganda material.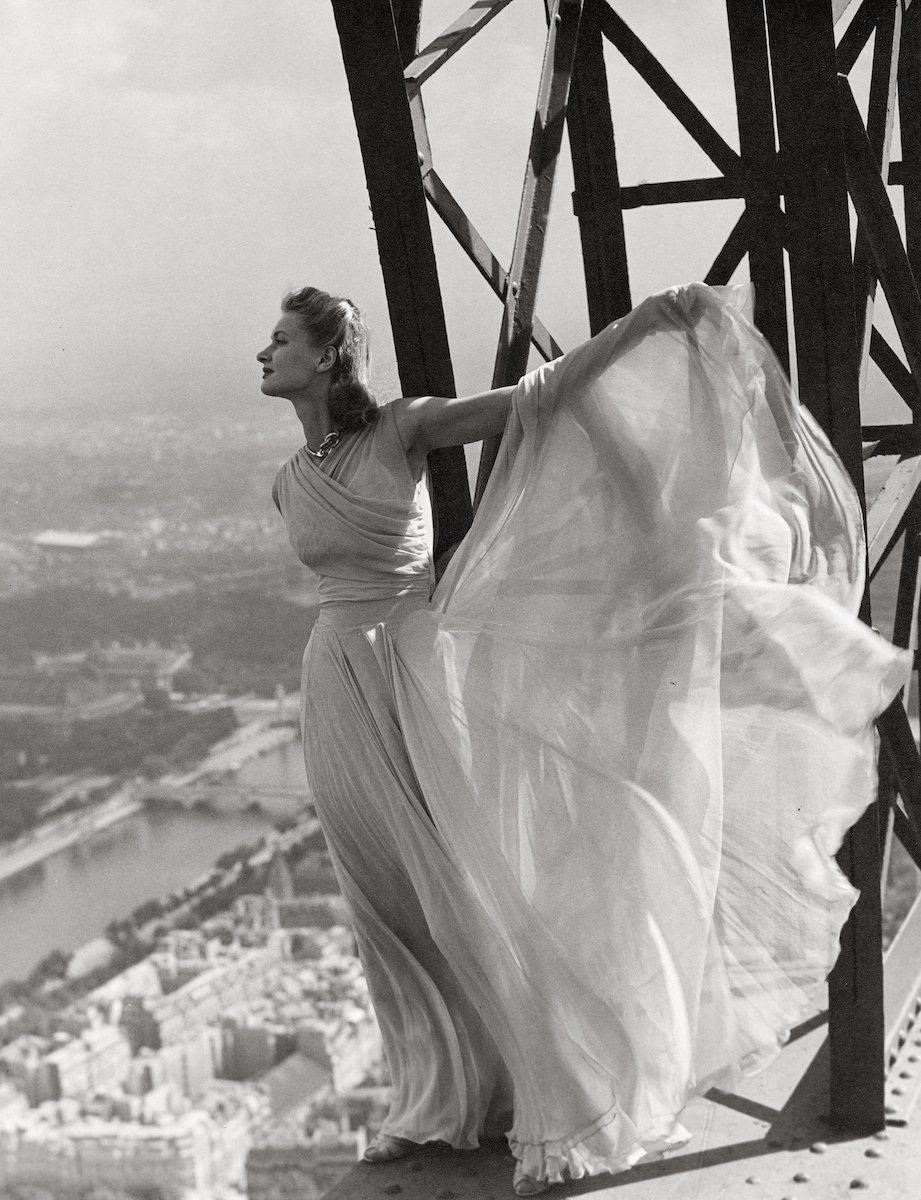 Erwin Blumenfeld, Lisa Fonssagrives at the Eiffel Tower, Paris 1939. Published in the May 1939 issue of Paris Vogue © Erwin Blumenfeld Estate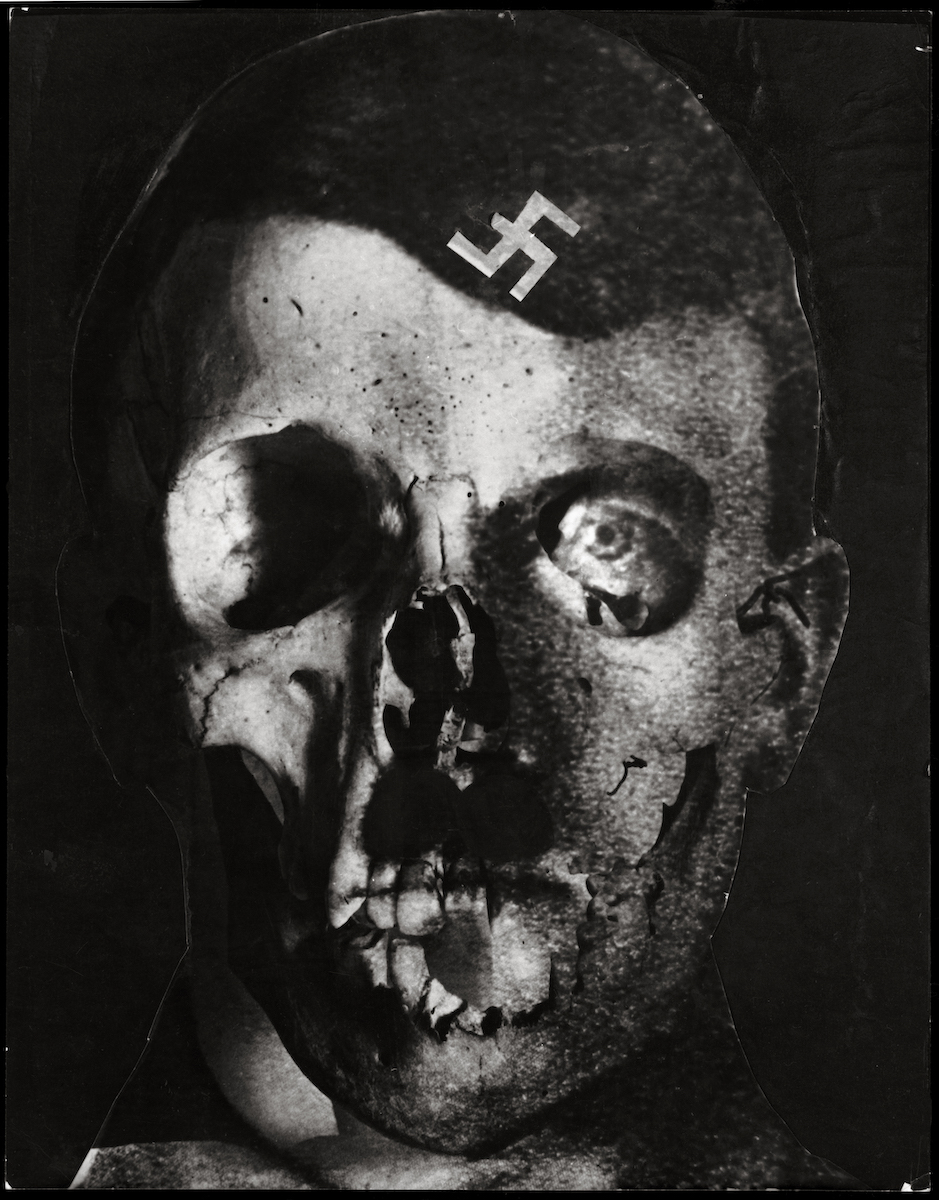 Erwin Blumenfeld, Grauenfresse, Amsterdam, 1933 © Erwin Blumenfeld Estate
Gallerist Carel van Lier, who had twice shown his photographs in Amsterdam, encouraged him to seek his fortune in Paris. At the end of 1935, Erwin left for Paris. At first he mainly did portrait photography. He employed accessories – veils, opaque glass, mirrors – and sophisticated lighting, then reworked his images in the darkroom. In 1938, the British photographer Cecil Beaton introduced him to Michel de Brunhoff, editor of Paris Vogue, who hired him immediately. In August 1939, Blumenfeld went to New York and signed a contract with Harper's Bazaar to follow French fashion. When he returned to Paris, France had declared war on Nazi Germany. As a former German citizen, he was now considered an alien enemy, and from France's surrender on June 22, 1940 he and his family were persecuted as Jews and forced to live in various internment camps. They were able to emigrate to New York in August 1941.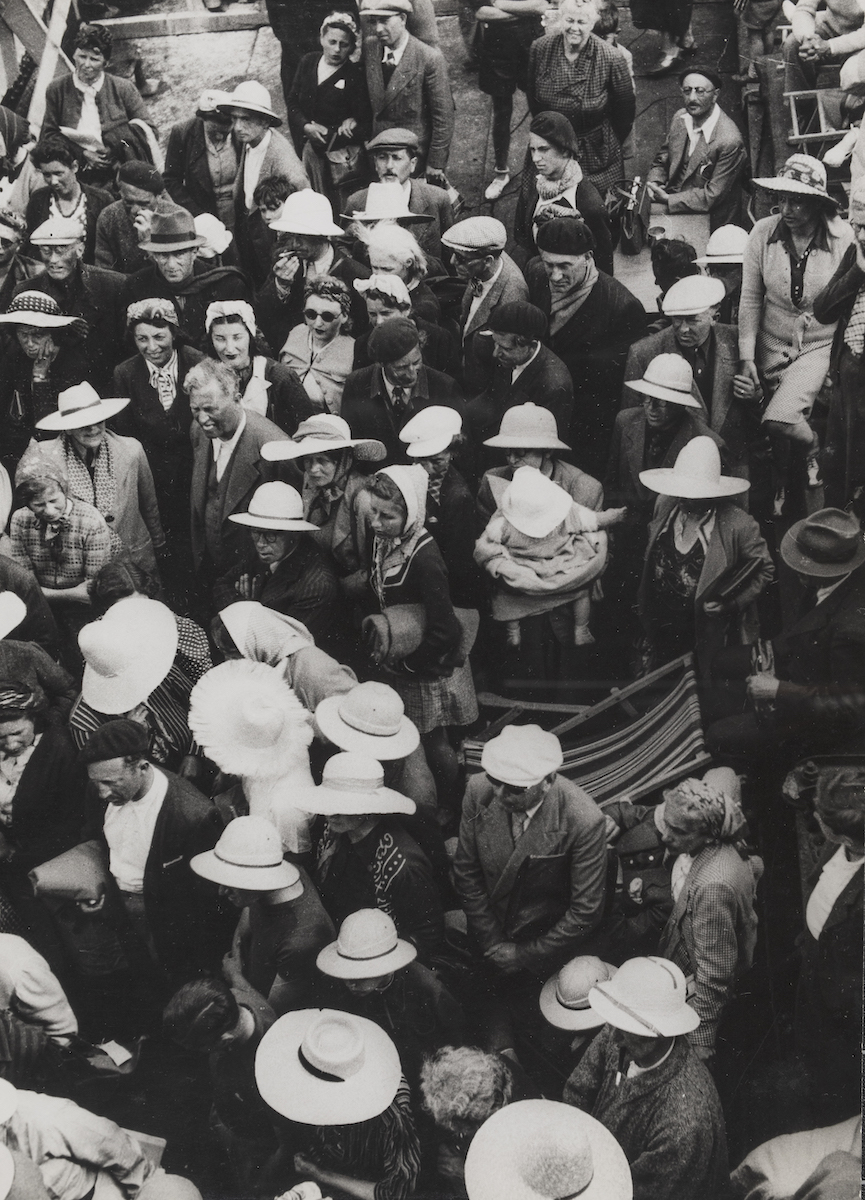 Erwin Blumenfeld, Cargo Mont-Viso, May 1941. © Erwin Blumenfeld Estate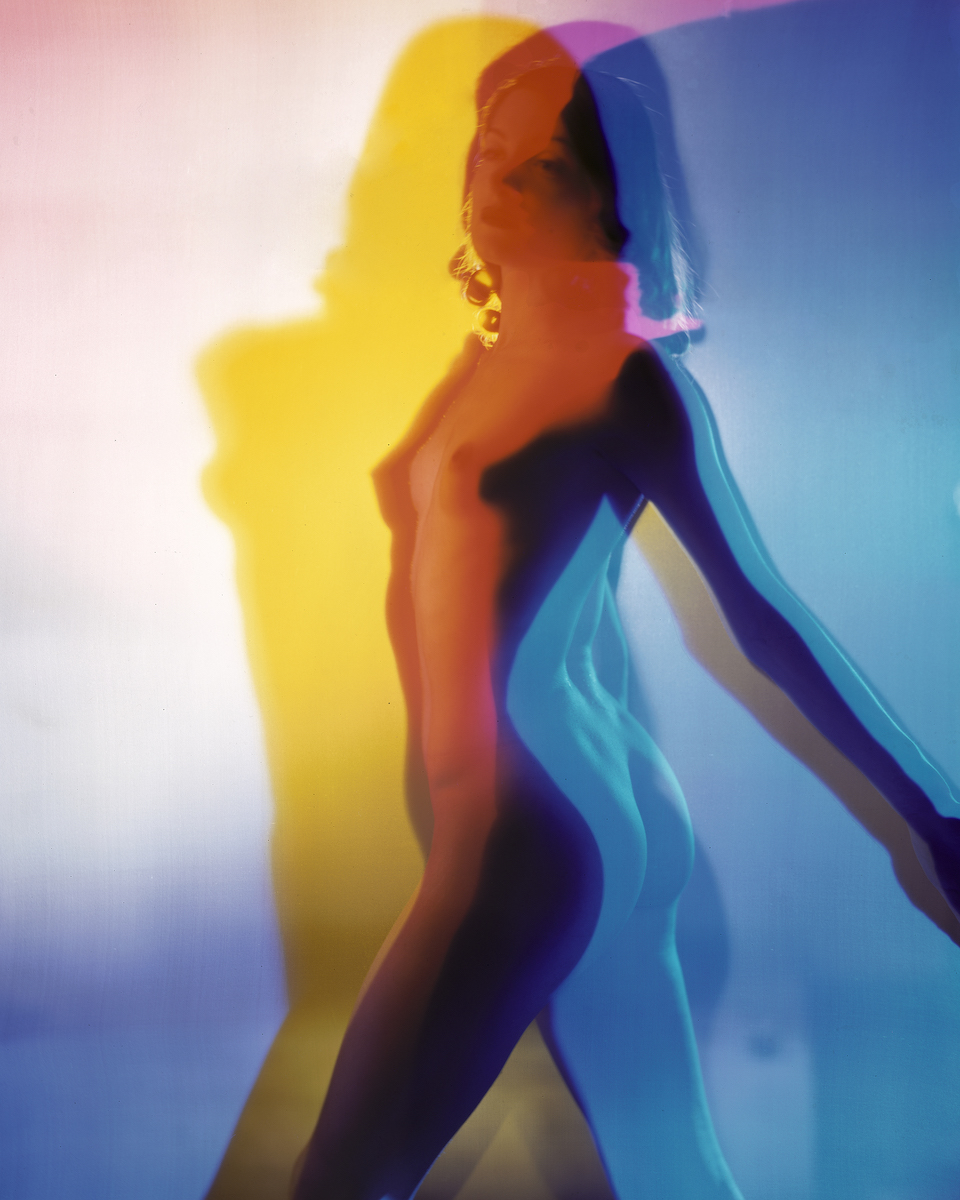 Erwin Blumenfeld, Natalia Pascov, New York 1942 © Erwin Blumenfeld Estate
In New York, Erwin Blumenfeld resumed working for Harper's Bazaar, sharing a studio with the Bazaar photographer Martin Munkacsi. Success came quickly and from Harper's Bazaar, Blumenfeld moved to Vogue in 1943. He was never under contract with them, but while photographing for many magazines and for advertising, he did approximately 50 Vogue covers, his main client until 1955.
Blumenfeld quickly established himself as one of New York's leading fashion photographers. In 1944, he left Harper's Bazaar and took photos for the covers of Vogue and other magazines. He deplored his difficulty in imposing his ideas on artistic directors obsessed with commercial prerogatives, but prided himself on 'smuggling art' into these images. At the same time, he still loved darkroom experimentations, in Black and White photography and also in Color.
Blumenfeld became one of the world's most highly-paid fashion photographers and a key influence on the development of photography as an art form.
He worked in his studio at 222 Central Park South in New York City until his death in 1969. His autobiography "Eye to I" was published posthumously in the United States (Thames & Hudson 1999; the original German title is "Einbildungsroman").
Erwin Blumenfeld, The red cross, for Vogue US 1945 © Erwin Blumenfeld Estate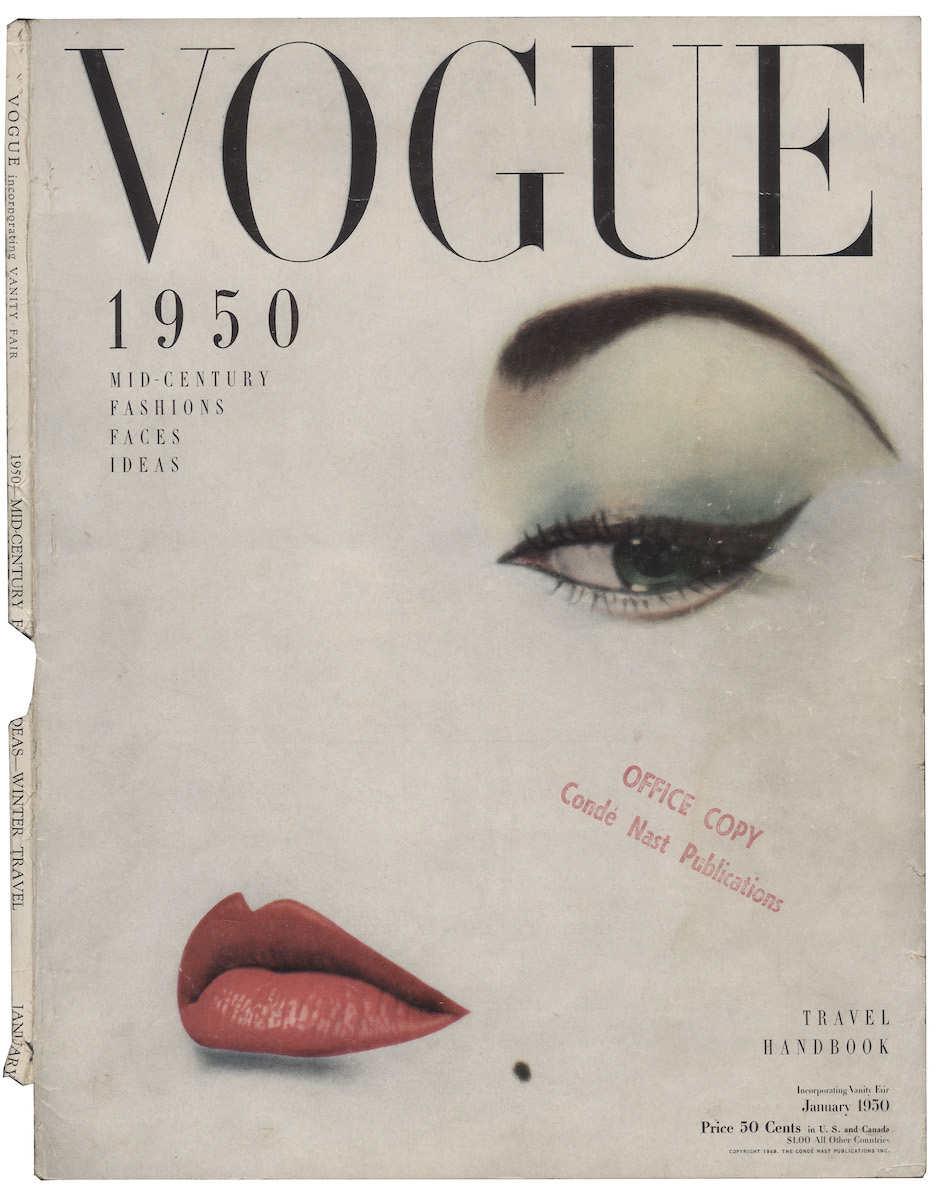 Erwin Blumenfeld, Doe Eye, model Jean Patchett, for Vogue US 1950 © Erwin Blumenfeld Estate
Nadia Blumenfeld Charbit is a granddaughter of Erwin Blumenfeld. She was born on October 5, 1960 in New York to physicist Henry photographer Kathleen Blumenfeld, both of European origin. She grew up in Princeton NJ, Geneva and Gif sur Yvette. Nadia studied medicine in Paris and became a MD and PhD in biochemistry. She worked in research and outpatient care in hemoglobin disorders and taught at Paris XII University in biochemistry and in bioethics.
For the past 20 years, she has decreased her medical practice and increasingly involved herself in the conservation and archiving of her grandfather's photographic legacy. She promoted publications and curated or co-curated exhibits at the Tokyo Metropolitan Museum for Photography, the Jeu de Paume in Paris, the Nicéphore Niépce Museum in Chalon sur Saône, Somerset House in London, Foam in Amsterdam, The Folkwang Museum in Essen, Shanghai, Sao Paolo and very recently at the Paris Museum of Jewish Art and History (mahJ) titled "the Tribulations of Erwin Blumenfeld, 1930-1950" (October 2022 – March 2023).
Nadia is the vice president of Ar'cime, an organization that helps young artists working in France to show their work. She lives in Paris, France, with husband Jean-Louis Charbit and their 3 children; Milena, Gabriel and Joachim.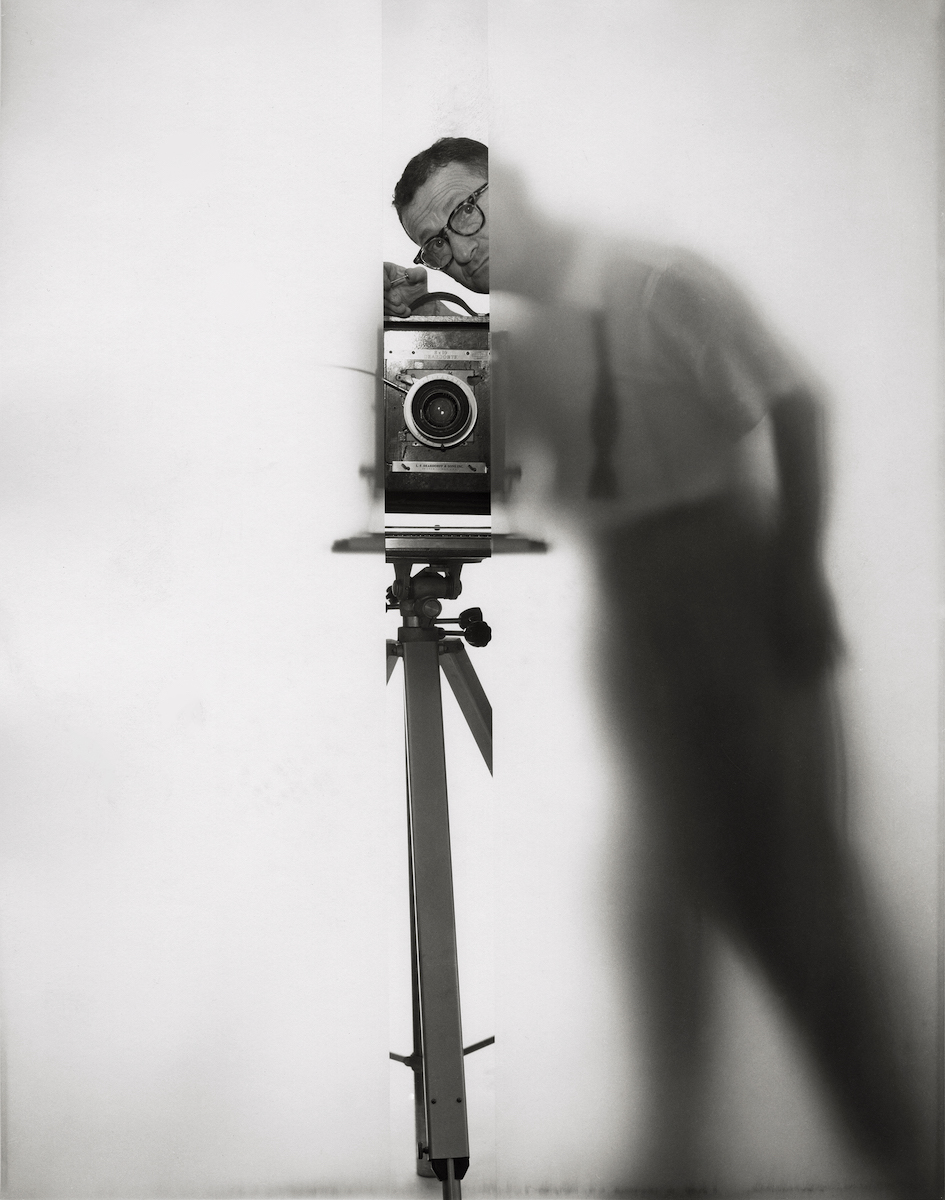 Erwin Blumenfeld, Self portrait with Deardorff, NY, c. 1950 © Erwin Blumenfeld Estate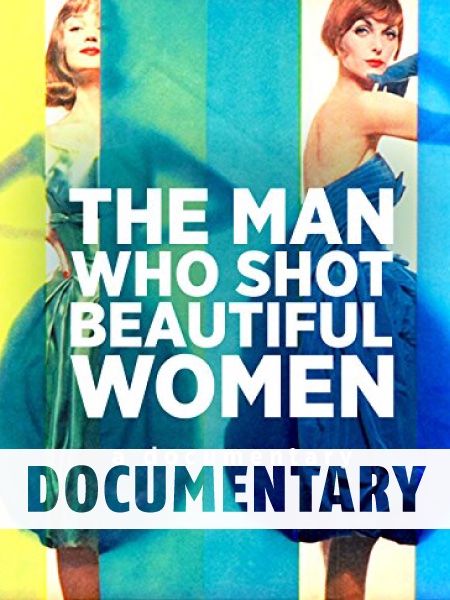 "The Man Who Shot Beautiful Women", 2013. Director: Nick Watson, Producer: Remy Blumenfeld.
The 2013 documentary "The Man Who Shot Beautiful Women" explores the life of Erwin Blumenfeld – from two world wars, to fashion industry greatness, to mysterious death. In the first ever film about his life and work, BBC Four uses exclusive access to Blumenfeld's extensive archive of stunning photographs, fashion-films, home-movies and self-portraits to tell of a man obsessed by the pursuit of beautiful women, but also by the endless possibilities of photography itself. With contributions from leading photographers Rankin, Nick Knight and Sølve Sundsbø; and 82 year old supermodel, Carmen Dell'Orefice, it uncovers the richly complex story of one of the 20th Century's most original photographic artists.
Director: Nick Watson, Producer: Remy Blumenfeld.
"Photography is so easy a medium to use, the box camera, a roll of film, a snap – a picture! Photography, the art, is so immensely difficult because it is so easy to get a picture of sorts. One must work hard to smuggle anything into a photograph other than record keeping." (Erwin Blumenfeld)
This event is part of our monthly series Flight or Fight. stories of artists under repression. Future events and the recordings of past events can be found HERE.
YOUR SUPPORT MAKES OUR WORK POSSIBLE. THANK YOU.
Share This