Dear Friends,
I hope you all were able to see "Fritz Ascher, Expressionist" at NYU's Grey Art Gallery that closed on April 6. Thanks to director Lynn Gumpert and her fabulous team, the exhibition looked great and was complemented by an engaging program. The show was well received, both by visitors and critics. In the meantime, most reviews are translated into German here. If you were not able to visit in person, you can see photos on our website here.
The exhibition was part of Wunderbar Together: The Year of German-American Friendship 2018/19, an initiative of the Federal Foreign Office of Germany and the Goethe-Institut, with the support of the Federation of German Industries (BDI). 
The Goethe-Institut New York developed a multifaceted program teaching German language learners about Fritz Ascher with a booklet, workshops, an app and visits to the exhibition. A contest invited High School students to create an artwork, poem or essay in reaction to Fritz Ascher's art or life. We were overwhelmed with the high quality, the sensitivity and depth on the submissions. On May 1st, the winning works were exhibited and celebrated in a beautiful ceremony at the German Academy on Fifth Avenue. The event was opened by Katja Wiesbrock Donovan of the German Academy New York and Rachel Stern of the Fritz Ascher Society, followed by Andrea Pfeil of Goethe-Institut New York, who spoke about the Fritz Ascher language program. The awards were presented by Ori Z. Soltes of the Fritz Ascher Society and Ted Comet of the American Jewish Joint Distribution Committee New York, who gave a touching speech about his late wife Shoshana Comet, who created tapestries to overcome the horrors of the Holocaust.
First prize winners were Joseph Murphy from Philadelphia, Pennsylvania (poem), Batja Wolff from Hewlett Bay Park, New York (artwork) and Dina Barrish from Chicago, Illinois (essay). Check out the amazing work of all winners here.
Until July 31st, Fritz Ascher is one of twelve individuals featured in the exhibition "In the Country of Numbers. Where the Men have no Names" at Gedenkstätte und Museum Sachsenhausen in Oranienburg, Germany. The exhibition tells the story of the detention and exile of November pogrom prisoners in the Sachsenhausen concentration camp (link).
More than 6,300 Jewish men were brought to the Sachsenhausen concentration camp after the November pogroms in 1938. After a few weeks, the vast majority was set free, with the condition to emigrate immediately from Germany. Fritz Ascher's imprisonment in the Gestapo prison in Potsdam prevented him from escaping to Shanghai. A friend of the family, Martha Grassmann, saved his life by hiding him.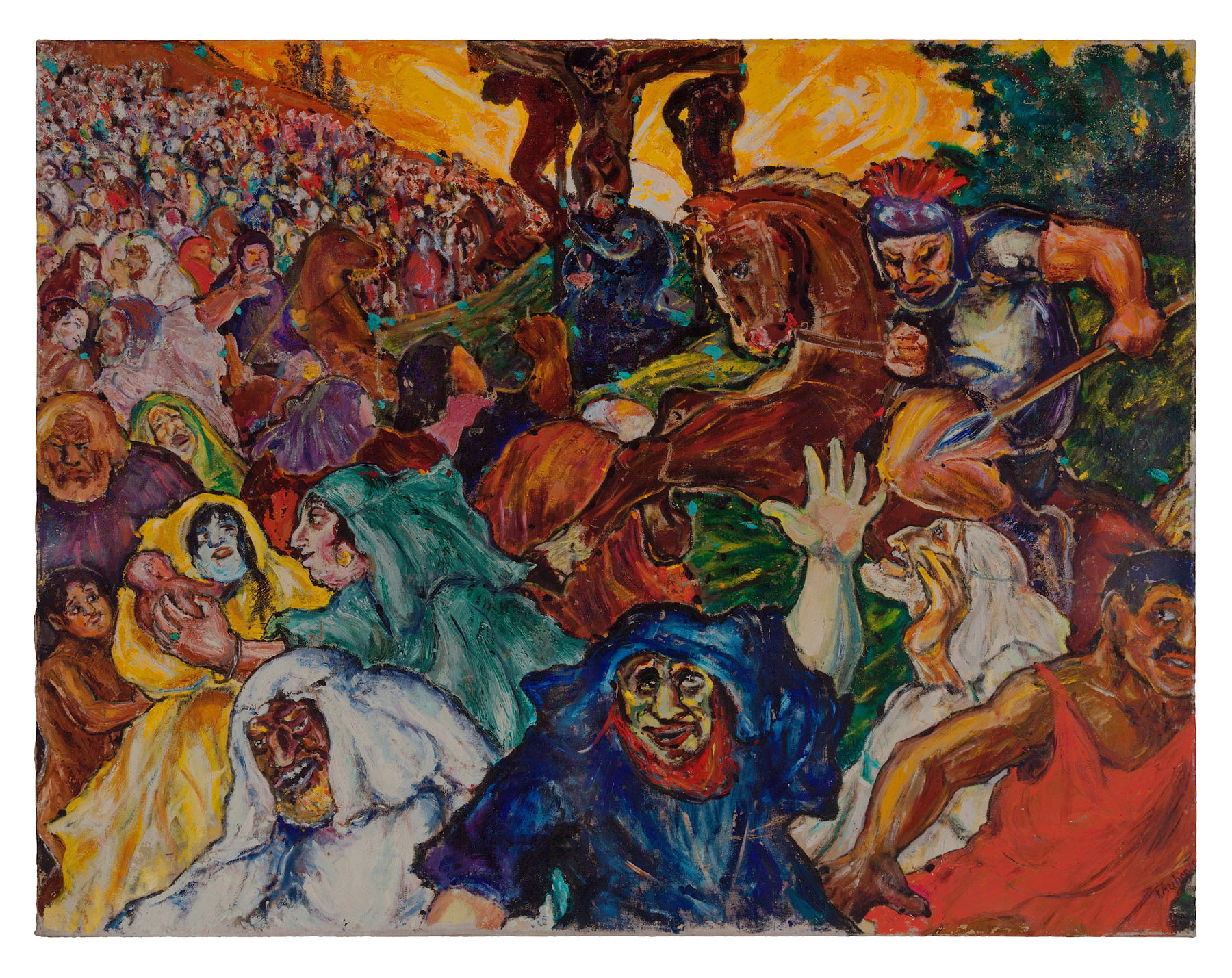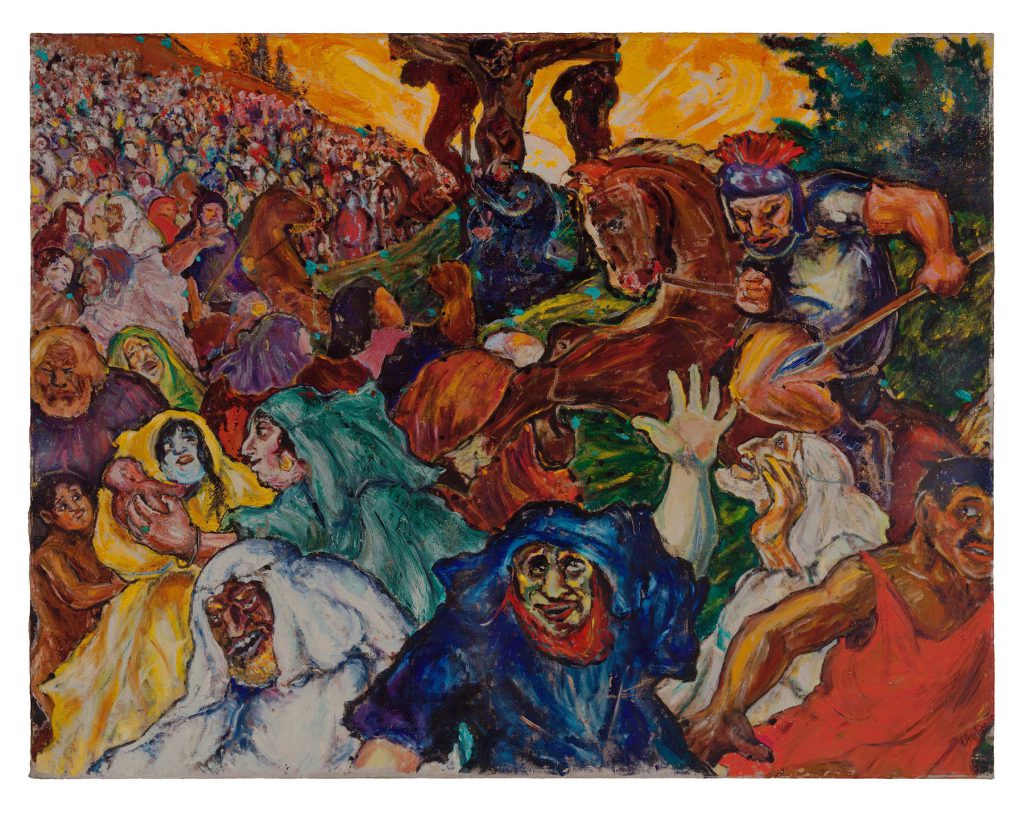 The artist Emil Nolde (1867-1956) was and is one of the best known Expressionist artists in Germany. His nine panel-painting "The Life of Christ" from 1911/12 caused a scandal, being a painting with a religious theme, in which simplified forms and expressionist colors were used. It is this painting that surely encouraged Fritz Ascher to paint "Golgatha" in 1915.
Nolde's personal biography only now came fully to light, because he actively and creatively doctored his own story, which was continued to be told by the foundation that managed his estate. Since 2013, the foundation has a new director, who discovered thousands of documents that were locked away – documents that prove that Nolde was a convinced Nazi and fierce Antisemite, up to the last day of Hitler's life. With the capitulation of Germany in 1945, he immediately and successfully changed his story, victimizing himself, and as such becoming one of the most celebrated "degenerate' artist in post-war Germany, supported by prominent art historians, museums and the art market.
Parts of that story were known for many years, but now the exhibition "Emil Nolde. A German Legend. The Artist during the Third Reich" at Hamburger Bahnhof – Museum for Contemporary Art (until September 15) tells this story in detail, supported by the newly accessible documents.
In many ways, his is a typical story, which applies to many German citizens. Maybe this was the reason for Angela Merkel to immediately take down the two Nolde paintings that were hanging in her office, now leaving her walls blank. Which is a shame, because German history is German history, and Emil Nolde – even though his personal opinions and decisions are morally and ethically highly questionable – created great art.
Also in Berlin, the Brücke Museum, in cooperation with Kunsthaus Dahlem, shows "Escape into Art? The Brücke Painters in the Nazi Period" (until August 11). Again initiated by a new director, this is the first critical and detailed examination of the artistic practice, scope and everyday life of the former Brücke artists Schmidt-Rottluff, Heckel, Pechstein and Kirchner during the Nazi period.
Hopefully, this re-assessment will continue, and the new generation of art historians, curators and cultural leaders is strong enough to finally write a more truthful and complex art history of 20th century Germany.
I'll conclude with this hope, wishing everyone a wonderful summer!
All best wishes,
Rachel Stern, Director and CEO
Join the conversation!
#FritzAscher
#FritzAscherSociety
#ForgottenModernism
#ArtSurvives
Follow us on instagram or twitter, and befriend us on facebook!
artwork Fritz Ascher ©2019 Bianca Stock, Photo Malcolm Varon
Join the conversation!
#FritzAscher
#FritzAscherSociety
#ArtSurvives
Follow us on instagram or twitter, befriend us on facebook, or check out our website!
artwork Fritz Ascher ©2018 Bianca Stock, Photo Malcolm Varon