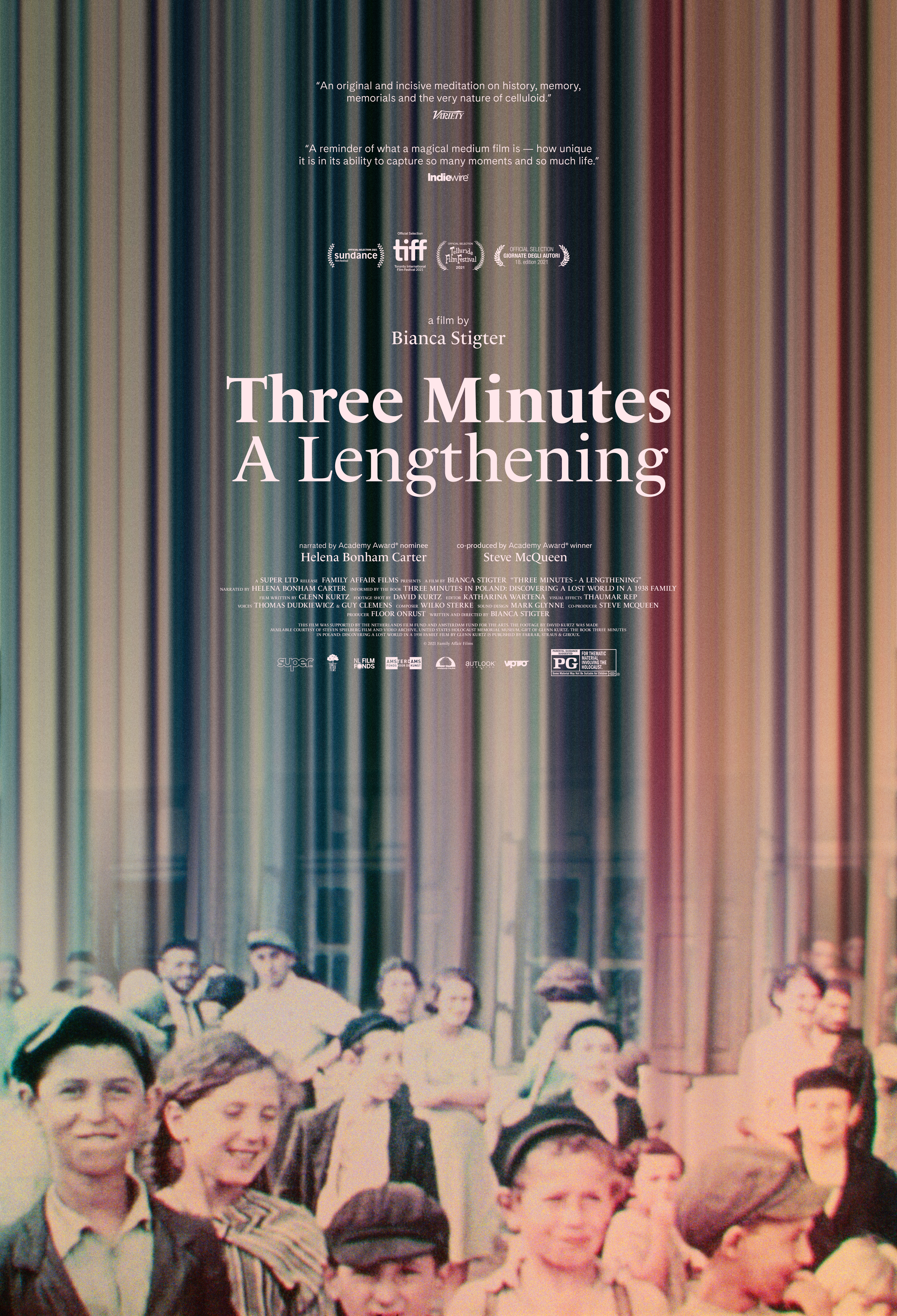 Sneak Preview of Theatrical Release "Three Minutes – A Lengthening"
Post-Screening Q&A with Director Bianca Stigter
and Author Glenn Kurtz, moderated by Dr. Ori Z Soltes
Quad Cinema, New York
August 18, 2022 @ 7:00 pm

-

9:00 pm

|

$16.00
"'Three Minutes' is more than a documentary about the Holocaust — it is an investigative drama, a meditation on the ethics of moving images and a ghost story about people who might be forgotten should we take those images for granted." Beatrice Loayza, The New York Times (Critic's Pick) [FULL ARTICLE HERE]
Thank you to everyone who made the sneak screening such a huge success! Catch a screening of the film:
Three minutes of footage of a 16mm home movie found in an attic in South Florida, shot by David Kurtz in 1938, are the only moving images remaining of the Jewish inhabitants of Nasielsk, Poland before the Holocaust.
Those precious minutes are examined in intricate detail to unravel the human stories hidden in the celluloid. Tracing the story of those three minutes begins with the journey of Glenn Kurtz to discover more about his grandfather's film, ultimately leading to identifying people and places otherwise erased from history, and helping to connect a Holocaust Survivor with his lost childhood. Produced by acclaimed Director Bianca Stigter. Co-Produced by Steve McQueen (Director, '12 Years a Slave'). Narrated by Helena Bonham Carter.
The Fritz Ascher Society for Persecuted, Ostracized and Banned Art hosted a sneak-preview of the theatrical release of Three Minutes: A Lengthening at the Quad Cinema, followed by a Q&A with Director Bianca Stigter and Author Glenn Kurtz, moderated by Dr. Ori Z Soltes. This special screening is being co-sponsored by the Consulate General of the Federal Republic of Germany New York and the World Jewish Congress North America, in cooperation with the Abraham Berger Foundation, Descendants of Holocaust Survivors, German Film Office (a joint initiative of German Films and Goethe-Institut), Jewish Joint Distribution Committee (JDC), Leo Baeck Institute, March of the Living, Marlene Meyerson JCC Manhattan, YIVO Institute for Jewish Research, 3GNY, 3GNJ & 3G Philly, and Mean Streets Management, Overton VC and Cayle White Advisory Group.
Reception for New York Theatrical Release Sneak Preview: (from left) Jeremy Robert, Consul General of France, author Glenn Kurtz, film director Bianca Stigter, WJC Executive director Betty Ehrenberg, Fritz Ascher Society director Rachel Stern, Anton Klix, Consul of Federal Republic of Germany in NY; Rachel Stern at Olami Manhattan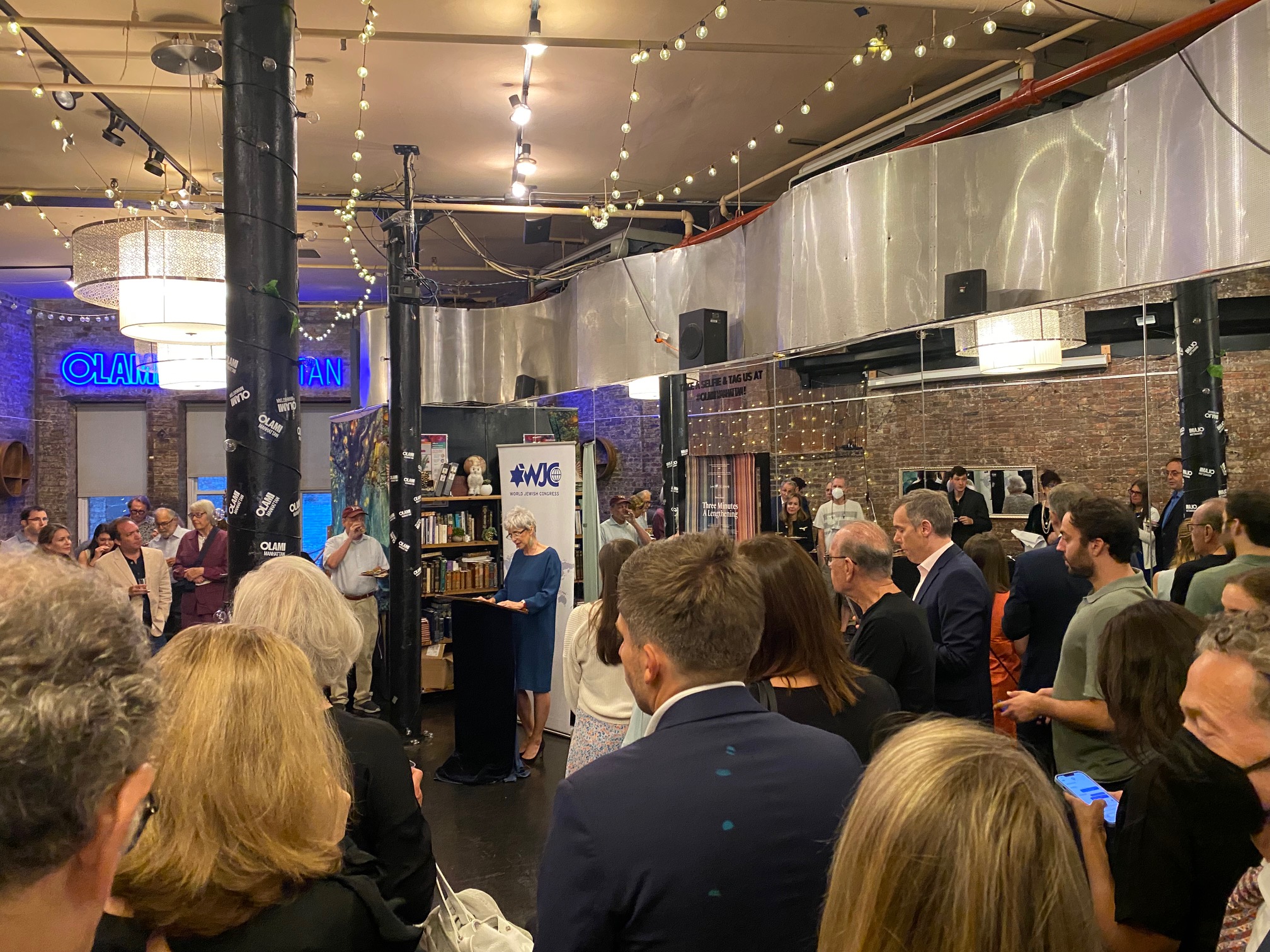 Reception for August 18 New York Theatrical Release Sneak Preview at Olami Manhattan
On August 18, the post-screening Q&A with book author Glenn Kurtz and filmmaker Bianca Stigter was moderated by Ori Z Soltes, PhD, who teaches at Georgetown University across the disciplines of theology, art history, philosophy and politics. He is the former Director and Curator of the B'nai B'rith Klutznick National Jewish Museum where he curated some 80 exhibitions. He is the author of several hundred articles and catalogue essays, and the author or editor of 25 books, including The Ashen Rainbow: The Holocaust and the Arts; Symbols of Faith: How Jewish, Christian, and Muslim Art Draw from the Same Source; and Tradition and Transformation: Three Millennia of Jewish Art and Architecture (second edition forthcoming).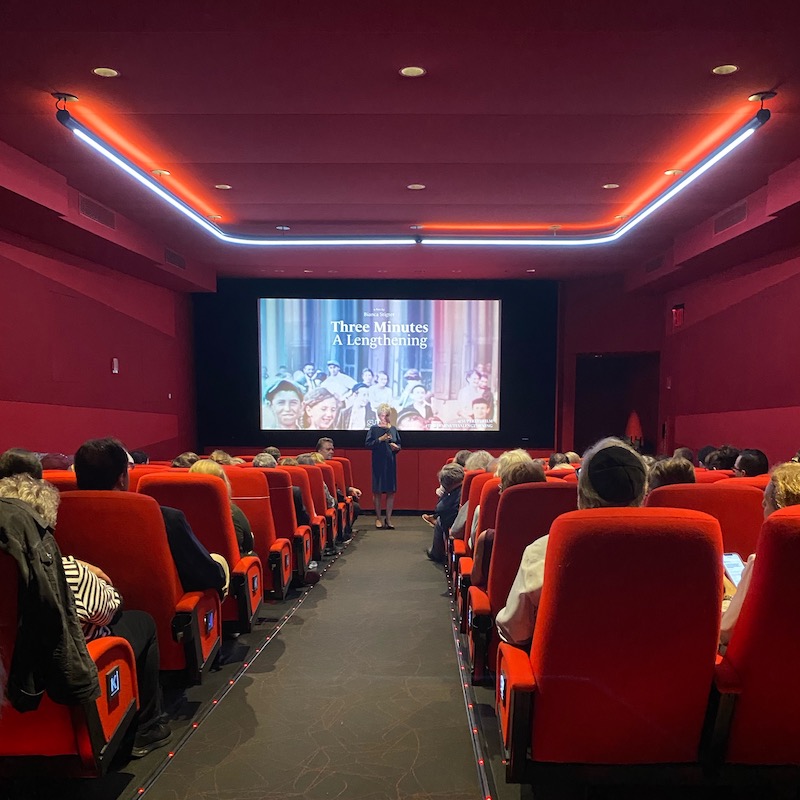 August 18 Sneak Screening of THREE MINUTES – A LENGTHENING with post-screening Q&A with director Bianca Stigter and author Glenn Kurtz, moderated by Dr. Ori Z Soltes, Georgetown University.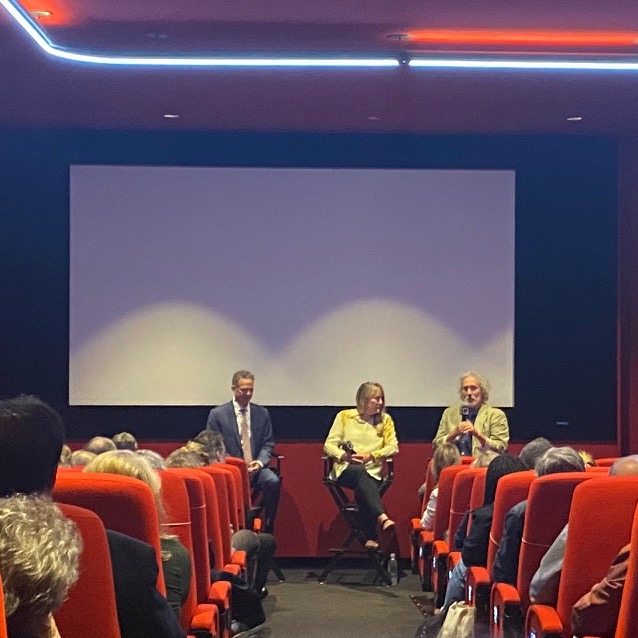 August 18 Sneak Screening of THREE MINUTES – A LENGTHENING with post-screening Q&A with director Bianca Stigter and author Glenn Kurtz, moderated by Dr. Ori Z Soltes, Georgetown University.
As a child, David Kurtz emigrated from Poland to the United States. In 1938 he returned to Europe for a sightseeing trip and whilst there he visited Nasielsk, the town of his birth. Specifically for this trip, he bought a 16mm camera, then still a novelty rarely seen in a small town never visited by tourists. Eighty years later his ordinary pictures, most of them in color, have become something extraordinary. They are the only moving images that remain of Nasielsk prior to the Second World War. Almost all the people we see were murdered in the Holocaust.
For this film essay, director Bianca Stigter examined the footage in the fullest detail, to see what the celluloid would yield to viewers almost a century later. The footage is treated as an archaeological artifact to gain entrance to the past.
Three Minutes – A Lengthening is an experiment that turns scarcity into a quality. Living in a time marked by an abundance of images that are never viewed twice, we do the opposite here: circle the same moments again and again, convinced that they will give us a different meaning each time. The film starts and ends with the same unedited found footage, but the second time you will look at it quite differently.
Three Minutes – A Lengthening investigates the nature of film and the perception of time. Through the act of watching, the viewers partake in the creation of a memorial.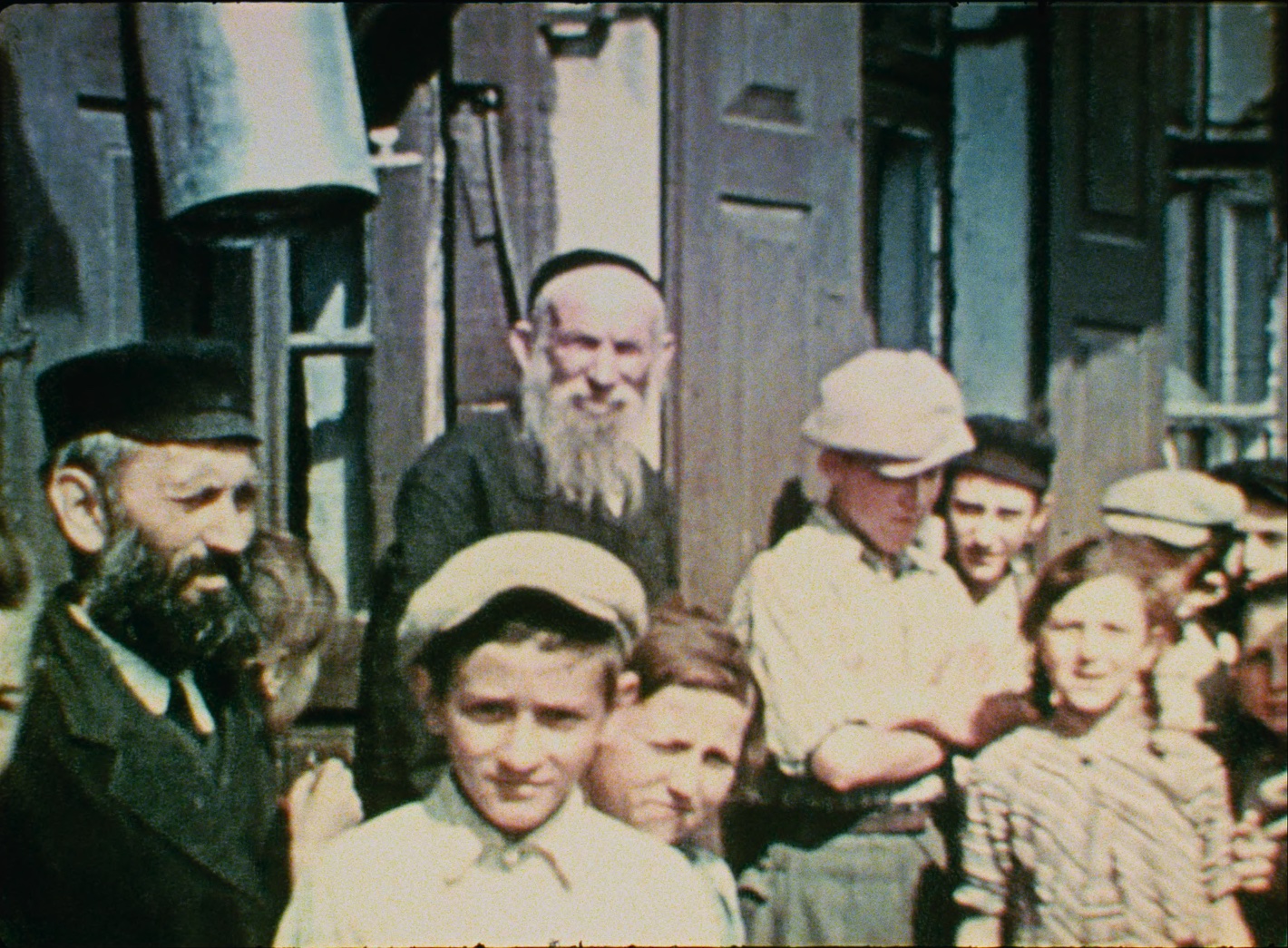 Jewish townspeople of the predominantly Jewish village of Nasielsk, Poland in 1938 as seen in Bianca Stigter's Three Minutes – A Lengthening. Image courtesy of Family Affair Films, © US Holocaust Memorial Museum.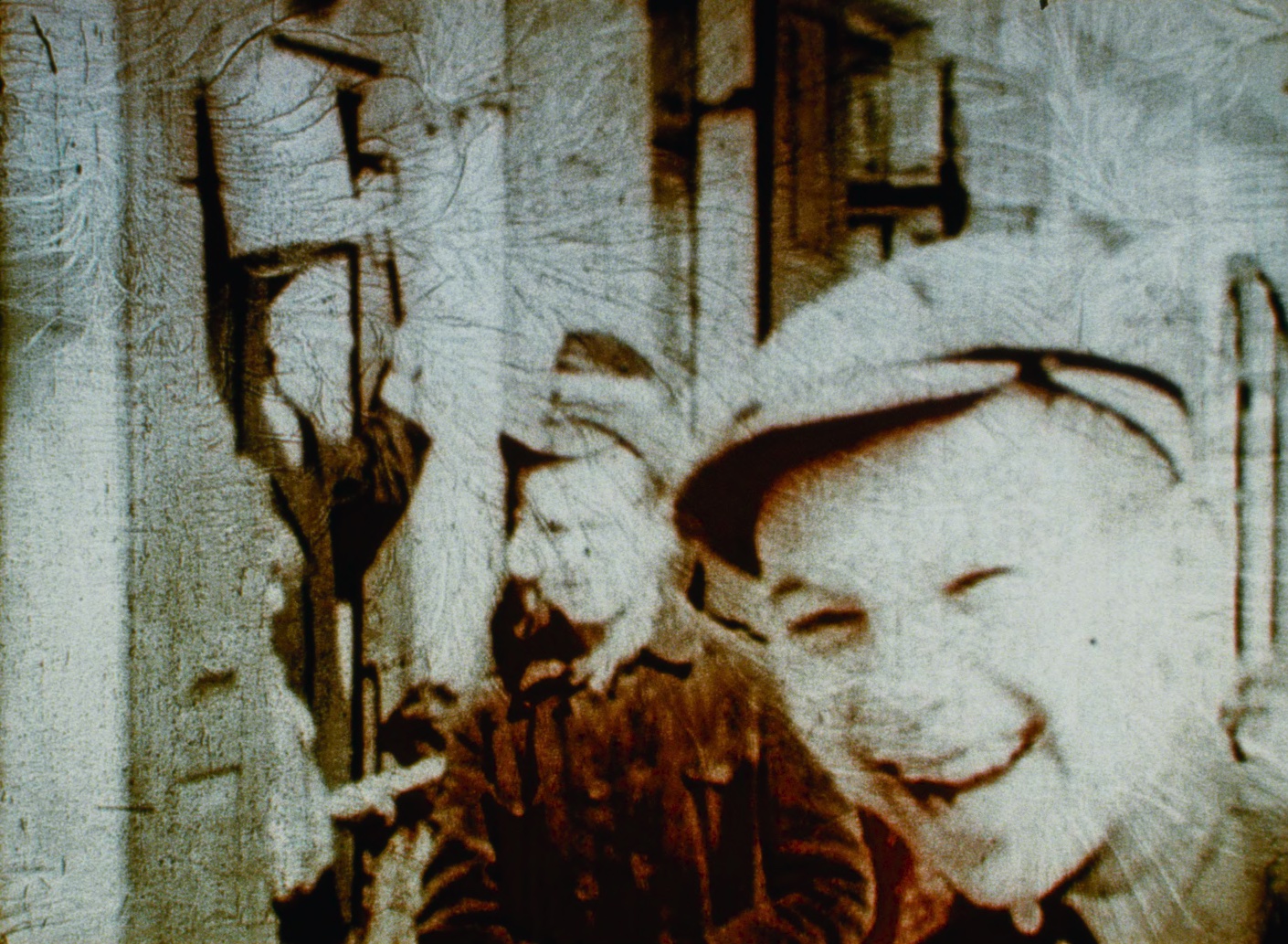 Children living in the predominantly Jewish village of Nasielsk, Poland in 1938 as seen in Bianca Stigter's Three Minutes – A Lengthening. Image courtesy of Family Affair Films, © US Holocaust Memorial Museum
In Three Minutes – A Lengthening Glenn Kurtz shares his extensive knowledge of his grandfather's footage from Nasielsk, which had 3000 Jewish inhabitants in 1938. By the end of the Second World War fewer than 100 were still alive. Glenn Kurtz' book Three Minutes in Poland: Discovering a Lost World in a 1938 Family Film, traces his four-year journey to identify the people in his grandfather's images.
Bianca's feature film directorial debut, Three Minutes: A Lengthening, World-Premiered at the 2021 Venice Film Festival, followed by Telluride, Toronto International Film Festival (TIFF), and DOC NY. The film was accepted to the 2022 Palm Springs International Film Festival and screened at the Sundance Film Festival. The film had its Southeast Premiere at the 2022 Miami Jewish Film Festival, won the Documentary Jury Prize at the 2022 Atlanta Jewish Film Festival, the Best Documentary Award at the 2022 Virgin Dublin International Film Festival, the European Young Jury Award and a Special Mention at the 2022 Brussels International Film Festival, and the 2022 DocAviv and Yad Vashem's Prize for Cinematic Excellence in a Documentary on the Holocaust.
Bianca Stigter, director of Three Minutes - A Lengthening. Photo credit: Annaleen Louwes
Bianca Stigter is a writer, director, historian and cultural critic. She made the short film essays Three Minutes -Thirteen Minutes – Thirty Minutes (2014) and I Kiss This Letter - Farewell Letters from Amsterdammers (2018). She is associate producer of Steve McQueen's feature films 12 Years a Slave and Widows. In 2019 she published the book Atlas of an Occupied City: Amsterdam 1940-1945.
Steve McQueen is an artist and filmmaker. He directed four critically acclaimed feature films, Hunger, Shame, Widows and 12 Years A Slave, which won the Academy Award for Best Picture. McQueen's most recent project, Small Axe, is an anthology of five films which brings to life the experiences of London's West Indian community. Two of the films were selected for the 2020 Cannes Film Festival. McQueen's artwork is exhibited and held in major museums around the world. In 2019/2020 Tate Modern showed a retrospective of his work and Tate Britain was home to his Year Three exhibit.
Helena Bonham Carter is a two-time Academy Award nominee for her roles in The Wings of the Dove and The King's Speech (BAFTA winner for Best Actress). Other film credits include Alice in Wonderland: Through the Looking Glass; A Room with a View; Howard's End; Harry Potter; Corpse Bride; Ocean's 8 and more recently Enola Holmes. Helena recently played Princess Margaret in the highly successful The Crown for Netflix (SAG Award winner). Other credits include Enid; Live from Baghdad; Merlin; Fatal Deception: Mrs Lee Harvey Oswald. Helena has voiced many audio books, documentaries, animations and short films.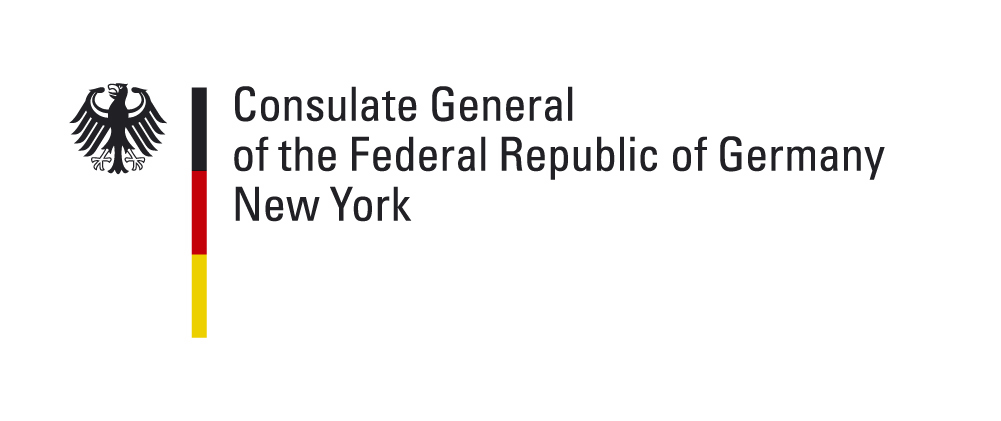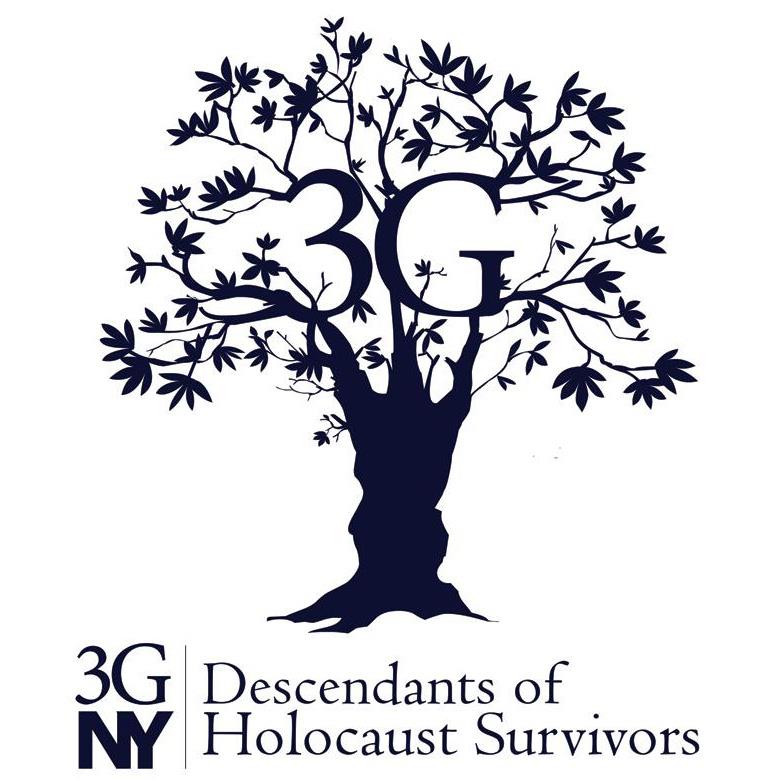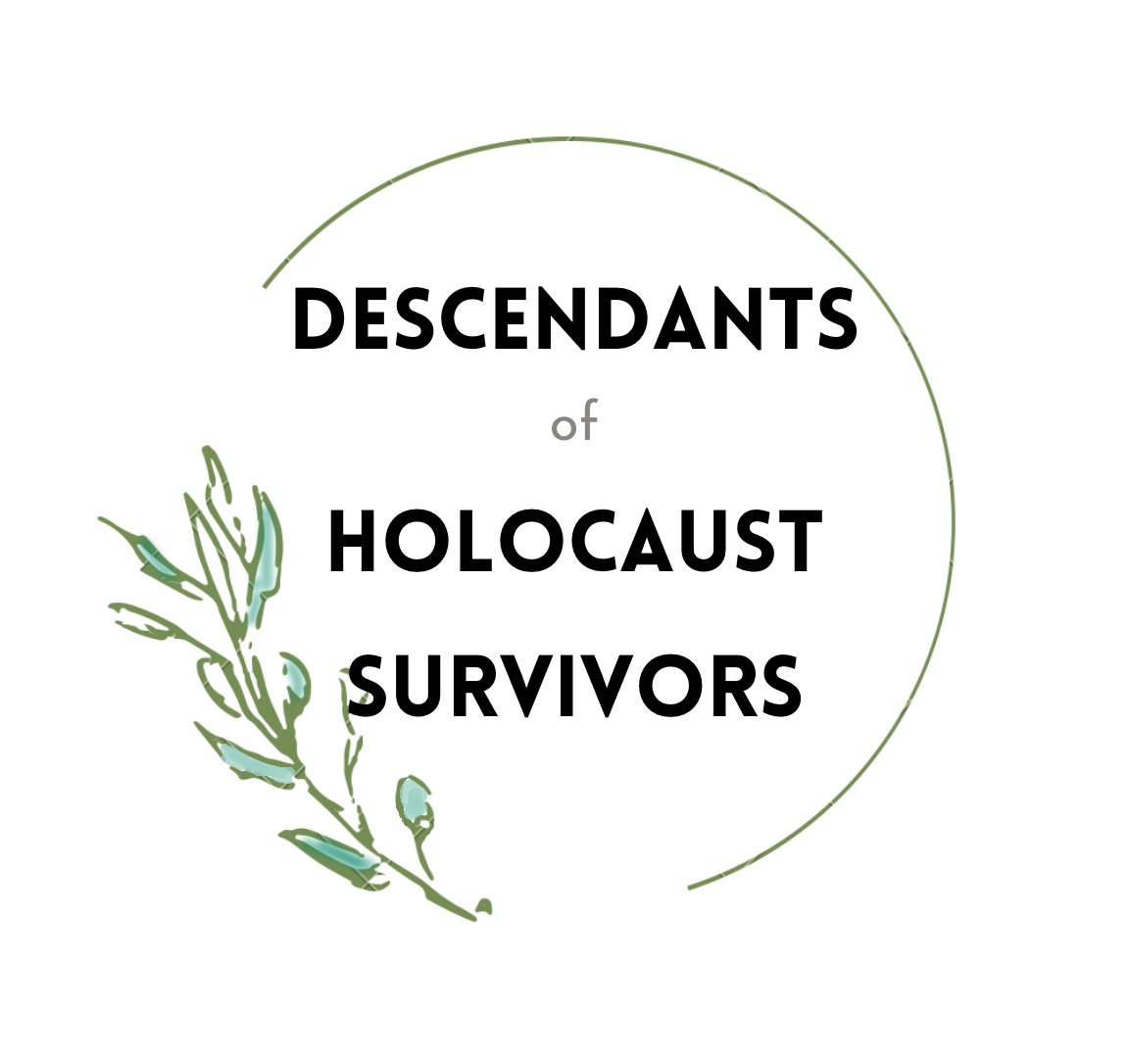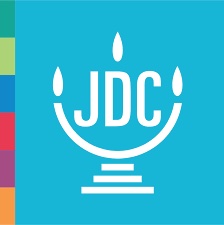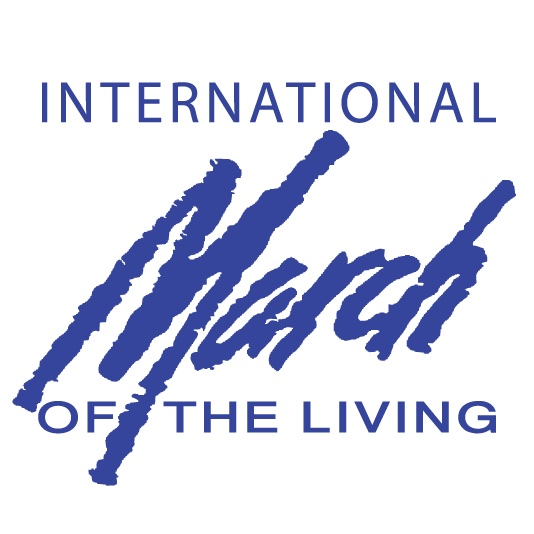 Future events and the recordings of past events can be found HERE.
Please become part of our SUMMER CAMPAIGN. YOUR SUPPORT MAKES OUR WORK POSSIBLE. THANK YOU.
Share This