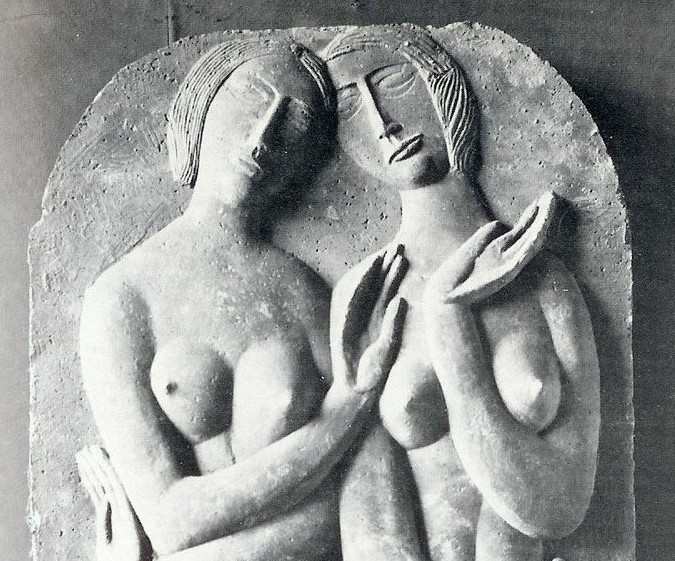 Sculpting the Light:
Avant-Garde to Auschwitz and Beyond.
Moissey Kogan (1879-1943)
Lecture by Helen Shiner, Oxford (UK)
August 4, 2021 @ 12:00 pm

-

1:00 pm

|

Free
Lecture by
Helen Shiner
Director/Editor at the Moissey Kogan Catalogue Raisonné of Sculpture & Prints, Oxford (UK)
Introduced by
Rachel Stern
Director and CEO of the Fritz Ascher Society in New York
Moissey Kogan (1879-1943) was an innovative, influential sculptor-craftsman and printmaker, whose career straddled the European avant-gardes of the first half of the 20th century. A cosmopolitan Russian Jew, whose work was marked by his interest in Jewish mysticism and theosophical beliefs, Kogan looked to non-European cultures and ancient sources, in common with many of his contemporaries in Munich, Berlin, Amsterdam, and Paris, to root his avant-garde experimentations and revivals of ancient techniques, in what were considered more authentic means of expression.
On the day Adolf Hitler came to power, Kogan fled Berlin and returned to his home in Paris, forced to leave behind him many of his key works in the care of dealers and museum collections. He would be obliged to watch powerless as his work was seized by the Nazis, only to be vilified in the infamous Entartete Kunst show of 1937, and the related exhibit, Der ewige Jude. In hiding in Paris and associated with the Résistance, the sculptor would finally be arrested by the Vichy police and transported to his death at Auschwitz.
This talk discusses Kogan's artistic positioning within the European avant-gardes and his preoccupation with transcendence and light. In stark contrast, it will consider the consequences of the Nazi looting of his work for the task of reconstructing his oeuvre and reclaiming his career from unjustified obscurity.
This event is part of the monthly series "Flight or Fight. stories of artists under repression."
Helen Shiner trained as an art historian at the Birmingham Institute of Art & Design, and the Courtauld Institute London, following a first degree in modern languages at the University of Leeds. She is the author of a book on the sculpture of André Derain, written to accompany an exhibition at the Kunsthal Rotterdam, as well as articles and exhibition catalogue essays on Modernist sculpture, art patronage, and the art market. She has lectured in art and design history at the Courtauld Institute London, the Birmingham Institute of Art & Design, and Winchester School of Art, amongst others, and has undertaken research for several artists' estates, and for the Public Monuments and Sculpture Association, London. Helen was the first to identify, compile, and publish a comprehensive list of works in all media by Kogan, and she initiated the Moissey Kogan Catalogue Raisonné project in February 2018 to mark the 75th anniversary of the sculptor's death at Auschwitz.
Image: Detail of Moissey Kogan, Two Women, 1913. Relief, artificial stone; formerly Museum Folkwang, Essen. Confiscated 1937 as part of Degenerate Art campaign. Now lost. Photographer unknown 
Share This