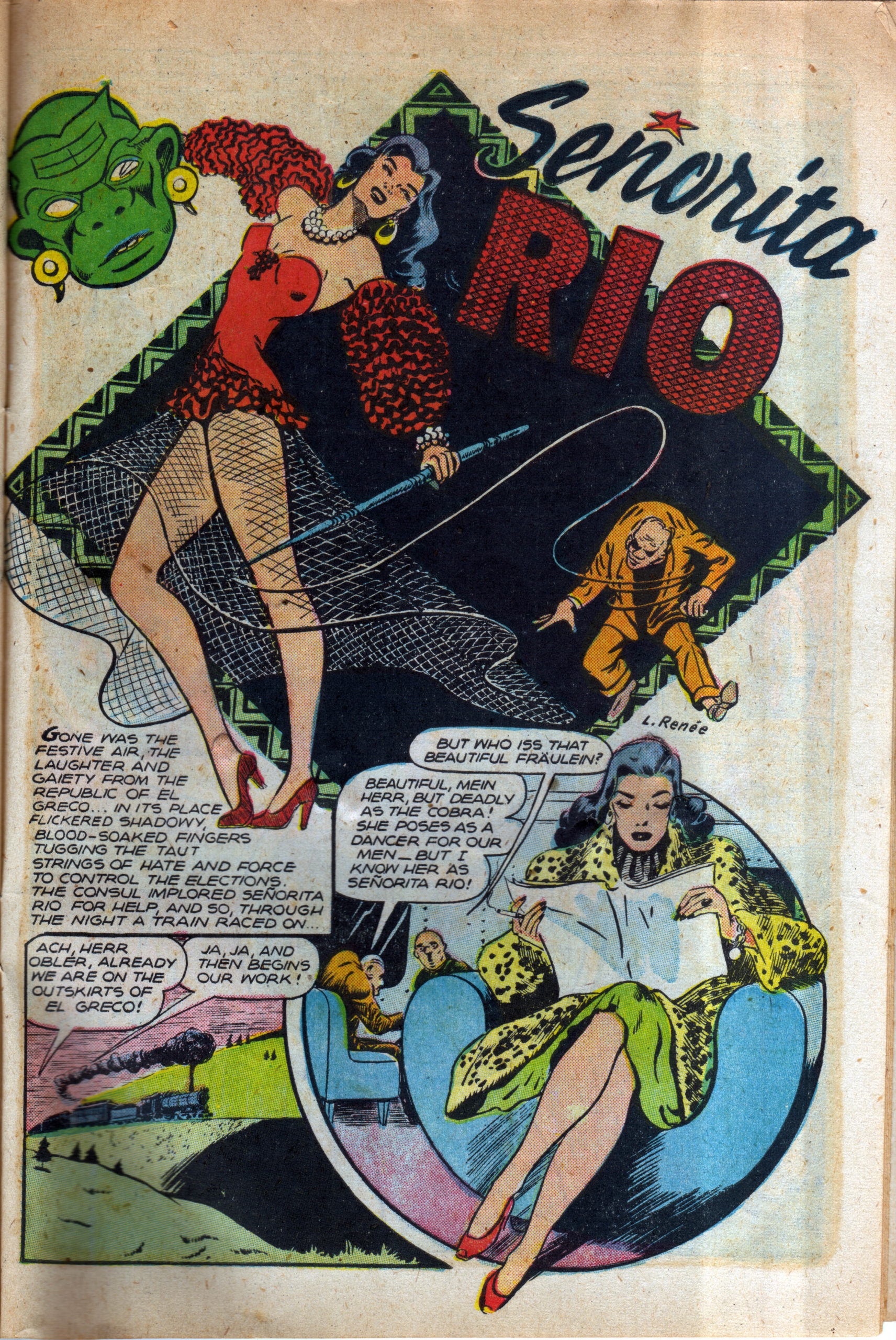 Lily Renée (1921-2022):
From Refugee to Renown
Featuring Trina Robbins, Adrienne Gruben and David Armstrong
November 17, 2021 @ 12:00 pm

-

1:00 pm

|

Free
Lily Renee arrived during the Holocaust in New York City as a teenager, and somehow found work in the male-dominated comic book world. By the time of her retirement, she had become a legend and her heroic female characters–like Lily herself, smashing through the glass ceiling of gender expectation–and shaping figures that would inspire several generations of young readers, both girls and boys, to rethink the norms that so often otherwise surrounded them.
Image above: Lily Renée, Senorita Rio, Fight Comics, Fiction House, not dated. Trina Robbins collection.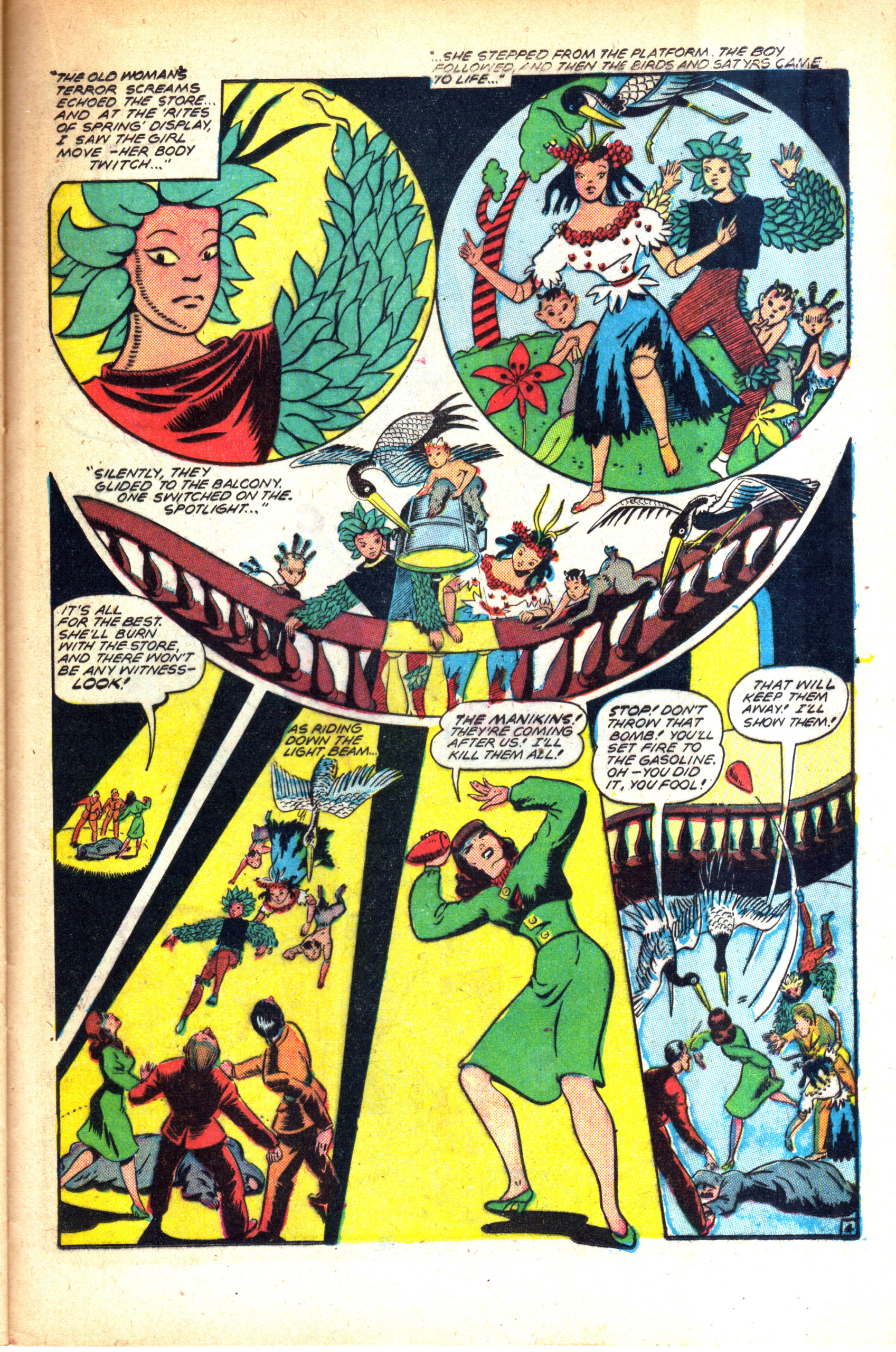 Lily Renée, Lily Renée, The Werewolf Hunter, Fiction House, not dated (probably 1948). Trina Robbins collection © Lily Renée
Lily Renée, The Werewolf Hunter, Fiction House, not dated. Trina Robbins collection © Lily Renée
Featuring
Trina Robbins, Comic Herstorian and Artist, San Francisco CA
Adrienne Gruben, Mexican-American director of the film "Lily"
David Armstrong, Executive Producer of the film "Lily"
Moderated by
Rachel Stern, Director and CEO of the Fritz Ascher Society.
DIRECTOR: Adrienne Gruben
PRODUCERS: Adrienne Gruben, Benjamin Shearn, David Armstrong
2019
Award-winning herstorian and writer Trina Robbins has been writing books, comics, and graphic novels for over fifty years. She has written and drawn comics from Wonder Woman to Barbie. Her 2009 book, The Brinkley Girls: the Best of Nell Brinkley's Cartoons from 1913-1940 (Fantagraphics), and her 2011 book, "Tarpe Mills and Miss Fury," were nominated for Eisner awards and Harvey awards. Her all-ages graphic novel, Chicagoland Detective Agency: The Drained Brains Caper, first in a 6-book series, was a Junior Library Guild Selection. Her graphic novel, "Lily Renee: Escape Artist," was awarded a gold medal from Moonbeam Children's Books and a silver medal from Sydney Taylor Jewish Library Awards. Trina's most recent book is The Flapper Queens, her history of women cartoonists of the jazz age. In 2013, Trina was voted into the Will Eisner Comic Book Hall of Fame.
Mexican-American director Adrienne Gruben spent five years bringing Lily Renée Phillips' story to light for her film "Lily." Formerly a producer, Ms. Gruben's credits include "Treasure Island" (Sundance Special Jury Prize Winner, 1999), "Running With The Bulls" (IFC comedy special, 2003) and "You're Gonna Miss Me" (Independent Spirit Award Nominee, 2007), a documentary exploring the life of legendary musician Roky Erickson. In 2017 she directed a drag queen variety Christmas special for OutTV Canada, and went on to direct "The Queens," which followed the lives of four famous drag queens, as well as comedy specials for internationally acclaimed drag performers, Katya, Trixie, Alaska and Bob the Drag Queen. Outside of film, Ms. Gruben has worked on the international marketing campaigns for films like "Captain America: The First Avenger," the "Mission: Impossible" sequels "Fallout," and "Ghost Protocol," "A Quiet Place I & II" and the upcoming "Top Gun Maverick."
David Armstrong has been involved with the Feature Film and Television production and distribution businesses for over fifty years. Starting at the American Film Institute's Center for Advanced Film Studies, he worked for John Casavettes' production company, Faces International Films as a film editor on "A Woman Under the Influence." Armstrong has held executive positions at Vestron Television, All American Television, USA Networks International and MGM Worldwide Television Group. As a comic book historian, he was the Contributing Editor of the definitive three volume IDW book series on Alex Toth and curator of the comic archive stories in "DC Comics Before Superman: Major Malcolm Wheeler-Nicholson's Pulp Comics." Armstrong is the Co-Producer of an animated pilot for Frank Cho's "Liberty Meadows," and the Executive Producer of "Lily," about the pioneering comic book artist, Lily Renée.
Rachel Stern is the Founding Director and CEO of The Fritz Ascher Society for Persecuted, Ostracized and Banned Art. Born and educated in Germany, she worked for ten years in the Department of Drawings and Prints at the Metropolitan Museum of Art in New York. She is a 2018 recipient of the Hans and Lea Grundig Prize, in recognition of her research about the artist Fritz Ascher (Berlin, 1893-1970), the international traveling exhibition and the book To Live is to Blaze with Passion: The Expressionist Fritz Ascher/ Leben ist Glühn: Der Expressionist Fritz Ascher (Cologne: Wienand 2016). In 2020, she published a selection of poems by Fritz Ascher, Fritz Ascher. Poesiealbum 357 (Wilhelmshorst: Märkischer Verlag) and edited, with Julia Diekmann, the exhibition catalogue The Lonely Man. Clowns in the Art of Fritz Ascher (1893-1970) / Der Vereinsamte. Clowns in der Kunst Fritz Aschers (1893-1970) (Holzminden: Verlag Jörg Mitzkat).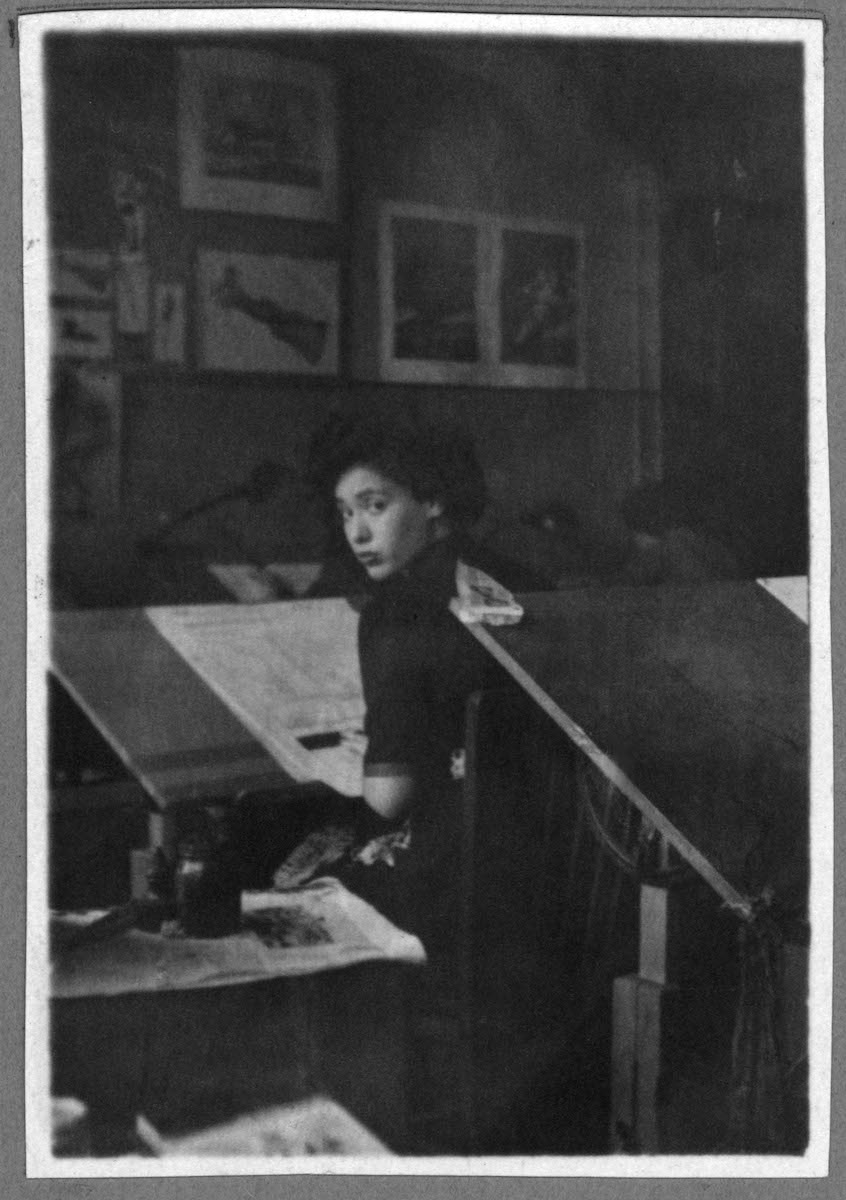 Photo Lily Renée at work at Fiction House, not dated. Lily Renée collection © Lily Renée
Share This