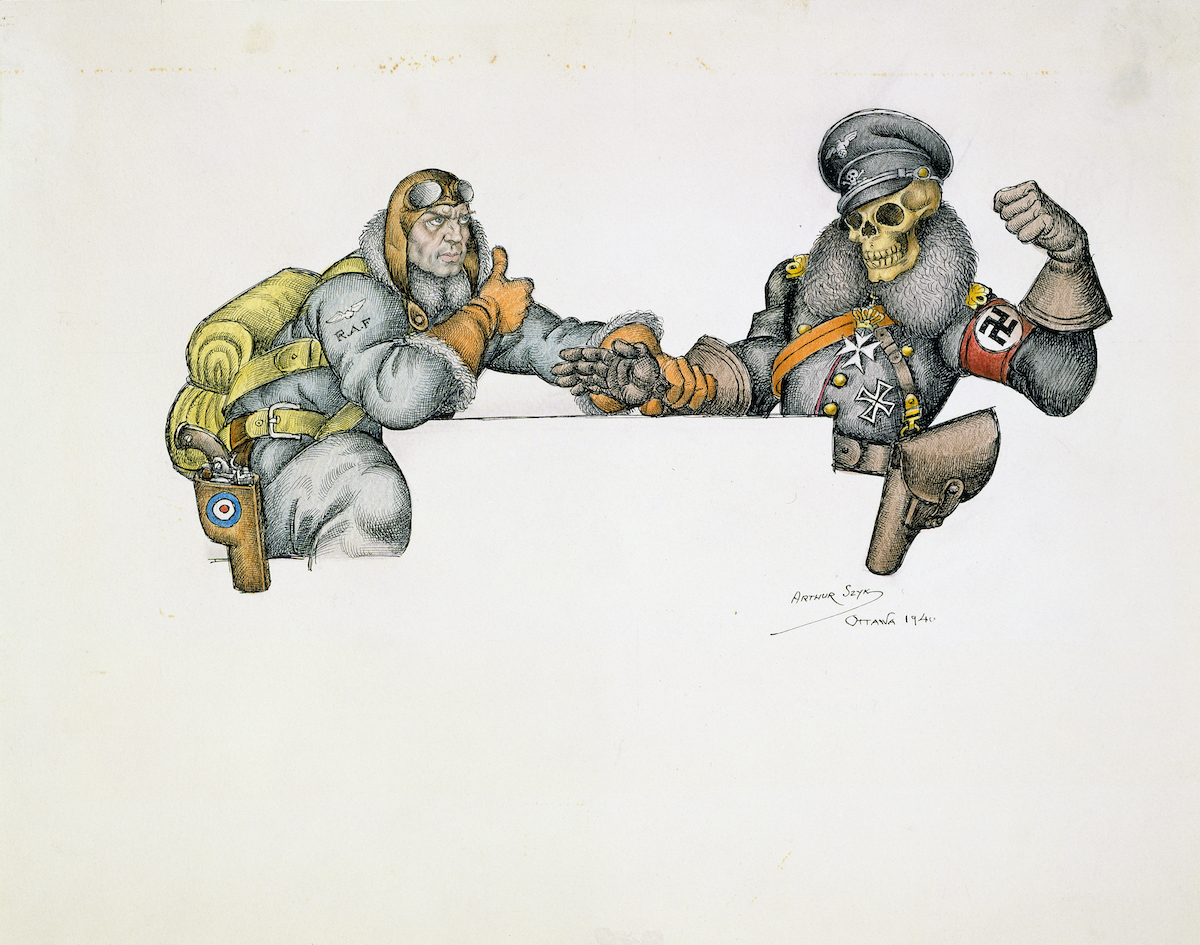 The Cartoon Crusader Comes to America:
Arthur Szyk's Battle against the Nazis in the New World
Featuring Steven Luckert and Irvin Ungar
November 10, 2021 @ 12:00 pm

-

1:00 pm

|

Free
Prior to World War II, Polish-born Arthur Szyk (Lodz 1894 – 1951 New Canaan, CT) was best known for his ornately detailed renderings of historical subjects and Jewish themes. But after the German invasion of Poland in September 1939, he gained the accolades of international audiences for his biting caricatures of Nazi leaders and his efforts to garner support for the Allied cause and Europe's persecuted Jews. In 1940, Szyk took his mighty pen to the United States, where he quickly became a popular artistic sensation. His images graced the covers and inside pages of leading magazines, like Time, Colliers, Esquire, Look, The American Mercury, Coronet, and Liberty. Szyk's cartoons regularly appeared in The New York Post, The Chicago Sun, and PM. Millions of Americans knew his work, even if they could not pronounce his name.
Image above: Arthur Szyk, Thumbs Up, Ottawa, 1940. Graphite, watercolor, colored pencil, ink on paper, 6.7 x 12.4 in. (17 x 31.5 cm).United States Holocaust Memorial Museum Collection, Gift of Joseph and Alexandra Braciejowski
Featuring
Steven Luckert, PhD, Senior Program Curator, Levine Institute for Holocaust Education 
at the United States Holocaust Memorial Museum, Washington DC and
Irvin Ungar, Arthur Szyk scholar
Moderated by
Ori Z Soltes, PhD, Teaching Professor at Georgetown University, Washington DC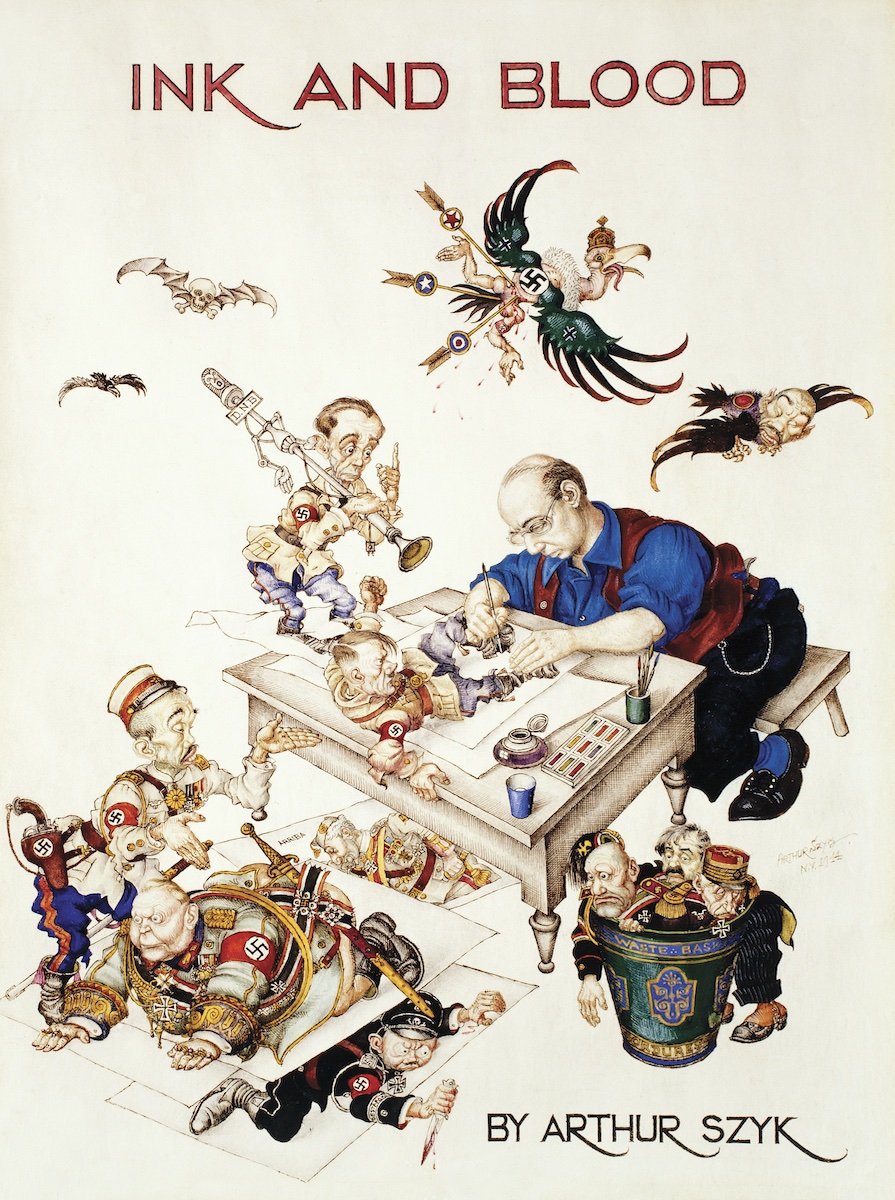 Arthur Szyk, cover illustration for his book, Ink and Blood, New York, 1944,  paper, ink, paint, graphite, and colored pencil, United States Holocaust Memorial Museum Collection, Gift of Joseph and Alexandra Braciejowski. Completed before the end of the Second World War, the image shows Szyk finishing off Hitler while the others wait their turn. To the side, Szyk shows the French Vichy leaders, Pierre Laval and Marshal Philippe Petain, and Italian Fascist leader, Benito Mussolini, already in the waste bin of history.
Steven Luckert PhD is Senior Program Curator in the Levine Institute for Holocaust Education at the United States Holocaust Memorial Museum in Washington, DC. He served for 20 years as the Curator of the Museum's acclaimed permanent exhibition, The Holocaust. In addition, he curated eight special exhibitions, including The Art and Politics of Arthur Szyk and State of Deception: The Power of Nazi Propaganda. He has appeared in: CSPAN, CNN, NBC Nightly News, Associated Press, Reuters International, History Detectives, The History Channel, Huffington Post, ZDF, PBS, Fox, The Washington Post, The New York Times, The Wall Street Journal, National Geographic Channel, National Public Radio, Telemundo, Iranwire, Al-Hura, The Atlantic, The Forward, Boston Globe, Cox News Service, USA Today, Jewish Telegraphic Agency, and Tass. Steven Luckert received his Ph.D. in Modern European History from the State University of New York Binghamton and published on German history, Holocaust, and Nazi propaganda.
Irvin Ungar, a former pulpit rabbi and antiquarian bookseller, has devoted the past quarter-century to scholarship on Arthur Szyk. He has curated and consulted for numerous Szyk exhibitions, including the Fine Arts Museums of San Francisco, the Deutsches Historisches Museum (Berlin), the United States Holocaust Memorial Museum, the Library of Congress, and the New-York Historical Society. Ungar is the author of Arthur Szyk: Soldier in Art (winner of the 2017 National Jewish Book Award), co-producer of the documentary film, "Soldier in Art: Arthur Szyk," and the creator and publisher of the luxury limited edition of The Szyk Haggadah. He has also served as the curator of The Arthur Szyk Society in Burlingame, California.
Ori Z Soltes PhD teaches at Georgetown University across the disciplines of theology, art history, philosophy and politics. He is the former Director and Curator of the B'nai B'rith Klutznick National Jewish Museum where he curated some 80 exhibitions. He is the author of several hundred articles and catalogue essays, and the author or editor of 25 books, including The Ashen Rainbow: The Holocaust and the Arts; Symbols of Faith: How Jewish, Christian, and Muslim Art Draw from the Same Source; and Tradition and Transformation: Three Millennia of Jewish Art and Architecture and Immortality, Memory, Creativity, and Survival: The Arts of Alice Lok Cahana, Ronnie Cahana and Kitra Cahana (FAS 2020)
Arthur Szyk signing the first sheet of British-American Ambulance Corps poster stamps for Eleanor Roosevelt, New York, February 19, 1941, United States Holocaust Memorial Museum, courtesy of Eileen Shneiderman
This is an event of our online project "Identity, Art and Migration" in which we investigate US immigration of European refugees during the first half of the 20th century through the lens of seven artist case studies: Anni Albers, Friedel Dzubas, Eva Hesse, Rudi Lesser, Lily Renee, Arthur Szyk and Fritz Ascher.
What is it that defines human identity? DNA? Language? Culture? Landscape? Polity? Or is it a combination of all of these factors? How do the sources of identity make it easy or difficult for individuals who migrate from one location to another—by choice or under duress—not merely to adapt but to become fully comfortable within their new home? How do artists, with their particular set of sensibilities—and who are purveyors of, respondents to, and shapers of culture—respond to their own migration? How do they transfer the diverse identity norms of the worlds they leave behind to the new worlds into which they arrive? Can they translate from one language of images to another? 
Each one of the seven artists featured in this project was affected in different ways by Nazi policies and came as a refugee to the United States, to remain or not to remain here—or hiding within Germany throughout the war. The life and work of each of these artists addresses the issue of identity and the particulars of its expression from slightly different angles. As a compendium, they all serve as an intensified and emphatic articulation of the broader issues of relocation, transformation and the psychological and cultural self as a centerpiece of human being.
Generously sponsored by the Consulate General of the Federal Republic of Germany in New York.
Share This