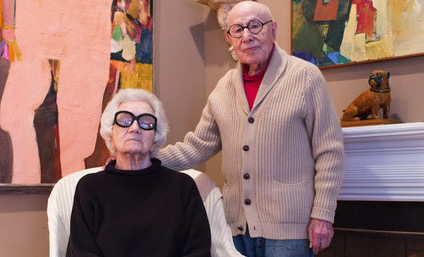 Judith and Gerson Leiber.
A Life of Beauty, Love and Inspiration
Lecture by Ann Fristoe Stewart
July 6, 2022 @ 12:00 pm

-

1:00 pm

|

Free
"If Romeo and Juliet had lived into their 90s, they would have been Judy and Gerson." That's how Jeffrey Sussman described Judith and Gerson Leiber.
Join us as Ann Fristoe Stewart gives a unique insight into the astonishing story of famed handbag designer Judith Leiber, a survivor of Hitler's Europe who came to America and took the fashion accessory industry by storm, and of highly accomplished and creative artist Gerson Leiber, and speaks about the creativity, humanity, the love and the genius of Judith and Gerson Leiber.
Image above: Judith and Gerson Leiber © The Leiber Collection
Judith Leiber, Peacock-Shaped Minaudiére with Multicolor Crystal Rhinestones and Black Onyx & Sodalite Stone Details, 2004. Photo credit: Gary Mamay © The Leiber Collection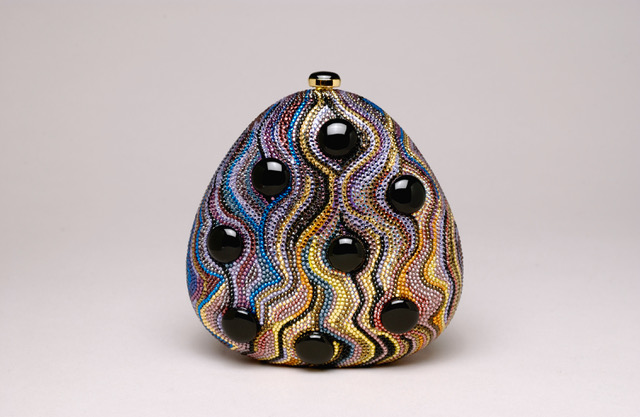 Judith Leiber, Gold Box with Multicolor Crystal Rhinestone Wave Design & Black Onyx Stones on Body & Lock, 2004. Photo credit: Gary Mamay © The Leiber Collection
Judith Leiber (born Judit Pető, 1921–2018) was known for her small crystal-covered handbags called minaudiéres, many of which took the whimsical forms of animals, flowers or other objects. The bags were often decorated with gems or semi-precious stones and were gold or silver plated. Singers, Hollywood celebrities, and Divas, as well as many US First Ladies, have carried her bags.  Judith Leiber has won almost every award offered to fashion designers, and her handbags are in the collections of many museums including The Museum of Modern Art in New York City, The Victoria and Albert Museum in London and the Corcoran Museum in Washington DC, to name a few.
Born in 1921, Judith Peto Leiber was the first female apprentice and master in the Hungarian handbag guild. She survived World War II in hiding, and met her husband Gerson, an American soldier, in the streets of Budapest when the city was liberated. After moving to the United States as a GI bride, Leiber worked as a pattern maker and then foreman for several handbag companies until she formed her own company in 1963. Initially, she and her husband were the sole employees of the company.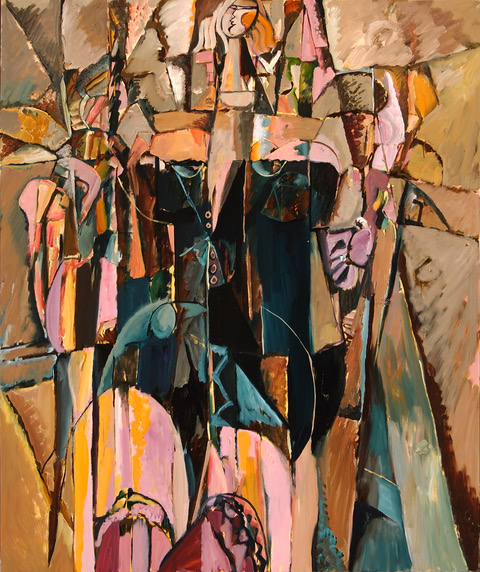 Gerson Leiber, Structured Model in Blue, 1993. Oil on linen, 74 x 62 inches. Photo credit: Gary Mamay © The Leiber Collection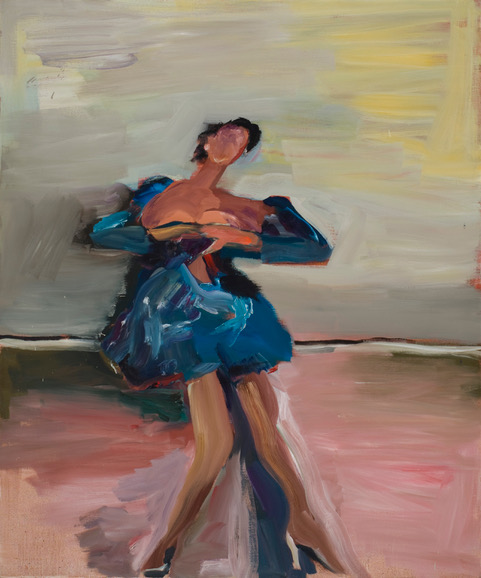 Gerson Leiber, Model in Blue, 1981. Oil on linen, 60 x 50 inches. Photo credit: Gary Mamay © The Leiber Collection
Gerson Leiber, also known as Gus (1921-2018), was a Modernist Artist who created paintings, prints and sculptures inspired by his life in the Fashion world and by his beloved gardens. His work has been featured in several prominent US museums, including the Metropolitan Museum of Art, the National Gallery of Art in Washington DC, and the Whitney Museum of American Art.
Born in Brooklyn in 1921, Gerson showed promise in his high school art classes. Later, while stationed in Hungary in the army, he took classes at the Royal Academy of Art in Budapest. After the war, he studied at the Art Students League–painting with Louis Bosa and printmaking with Will Barnet. Later, at the Brooklyn Museum's art school, Gerson began engraving with Gabor Peterdi. His prints won many awards and were featured in many one-person shows, including exhibitions at Associated American Artists and the Alex Rosenberg Gallery.
To support the couple during his art studies, Gerson's wife, Judith Leiber, designed handbags for major manufacturers. In the 1960s, Gerson persuaded Judith to produce her bags independently, and they opened their own business based on Judith's designs. The now-famous company reflects the couple's shared taste in art.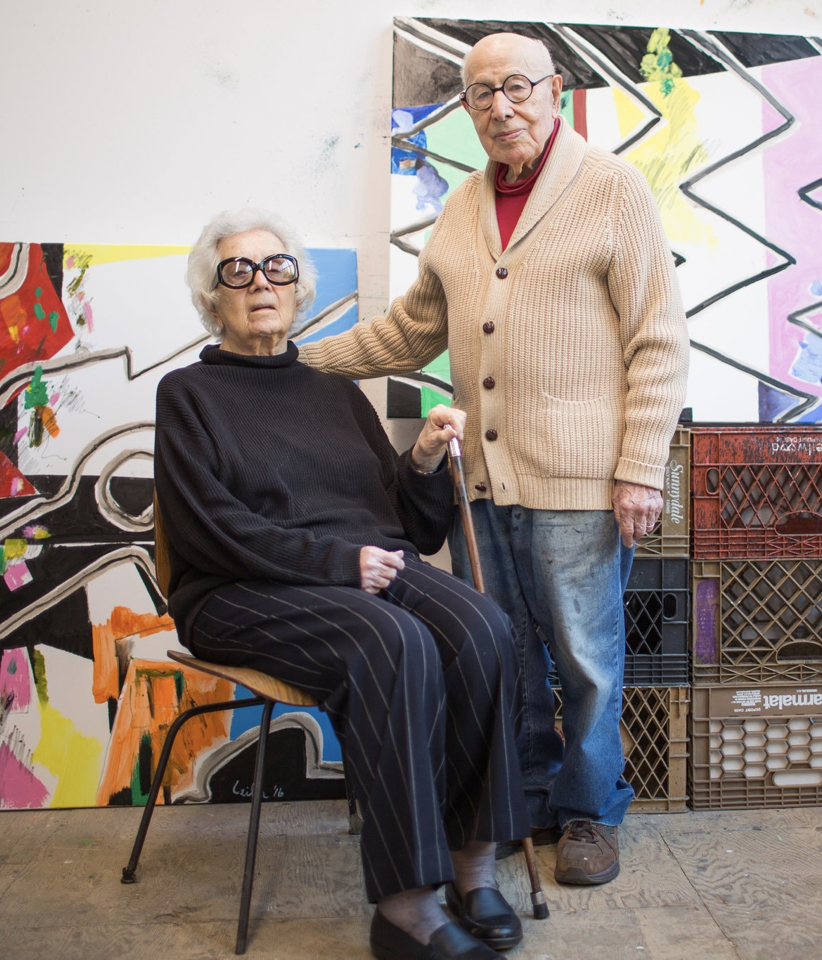 Judith and Gerson Leiber In Gus' Studio. Photo Lindsay Morris © The Leiber Collection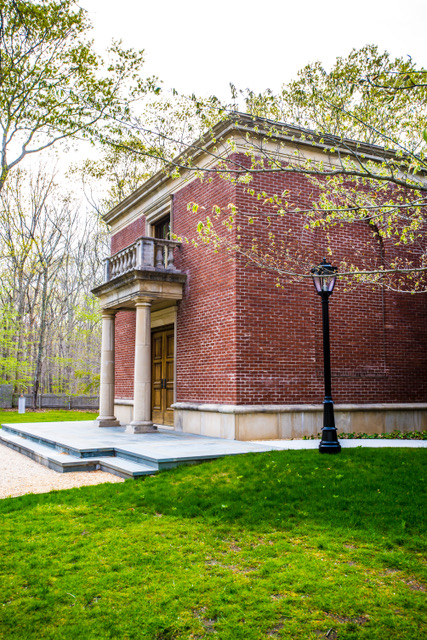 The Leiber Collection Museum. Photo credit: Wil Weiss © The Leiber Collection
Ann Fristoe Stewart is the Director and Curator of The Leiber Museum and Sculpture Garden in East Hampton, New York. She had the great honor of working side by side with Judith and Gerson Leiber until their deaths in 2018. She is dedicated to keeping their legacy alive through the continuation of their museum, and through sharing their extraordinary works and the story of their fascinating lives with fans around the globe.
Ann received a Masters of Fine Arts degree from Parsons School of Design in New York City, where she worked at the Metropolitan Museum of Art and for artists such as Jeff Koons, Rona Pondick and Kara Walker.
The Leiber Collection is housed in a magnificent Renaissance styled Palladian edifice, which sits majestically in a sublime sculpture garden designed by Gerson Leiber. It is located in the East Hampton, New York hamlet of Springs.
This event is part of our monthly series
Flight or Fight. stories of artists under repression.
Future events and the recordings of past events can be found HERE.
We offer all our virtual programs free of charge. Please help us keep it that way and become part of our SUMMER CAMPAIGN.
YOUR SUPPORT MAKES OUR WORK POSSIBLE. THANK YOU.
Share This