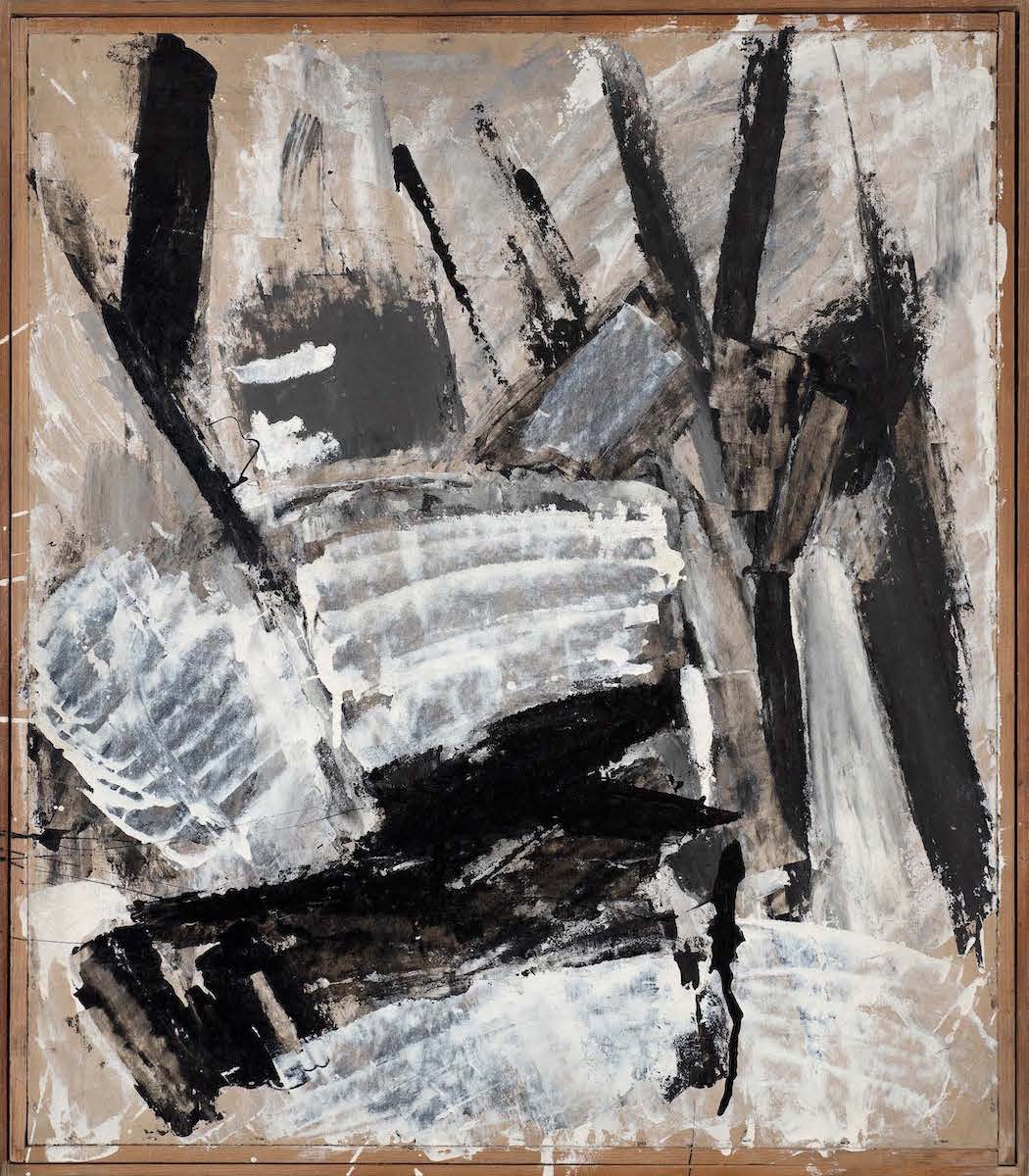 Becoming Gustav Metzger:
Uncovering the Early Years (1945-1959)
Lecture by Nicola Baird, London (UK)
July 7, 2021 @ 12:00 pm

-

1:00 pm

|

Free
Lecture by
Nicola Baird
Research Officer and Curator at Ben Uri Gallery and Museum, London
Introduced by
Rachel Stern
Director and CEO of the Fritz Ascher Society in New York
Born in Germany to Polish-Jewish orthodox parents in 1926, Gustav Metzger (1926-2017) was one of 10,000 Jewish children evacuated in 1939 to London as part of the Kindertransport. His parents, eldest brother, and maternal grandparents, all perished in the Holocaust. Upon the advice of Henry Moore, Metzger spent six months at the Cambridge School of Art, before enrolling at the Sir John Cass Institute in 1946, where he studied sculpture and attended David Bomberg's life drawing classes at the Borough Polytechnic, alongside contemporaries including Frank Auerbach.
The following year Metzger joined Bomberg's composition class, producing 'extremely fast and intense' paintings. In 1948 he obtained a stateless passport which enabled him to travel to the Netherlands, Belgium, and France to study continental European painting. He returned to England in 1949, resuming Bomberg's evening classes and subsequently initiating the Borough Bottega exhibiting society. After resigning in 1953, Metzger stopped painting for almost four years and moved to Kings Lynn in Norfolk. It was not until 1956 that he produced a series of oils depicting a three-legged table evocative of a mushroom cloud, his return to painting having coincided with his involvement in the Campaign for Nuclear Disarmament. Between 1957 and 1959, Metzger embraced abstraction, experimenting with paintings on thin sheets of mild steel. He described such work, which laid the foundation for his later auto-destructive practice, as a continuation of that produced in Bomberg's composition classes. From these important beginnings, Metzger went on to become 'the conscience of the artworld', a pioneering practitioner whose definitive contribution to British cultural and political history cannot be underestimated. He died in London in 2017.
Nicola Baird is a Research Officer and Curator at the Ben Uri Research Unit, Ben Uri Gallery and Museum, London. She is currently studying for a PhD in History of Art at London South Bank University in collaboration with Ben Uri.
As a Guest Curator at Burgh House she was the initiator of the Arts Council funded exhibition, 'The Making of an Englishman': Fred Uhlman, a Retrospective held at Burgh House before touring to the Hatton Gallery, Newcastle in 2018 and editor of the accompanying publication. In 2019 she curated Czech Routes to Britain: Selected Czechoslovak Artists in Britain from the Ben Uri and Private Collections at Ben Uri and for which she edited the accompanying catalogue.
This event is part of the monthly series "Flight or Fight. stories of artists under repression," which is generously funded by Allianz Partners.
On view at Ben Uri Gallery and Museum in London June 16 – September 17, 2021, "Becoming Gustav Metzger: Uncovering the Early Years (1945–59)" is the first museum exhibition to examine the little-known formative years of refugee artist and activist Gustav Metzger. The sixth in the Ben Uri Research Unit's survey exhibitions highlighting the important contribution of Jewish and immigrant artists to British visual culture since 1900, the exhibition showcases rarely seen drawings and paintings from this crucial early period – the majority never previously exhibited – together with related archival material. Highlights include Metzger's Head of E. Royalton-Kisch (1950) and the large expressionist oils, The Dissolution of the City (1946) and Eroica, Funeral March (1946), as well as early abstract works on board and cardboard, and a kodak box. Together they chart Metzger's artistic journey from figuration to abstraction prior to the development of his later radical auto-destructive practice.
The exhibition also includes important contextual works by pioneering modernists Jacob Epstein, Henri Gaudier-Brzeska and David Bomberg (drawn from the Ben Uri Collection), all important early influences upon Metzger. Bomberg mentored Metzger – a favoured pupil at his revolutionary Borough Polytechnic evening classes, and, in 1948, encouraged him to exhibit at both Ben Uri Art Gallery and the London Group. Metzger later paid tribute to Bomberg as arguably 'the biggest influence on me'.
The exhibition is curated by Nicola Baird and Leanne Dmyterko, Co-Director of The Gustav Metzger Foundation.
Exhibition Programming at Ben Uri Gallery and Museum:
Wednesday, July 14, 1:00-2:30pm EST / 6:00-7:30pm GMT
Discussion Panel
Andrew Wilson (Senior Curator Modern & Contemporary British Art, and Archives at Tate Britain) and Dr. Elizabeth Fisher (Leverhulme Research Fellow, Northumbria University) talk about the retrieval and re-discovery in 2010 and subsequent exhibition (at Documenta in 2012) of the early work as well as the relationship between ethics and aesthetics in Gustav Metzger's formative years, followed by a Q&A.
Wednesday, July 21, 1:00-2:00pm EST / 6:00-7:00pm GMT
Inaugural 100,000 Newspapers Documentary Film Screening and Discussion with Director, Martin Pickles
Following the inaugural screening of 100,000 Newspapers, a film documenting Gustav Metzger's 2003 'public-active installation' and performances of the same name at the T1+2 Art Space, East London, Martin Pickles (Lecturer in Animation Theory at University for the Creative Arts, Farnham) discusses not only the genesis of the film but also his experiences of filming and interviewing the artist.
Wednesday, July 28, 1:00-2:30pm EST / 6:00-7:30pm GMT
International panel explore the themes of ecology and activism in Metzger's oeuvre
A distinguished international panel explores the themes of ecology and activism in Metzger's oeuvre followed by a Q&A. We welcome Pontus Kyander (lecturer at the Finnish Academy of Fine Art and curator of Gustav Metzger: Act of Perish, The Centre of Contemporary Art, Torun, 2015), Mathieu Copeland (independent curator and author of Gustav Metzger: Writings 1953-2016), and Daniela Perez (curator of We Must Become Idealists of Die, Museo Jumex, Mexico, 2015).
Wednesday, August 18, 1:00-2:00pm EST / 6:00-7:00pm GMT
'On visiting Wittgenstein's grave with Gustav Metzger'
Writer and independent curator, Bronac Ferran addresses negation and its presence in Metzger's work contextualising her discussion by considering other artists and poets of the post-war period, followed by a Q&A.
Wednesday, September 9, 1:00-2:00pm EST / 6:00-7:00pm GMT
Insights into Metzger's practice and life
Jo Joelson, artist, writer and co-founder of artistic duo London Fieldworks shares insights into Gustav Metzger's practice through experiences of collaboration, friendship and care. Joelson will discuss collaborative projects on which she worked with Metzger including: Null Object (2012) and the immensely influential, Remember Nature (2015), followed by a Q&A.
Image: Gustav Metzger, Untitled, c. 1961-62. Oil on Kodak Box. Courtesy of the Gustav Metzger Foundation. © Justin Piperger
Share This