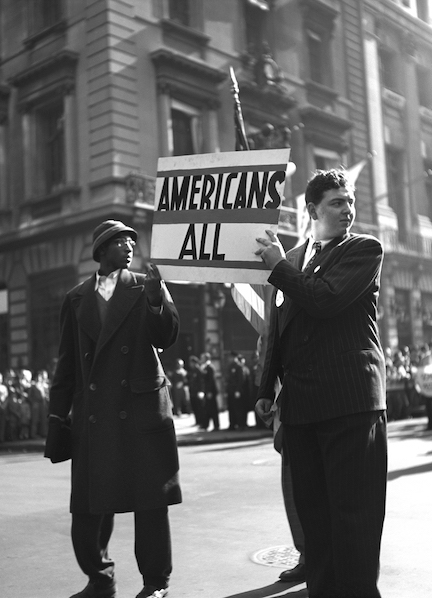 Out of Exile.
The Photography of Fred Stein (1909-1967)
With Son Peter Stein and Curator Ulrike Kuschel, Berlin (Germany)
November 2, 2022 @ 12:00 pm

-

1:00 pm

|

Free
Fred Stein lived through some of the greatest upheavals of the 20th century. He escaped Nazi Germany; he mingled with Chagall and Brecht in Paris; and he debated with Einstein in New York. He was a scholar, a refugee, and an idealist. But above all, he was a photographer. An early innovator of hand-held street photography in 1930s France and 1940s New York, his images are sophisticated, beautiful, and touching; his portraits include some of the most important people of the mid-20th century, like Albert Einstein.
Image above: Fred Stein, Americans All, New York 1943 © Fred Stein Archive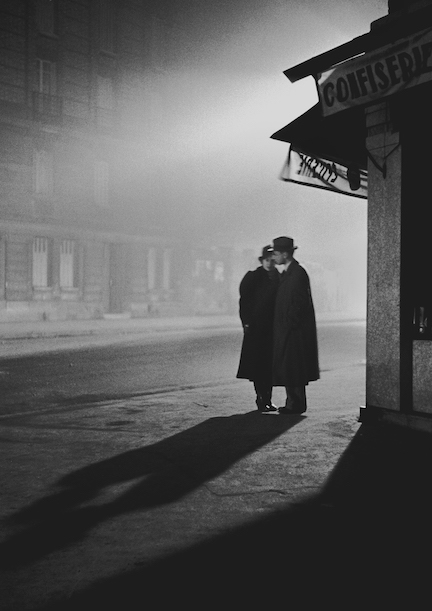 Fred Stein, Paris Evening,
Paris 1934 © Fred Stein Archive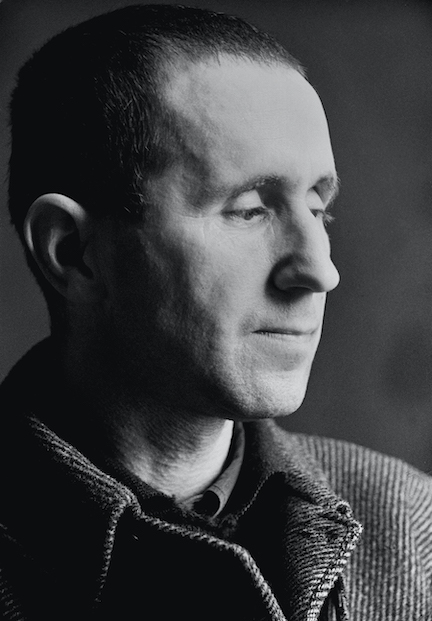 Fred Stein, Berthold Brecht, Paris 1935 © Fred Stein Archive
Fred Stein was born on July 3, 1909 in Dresden, Germany. His father was a rabbi and his mother taught religion. As a teenager he was deeply interested in politics and became an early anti-Nazi activist. He was a brilliant student, and went to Leipzig University, full of humanist ideals, to study law. He obtained a law degree in an impressively short time, but was denied admission to the German bar by the Nazi government for "racial and political reasons." After the Gestapo began making inquiries about him, Stein fled to Paris in 1933 with his new wife, Liselotte Salzburg, under the pretext of going on a honeymoon.
In Paris they were in the center of a circle of expatriates, intellectuals and artists. There he took up photography, and found his life's passion. He was a pioneer of the small, hand-held camera, and with the Leica which he and his wife had purchased as a joint wedding present, he went into the streets to photograph scenes of life in Paris. He took remarkable portraits of the people around him – people who were to become major intellectual figures, such as Willy Brandt, Arthur Koestler, and Andre Malraux, but also a flower vendor, a stylish couple, a refugee child…a host of poignant images that accuse the inequities of the social order, and at the same time, reveal the beauty and dignity of each individual.
When Germany declared war on France in 1939, Stein was put in an internment camp for enemy aliens near Paris. He managed to escape, and after a hazardous clandestine journey through the countryside, met his wife and baby girl in Marseilles, where they obtained visas through the efforts of the International Rescue Committee. On May 7, 1941, the three boarded the S.S. Winnipeg, one of the last boats to leave France. They carried only the Leica and some negatives.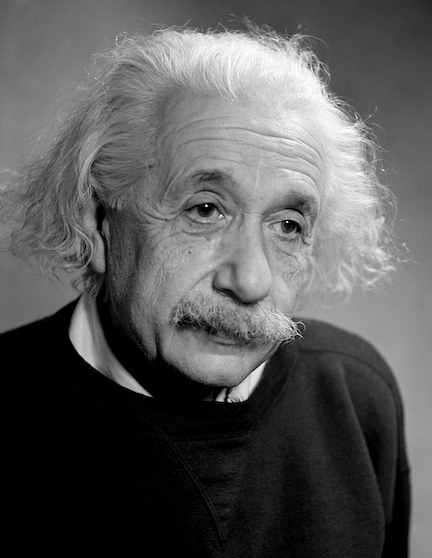 Fred Stein, Albert Einstein, Princeton, New Jersey 1946  © Fred Stein Archive
Fred Stein, Dobbs Fifth Avenue,
New York 1946 © Fred Stein Archive
New York was a vibrant center of culture, and Stein seized the opportunity. He met and photographed writers, artists, scientists, politicians, and philosophers whose work he knew through his extensive reading and study. This enabled him to engage them in conversation during portrait sessions. He continued his fascination with humanity, walking through the streets of New York, documenting life from Fifth Avenue to Harlem. He worked unobtrusively and quickly, valuing the freedom to capture the telling moment that reveals the subject in its own light, not as incidental material for photographic interpretation. He preferred natural or minimal lighting, and avoided elaborate setups as well as dramatic effects. He did not retouch or manipulate the negative. Stein was a member of the Photo League until he became disenchanted with their pro-Communist sympathies. Though portraits were his main income-generating work and he photographed many people on commission, he generally worked without assignment, shooting people and scenes that interested him. He would then offer his work to publishers and photo editors of magazines, newspapers, and books.
Stein died in 1967 at the age of 58. Though not a self-promoter, his portraits and reportage had appeared in newspapers, magazines, and books throughout the world. His portrait of Albert Einstein is his most famous picture: an iconic image of a great soul. He also lectured and held a number of one-man exhibitions and had several books published.
Fred Stein's work was exhibited widely in Europe and the US, and is included in public collections like the Museum of Modern Art, New York, the Los Angeles County Museum of Art, the National Portrait Gallery, London and the Jewish Museum Berlin.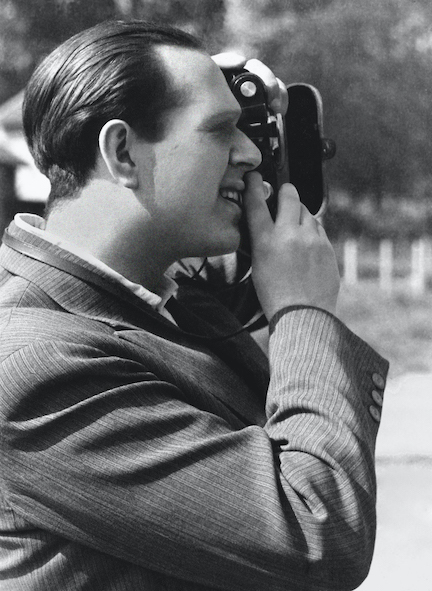 Fred Stein with Leica, ca. 1935. Unknown Photographer © Fred Stein Archive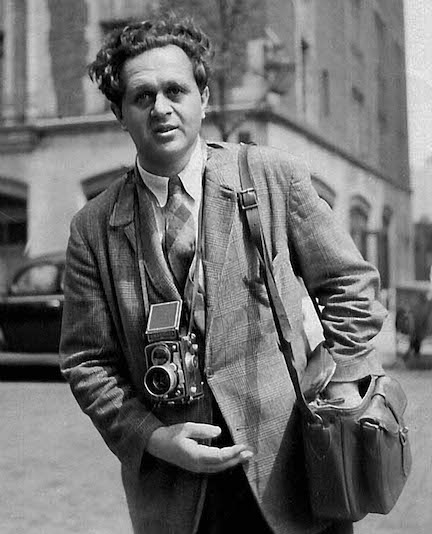 Fred Stein with Rolleiflex, ca. 1945. Unknown Photographer © Fred Stein Archive
This program features curator Ulrike Kuschel and son Peter Stein in conversation, moderated by Rachel Stern, director of the Fritz Ascher Society.
Ulrike Kuschel studied Fine Arts at the Berlin University of the Arts (Hochschule der Künste) in Berlin and has realized numerous artistic projects in Germany and abroad. In 2010 she was a fellow at the Villa Massimo in Rome. At the same time, she worked for a picture agency for many years and taught photography and the history of photography at various universities. From 2017 to 2020 she was a member of the jury of the Kunstfonds Foundation (Stiftung Kunstfonds) for the publication and education program. Since 2019, she has been working on various projects at the German Historical Museum (Deutsches Historisches Museum) in Berlin: in 2019/2020 she assisted in the exhibition "Hannah Arendt and the 20th Century", and in 2021 she curated the exhibition "Report from Exile – Photographs by Fred Stein" (December 11, 2020 to June 20, 2021). She is currently working on a digital history project.
Peter Stein, ASC has been the Director of Photography on over 50 feature films, TV movies, and documentaries, covering the last 35 years and was invited to join the prestigious American Society of Cinematographers in 1999. He grew up learning photography from his father, noted street photographer and portraitist Fred Stein. After deciding on a career in film he became a camera operator on the feature film "Between the Lines" directed by Joan Micklin Silver. He has lensed major studio and independent releases, including drama, comedy, suspense, horror and various cult films – and has been nominated for two Emmy Awards.
Peter has taught at SUNY Purchase and The School of Visual Arts, has lectured on cinematography at the New School, Hofstra, Fairleigh Dickenson, CCNY, Marist and UMass, and was a professor in the Graduate Film Program at New York University for 13 years, where he also served as Head of Production.  He manages the photo archive of his father Fred Stein, and produced and directed the film about him "Out of Exile – The Photography of Fred Stein."
This event is part of our monthly series
Flight or Fight. stories of artists under repression.
Future events and the recordings of past events can be found HERE.
We offer all our virtual programs free of charge. Please help us keep it that way. YOUR SUPPORT MAKES OUR WORK POSSIBLE. THANK YOU.
Share This