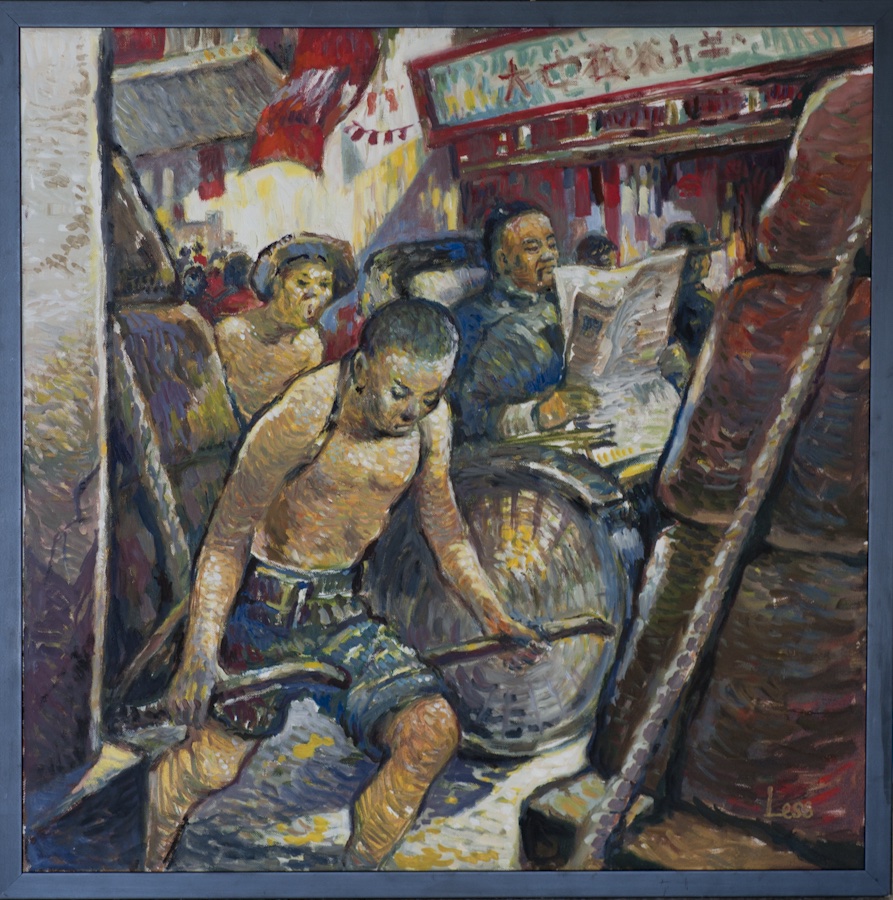 Through the Prism of Time:
John H. Less (1923-2011)
and His Visual Impressions of
Holocaust Refuge in Shanghai
October 6, 2021 @ 12:00 pm

-

1:00 pm

|

Free
Presentation by
Steven Less, PhD
Senior research fellow emeritus of the Max Planck Institute for Comparative Public Law and International Law and son of the artist in Heidelberg (Germany)
and
Hannah-Lea Wasserfuhr
PhD Candidate at the Center for Jewish Studies in Heidelberg, Heidelberg (Germany)
Moderated by
Rachel Stern
Director and CEO of the Fritz Ascher Society in New York
Born in Berlin, John Hans Less (1923 – 2011) fled to Shanghai in September 1940 as a 16-year-old together with his family to escape Nazi persecution. Largely dependent on relief organizations to survive, the Less family soon went through further disruptions when the Japanese occupied the city and later confined Jewish refugees to the Hongkew Ghetto. The sudden uprooting, immersion in a completely unfamiliar environment, and exposure to precarious conditions throughout the seven years Less endured as a refugee in Shanghai deeply affected both his life and art. Thankful to find employment and help support the family with his meager earnings as a commercial artist, he refused, however, to resign himself to the situation and forsake his wider artistic ambitions. Utilizing the limited supplies at hand, he kept a visual record of his refugee existence – mostly as rough sketches – to which he subsequently gave expression in the form of watercolor drawings and oil paintings. The original images became templates, for example, for a series of pictures created decades after he immigrated to the USA that were meant to illustrate an autobiographical account for young people. These drawings and related works reveal Less' attempt to reassure himself about the reality of his own experience while preserving the memory of Holocaust refuge in Shanghai for a future generation. While his artistic efforts never narrowly focused on his time in China or the past, the works that do have these motifs are more than reflections on a traumatized youth or flight from Nazi persecution; in them, he experimented with various styles and deconstructed stereotypical European perceptions of Asian culture. Thus, they also form part of a much bigger story about European-Asian encounters and European fascination with an "exotic" Orient.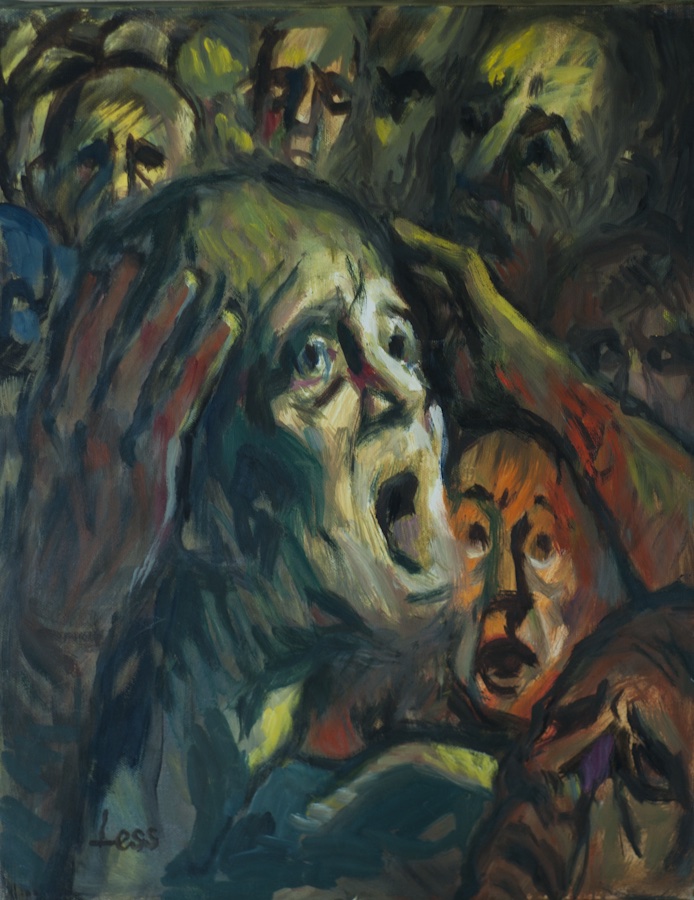 John H. Less, The Abandoned, 2004, oil painting, 18 "x 14", John H. Less Collection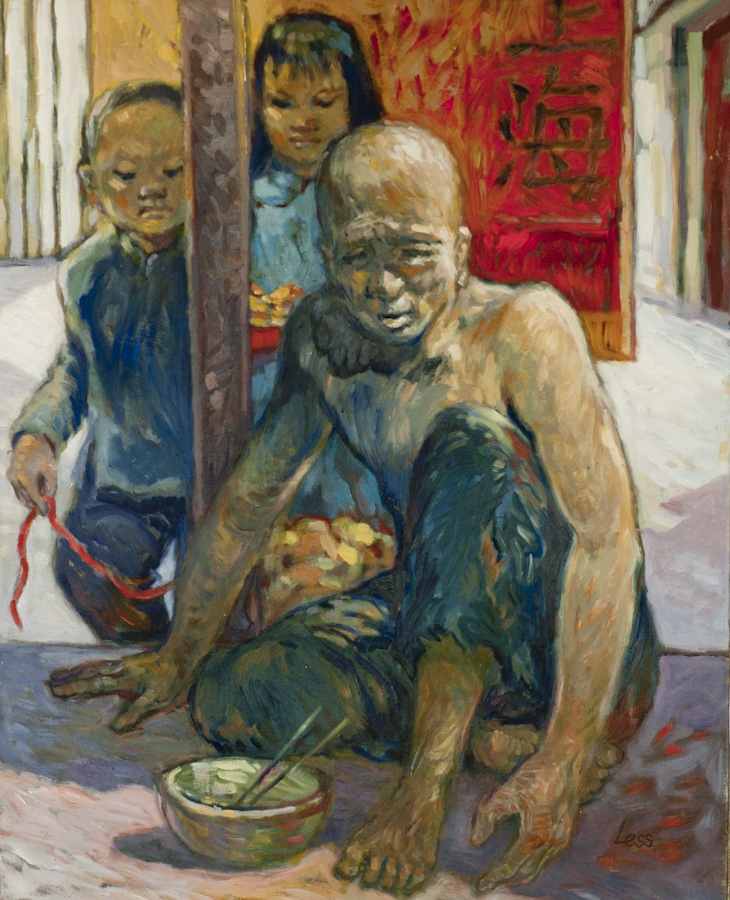 John H. Less, Untitled (Shanghai beggar), 1999, oil painting, 30" x 24", John H. Less Collection
In 2007, the artist recalled: "During the Holocaust my parents and our family escaped to Shanghai. Here we were, a community living in a society that was quite alien to us. Language, customs and way of life were all new to us. I ran around with my sketch book and pencil, recording wherever I could. This …[work], done recently, is a painting of a street-scene, while I lived there for seven years. A brutal hot summer day – as most summer days were – the sun blazing on the perspiring skin of the coolie who pulls a heavy loaded cart… while an affluent man is comfortably pulled by a rickshaw coolie to his destination…."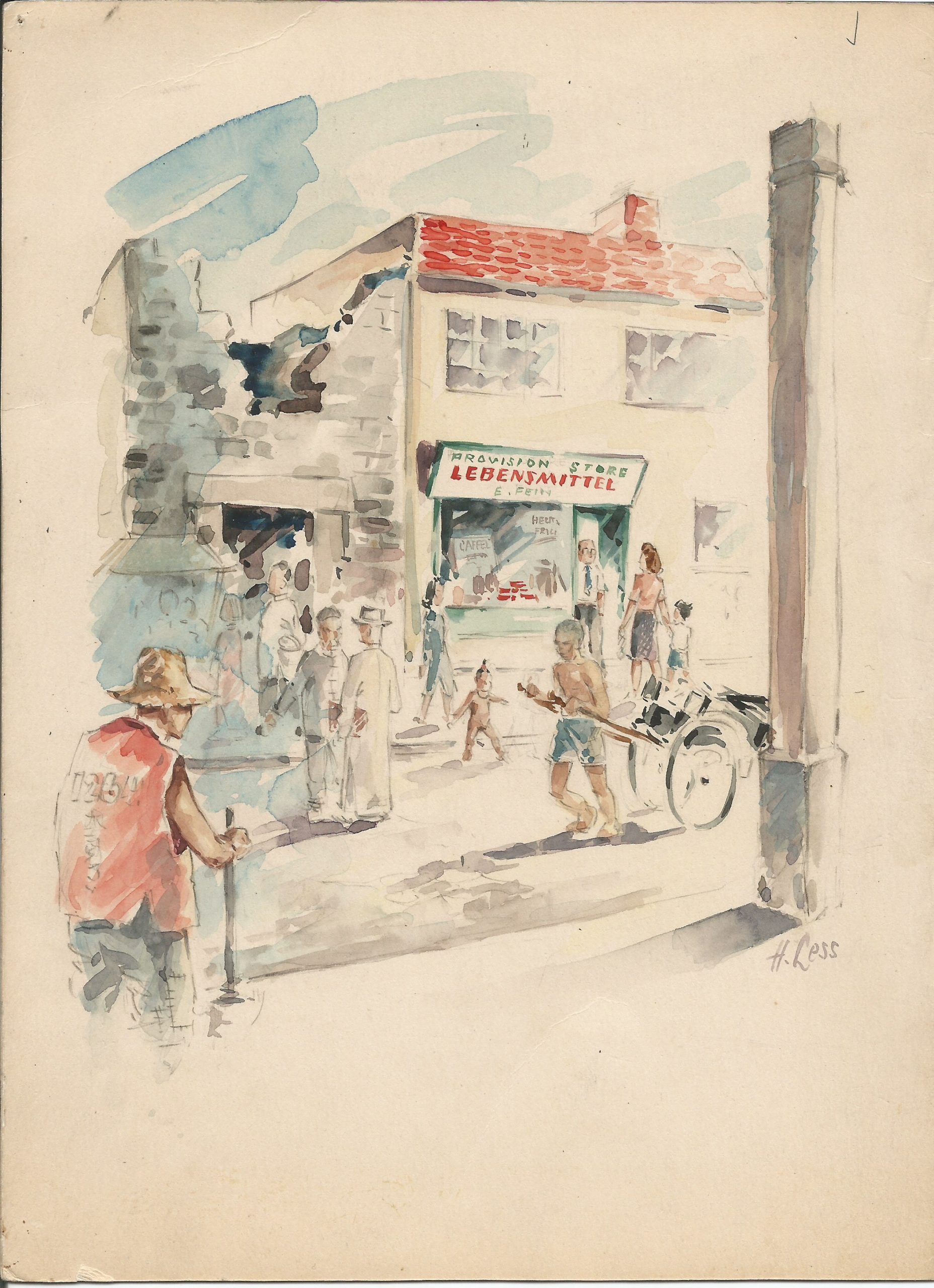 Hans Less, Untitled (Rebuilt house with grocery store, Hongkew), 1940s, watercolor, 7" x 9 3/4″, John H. Less Collection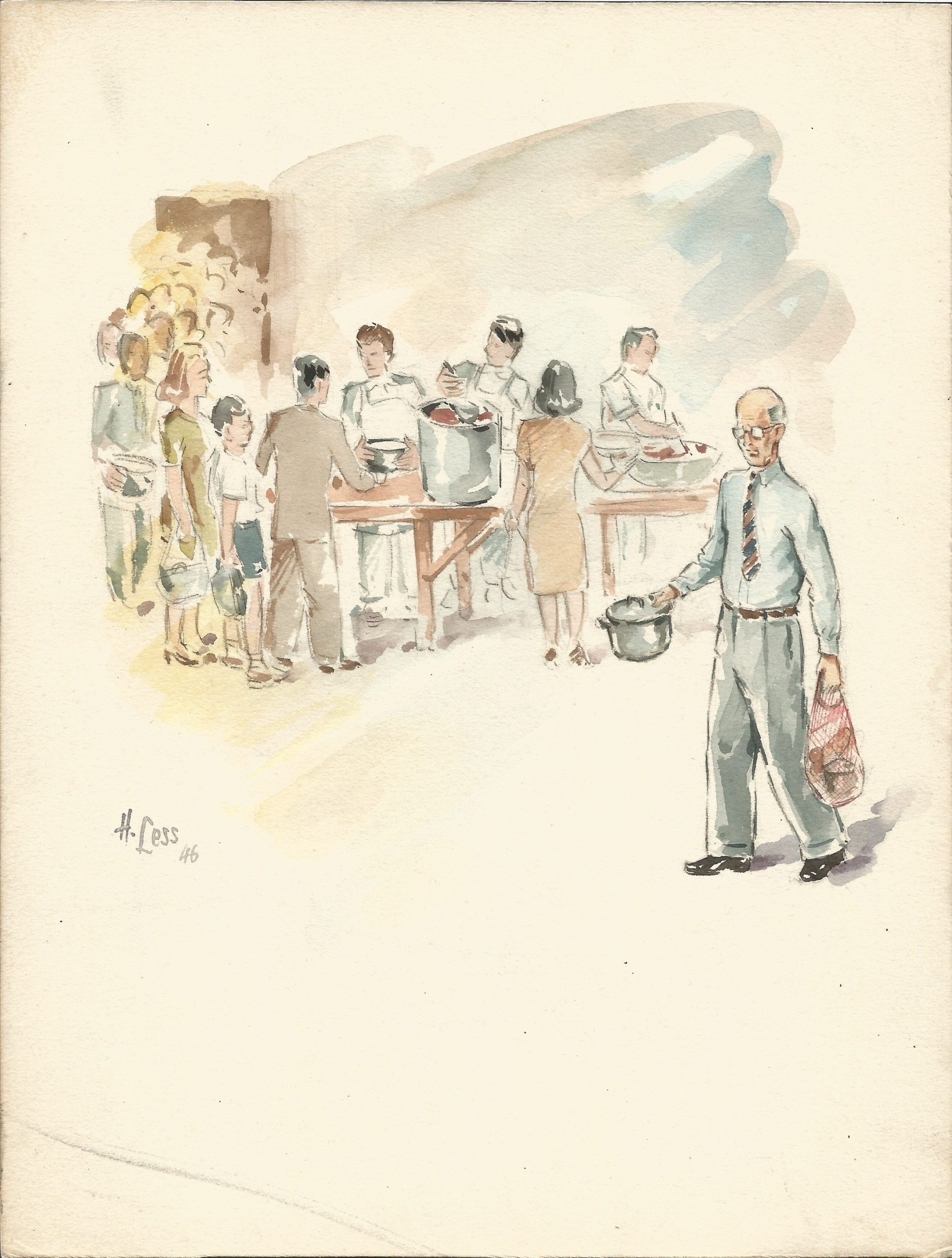 Hans Less, Untitled (Soup kitchen of the Jewish Community, Hongkew), 1946, watercolor, 7 1/4" x 9 3/4" , John H. Less Collection
Born and educated in the US, Steven Less is a senior research fellow emeritus of the Max Planck Institute for Comparative Public Law and International Law in Heidelberg, where he was editor-in-chief of an online research paper series as well as managing editor of a semi-annual bibliography of public international law.
While employed by the MPI, Steven also worked for many years as an adjunct law lecturer at Heidelberg University, the Heidelberg Center for American Studies (HCA) as well as Schiller International University in Heidelberg, and he continues to teach American constitutional law.
Steven dedicated himself, after his father died in 2011, to collecting, preserving and drawing public attention to his father's art and his history as a Holocaust refugee in Shanghai. He has meanwhile given presentations, participated in educational projects and arranged for numerous exhibitions commemorating his father and his work in the US, Germany and China.
Hannah-Lea Wasserfuhr is a PhD Candidate at the Center for Jewish Studies in Heidelberg. She studied art history and history at the University of Heidelberg (B.A.), followed by a M.A. degree in Jewish Museology at the Hochschule für Jüdische Studien (Center for Jewish Studies) in Heidelberg. In her M.A. thesis, she analyzed in which ways museums integrate the remains of medieval synagogues in their exhibitions. At the moment, she is working on her doctoral thesis about the industrial production and marketing of Jewish ritual objects during the Kaiserzeit and the Weimar Republic supervised by Prof. Johannes Heil (Ignatz Bubis Chair at the Hochschule für Jüdische Studien). The PhD is funded by the International Ismar-Elbogen-Scholarship Programm at the Ernst Ludwig Ehrlich Scholarship Fund in cooperation with the Leo Baeck Institute (New York).
This event is part of the monthly series "Flight or Fight. stories of artists under repression."
Share This