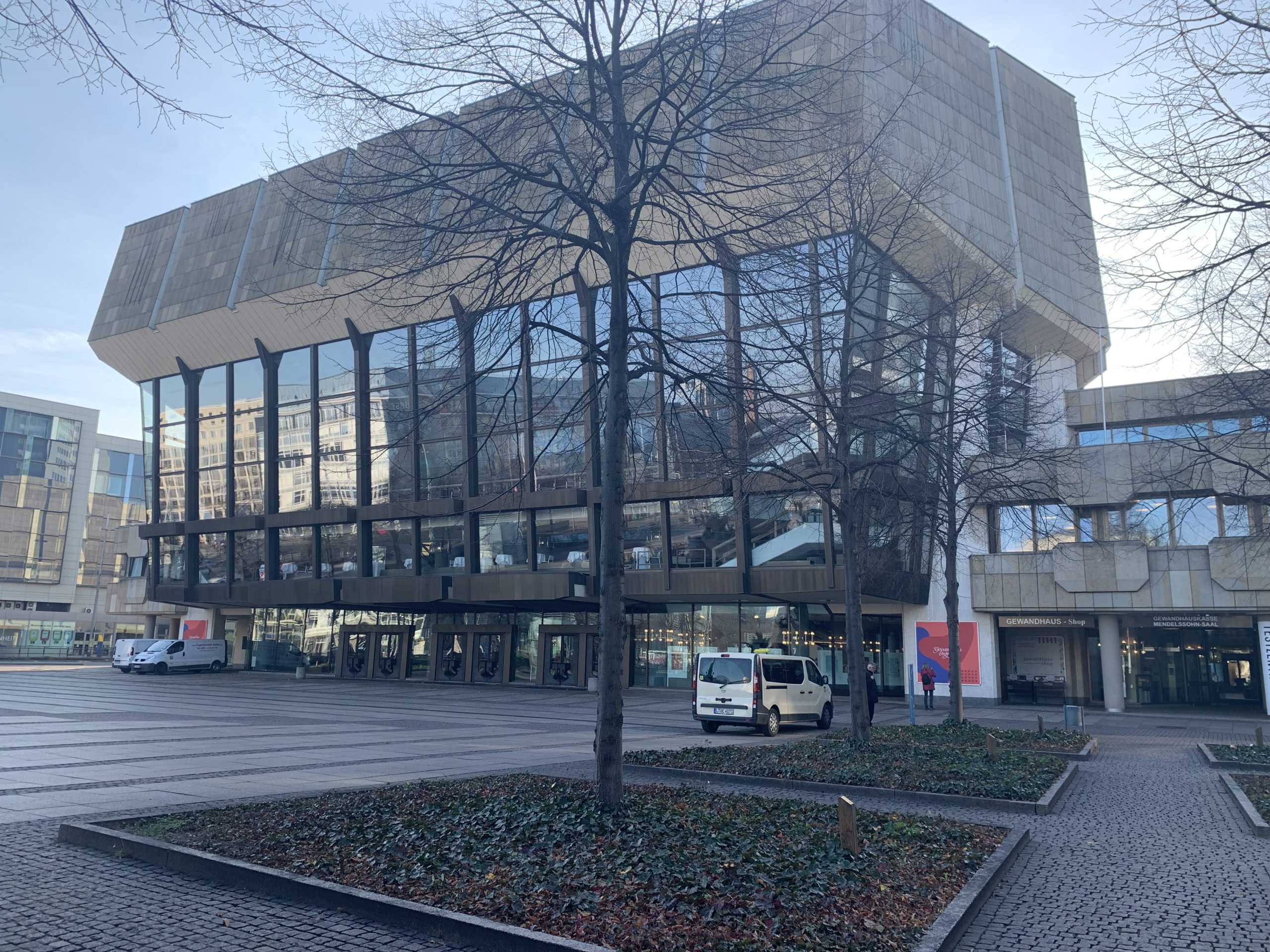 "Vorhang auf für Emmy Rubensohn! Musikmäzenin aus Leipzig"
Gewandhaus zu Leipzig, Mendelssohn Foyer, Leipzig, Germany
November 10, 2021

-

December 19, 2021

|

Free
"Curtain Up for Emmy Rubensohn! Music Patron from Leipzig"
Music patron, concert manager, salonière and letter writer – this is roughly how you could describe Emmy Rubensohn's profile. An exhibition that can be seen between November 10 and December 19, 2021 in the Mendelssohn Foyer of the Gewandhaus Leipzig – at a location that Emmy Rubensohn is connected with in a special way. On the one hand, she was born in Leipzig in 1884 as the daughter of the Jewish entrepreneurial family Frank, who owned a textile factory there. On the other hand, even as a young girl she was a passionate concert-goer who was particularly attracted to the Gewandhaus concerts. In any case, she was busy collecting autographs from admired artists, whether their names were Carl Reinecke, Arthur Nikisch, Felix Weingartner, Nellie Melba or Lilli Lehmann.
In 1907 she married Ernst Rubensohn, the wealthy director of a jute mill, and moved to Kassel with him. In the north Hessian royal seat, the couple understood through their cosmopolitan and hospitable manner how to turn their house into a cultural meeting place. This was where Wilhelm Furtwängler came, as did the composer Walter Braunfels and the painters Oskar Kokoschka and Erich Heckel. A stroke of luck for everyone involved: In 1925 the Rubensohns invited the Austrian composer Ernst Krenek, who had accepted a job at the Kassel Theater, to live with them free of charge. He thanked them with a special gift, the opera Jonny Strikes Up [Jonny Spielt Auf], which he completed while living under the umbrella of his hosts. The opera brought Emmy Rubensohn back to Leipzig. Because the work of her protégé was premiered here in 1927 (with the Gewandhausorchester under Gustav Brecher) – a worldwide success, as it turned out overnight, which is not least due to the Rubensohns' patronage.
The year of horror came: 1933. As a result, the Rubensohns were exposed to the worst harassment. When a de facto professional ban was imposed on Jewish artists, Emmy stepped into the breach and founded the Jüdischer Kulturbund Kassel, for which she organized dozens of concerts with important musicians, for example with the conductor Joseph Rosenstock and the pianist Grete Sultan, whom she later should meet again in New York. But it was only after the pogroms of 1938 that the couple decided to emigrate. They moved to Berlin, and around 1940, almost at the last moment, were able to flee to Shanghai. Emmy and Ernst Rubensohn faced seven years there, a time full of privation, which, however, did not obscure their view of Chinese culture, as can be seen from their numerous letters. It was not until 1947 that the two reached their dream destination, the USA and New York. After Ernst's death (1951), Emmy succeeded in building a new circle of friends here, to which the violinist Roman Totenberg belonged as well as the conductor Dimitri Mitropoulos and Alma Mahler-Werfel, with whom she maintained an intimate friendship.
The central theme of the exhibition is Emmy Rubensohn's memory and guest book, which accompanied her through all the ups and downs and all stages of life. The supplementary events include a conference dedicated to the topic of "Ernst Krenek and Leipzig" (November 10 and 11, 2021, Gewandhaus, Mendelssohn Hall).
The project is an important part of the festival year "1700 Years of Jewish Life in Germany" and is led by Prof. Dr. Matthias Henke (University of Siegen)  – funded by # 2021JLID – Jüdisches Leben in Deutschland eV with funds from the Federal Ministry of the Interior, for Building and Home Affairs (BMI), by the Ernst Krenek Institute Krems, Reinwald GmbH Leipzig and the University of Siegen .
The exhibition is accompanied by a richly illustrated, bi-lingual book.
The exhibition is on view November 10 – December 19, 2021 at Mendelssohn Foyer of the Gewandhaus Leipzig, Augustusplatz 8, 04109 Leipzig, T +49 341 1270280, Monday – Friday 10:00 am – 6:00 pm, Saturday 10:00am-2:00pm (on days with concerts open until 8:00pm).
DUE TO COVID-19: 2G and NEW HOURS: Monday to Friday 10:00am-2:00pm (as of 2/12/21)
DEUTSCH
"Vorhang auf für Emmy Rubensohn! Musikmäzenin aus Leipzig"
Musikmäzenin, Konzertmanagerin, Salonière und Briefautorin – so in etwa könnte man das Profil Emmy Rubensohns beschreiben. Von ihrem Leben, das sie nach Berlin, Shanghai und New York führte, erzählt eine Ausstellung, die zwischen dem 10. November und dem 16. Dezember 2021 im Mendelssohn-Foyer des Gewandhaus  zu sehen ist – an einem Ort, der sich Emmy Rubensohn in besonderer Weise verbindet. Einerseits kam sie 1884 in Leipzig zur Welt, als Tochter der jüdischen Unternehmerfamilie Frank, die ebendort eine Textilfabrik besaß. Andererseits war sie schon als junges Mädchen eine passionierte Konzertgängerin, die sich besonders von den Gewandhauskonzerten angezogen fühlte. Jedenfalls sammelte sie hier eifrig Autogramme von bewunderten Künstlern und Künstlerinnen, ob sie Carl Reinecke, Arthur Nikisch, Felix Weingartner, Nellie Melba oder Lilli Lehmann hießen.
1907 heiratete sie Ernst Rubensohn, den wohlhabenden Direktor einer Jutespinnerei, und zog zu ihm nach Kassel. In der nordhessischen Residenzstadt verstand das Paar durch seine weltoffene und gastfreundschaftliche Art, aus ihrem Haus eine kulturelle Begegnungsstätte zu machen. Hier stellte sich Wilhelm Furtwängler ebenso ein wie der Komponist Walter Braunfels oder die Maler Oskar Kokoschka und Erich Heckel. Ein Glücksfall für alle Beteiligten: 1925 luden die Rubensohns den österreichischen Komponisten Ernst Krenek ein, der eine Stelle am Kasseler Theater angenommen hatte, bei sich unentgeltlich zu wohnen. Der bedankte sich mit einem besonderen Geschenk, der Oper Jonny spielt auf, die er noch unter dem Dach seiner Gastgeber vollendete. Sie brachte Emmy Rubensohn wieder nach Leipzig zurück. Denn das Werk ihres Schützlings gelangte hier 1927 zur Uraufführung (mit dem Gewandhausorchester unter Gustav Brecher) – ein Welterfolg, wie sich über Nacht herausstellte, der sich nicht zuletzt dem Mäzenatentum der Rubensohns verdankt.
Das Jahr des Schreckens kam: 1933. In der Folge waren auch die Rubensohns übelsten Schikanen ausgesetzt. Als über jüdische Künstler und Künstlerinnen de facto ein Berufsverbot verhängt wurde, sprang Emmy in die Bresche und gründete den Jüdischen Kulturbund Kassel, für den sie Dutzende Konzerte mit bedeutenden Musikern organisierte, etwa mit dem Dirigenten Joseph Rosenstock und der Pianistin Grete Sultan, denen sie später in New York wiederbegegnen sollte. Doch erst nach den Pogromen des Jahres 1938 entschloss sich das Paar auszuwandern. Es übersiedelte nach Berlin, um 1940, quasi im letzten Moment, die Flucht nach Shanghai zu wagen. Sieben Jahre standen Emmy und Ernst Rubensohn dort bevor, eine entbehrungsreiche Zeit, die ihnen aber nicht den Blick für die chinesische Kultur verstellte, wie ihren zahlreichen Briefen zu entnehmen ist. Erst 1947 erreichten die beiden ihr Wunschziel, die USA und New York. Nach dem Tod von Ernst (1951) gelang es Emmy hier, sich einen neuen Freundeskreis aufzubauen, dem der Geiger Roman Totenberg ebenso angehörte wie der Dirigent Dimitri Mitropoulos oder Alma Mahler-Werfel, mit der sie eine innige Freundschaft pflegte.
Den roten Faden der Ausstellung bildet das Erinnerungs- und Gästebuch von Emmy Rubensohn, das sie durch alle Hochs wie Tiefs und sämtliche Lebensstationen begleitete. Zu den ergänzenden Veranstaltungen zählt u.a. eine Tagung, die sich dem Thema "Ernst Krenek und Leipzig" widmet (10. und 11. November 2021, Gewandhaus, Mendelssohn-Saal).
Das Projekt ist wichtiger Teil des Festjahres "1700 Jahre jüdisches Leben in Deutschland" und wird von Prof. Dr. Matthias Henke (Universität Siegen) geleitet – gefördert durch #2021JLID – Jüdisches Leben in Deutschland e.V. aus Mitteln des Bundesministeriums des Innern, für Bau und Heimat (BMI), durch das Ernst Krenek Institut Krems, die Reinwald GmbH Leipzig und die Universität Siegen.
Die Ausstellung ist zu sehen vom 10. November bis 19. Dezember 2021 im Mendelssohn-Foyer des Gewandhauses Leipzig, Augustusplatz 8, 04109 Leipzig, T +49 341 1270280
Montag – Freitag 10:00 – 18:00 Uhr, Samstag 10:00 – 14:00 Uhr (an Konzerttagen bis 20:00 Uhr).
COVID-19: 2G und NEUE OEFFNUNGSZEITEN: Montag bis Freitag 10:00-14:00 Uhr (Stand: 2. 12. 2021)
Share This