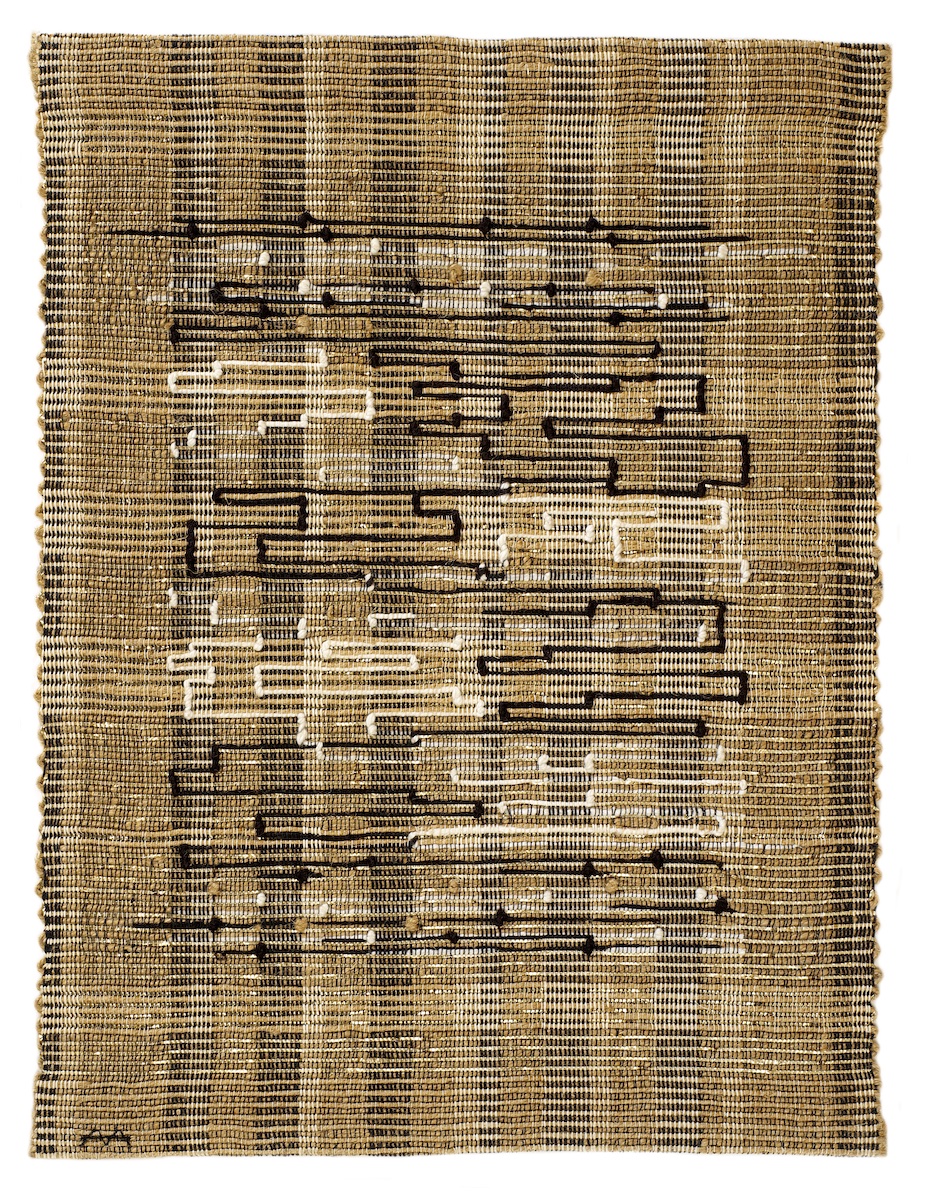 From Sea to Shining Sea:
Anni Albers in America (1899–1994)
Featuring Laura Muir and Ori Z. Soltes, PhD
November 3, 2021 @ 12:00 pm

-

1:00 pm

|

Free
Anni Albers (Berlin 1899 – 1994 Orange, CT) found her artistic identity at the renowned Bauhaus–but not where she expected to. The gender-restrictive conditions at the school pushed her to textile work. As the Nazis forced the Bauhaus closure, Anni and her already well-known husband, Joseph Albers, immigrated to the United States, where Joseph and later Anni were invited to teach at Black Mountain College in North Carolina. From there to New York and Yale University, while her husband gained renown as a teacher and practitioner of painting, Anni expanded her presence as an innovator in diverse textile media and styles, shaping a far-flung, influential career that resonates to this day.
The United States presented Albers with new opportunities to develop as a designer of both functional and purely artistic textiles. She inspired a new generation of students through her teaching and produced an important body of writing on weaving that was informed by her extensive travels to Central and Latin America. Her efforts in all these areas elevated the status of weaving as an art form and her reputation as a major artist within that field. In addition to opening professional doors, Albers migration allowed her to play a key role in promoting the Bauhaus and its ideas in the United States through her participation in exhibitions and generous donations to American museum collections.
Image above: Anni Albers, Black-White-Gold I, 1950.  Cotton, lurex, and jute; 25 1/8 x 19 in. (63.8 x 48.3 cm) The Josef and Anni Albers Foundation, Bethany 1996.12.1 © 2021 The Josef and Anni Albers Foundation/Artists Rights Society (ARS), New York. Photo: Tim Nighswander/Imaging4Art
Featuring Laura Muir, Associate Director of Academic and Public Programs and the Louis Miller Thayer Research Curator at the Harvard Art Museums in Cambridge MA and Ori Z Soltes, PhD, Teaching Professor at Georgetown University, Washington DC. Moderated by Rachel Stern, Director and CEO of the Fritz Ascher Society, New York NY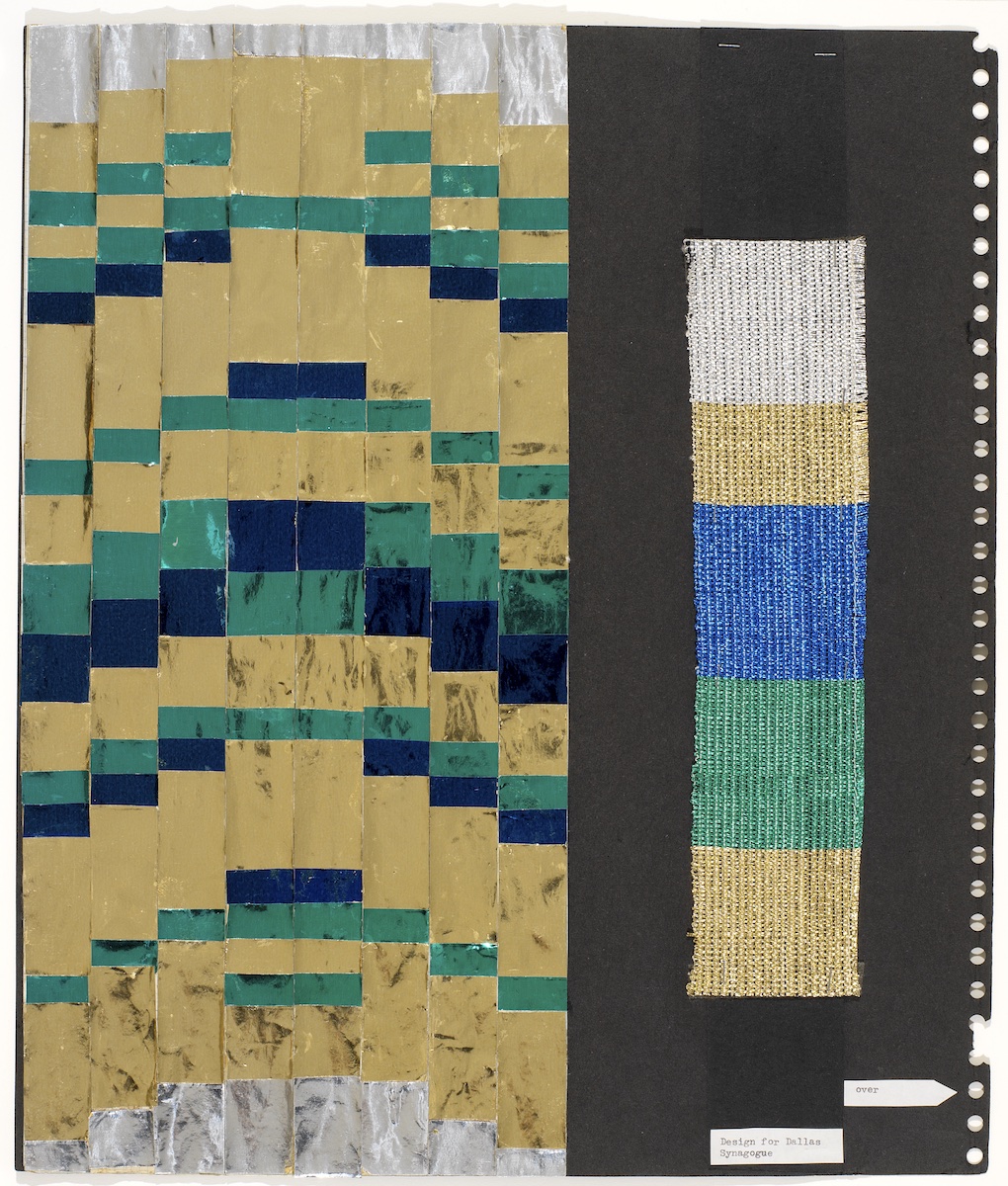 Anni Albers, Study for Temple Emanu-El Ark Panels, 1957. Foil and metallic thread on card, 17 x 14 1/2 in. (43.2 x 36.8 cm). The Josef and Anni Albers Foundation, Bethany 1994.10.95 © 2021 The Josef and Anni Albers Foundation/Artists Rights Society (ARS), New York Photo: Tim Nighswander/Imaging4Art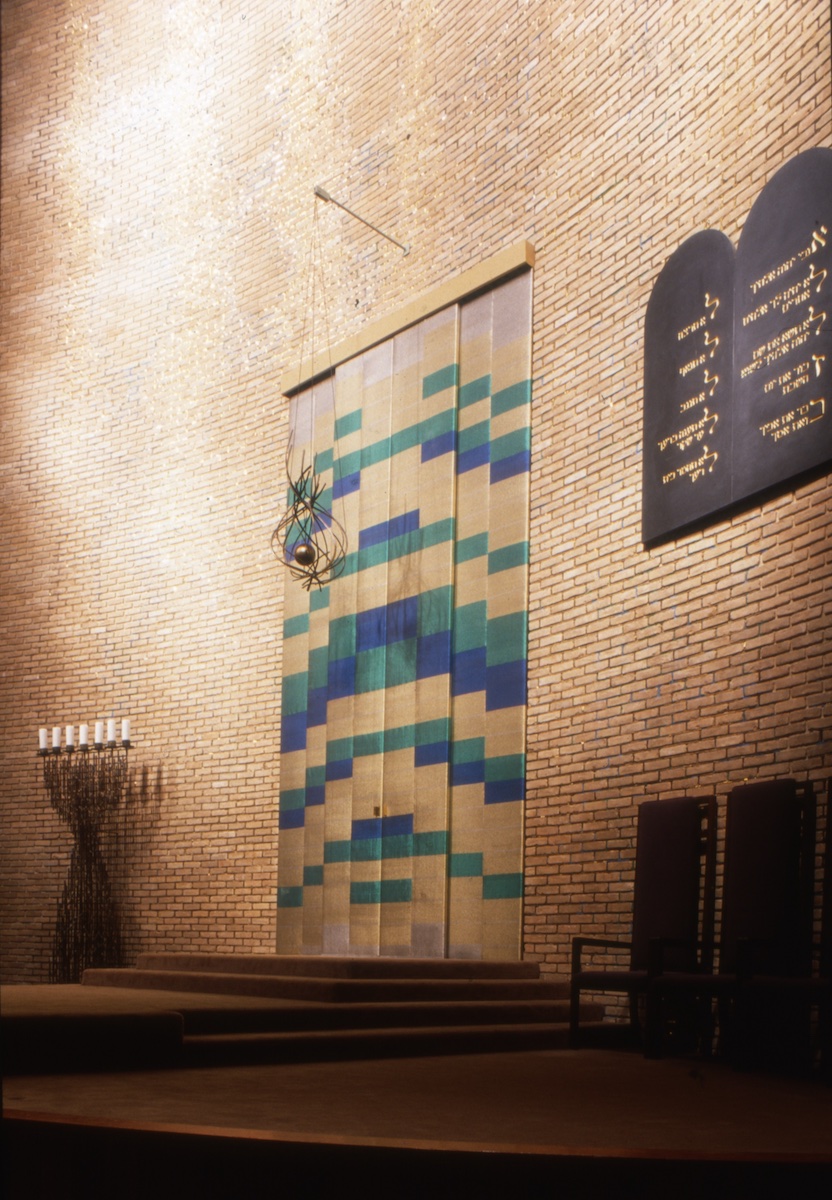 Interior of the Temple Emanu-El, Dallas, Texas, showing ark covering designed by Anni Albers, 1957
Laura Muir is Associate Director of Academic and Public Programs and the Louis Miller Thayer Research Curator at the Harvard Art Museums. She specializes in European modern art and the history of photography. Her exhibition and publication Lyonel Feininger: Photographs, 1928–1939 was the first devoted to the artist's photographic work. Her recent exhibition The Bauhaus and Harvard explored the Harvard Art Museums' extensive Bauhaus collections. She is the editor of the related publication Object Lessons: The Bauhaus and Harvard.
Ori Z Soltes PhD teaches at Georgetown University across the disciplines of theology, art history, philosophy and politics. He is the former Director and Curator of the B'nai B'rith Klutznick National Jewish Museum where he curated some 80 exhibitions. He is the author of several hundred articles and catalogue essays, and the author or editor of 25 books, including The Ashen Rainbow: The Holocaust and the Arts; Symbols of Faith: How Jewish, Christian, and Muslim Art Draw from the Same Source; and Tradition and Transformation: Three Millennia of Jewish Art and Architecture and Immortality, Memory, Creativity, and Survival: The Arts of Alice Lok Cahana, Ronnie Cahana and Kitra Cahana (FAS 2020)
Rachel Stern is the Founding Director and CEO of The Fritz Ascher Society for Persecuted, Ostracized and Banned Art in New York. Born and educated in Germany, she worked for ten years in the Department of Drawings and Prints at the Metropolitan Museum of Art in New York (2000-2010). Stern is a 2018 recipient of the Hans and Lea Grundig Prize, in recognition of the exhibition and book The Expressionist Fritz Ascher (Cologne: Wienand 2016). In 2020, she published a selection of poems by Fritz Ascher, Fritz Ascher. Poesiealbum 357 (Wilhelmshorst: Märkischer Verlag) and edited, with Julia Diekmann, the exhibition catalogue The Lonely Man. Clowns in the Art of Fritz Ascher (1893-1970) / Der Vereinsamte. Clowns in der Kunst Fritz Aschers (1893-1970) (Holzminden: Verlag Jörg Mitzkat).
This is an event of our online project "Identity, Art and Migration" in which we investigate US immigration of European refugees during the first half of the 20th century through the lens of seven artist case studies: Anni Albers, Friedel Dzubas, Eva Hesse, Rudi Lesser, Lily Renee, Arthur Szyk and Fritz Ascher.
What is it that defines human identity? DNA? Language? Culture? Landscape? Polity? Or is it a combination of all of these factors? How do the sources of identity make it easy or difficult for individuals who migrate from one location to another—by choice or under duress—not merely to adapt but to become fully comfortable within their new home? How do artists, with their particular set of sensibilities—and who are purveyors of, respondents to, and shapers of culture—respond to their own migration? How do they transfer the diverse identity norms of the worlds they leave behind to the new worlds into which they arrive? Can they translate from one language of images to another? 
Each one of the seven artists featured in this project was affected in different ways by Nazi policies and came as a refugee to the United States, to remain or not to remain here—or hiding within Germany throughout the war. The life and work of each of these artists addresses the issue of identity and the particulars of its expression from slightly different angles. As a compendium, they all serve as an intensified and emphatic articulation of the broader issues of relocation, transformation and the psychological and cultural self as a centerpiece of human being.
Generously sponsored by the Consulate General of the Federal Republic of Germany in New York.
Share This