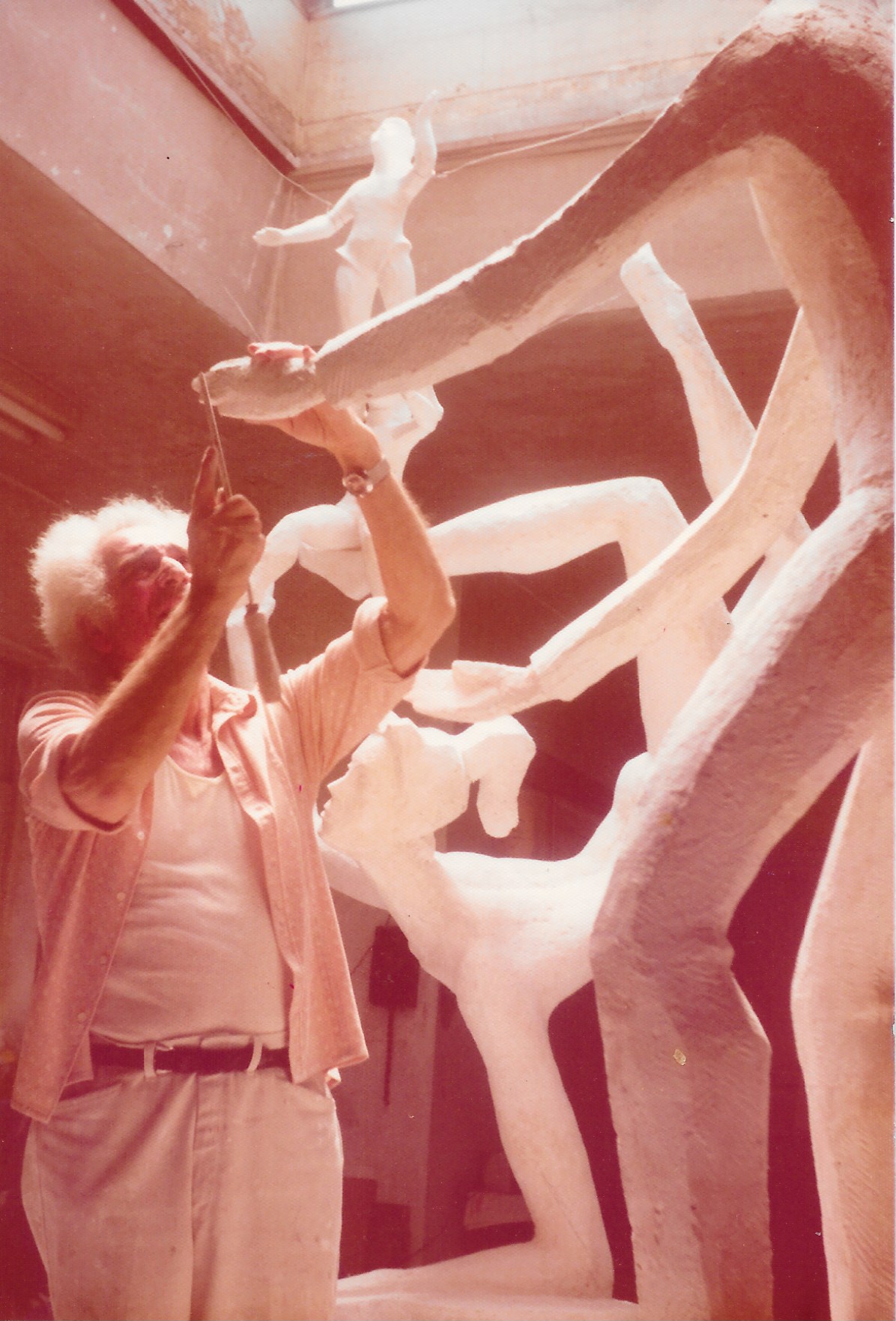 The Enduring Legacy of
Chaim Gross (1902-1991)
With Daughter Mimi Gross and Sasha Davis
September 28, 2022 @ 12:00 pm

-

1:00 pm

|

Free
Chaim Gross (1902-1991) fled Europe as a teenager after experiencing the violence of World War I and the disruption of his artistic training due to anti-Semitic policies. He arrived in New York City in 1921 and quickly found a welcoming environment among fellow artists, many of whom were also immigrants, at the Educational Alliance Art School. Despite difficult beginnings, Gross rose to become one of America's leading twentieth-century sculptors and a key proponent of the direct carving movement. Although a small number of his works referenced his horrific early experiences and the later murder of family members in the Holocaust, his themes were largely joyful, showing mothers at play or acrobats and dancers.
Image above: Chaim Gross in the studio at Grand Street, 1975. Unknown Photographer © The Renee and Chaim Gross Foundation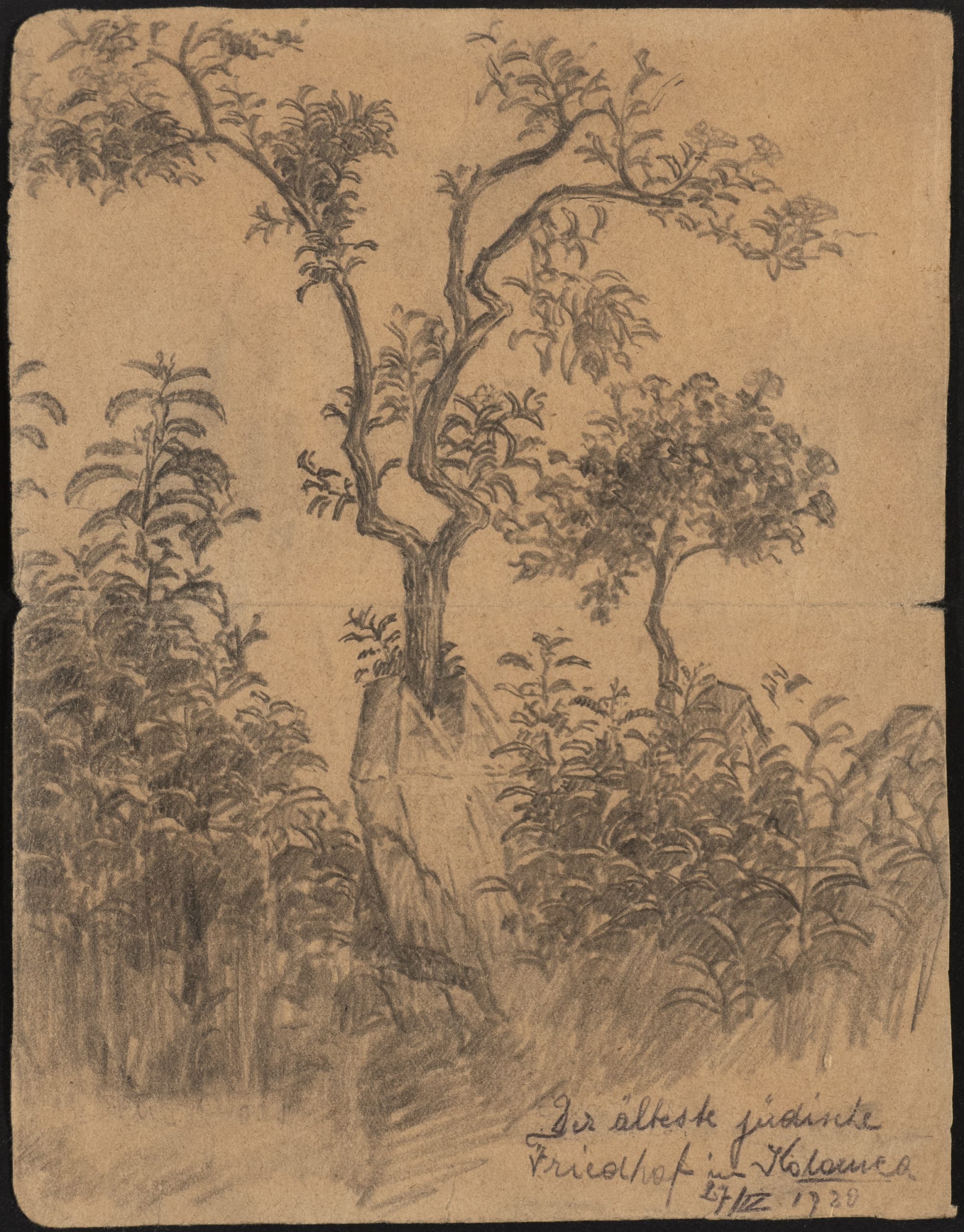 Chaim Gross, Jewish Cemetery in Kolomyia, 1920. Photo by Jacob Burckhardt © The Renee and Chaim Gross Foundation
Chaim Gross, Acrobats Balancing, 1938. Unknown photographer © The Renee and Chaim Gross Foundation
Gross was born to a Jewish family in Austrian Galicia, in the village of Wolowa in the Carpathian Mountains. In 1911, his family moved to Kolomyia. During World War I, Russian forces invaded Austria-Hungary; amidst the turmoil, the Grosses fled Kolomyia. They returned when Austria retook the town in 1915, refugees of the war. When World War I ended, Gross and brother Abraham (Avrom-Leib) went to Budapest, where Gross attended the city's art academy and studied with painter Béla Uitz, though within a year a new regime under Miklos Horthy took over and attempted to expel all Jews and foreigners from the country. After being deported from Hungary, Gross began art studies at the Kunstgewerbeschule in Vienna shortly before emigrating from Europe.
In New York City, Gross's studies continued at the Educational Alliance Art School on the Lower East Side. Gross first began to exhibit his work as a student at the Alliance in 1922, joining the faculty in 1927. Gross also attended the Beaux-Arts Institute of Design from 1922-25, where he studied sculpture with Elie Nadelman, and at the Art Students League in 1926 with sculptor Robert Laurent.
In 1933, Gross joined the government's PWAP (Public Works of Art Project), which transitioned into the WPA (Works Progress Administration). Under these programs Gross taught and demonstrated art, made sculptures for schools and public colleges, and created works including for the Federal Trade Commission Building, and for the France Overseas and Finnish Buildings at the 1939 New York World's Fair. Gross was recognized during these years with a silver medal at the 1937 Exposition universelle in Paris.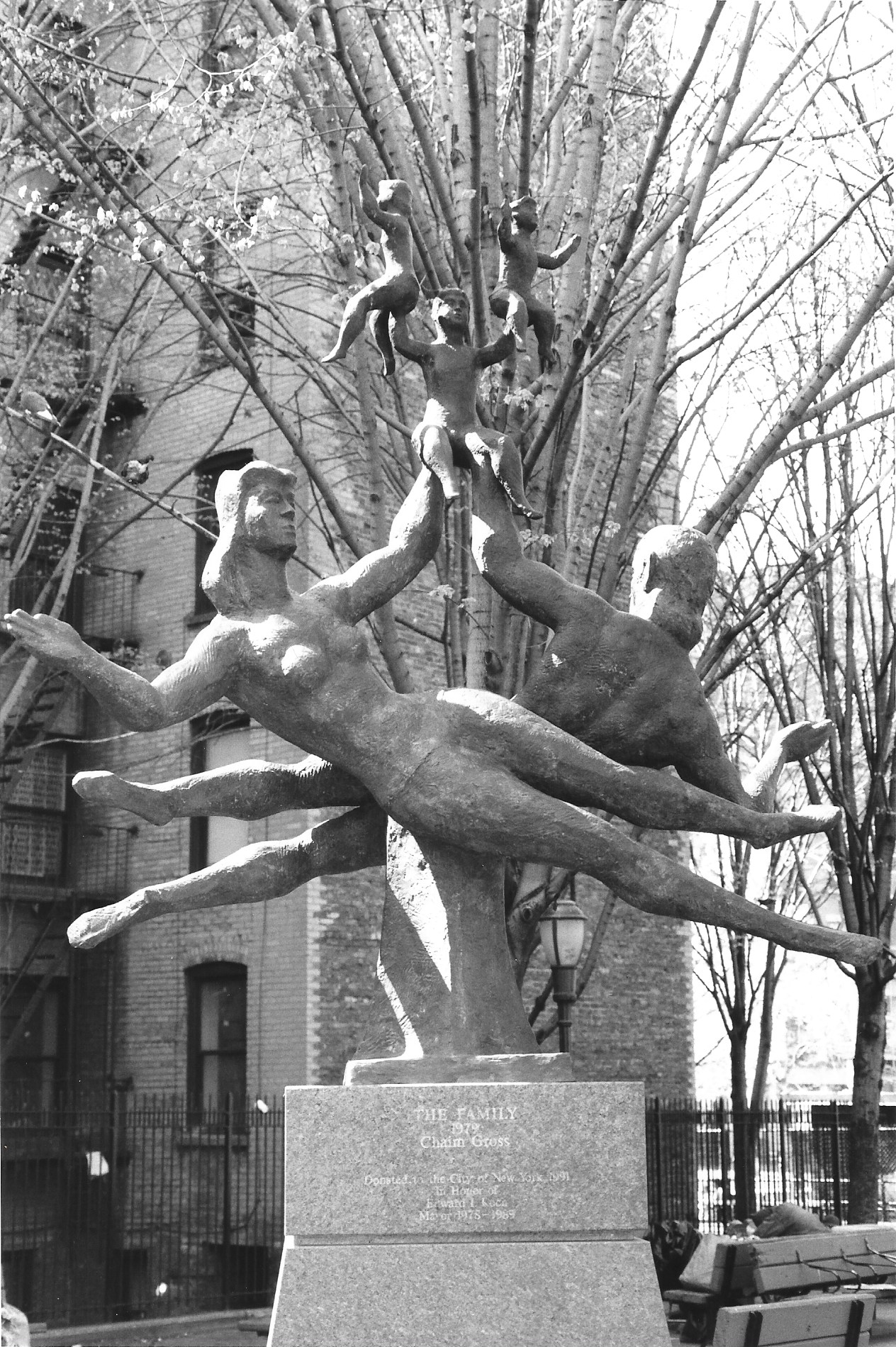 Chaim Gross, The Family at Bleecker St. Park, 1979. Unknown photographer © The Renee and Chaim Gross Foundation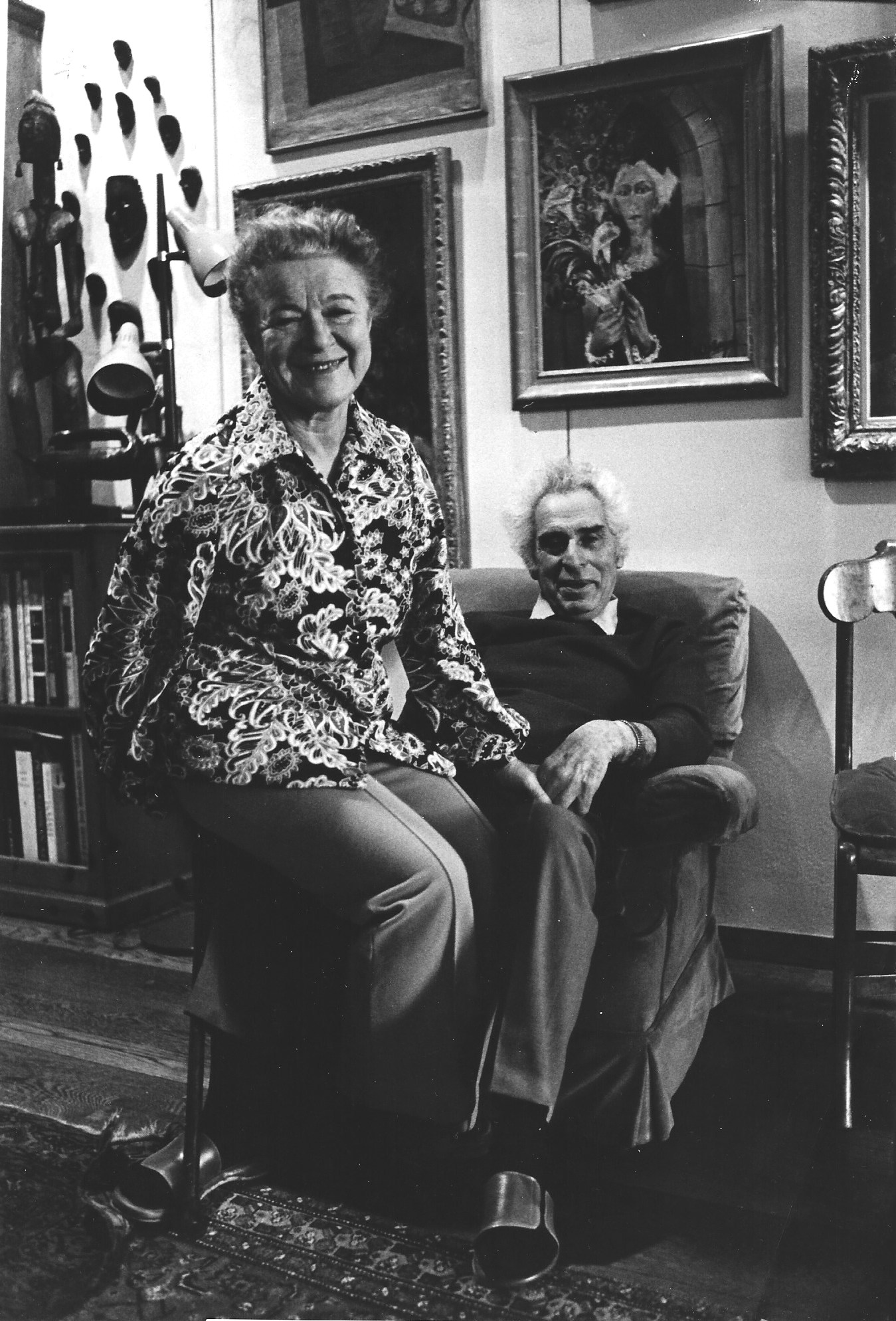 Rene and Chaim Gross, c 1980. Photo Susan Weiley. © The Renee and Chaim Gross Foundation
In the 1950s Gross began to make more bronze sculptures alongside his wood and stone pieces, and in 1957 and 1959 he traveled to Rome to work with several well-known bronze foundries. In 1959, a survey of Gross's sculpture in wood, stone, and bronze was featured in the exhibit Four American Expressionists curated by Lloyd Goodrich at the Whitney Museum of American Art. In 1963, Gross and his family moved from their longtime residence at 30 West 105th Street to Greenwich Village, following the purchase of a four-story historic townhouse at 526 LaGuardia Place, which is now the Renee & Chaim Gross Foundation.
Here, Gross's studio and much of the family's private living spaces have been preserved. In addition, the Foundation rotates temporary exhibitions. The current exhibition Artists and Immigrants celebrates the 2021 centennial of their immigration to the United States. The exhibition explores the many artists in the Foundation's collection that were also immigrants to the U.S. and the various policy changes and world events that affected immigration throughout the first half of the twentieth century. The exhibition includes nearly 100 works by over 50 artists. The larger Artists and Immigrants project also includes an exhibition catalogue and ongoing virtual programming.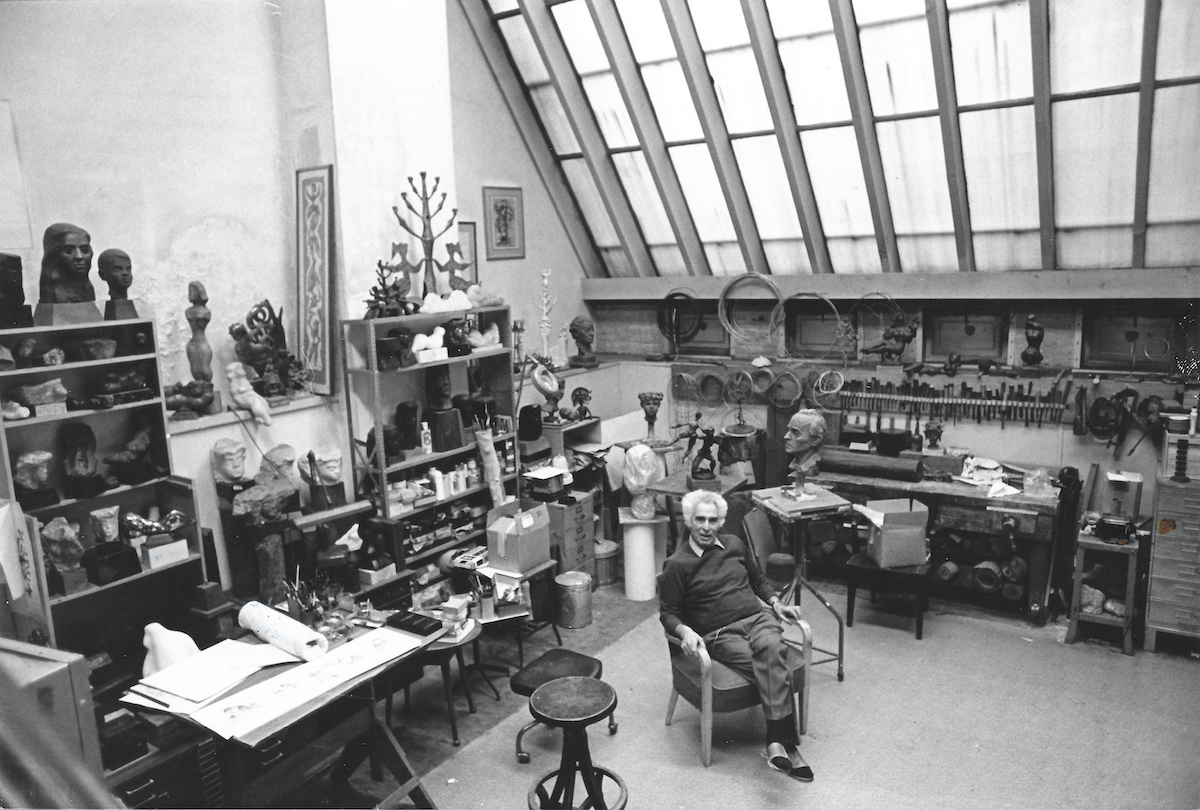 The Renee and Chaim Gross Foundation, Chaim Gross' Studio, undated. Photo Elizabeth Felicella © The Renee and Chaim Gross Foundation
The Renee and Chaim Gross Foundation, Dining Room, undated. Photo Elizabeth Felicella © The Renee and Chaim Gross Foundation
This program delves into Gross's biography, work, and the legacy that the Renee & Chaim Gross Foundation continues to preserve for the public benefit. Featuring Mimi Gross, President of the Foundation and daughter of Renee and Chaim Gross, and Sasha Davis, Executive Director of the Renee & Chaim Gross Foundation.
Mimi Gross is a painter, as well as a set-and-costume designer, and maker of interior and exterior installations.  She has lived and worked in TriBeCa for the last 40 years, and is known especially for her portraiture, and for working with oil crayon and chalk pastel, in addition to oil paint. Gross considers portraiture a form of mutual collaboration. Her paintings have a poignant expressiveness and connection to the subject. Hers is a world of bold, unapologetic color.  The directness of Gross's portraiture, and her propensity to paint all aspects of her community can be linked in particular to the work of Alice Neel, who was a close friend.
Gross's work can be found in the collections of the Jewish Museum, New York; the New York Public Library; and the Metropolitan Museum of Art, New York. She is the recipient of awards and grants including from the New York State Council on the Arts, the National Endowment for Visual Arts, the American Academy and Institute of Arts and Letters, and a "Bessie" for sets and costumes.
Gross grew up in South Harlem in Manhattan. Her father was Chaim Gross, the sculptor known for woodcarving, and her parents were consummate art collectors.
Sasha Davis is Executive Director of the Renee & Chaim Gross Foundation, the historic home and studio of American sculptor Chaim Gross (1902-91) in New York City. She is responsible for the Foundation's operations, strategy, curatorial vision, and programming. Davis was appointed Executive Director in 2017 after serving as Curator of Collections. Prior to her work at the Foundation, Davis held internships at The Museum of Modern Art, MoMA PS1, and the Newark Museum. Davis holds a BA from New York University in Art History with a minor in Studio Art and a certificate in Arts Administration and Collections Management, also from New York University. Davis regularly presents on the Foundation's collection and the work of Gross, notably at the College Art Association, Southeastern College Arts Conference, and Provincetown Art Association and Museum. She has contributed to the Aspen Institute's Artist-Endowed Foundation Initiative and completed the Seminar on Strategy for Artist-Endowed Foundation Leaders in 2018 with the Aspen Institute and University of Miami School of Law. She is also an alumna of the distinguished 2016 Attingham Summer School.
The Renee & Chaim Gross Foundation's collection numbers over 12,000 objects, with significant holdings in African, American, European, Oceanic, Pre-Columbian, and decorative arts in addition to an extensive library and archive.
This event is part of our monthly series
Flight or Fight. stories of artists under repression.
Future events and the recordings of past events can be found HERE.
We offer all our virtual programs free of charge. Please help us keep it that way. YOUR SUPPORT MAKES OUR WORK POSSIBLE. THANK YOU.
Share This