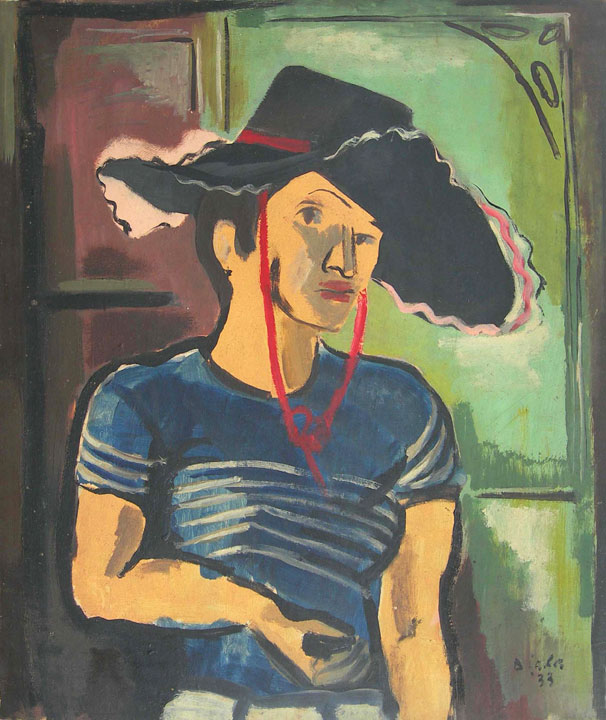 Biala (1903-2000):
The Rash Acts of Rescue and Escape
Jason Andrew, New York
January 6, 2021 @ 12:00 pm

-

1:00 pm

|

Free
WATCH THE RECORDING OF THIS EVENT HERE.
More information about Janice Biala is available HERE.
Lecture featuring
Jason Andrew
Independent Scholar, Curator and Producer in New York

Introduced by
Rachel Stern
Executive Director of the Fritz Ascher Society in New York
Biala (1903-2000) was a Polish born American painter whose career stretched over eight decades and spanned two continents. Through it all, she retained an intimacy in her art rooted in Old World Europe—sensibilities that began with memories of her childhood in a Polish village, shaped by School of Paris painters like Bonnard, Matisse and Braque, inspired by Velázquez and the Spanish Masters, and broadened by the community of loft-living artists in Post World War II Downtown New York.
Her arrival in Paris in 1930 from New York City marked the beginning of an extraordinary life: one full of adventure, a passion for literature, and an appetite for art. On that fateful trip she met and fell in love with the English Novelist Ford Madox Ford. Ford shared with her all he knew and introduced her to the many artists forging a new Modernism including Brancusi, Matisse, Picasso, and Gertrude Stein among others. Biala became Ford's most fierce advocate remaining devoted to him, at his side, until his death in Deauville, France on June 26, 1939.
Biala's commitment to Ford did not soften at his death.
In this lecture, Jason Andrew shares his research and insight into Biala's
harrowing effort to traveled back to the South of France, which was in Mussolini's crosshairs, to make the daring rescue of Ford's manuscripts and library, just as war would consume all of Europe. Joining Andrew in this presentation is choreographer Julia K. Gleich, who will bring voice to the letters of Janice Biala.
Jason Andrew is an independent scholar, curator, and producer. He is the founding partner at Artist Estate Studio LLC, the entity that represents the estates of Jack Tworkov, Janice Biala, and Elizabeth Murray among others. He has written, lectured, and curated extensively on the life and art of Janice Biala and her contemporaries including a retrospective of the artist's work at Provincetown Art Association and Museum in 2018, as an exhibition focused on Biala's work 1952-1962 on view at McCormick Gallery, Chicago through January 2021.
Julia K Gleich is a choreographer, teacher, scholar and mathematics aficionado with an MA from the Bolz Center for Arts Administration at the University of Wisconsin-Madison and an MFA from the University of Utah. In 2004, Julia Gleich, in partnership with Jason Andrew, founded Norte Maar for Collaborative Projects in the Arts with a mission to renew and refresh the exchange within the interdisciplinary arts. She then became a partner in Artist Estate Studio, LLC. Ms. Gleich is the founder and Artistic Director of Gleich Dances, which has received critical notice in The New York Times, DanceInforma, DanceInsider, Village Voice, The New Criterion, The Brooklyn Rail, among others.
The event is part of our monthly series
Flight or Fight. stories of artists under repression, which is generously sponsored by Allianz Partners.
Future events and the recordings of past events can be found HERE.
Image: 
Biala (1903-2000) "Jeune Femme," c. 1933, Oil on panel, 25 1/2 x 21 1/4 in. (66 x 55.9 cm) Collection of the Estate of Janice Biala © Estate of Janice Biala / Artists Rights Society (ARS), New York
Share This