Dear Friends,
Join us TOMORROW for a ZOOM LECTURE in our monthly series "Flight or Fight. stories of artists under repression" about a recently re-discovered artist:
Wednesday, March 2, 12:00pm EST:
Jussuf Prince of Thebes –
Re-constructing the life and work of a forgotten talent from Safed
Featuring Dorothea Schöne, Berlin (Germany)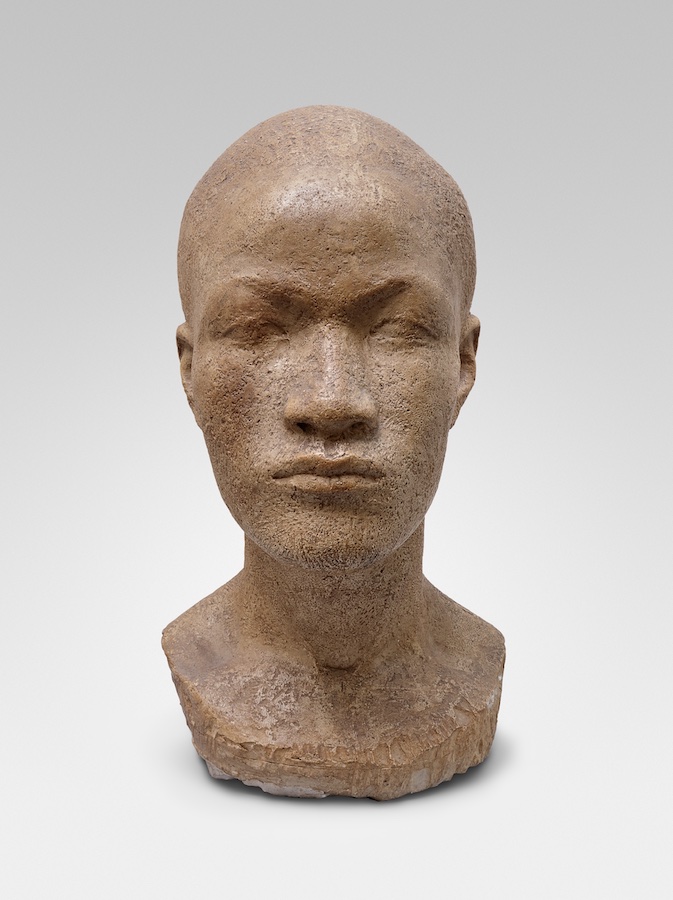 Jussuf Abbo, Head of a Black Man, ca. 1939, plaster, painted, H: 28 cm.  Estate of Jussuf Abbo, Brighton/UK, photo: Gunter Lepkowski
Born in Safed, in the province of Beirut of the Ottoman Empire, the sculptor Joseph M. Abbo (1888–1953) – who later renamed himself Jussuf Abbo – came to Berlin in 1911 and began studying at the Royal Academy of Fine Arts in Berlin in 1913. By 1919 he had a master studio in the Prussian Academy of Fine Arts. Throughout the 1920's he exhibited in top galleries throughout Germany and was a well known portrait sculptor and printmaker and an active member of the Berlin avant-garde artistic community. He was known for his bohemian and eccentric lifestyle, an exotic artist from the Orient, apparently living for sometime in a Bedouin tent in his large Berlin studio. In 1935, he fled persecution by the Nazis to London, where he died in 1953.
As a person, Abbo was flamboyant and charismatic. Many of his wealthy and powerful patrons, clients and friends were Jewish. He was known for his bohemian and eccentric lifestyle, an exotic artist from the Orient, apparently living for sometime in a Bedouin tent in his large Berlin studio. He was part of the group of friends of the Expressionist poet and playwright, Else Lasker-Schüler, whom he portrayed on several occasions and who in turn wrote a poem about him.
With the Nazi takeover, Abbo was repeatedly branded-he was stateless after the collapse of the Ottoman Empire, exposed by his Jewish ancestry to Nazi racial fanaticism and his girlfriend Ruth Schulz was illegitimately pregnant by him. In a dramatic way, the pair fled to England in 1935, where Abbo could not continue his career.
Jussuf Abbo died in his London exile in 1953.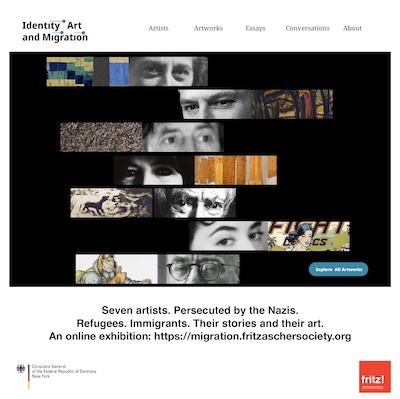 Since Sunday, our online exhibition "Identity, Art and Migration" is live!
The exhibition tells a distinctly human story of how circumstance impacts selfhood. Through the lens of seven artist case studies and interdisciplinary scholarship, we investigate US immigration of European refugees during the first half of the 20th century: Anni Albers, Friedel Dzubas, Eva Hesse, Rudi Lesser, Lily Renee, Arthur Szyk and Fritz Ascher. The exhibition underscores the transformative effect of forced migration on individual identity.
Let us know what you think!
On March 10, you are invited to a LIVE MUSICAL PERFORMANCE. I am proud to deliver a pre-concert talk, together with Stephen Decatur Smith from Stony Brook University:
Thursday, March 10, 7:00pm EST
Arnold Schoenberg's Pierrot Lunaire
and the Role of the Clown in the Arts
1014 – space for ideas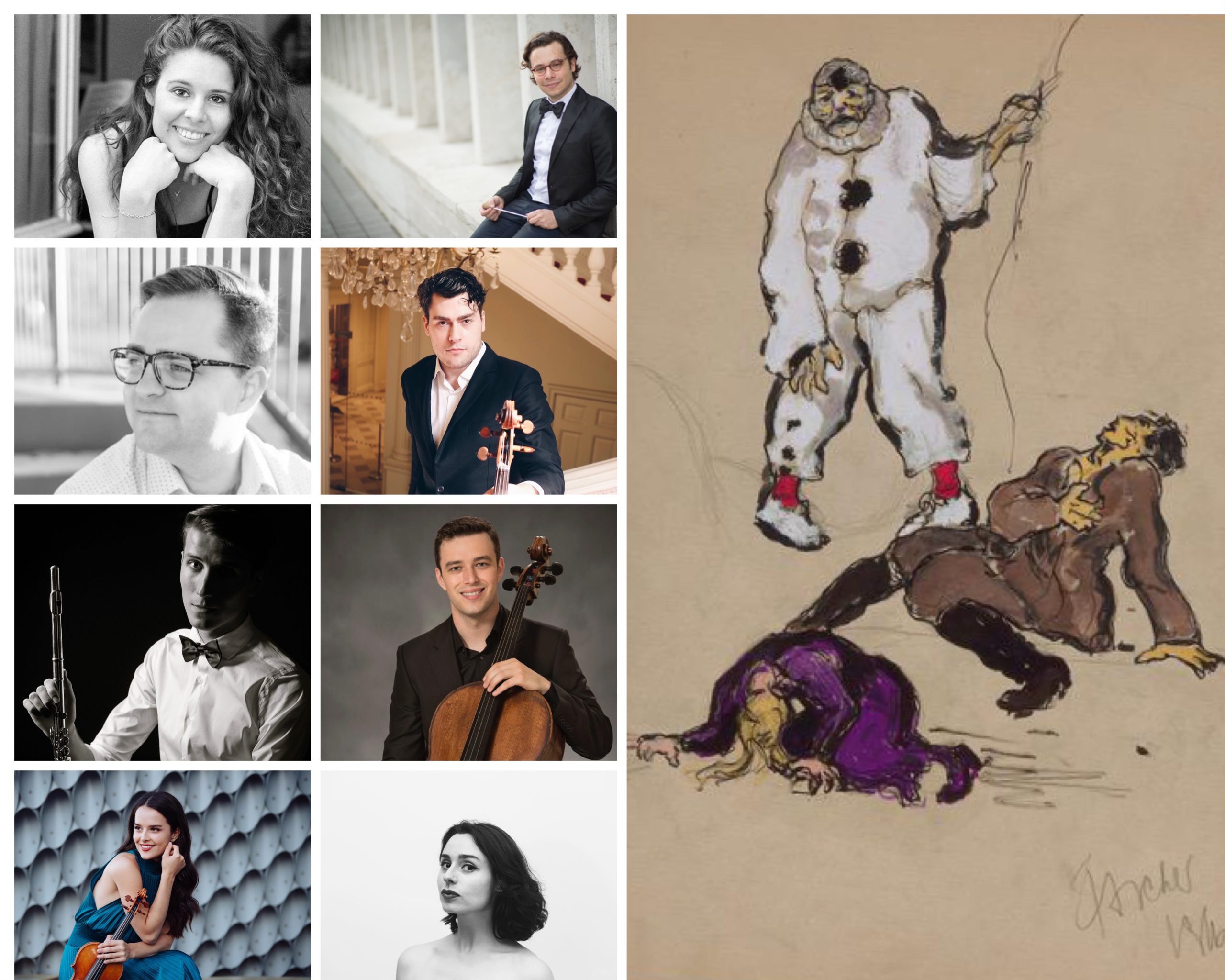 Pierrot, the famous character from the Italian commedia dell'arte, is set by the composer A. Schoenberg as the moonstruck and fantastical clown, who is a symbol for putting on a mask to hide one's true feelings or opinions. Forever lovelorn and wistfully contemplating the dying moon, he lurches through the night, hiding his face underneath a thick layer of white paint. The extravagance of emotions, the aesthetic of exaggeration, and the distortion of communication through the mask turn Pierrot into an incredibly fascinating and universal figure.
Concert
Weill: 'Lonely House'
Schoenberg: Pierrot Lunaire op. 21, Part I
Berg: 'Nacht' from Seven Early Songs
Schoenberg: Pierrot Lunaire op. 21, Part II
Marx: Pierrot Dandy
Schoenberg: Pierrot Lunaire op. 21
Featured artists
Hannah Harnest – Piano
Sophie Delphis – Mezzo Soprano
Abi Kralik – Violin
Adam Kramer – Viola
Sean Hawthorne – Cello
Denis Savelyev – Flute
Bixby Kennedy – Clarinet
Teddy Poll – Conductor
Did you miss our October 2021 event about the artist John H Less and his experiences as a refugee in Shanghai? You can always watch the recording of our event, but we invite you today to join the Zoom event organized by the San Diego State University:
Sunday, March 20, 1:00pm EST
"Visualizing the Past: John Less' Depictions
of his Holocaust Refuge in Shanghai"
Born in Berlin, John Hans Less (1923 – 2011) fled to Shanghai in September 1940 as a 16-year-old together with his family to escape Nazi persecution. Largely dependent on relief organizations to survive, the Less family soon went through further disruptions when the Japanese occupied the city and later confined Jewish refugees to the Hongkew Ghetto. The sudden uprooting, immersion in a completely unfamiliar environment, and exposure to precarious conditions throughout the seven years Less endured as a refugee in Shanghai deeply affected both his life and art.
Thank you for being part of our community. Your support makes our work possible.