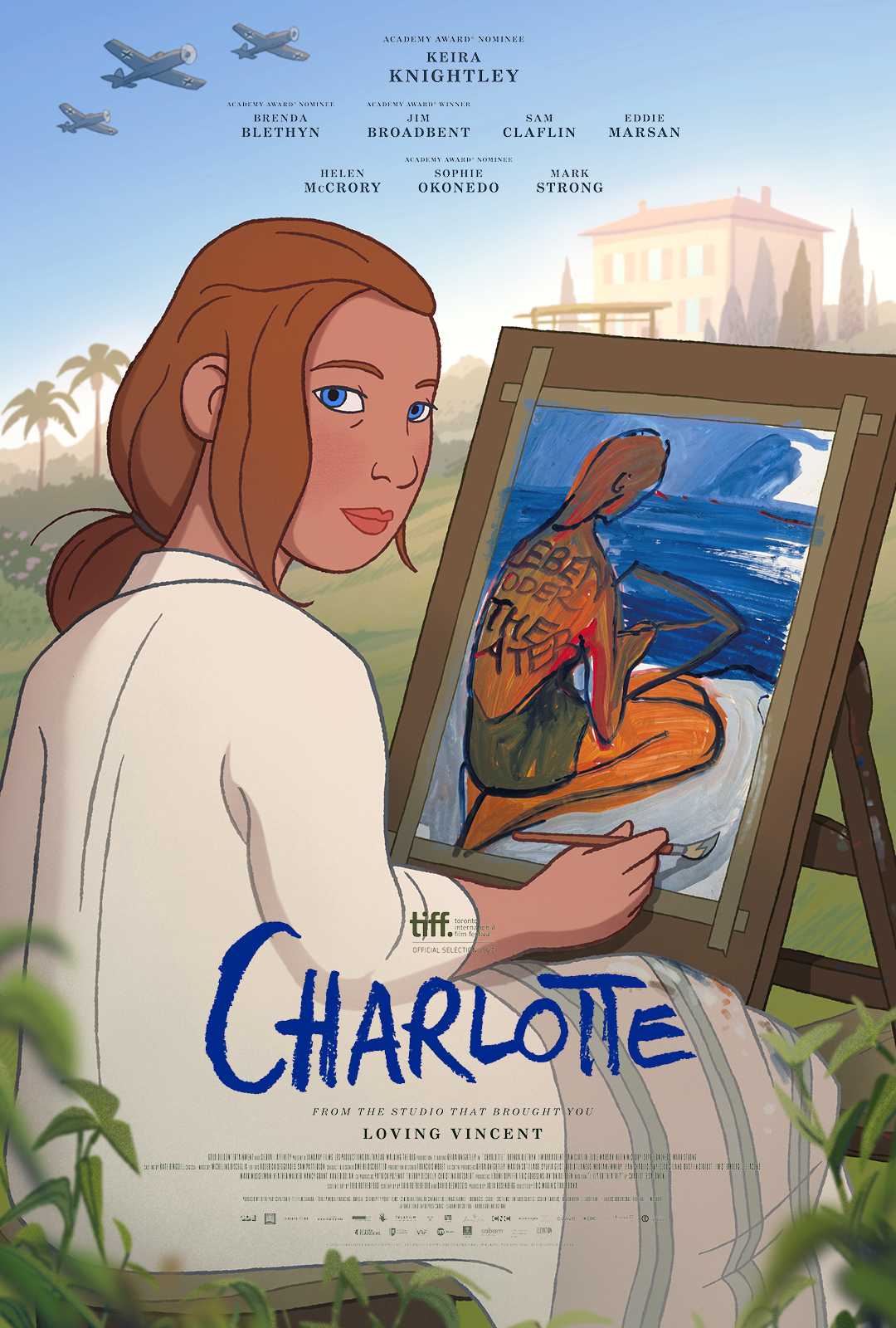 Charlotte. Animated Film about
German-Jewish Artist Charlotte Salomon (1917-1943)
Producer Julia Rosenberg
in conversation with Ori Z Soltes
June 22, 2022 @ 12:00 pm

-

1:00 pm

|

Free
Join us as the film's producer, Julia Rosenberg, speaks with Ori Z Soltes from Georgetown University in Washington DC about her motivation, thoughts and decisions that went into the creation of her newly released animated film "Charlotte." Moderated by Rachel Stern, Executive Director of the Fritz Ascher Society.
Image above: Film poster "Charlotte"
"Charlotte" is an animated drama that tells the true story of Charlotte Salomon (1917-1943), a young German-Jewish painter who comes of age in Berlin on the eve of the Second World War. Fiercely imaginative and deeply gifted, she dreams of becoming an artist. Her first love applauds her talent, which emboldens her resolve. But the world around her is changing quickly and dangerously, limiting her options and derailing her dream. When anti-Semitic policies inspire violent mobs, she leaves Berlin for the safety of the South of France. There she begins to paint again, and finds new love. But her work is interrupted, this time by a family tragedy that reveals an even darker secret. Believing that only the extraordinary will save her, she embarks on the monumental adventure of painting her life story.
Directed by Eric Warin and Tahir Rana
Written by Erik Rutherford and David Bezmozgis
Starring Keira Knightley, Brenda Bleythyn, Jim Broadbent, Sam Claflin, Eddie Marsan, Helen McCrory, Sophie Okonedo, Mark Strong
Still image from "Charlotte," Charlotte Salomon paints in her studio
The idea for making Charlotte dawned on a morning run. "I had this idea that Charlotte Salomon drew her life story, so I had to produce an animated film, a film that's drawn, of her life story," explains producer Julia Rosenberg (Natasha, Being Julia). The inspiration, however, was more than just a runner's high. Rosenberg had received Salomon's Life? Or Theatre? at age 13, and, by her own admission, almost fetishized the book. "I've seen that same look in the eyes of other people who know her," she explains. "One becomes really attached to Charlotte and her work. It's almost fierce."
The film "Charlotte" can be watched on each major platform: iTunes, AppleTV, Amazon, Vudu, and Google.
Over her twenty-five year career, Julia Rosenberg has been one of Canada's top executives and producers. After eighteen months as a feature film executive at Alliance Communications Corporation, she was the only executive who moved with Robert Lantos to his new venture, Serendipity Point Films. From 1998 through 2004, Julia oversaw all development and production at Serendipity, during which time eight features and one series were greenlit, among them "Being Julia" starring Annette Bening. In 2005, she launched January Films where she has produced award-winning features and documentaries, most recently "Charlotte", an animated feature for adults starring Keira Knightley (and Marion Cotillard in the French version) that premiered the English version at TIFF 2021 and the French version at Annecy 2022. Drawing on her relationships at home and abroad, Julia has produced with the best of Canadian and international talent, executives, and financing.
"There absolutely was a concerted effort to pay homage to Charlotte," says Toronto-based co-director Tahir Rana (Angry Birds). "All throughout the process, what was in the back of my mind was 'I have to do good by Charlotte'. I think we all felt that, and that was sort of a guiding principle throughout this journey. No matter how challenging it got, we just thought of Charlotte, and what she went through."
Ori Z Soltes, PhD, teaches at Georgetown University across the disciplines of theology, art history, philosophy and politics. He is the former Director and Curator of the B'nai B'rith Klutznick National Jewish Museum where he curated some 80 exhibitions. He is the author of several hundred articles and catalogue essays, and the author or editor of 25 books, including The Ashen Rainbow: The Holocaust and the Arts; Symbols of Faith: How Jewish, Christian, and Muslim Art Draw from the Same Source; and Tradition and Transformation: Three Millennia of Jewish Art and Architecture (second edition forthcoming).
Future events and the recordings of past events can be found HERE.
Please support this and future programs with a donation. Thank you. Your support makes our work possible.
Share This