Dear Friends,
For this Holocaust Remembrance Day, we invite you to participate in building the largest digital memorial to the victims of National Socialism. In partnership with the Arolsen Archives and Yad Vashem, our event kicks off a 48 hour data entry challenge, during which we ask the global community to get together to enter data from 20,000 documents of the Central Location Index, an umbrella organization based in New York that coordinated the search for missing relatives. This collection, which is now in Yad Vashem, has never been indexed before.
Wednesday, January 26, 12:00pm EST:
International Holocaust Remembrance Day
#EVERYNAMECOUNTS Challenge
in Partnership with Arolsen Archives and Yad Vashem
The entire Central Location Index (CLI) collection contains 1,200,000 index cards and 250,000 documents. The data generated during the challenge will be made available in the online archive of the Arolsen Archives as well as in the database of Yad Vashem.
During this event, Giora Zwilling, Deputy Head of Archives, gives us a tour through the Arolsen Archives. Then we will roll up our sleeves and actively enter data, guided and assisted by Elizabeth Berkowitz, Executive Director of the American Trust for the British Library in New York and Katharina Menschick, Research and Education Department in Arolsen.
This is how the index cards look like (On the right side you can see the information you'll be asked to enter):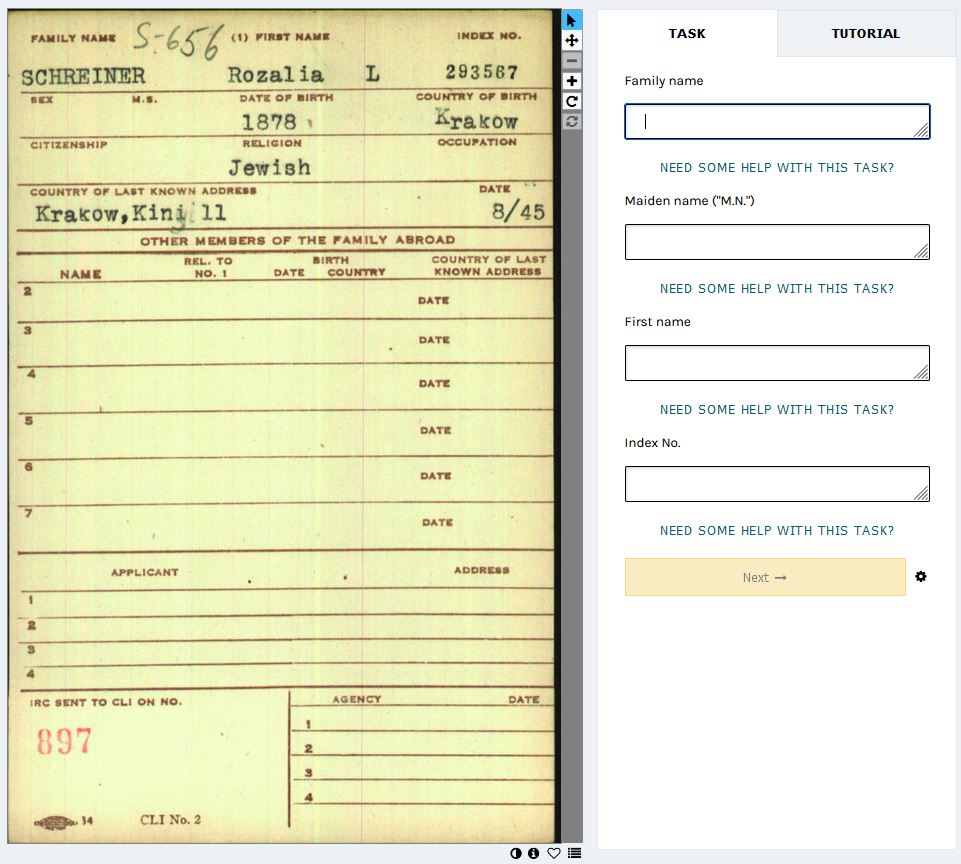 It's easy to join in. You don't need any special knowledge to take part.
After our kick-off event, the global challenge continues for the next 48 hours. Please participate!
In February, we continue our monthly lecture series "Flight or Fight: Stories of Artists under Repression" with:
Tuesday, February 1, 2:00pm EST:
Boris Lurie: Searching for Truth in Holocaust Images 
Featuring Eckhart Gillen, Berlin (Germany)
Co-presented by the Museum of Jewish Heritage
In Claude Lanzmann's seminal nine-and-a-half-hour film SHOAH, he chose not to use any images of the Holocaust, telling the story instead solely through the words of witnesses. By contrast, art historian Georges Didi-Huberman and contemporary artist Gerhard Richter have both emphasized the power of images to reflect and educate—the former in his book Images in Spite of All: Four Photographs from Auschwitz, and the latter in a series of paintings titled "Birkenau."
Join the Museum of Jewish Heritage and the Fritz Ascher Society for a lecture exploring the tension between these different perspectives on images, words, and the Holocaust with German art historian and curator Eckhart Gillen. Gillen will ground the discussion in the example of Boris Lurie, the subject of the Museum's special exhibition Boris Lurie: Nothing To Do But To Try, who used art to access his buried memories before he was able to address them with words.
The exhibition is on view until April 29, 2022.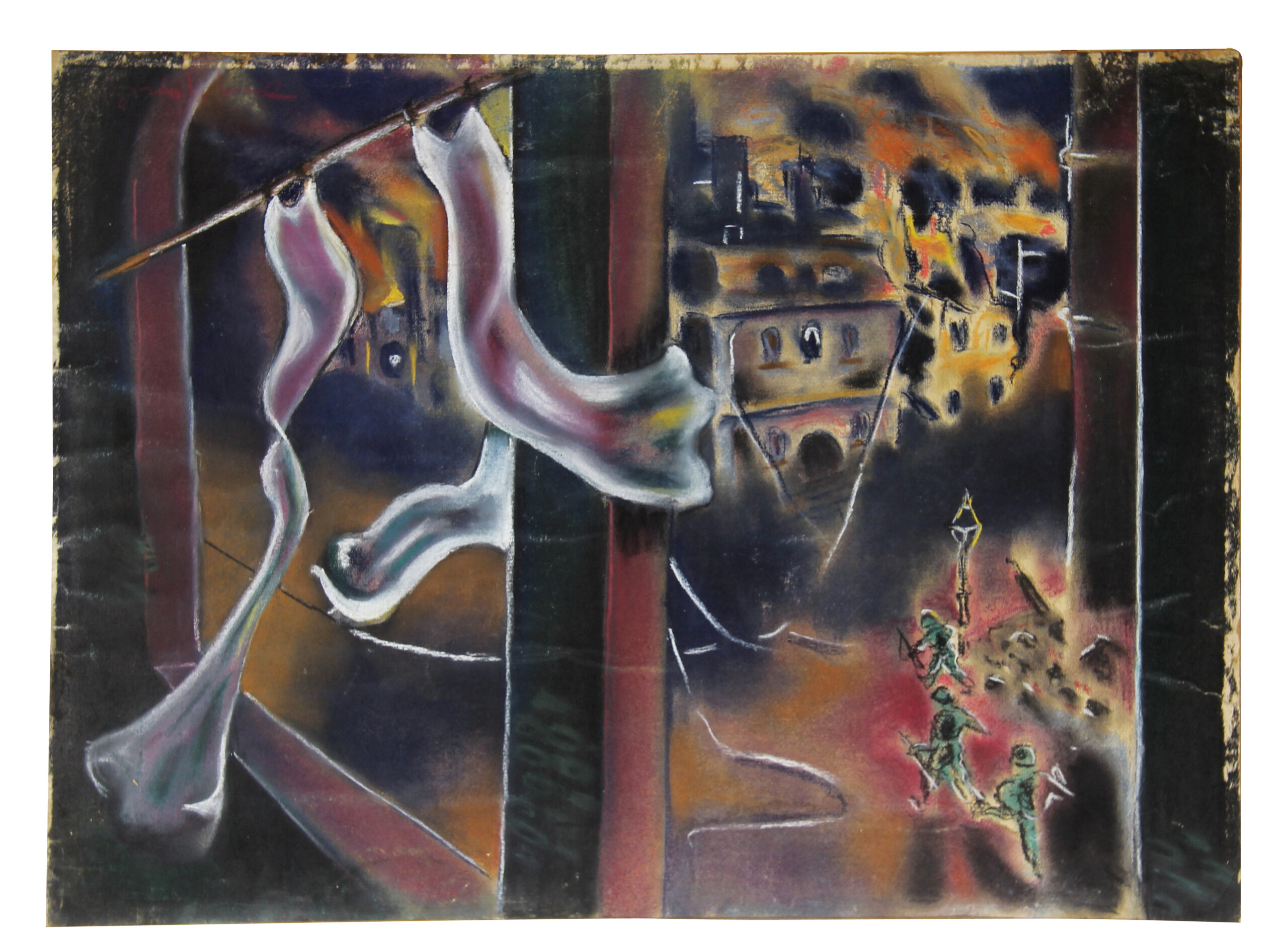 Boris Lurie, Liberation of Magdeburg, 1946. Pastel and gouache paint on paper, 19 x 25 in. Courtesy of the Boris Lurie Art Foundation
New Yorkers: Please save the date for our in person event on February 27 at the Sheen Center for Thought & Culture:
Sunday, February 27, 3:00-4:30pm
"Identity and Migration:
Artists and Composers who Fled Persecution"
The Sheen Center for Thought & Culture, New York
We are very proud to host an extraordinary group of experts:
Rebecca Erbelding PhD, Historian and Author in Washington DC (top row, from left)
US Immigration Policy during the 1930s Refugee Crisis
Ori Z Soltes PhD, Georgetown University in Washington DC
Artist Refugees from Nazi Germany in the United States
Stephen M Rasche JD, Catholic University in Erbil, Kurdistan Region, Iraq
Identity in a Time of Forced Displacement: Religious Art and the Iraqi Christian Experience
David Stern, German born American Artist, New York NY (bottom row, from left)
Immigration and Culture Shock in Times of Globalization
Musical Performance (Piano) by Carolyn Enger, Steinway Recording Artist:
Arnold Schoenberg – Sechs kleine Klavierstücke Op. 19
Emahoy Tsegué-Maryam Guèbrou: Homesickness Pt. 1
Paul Ben-Haim – Canzonetta from Five Pieces for Piano, Op 34
Introduction and Discussion moderated by
Rachel Stern, Director and CEO of The Fritz Ascher Society for Persecuted, Ostracized and Banned Art, New York
This event celebrates the launch of the online exhibition "Identity, Art and Migration," which tells a distinctly human story of how circumstance impacts selfhood. Through the lens of seven artist case studies and interdisciplinary scholarship, we investigate US immigration of European refugees during the first half of the 20th century: Anni Albers, Friedel Dzubas, Eva Hesse, Rudi Lesser, Lily Renee, Arthur Szyk and Fritz Ascher. The exhibition underscores the transformative effect of forced migration on individual identity.
Generously sponsored by the Consulate General of the Federal Republic of Germany in New York.