Dear Friends,
I am filled with gratitude for your interest and support that enabled us this year to initiate and organize five exhibitions, numerous lectures and exhibition tours, two world premiere concerts featuring musical interpretations of Fritz Ascher's poems by Potsdam composer Gisbert Näther, as well as the emotional ceremony placing a stumbling block in front of Niklasstraße 21/23 in Berlin-Zehlendorf memorizing Fritz Ascher at the location of his parental home. Thank you to everyone who made these events possible!
Thank you to Wolfgang Gustavus, whose unexpected death deeply saddens us, for donating works by Fritz Ascher to the Potsdam Museum and Museum Charlottenburg-Wilmersdorf Berlin.
As 2018 is winding down, I hope you are enjoying some peace and fun time with family and friends. I myself have been obsessed with Ludwig van Beethoven's music, inspired by Fritz Ascher's admiration for the composer, who lost his hearing in the last 26 years of his life, but continued to create his dramatic music.
At the same time, I am still thinking about the dots and short brushstrokes that Ascher added to some of his early paintings in 1945. That's why I want to share here Elizabeth Berkowitz' insights into Ascher's monumental work: "Ascher's Beethoven (1924/1945), a painted portrait bust of the composer was one of the artist's works created through a hybrid style of an identifiable subject blurred or concealed by an overlay of abstract form. In keeping with his preference for vibrant, non-naturalistic color, the artist rendered Ludwig van Beethoven's face through a mixture of red, green, peach, black, and yellow tones. Yet, like his paintings Golem (1916/1945) and Bajazzo and Artists (1924), among others, Fritz added multi-colored dots and dashes atop his more identifiable rendering, consequently almost obscuring Beethoven's features. In Beethoven, as in his other uses of this technique, Ascher's dots and dashes were neither extraneous details nor constituted mere painterly flourishes. Instead of indiscriminately coating the surface, the small dots clustered on the contours of Beethoven's face, while the dashes loosely outlined the composer's shoulders. This deliberate application of the dots and dashes suggests that they were integral to the painting and critical to the work's overall interpretation. By way of explanation, I believe this technique constituted Ascher's attempt to illustrate emotional states or creative mediums typically outside the purview of painted representation. While Ascher's overt subject was Beethoven's likeness, the abstract overlay perhaps depicted other qualities of the composer and his life, such as Beethoven's music, the impetus for Ascher's depiction. The vibrancy of color and the quickness of the dash lines could indicate the array of feelings engendered by Beethoven's music, or the sound of Beethoven's work. While conclusive evidence for Ascher's exploration of these ideas may remain forever unknown, situating his juxtaposition of abstract form with identifiable subjects aligns his work with a broader avant-garde effort to use visual media to capture non-visual sensory states."
The painting is one of about 75 artworks that safely arrived in New York, already hung for "Fritz Ascher: Expressionist" at the Grey Art Gallery of New York University. Thank you to the fabulous team at the Grey for their vision, competence and hard work! This is an amazing space that lets many of Ascher's works communicate with each other, and inspires new insights into his work. Please join me at the exhibition opening on January 8, 6:00-8:00pm!
This is the first US venue of the exhibition that has traveled in Germany for the past two years. In the press, the work of the "thoroughbred Expressionist" (SWR Aktuell Baden-Württemberg) was understood as "superb" (taz Berlin), "clearly part of the avant-garde of that time" and with his "works of overwhelming expression" (Maerkische Allgemeine) "worth a true rediscovery" (Freie Presse). "Without artists like him something is missing in Berlin's art history." (Der Tagesspiegel Berlin). The "edgy, earthy physicality" (Der Tagesspiegel Berlin) of his figures was noted as well as the "storm of colored brushstrokes" (Weltkunst) that inspired one critic to call his art "action painting" (Schwarzaufweiss). You can find select press reviews on our website: https://fritzaschersociety.org/select-press-coverage/.
Now the website is updated, to accommodate the videos that we will start posting in January. Check it out and let me know what you think!
In Germany, the exhibition "Umkämpfte Wege der Moderne – Wilhelm Schmid und die Novembergruppe" at the Potsdam Museum will still be on view until January 27, 2019. A short video introduces the exhibition: https://www.youtube.com/watch?v=RHetEubiM10.
In the exhibition, you can see Fritz Ascher's drawing "Novemberrevolution II" from 1918, which is one of a larger group of drawings, in which he captures the revolt of the workers fought out in the streets, which ultimately led to the founding of the Weimar Republic.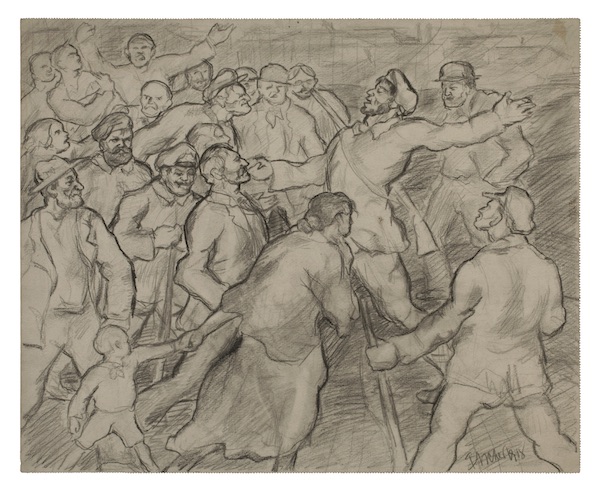 Hoping that we'll never see street fights, I wish everyone a peaceful, healthy and prosperous 2019, with lots of exciting news and discoveries,
Rachel Stern, Director and CEO
artwork Fritz Ascher ©2018 Bianca Stock, Photo Malcolm Varon