Dear Friends,
I know, this summer I seem obsessed with Fritz Ascher's I know, this summer I seem obsessed with Fritz Ascher's Dancers from 1921. But there is one more thought about the drawing that I want to share.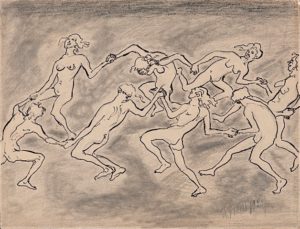 Fritz Ascher, Dancers, 1921. Private collection. Photo Malcolm Varon ©2018 Bianca Stock
When the drawing was created,"Freikörperkultur" (FKK) or "free body culture" had become popular in Germany. Founded in 1898 in Essen, Germany, the nudist culture was about celebrating the body unencumbered by clothes, in nature and sunlight.
Many of the naturists came from the Wandervogel movement, the pre-eminent German youth movement, founded to escape the repressive and authoritarian society of the end of the 19th century and the values of a modern German society increasingly transformed by industrialism and imperial militarism. The back-to-nature youth organization emphasized freedom, self-responsibility, and the spirit of adventure. It's ideology was strongly influenced by Friedrich Nietzsche.
The early protagonists of naturism had diverse political orientations. Nakedness was intended to achieve either the equality of all human beings or the return to Germany's roots of hardened, naked Teutons. Naturists had mostly a Protestant background and often included in the FKK various nutritional teachings such as raw food or vegetarianism and different esoteric teachings.
With the downfall of the empire at the end of World War I came a relaxation of bourgeois norms and morality. Especially in and around Berlin, nude bathing became increasingly popular among young people. By the end of the Weimar Republic, the nudist associations had about 100,000 members.
In 1931, nude bathing outside closed club grounds was again generally prohibited, and in 1933, nudist clubs were either dissolved or integrated as sports associations in National Socialist organizations.
I never thought that Henri Matisse's "Dance" or Walter Schott's "Three Dancing Girls" fully explained the inspiration for Fritz Ascher's "Dancers". Since we know Ascher as a keen observer of the society around him, the popularity of the naturist movement in 1921 Berlin might contribute another level of meaning to this mysterious drawing.
As the summer is officially over with Labor Day here in the US, the Fritz Ascher exhibition at Museum Schlösschen im Hofgarten in Wertheim is coming to a close as well. This is the last week until its closing on September 9! SWR TV reported about the exhibition (link)
Ascher's "powerful, expressionistic visual language and an edgy, earthy physicality" (Tagesspiegel Berlin), it's "unusual psychic intensity and creative dynamism" (Böblinger Zeitung) with its "storm of colored brush strokes" (Weltkunst) is embraced by press and visitors. His "action painting" (schwarzaufweiss) will be on view at the <strong>Kallmann-Museum in Ismaning</strong> from September 30th. This is the last German venue of the retrospective before it comes to the US in 2019.
We are happy that some works by Fritz Ascher entered the collections of those museums who championed his work by showing his retrospective. Thanks to the Gustavus family, two beautiful works on paper are now permanently at the Potsdam Museum,
We are grateful to everyone who supported our work during this past year.
It's been quite a year – for the world, and for the Fritz Ascher Society. We've seen how the echoes of history reverberate in our own time, and the strength we can draw from knowing our past.
Installing a "Stolperstein" for Fritz Ascher and bringing Fritz Ascher's work out into the public in Berlin, Potsdam and Wertheim came with many lectures, tours and discussions about his work in historical and cultural context. It also brought the first ever musical performance of Ascher's poems.
We are excited to continue this exciting journey with all of you!
With gratitude, and best wishes for renewal and beginnings,
Shana Tova,
Rachel Stern, Director and CEO
artwork Fritz Ascher ©2018 Bianca Stock, Photo Malcolm Varon