Dear Friends,
I am so very excited today to share new insights into Fritz Ascher's work.
Fritz Ascher's Dancers from 1921 is a drawing that has dazzled and fascinated me since I saw it first. In the Fritz Ascher exhibition catalogue, I described the eight female and male dancers as "dancing in a circle in naked ecstasy," "mythical figures in timeless space" (p. 220). Looking at Ascher's drawing, Henri Matisse's Dance from 1910 comes to mind, where "the rhythm of the bodies swaying in dance becomes the sole theme of a painting for the first time." Commonly recognized as a key point of Matisse's career and in the development of modern painting, it was painted for the Russian businessman and art collector Sergei Shchukin with a companion piece Music. A preliminary version of the painting is today owned by the Museum of Modern Art in New York.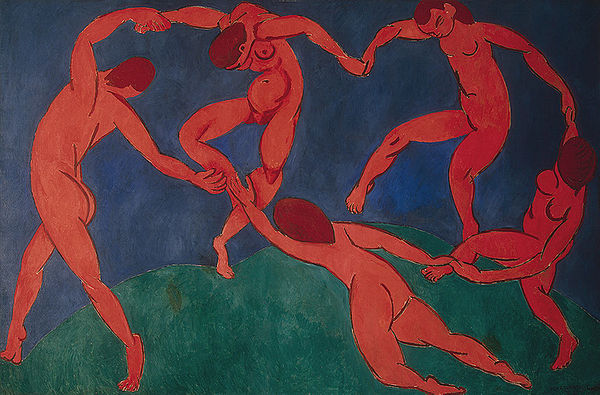 Left: Fritz Ascher, Dancers, 1921. Private collection. Photo Malcolm Varon ©2018 Bianca Stock;
Right: Henri Matisse, Dance, 1909. The Hermitage, St. Petersburg Photo
Equally in New York – yes, I am being very local today – is the fountain Three Dancing Maidens, an Art Nouveau bronze by Walter Schott. Fingers intertwined and mouths gleefully thrown open, they are dancing around the lip of a stone fountain in the Conservatory Garden in Central Park. Given to the city in memory of Samuel and Minnie Untermyer, it stood before on the grounds of their estate. Another full-size version was installed in Antwerp's Den Brandt Park in 1911.
And yes, now this is turning into a story of Nazi-looted art, because the third version of the fountain is the original, commissioned by Rudolf Mosse and erected in mid-1909 in the main courtyard of the Mosse-Palais at Leipziger Platz. Rudolf Mosse (1843-1920) was an important arts patron and philanthropist, and he was Jewish. His art collection was looted/stolen under Nazi rule, a collection that is now being reconstructed by the Mosse Art Research Initiative (MARI) (link). While German cultural institutions are inclined – not required by law, mind you – to return art that has proven to have been looted, this is not true for individuals.
MARI's research proves that Three Dancing Maidens from the Mosse Palais is located today in the park of Burg Schlitz castle, a 15 minute drive from Berlin. Unlike all other versions of the fountain, historic photographs show that both had an upward-flying scarf as the highest point. But today's owner of Burg Schlitz, Armin Hoeck, has chosen to fight the accusation, and German law does not require him to return the fountain. In haunting detail, Matthew Shaer tells the story of the sculpture in the Smithonian Magazine (link).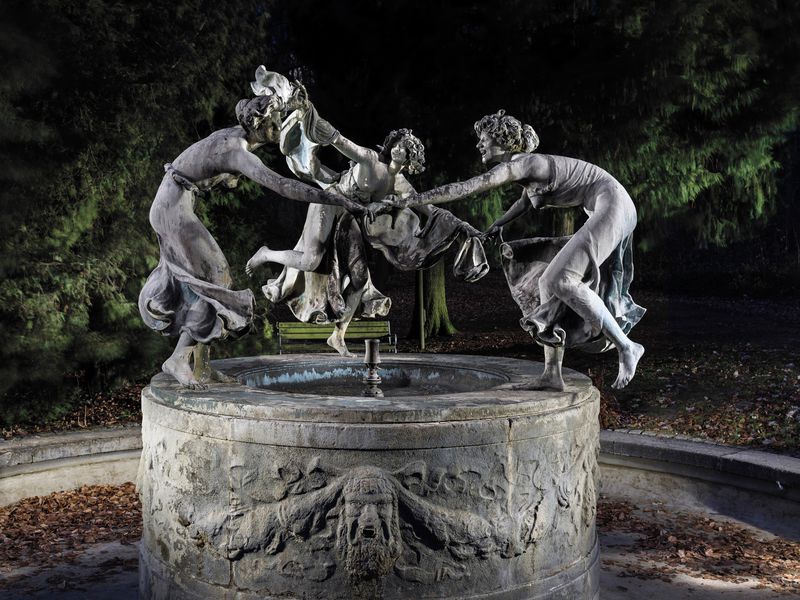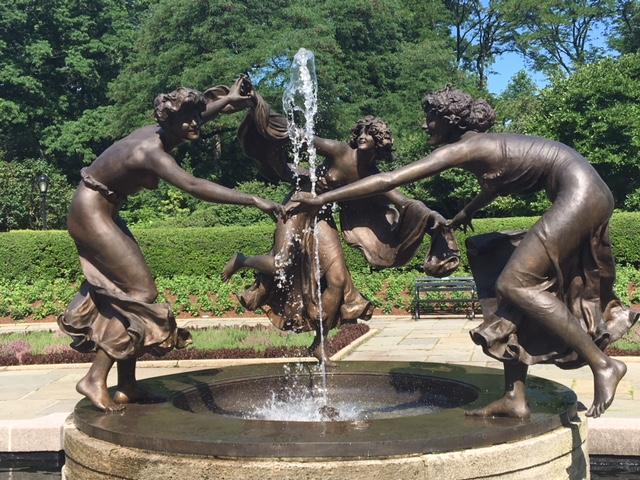 Left: Walter Schott, <em>Three Dancing Maidens</em>, 1909. Burg Schlitz castle, Germany. Photo Berthold Steinhilber, Smithsonian Magazine; Right: Conservancy Garden, Central Park, New York. Photo Rachel Stern
Do Walter Schott, Henri Matisse and Fritz Ascher all go back to Titania's instruction to her fairy train in the last scene of Shakespeare's A Midsummer Night's Dream?
Hand in hand, with fairy grace,
Will we sing, and bless this place.
In 1921, the same year Ascher drew Dancers, he drew other scenes from Shakespeare, such as King John, King Richard II and Henry IV. Moreover, we know that he loved poetry, and even wrote his own.
Today, poetry is on the rise in the United States! According to new NEA findings, in the past five years, the number of poetry readers in the United States has almost doubled to a total of 28 million adults. The largest increase in poetry readership has come from young people ages 18–24, among whom African Americans, Asian Americans, and other non-white, non-Hispanic groups now read poetry at the highest rates.
(link)
Fritz Ascher wrote the poem Summer Idyll in 1945:
The old trees chat,
in the finery of their greenery.
Then they linger in the stillness -,
As they show their shine around –
There where the modest flowers
are strewn in rings around them.
Delicate limbs look with amazement;
Flitting and folding about =
Free as young love.
Then they murmur renewed.
Revived enflamed shining white –
Everything brightens and rejoices.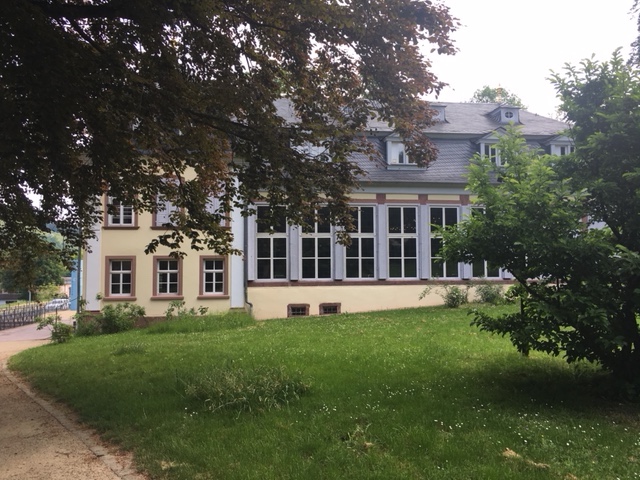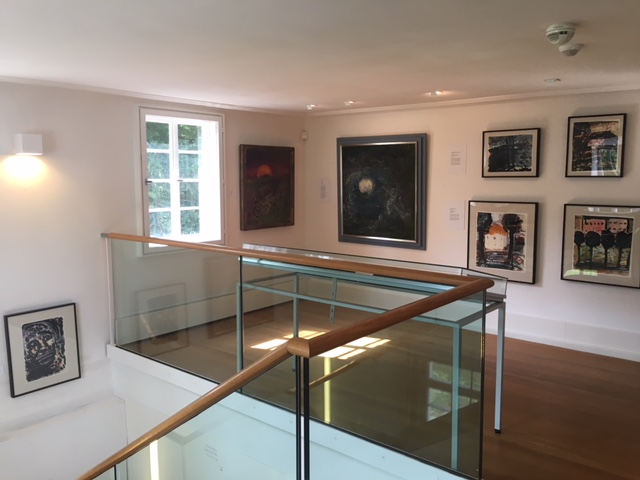 Until September 9, Fritz Ascher's work can be seen at Museum Schlösschen im Hofgarten in Wertheim. SWR TV reported about the exhibition (website link).
Happy 4th of July, and stay cool!
Cheers,
Rachel Stern, Director and CEO
artwork Fritz Ascher ©2018 Bianca Stock, Photo Malcolm Varon