Dear Friends,
I was touched by how many neighbors and friends from near and far came out into the chilly but sunny winter weather on February 21 to celebrate Fritz Ascher and recognize his persecution by the National Socialists by laying a "Stolperstein" (stumbling stone) at Niklasstraße 21/23 in Berlin-Zehlendorf, where his family lived from 1909. Thank you to the anonymous donor for making this event possible, to Dirk Jordan (AG Stolpersteine), Michael Rohrmann (Projekt Stolpersteine) and Wolfgang Ellerbrock for organizing it, to Cornelie von Bismarck for creating a beautiful context, and to Sabine Witt from Museum Charlottenburg-Wilmersdorf in Berlin and Jutta Götzmann from Potsdam Museum for supporting it. A special thank you to the students from Potsdam for reciting poems by Fritz Ascher – these and the speeches helped commemorate an extraordinary artist and human being, whose creative output is accessible again.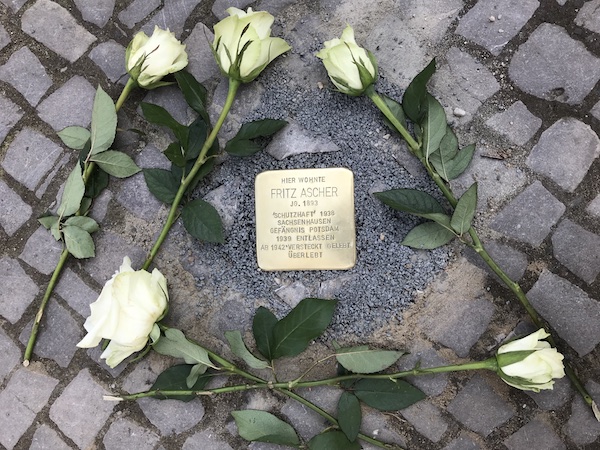 Now the retrospective in Berlin and Potsdam is closed, but there is one more exciting event scheduled at Potsdam Museum, the musical rendering of Fritz Ascher's poems "Melancholie, Licht und Gesang" (Melancholy, Light and Song) by Potsdam composer Gisbert Näther. This world premiere will be performed on Sunday, April 8 at 5:00pm by the Women Vocal Ensemble Berlin and Liana Narubina (piano)(due to sickness, the earlier date was cancelled). (link)
The exhibition "Six weeks are almost like a life sentence…" The Potsdam police prison in Priesterstraße/Bauhofstraße at Gedenkstätte Lindenstraße in Potsdam is on view for another few weeks, until April 29, 2018. Fritz Ascher spent almost 5 months in 1939 at the Potsdam police prison Priesterstraße/Bauhofstraße. In 2002, the prison was demolished, with very few traces left. So this exhibition provides the first research into the history of the infamous prison – I can not wait for the publication that is in preparation!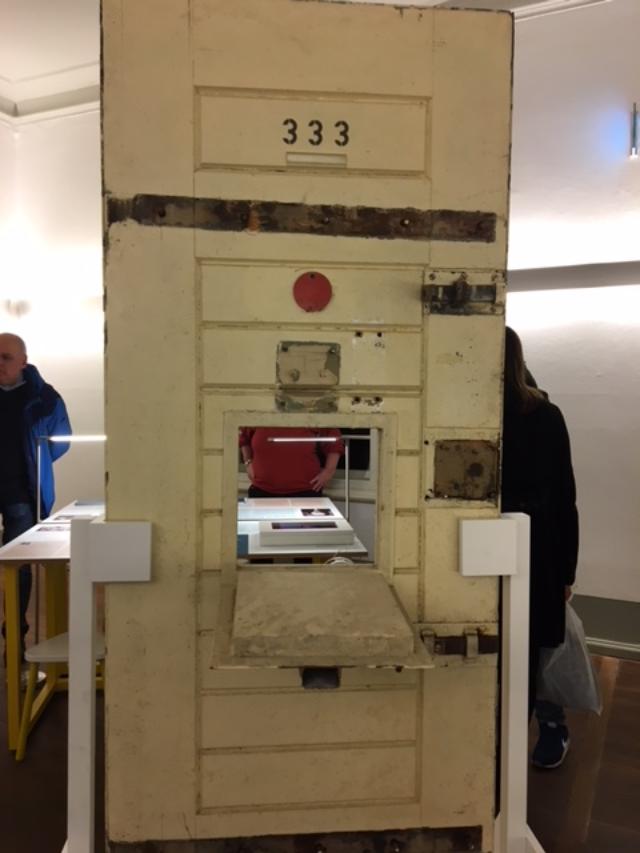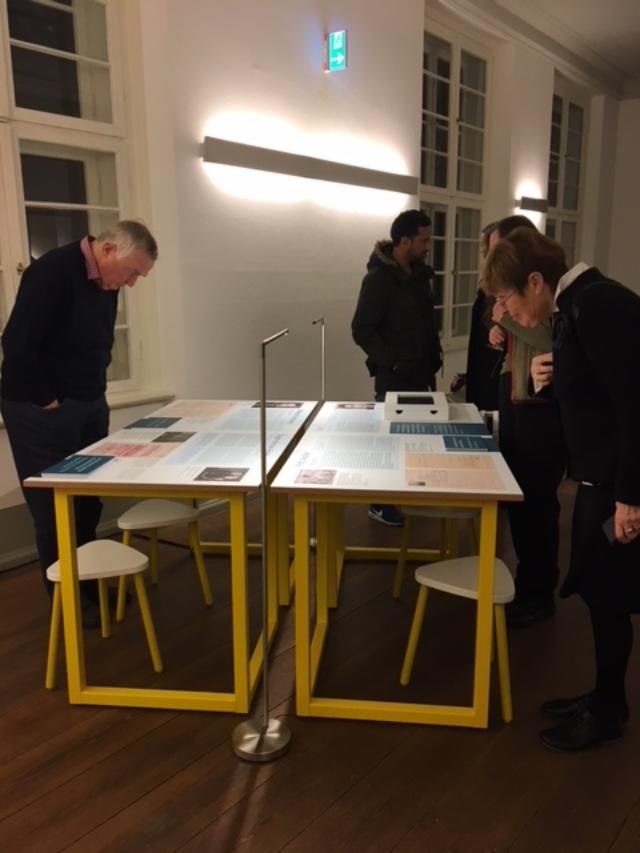 Door to a Cell at Polizeigefängnis Priesterstraße/Bauhofstraße ————————————— Installation Shot of the Exhibition at Gedenkstätte Lindenstrasse, Potsdam
We hope to find out more about those who saved Ascher's life, police officer Heinrich Wolber (geb. 5 April 1887), who warned him of his upcoming deportation, as well as Martha Graßmann (geb. Martha Maria Pauline Fenske, Berlin, 16 January 1881 – 24 January 1971) who hid him for 3 years, and her son, the lawyer Gerhard Graßmann. Any new information is deeply appreciated.
In the meantime, the Fritz Ascher retrospective continues its travels through Germany. Stay tuned to it's May 13 opening at Museum Schlösschen im Hofgarten in Wertheim/Main.
This month, we are getting a late start with the "artist of the month." Lea Grundig, née Langer, (1906-1977) was born into a religious Jewish family in Dresden. In 1922 she began several years of art studies, first at the Academy of Arts and Crafts and then at the Academy of Art, both in Dresden. She became a member of the German Communist Party (KPD) in 1926. Two years later, in spite of her father's strong objection, she left the Jewish community and married Hans Grundig, a fellow art student and member of the Communist Party, and they both began to create posters and illustrations for Communist purposes.
Lea Grundig preferred to create works on paper rather than on canvas, mostly in blacks, greys and whites, portraying her subjects in a social and psychological context that often reflected the misery and hardship of the working poor. The Grundigs were among the few artists who continued to produce anti-fascist art in Hitler's Germany, documenting conditions in Nazi Germany.
From 1936, both Grundigs were in and out of concentration camps. In 1941, Lea managed to flee via Bratislava to Palestine, where she created several series of etchings related to the Holocaust.
When Lea learned of Hans' survival in 1948, she returned to Dresden. The Grundigs now were showered with honors. Hans, who had returned to Germany from Moscow in 1947, was made Rector of the newly reopened Dresden Academy of Fine Arts (Akademie der bildenden Künste), where he also taught painting. Lea also became a professor there. From the 1950s, they both adapted the style of socialist realism and took an active part in visualizing the ideology of the German Democratic Republic. Lea became a member of the Central Commitee of the SED (the leading party of the German Democratic Republic) in 1964. She died during a voyage through the Mediterrean in 1977.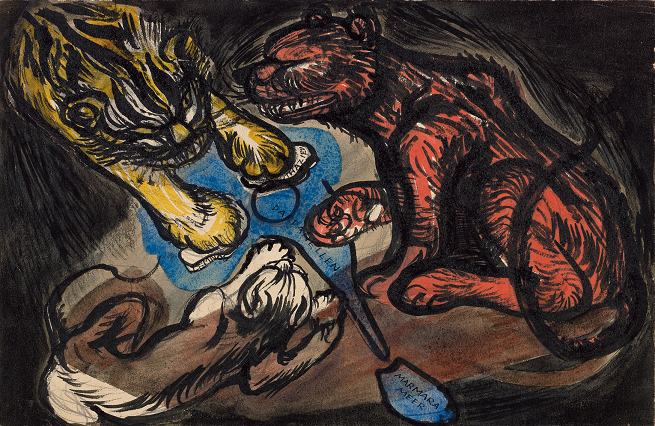 April is National Poetry month, so check out our Twitter feed to find poems by Fritz Ascher.
I wish you a wonderful spring, and happy holidays!
Cheers,
Rachel Stern, Director and CEO