Dear Friends,
I am humbled and honored to have received the Lea and Hans Grundig Prize for my work about Fritz Ascher. Right on time for his 125th birthday, the Fritz Ascher retrospective is now open in Berlin and Potsdam, the two places where the artist lived and worked.
Museum Charlottenburg-Wilmersdorf in der Villa Oppenheim in Berlin exhibits an overview of the artist's creative development, with a focus on works that relate to Berlin. We see his sketch of the artist Max Liebermann as well as his love for music and performance in Weimar Republic paintings like "Beethoven" and "Bajazzo and Artists". After surviving the Nazi terror regime in hiding in the Berlin Grunewald neighborhood, he painted these works over in 1945, with dots and short brushstrokes in vibrant colors that connect figure and background but distance the viewer. But soon he completely changed form and content of his artwork. Ascher turned to landscapes created in response to long walks in the Grunewald city forest, which bordered the neighborhood where he survived in hiding, and then lived until he died in 1970. His work becomes more immediate and urgent. In few works like "Hunting Castle Grunewald" the locale can be recognized. (website link)
Thank you to Piotr Bialoglowicz for the amazing photographs (nos. 2-5)! (more photos)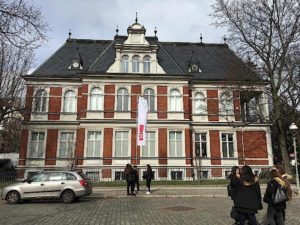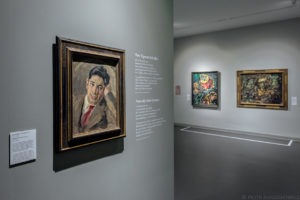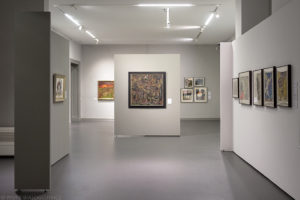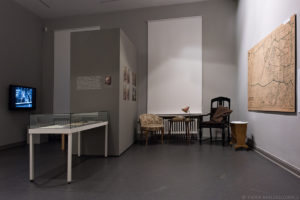 The Potsdam Museum shows Ascher's oeuvre in four galleries. Here, the main focus is on Ascher's work until 1933, including the poems he wrote 1933-1945 while hiding from the Nazis. The first gallery shows early sketches and student work like the death mask of Frederik the Great, complimented by his original death mask from the museum collection. Early masterworks like the monumental "Golgotha" and "The Tortured" dominate the gallery with their intensity of color and form, as well as their unconventional composition. The second gallery shows Ascher's love for music and stage and his life-long interest in the clown theme with "Bajazzo", as well as late self portraits and portraits of those surrounding him, like the artist Max Pechstein. Ascher's landscapes after 1945 are featured in the third gallery, with the exploding "Sun", wide landscapes with sunsets, flowers and trees. Thanks to Historian Dr. Wittenberg new research about Ascher's time in Potsdam can be found in the fourth gallery, with the locations where he hid, and documents tracing the story of his persecution by the Nazis. A short film introduces us into Fritz Ascher's life and work. (website link)
Thank you to Dr. Bauers for the amazing photographs (no. 5)! (more photos)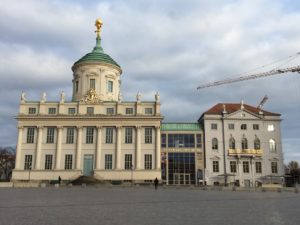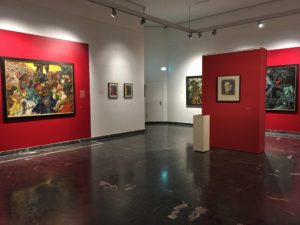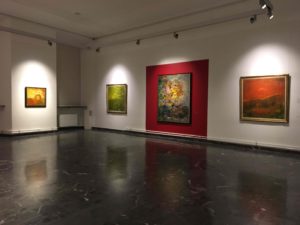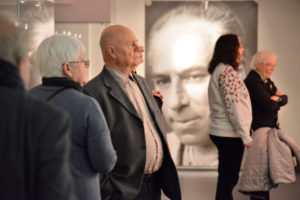 The exhibitions at Museum Charlottenburg-Wilmersdorf in der Villa Oppenheim, Berlin and at Potsdam Museum are on view until March 11, 2018. If you are close by, check out the stimulating program that accompanies the exhibitions!
We are thrilled that Stiftung Gedenkstätte Lindenstrasse in Potsdam researched the history of the prison where Fritz Ascher spent almost 5 months in 1939 in their exhibition "Sechs Wochen sind fast wie lebenslänglich…" Das Potsdamer Polizeigefängnis Priesterstrasse/Bauhofstrasse / "Six weeks is almost like a life sentence…" The Potsdam police prison in Priesterstrasse/Bauhofstrasse (12 December 2017 – 29 April 2018). (website link)
Thank you to Manfred Thomas for the amazing photograph!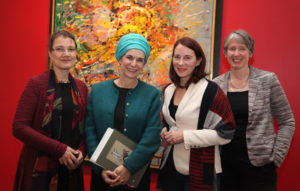 Thank you to my project partners Dr. Sabine Witt, Dr. Jutta Götzmann and Uta Gerlant (from right) for our most productive and enjoyable cooperation!
This time, the "artist of the month" gets a late start. The artist, a neighbor who was sketched by Fritz Ascher after 1945, is quite well known: Max Pechstein (Zwickau 31 December 1881 – 29 June 1955 Berlin). After an apprenticeship as a decorator he went to the art school in Dresden from 1900-1906, where he met Erich Heckel and joined the art group Die Brücke in 1906. Later in Berlin, he helped to found the Neue Sezession. In 1914 he painted exotic subjects in Palau in the western Pacific. He taught at the Berlin academy from 1922 until he was dismissed by the Nazis in 1933. His expressionist paintings and prints were removed from German museums and exhibited in the Degenerate Art exhibition of 1937. He survived the Nazi terror in seclusion in rural Pomerania and was reinstated in 1945.
Since 2007, Pechstein's art is permanently exhibited in his home town Zwickau, at the Zwickau Museum, whose Expressionist collection was built by its former director Hildebrand Gurlitt (website link). His work can be discovered until the end of the month of December on our Twitter feed @Ascher_Society.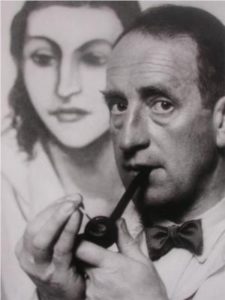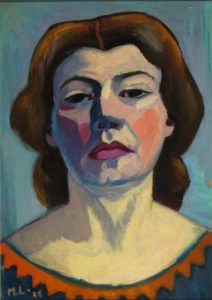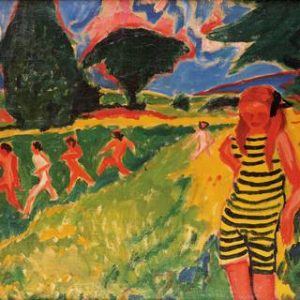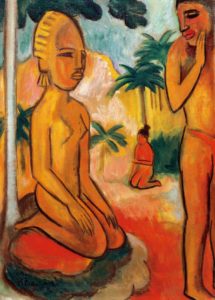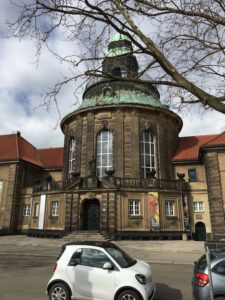 2017 was a year filled with exciting exhibitions, lectures and events, both in Germany and in New York – a year in which we all got an idea of what the Fritz Ascher Society can achieve with the support of its growing circle of friends. Thank you for making our work possible!
I wish you and your families happy holidays and a healthy, prosperous and peaceful 2018,
Rachel Stern, Director and CEO
artwork Fritz Ascher ©2017 Bianca Stock, Photo Malcolm Varon