Dear Friends,
Today I am excited to share with you some photos of last week's opening of "Beauteous Strivings: Fritz Ascher, Works on Paper", which is on view at the New York Studio School daily 10:00am-6:00pm until December 3 (website link).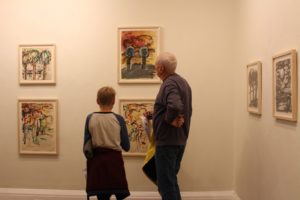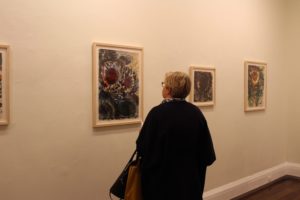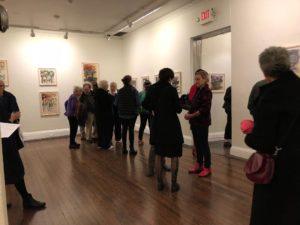 In this exhibition, "powerful emotions seem to lurk just beneath the apparent directness and economy of the tree and flower paintings" of the 1950s and 1960s, observes curator Karen Wilkin in the catalogue that accompanies the exhibition. She continues: "A sense of near-obsession, of ferocious concentration, of focus that excluded everything else, was palpable, made visible in the traces of his rapidly moving hand, driving across the paper, making loops and whorls, and then abruptly changing direction. At the same time, Ascher's repetitions seemed to bear witness not only to close observation, but also to an appreciation of nuance and difference."
Thank you to our sponsors Allianz of America (catalogue), Consulate General of the Federal Republic of Germany New York, to Steven Orlikoff, Rivki and Lindsay Rosenwald and Nicole Trau!
If you want to learn more about Fritz Ascher, please come to my lecture on November 8 at 6:30pm at the New York Studio School!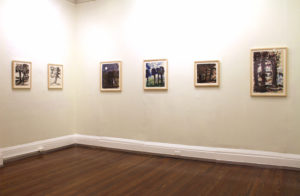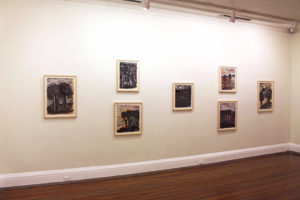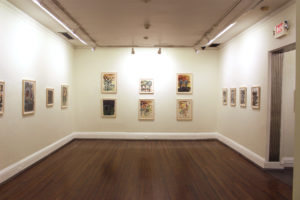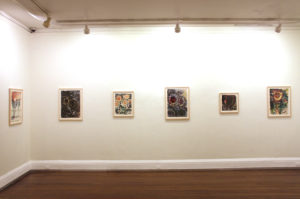 While we are enjoying Fritz Ascher's work here in New York, our partners in Berlin and Potsdam are busy preparing for the first public return of Ascher's work to Berlin and Potsdam, the cities it comes from. The retrospective will be simultaneously on view at the Museum Charlottenburg-Wilmersdorf at the Villa Oppenheim in Berlin 8 December 2017 – 11 March 2018 (opening 7 December), and at the Potsdam Museum – Forum für Kunst und Geschichte 10 December 2017 – 11 March 2018 (opening 9 December). Please mark your calendar – much new research and other surprises await us there!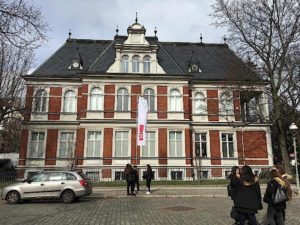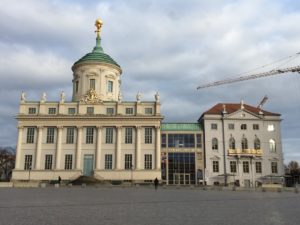 In November, the "artist of the month" is Jeanne Mammen (Berlin, 21 November 1890 – 22 April 1976). Like Fritz Ascher, Jeanne Mammen was born in Berlin, the daughter of a successful German merchant. She was raised and educated in Paris, and studied painting there, in Brussels and in Rome.
When World War I broke out in 1914, the family had to flee Paris, and Mammen and her sister returned to Berlin. Struggling financially, she supported herself by creating fashion drawings, poster designs and illustrations for satirical journals such as Simplicissimus. She never wished "to be anything but a pair of eyes, to pass through the world unseen, only seeing others." As a sharp observer with "grace and guts" (writer Kurt Tucholsky in 1929) she portrayed glamorous contemporaries, excessive night life and figures on the margins of society, who came to the cafés, variety halls, cabarets, theatres and cinemas of Kurfürstendamm for a good time. In 1930 she had a major exhibition in the Fritz Gurlitt gallery, and created a series of eight lithographs illustrating Les Chansons de Bilitis, a collection of lesbian love poems by Pierre Louÿs that were well received.
In 1933 the Nazis denounced her motifs and subjects as "Jewish", and banned her lithographs for Les Chansons de Bilitis. The Nazis shut down most of the journals she had worked for, and she refused to work for those that complied with their cultural policies. She stopped exhibiting her work. In the privacy of her studio she drew and painted drastically different work.
In the late 1940s she began exhibiting her work again, as well as designing sets for the Die Badewanne cabaret. Her work changed again: she created abstract collages from various materials.
Jeanne Mammen's work can be discovered during the month of November on our Twitter feed @Ascher_Society, and until January 15, 2018 in a large retrospective at Berlinische Galerie in Berlin (website link).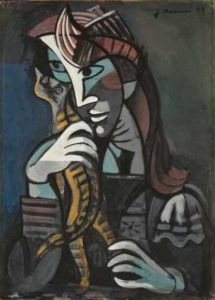 Enjoy the foliage that comes with the chill!
Cheers,
Rachel Stern, Director and CEO
artwork Fritz Ascher ©2017 Bianca Stock, Photo Malcolm Varon