Dear Friends,
It was fun to attend the opening of "Hauptstadtfussball" at the Ephraim Palais in Berlin, celebrating the 125th anniversary of the Berlin soccer club Herta BSC and its local rivals. I learned so many things about soccer in Berlin, and about Herta BSC in this creative, well researched exhibition. And you can see Fritz Ascher's "Soccer Players" from c. 1916! It will be on view until January 8, 2018. link
Thank you to Sven Goldmann for bringing Fritz Ascher alive in his full page piece in the German newspaper Der Tagesspiegel! link
Here in New York, the preparations for "'Beauteous Strivings.' Fritz Ascher – Works on Paper" at the New York Studio School are in full swing. The New York Studio School is housed in the historic building of Gertrude Vanderbilt Whitney's sculpture studio and the first Whitney Museum of American Art (1931).
In this exhibition, the curator Karen Wilkin invites you to discover the artist's powerful images of landscapes and flowers on paper dating from the mid-1940s through the 1960s. The exhibition will be on view October 23 – December 3, 2017. link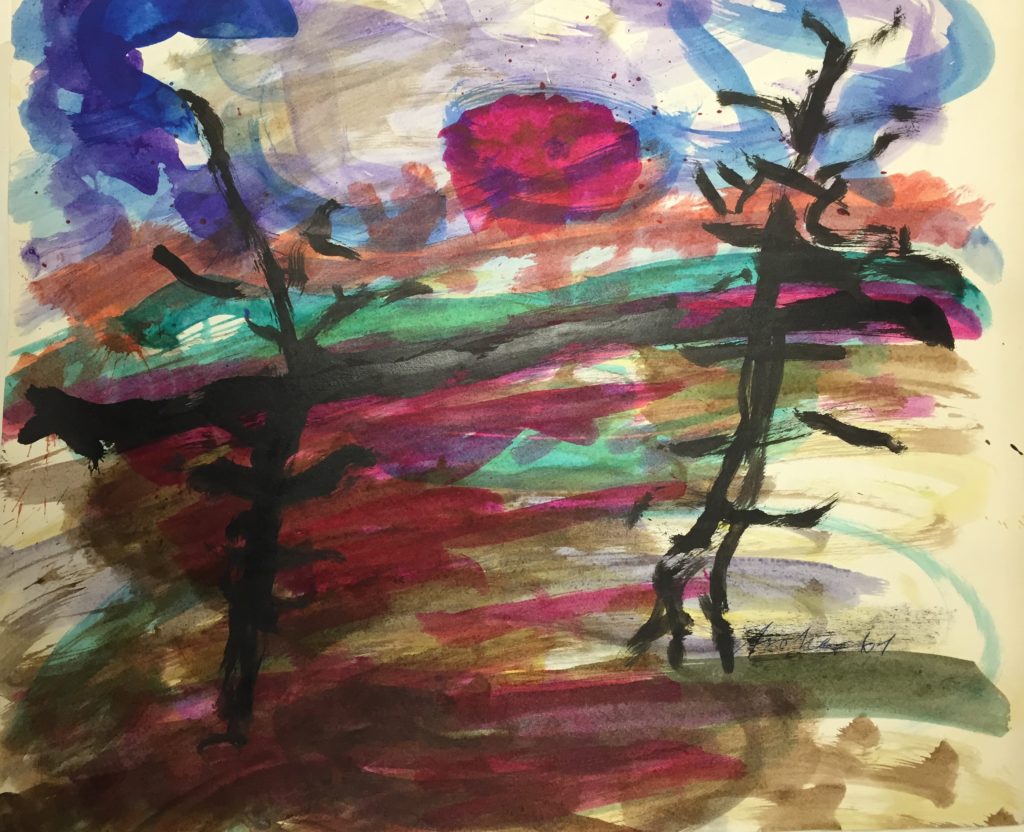 Fritz Ascher, Landscape, 1961. ©2017 Bianca Stock. Photo Malcolm Varon
In September, the "artist of the month" is Otto Nagel (27 September 1894 – 12 July 1967). Born in Berlin-Wedding to a carpenter, Otto Nagel devoted his artistic work to the working classes and their urban surroundings. After finishing school, he apprenticed with the stained glass painter Gottfried Heinersdorff. The politically committed artist joined the USPD in 1912 and actively participated in the Novemberrevolution. In 1920 he joined the Communist Party. From 1921 he lived as an independent artist, and participated in exhibitions like the "Freie Sezession" and "Juryfreie Kunstausstellung". He was a close friend of Heinrich Zille and Käthe Kollwitz, whose estate he later handled. 1926-1933 he was part of the November Group, co-founder of the Association of Revolutionary Visual Artists and was publisher and editor-in-chief of the satirical magazine Eulenspiegel.
After the Nazis seized power, he was repeatedly arrested and interrogated by the Gestapo. From 1934 he was forbidden to paint, 1935-1937 incarcerated in the concentration camp Sachsenhausen, afterwards he was under police supervision. In 1937 his work was confiscated as "Degenerate Art".
After the end of World War II, Nagel became a much honored figure in post-war East Berlin. In 1945, he was one of the co-founders of the Cultural Association of the GDR. From 1956 to 1962, he was the president of the GDR Academy of Arts, Berlin.

Otto Nagel, Self Portrait with Hat, 1920
Please follow our Twitter handle @Ascher_Society to see Otto Nagel's early work throughout the month of September.
Have a sunny fall!
Cheers,
Rachel Stern, Director and CEO