Dear Friends,
As the holiday season is upon us, we at the Fritz Ascher Society had an exciting discovery: the gouache of a "Male Head" to the left appeared at auction in November. Even though it is not signed or dated, we recognize the gouache as a study for Fritz Ascher's "Golem" from 1916. The features of the "Male Head" appear both in the Golem itself, as well as in the person on the left. The original graphite drawing from 1916 was later painted over with red, green, blue and black ink by the artist himself. He did this most probably in the late 1940s, when the artist repeatedly reworked previously done works on canvas and paper.

Fritz Ascher, "Male Head", c. 1916

Fritz Ascher, "Golem", 1916. Jewish Museum Berlin
Fritz Ascher's "Golem" ist on view until January 29, 2017 in the "Golem" exhibition at the Jewish Museum Berlin (link).
The first ever Fritz Ascher retrospective ist on view until January 15, 2017 at the Felix-Nussbaum-Haus in Osnabrück (link). The exhibition was most recently discussed in the Magazine schwarzaufweiss (link) Stay tuned as the exhibition is traveling to Chemnitz, Zürich, Berlin and Potsdam in the upcoming year!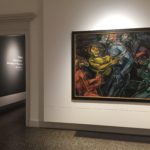 Fritz Ascher, "The Tortured", 1918
The catalogue accompanying the exhibition can be ordered via amazon or via the Wienand publishing house (link)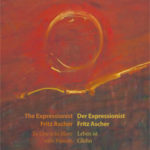 And if you are already buying books for the holidays, here is another gem: Ori Z. Soltes' Tradition and Transformation. Three Millenia of Jewish Art and Architecture (Boulder, CO). This ultimate book about Jewish art poses and responds to many questions as it progresses through the centuries (link)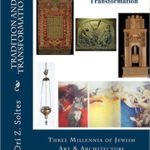 No end of the year without giving:
We very much appreciate your donation, either per check or through the website (link), or through ebay (link)
Best wishes for peaceful holidays and a happy, healthy and successful 2017 with many discoveries,
Rachel Stern, Director and CEO
all artwork by Fritz Ascher: ©Bianca Stock, 2016