Dear Friends,
As we are drawn to spend more time outside in the lovely spring weather, this newsletter is all about Fritz Ascher's late landscapes that became the focus of his work after 1945.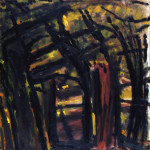 Trees, late 1950s
©Bianca Stock, Munich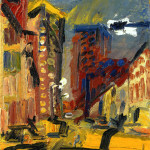 Frank Auerbach, Mornington Crescent Looking South, 1997
©Frank Auerbach, courtesy Marlborough Fine Art
In dozens and dozens of intense paintings and gouaches intoxicated with color, Ascher turns to nature painting in the broadest sense. Among them are landscapes, woodland scenes, portraits of individual trees, groups of trees, all inspired by hours of walking in the nearby Grunewald.
In his catalogue essay accompanying the upcoming Fritz Ascher retrospective, Eckhart Gillen relates the aesthetic practice and behavior of the two painters Fritz Ascher and Frank Auerbach to each other. Both traumatized by the exile that the Nazis forced on them – Auerbach was sent to England as a 7-year-old boy, and Ascher survived in hiding – Gillen finds "that both artists have dramatically withdrawn from society, the public, their respective art scenes, exhibition openings, etc. Both have radically reduced the range of their themes, the objects they paint, and the things in which they are interested. (…) Every one of the two painters' images addresses their respective living environments, always with the same subject—painting life and its unrelenting course."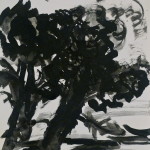 Two Trees, ca. 1960. Private collection
©Bianca Stock, Munich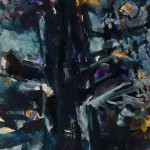 Tree, ca. 1958. Leo Baeck Institute New York
©Bianca Stock, Munich
FRITZ ASCHER'S MATURE LANDSCAPES ON PAPER AT NEW YORK STUDIO SCHOOL
October 23 – December 3, 2017, the New York Studio School is introducing Fritz Ascher's powerful mature landscapes on paper for the first time ever to the American public, in the original galleries of the first Whitney Museum of American Art. Karen Wilkin is the curator of the exhibition of ca. 40 works that is accompanied by a catalogue.
The New York Studio School is housed in the historic building of Gertrude Vanderbilt Whitney's sculpture studio and the first Whitney Museum of American Art (1931). Now a prestigious school for artists, the Studio School just restored the original sculpture studio with its 20-foot-tall fireplace and a low-relief ceiling by Robert Winthrop Chanler, and opened it for public tours: http://hyperallergic.com/298477/gertrude-vanderbilt-whitneys-restored-studio-opens-for-public-tours/.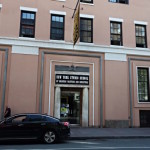 New York Studio School
©Allison Meier for Hyperallergic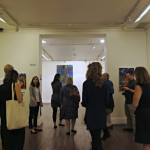 Original galleries Whitney Museum of American Art
©Allison Meier for Hyperallergic
FRITZ ASCHER RETROSPECTIVE OPENING SEPTEMBER 25, 2016 AT THE FELIX-NUSSBAUM-HAUS IN OSNABRÜCK
On September 25, 2016 the Fritz Ascher Retrospective with about 75 works will open at the Felix-Nussbaum-Haus in Osnabrück. From there it will travel to the Kunstsammlungen Chemnitz (March 4 – June 11, 2017), the Klinger-Villa in Leipzig (May 1 – October 1, 2017) and to Berlin, before it comes to the United States.
Best wishes,
Rachel Stern, Director and CEO
PLEASE BEFRIEND US ON FACEBOOK https://www.facebook.com/fritzaschersociety/
AND FOLLOW US ON TWITTER (@Ascher_Society)