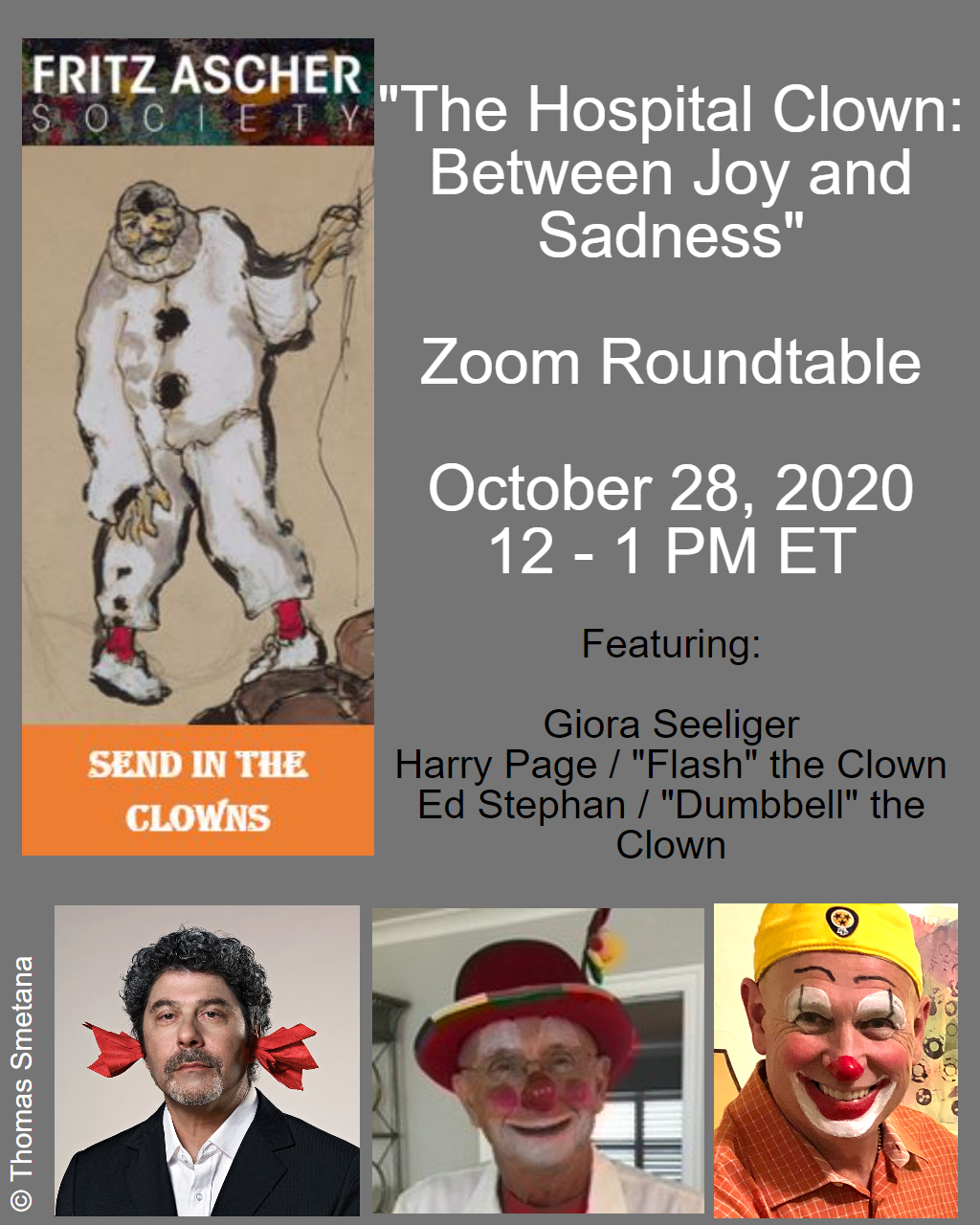 "The Hospital Clown: Between Joy and Sadness"
Roundtable featuring
Giora Seeliger, Harry Page, Ed Stephan
Moderated by Elizabeth Berkowitz
October 28, 2020 @ 12:00 pm

-

1:00 pm

|

Free
Watch the recording of this event HERE.
Roundtable featuring
Giora Seeliger
Artistic Director and Founder of the Red Noses Clowndoctors International
Harry Page
"Flash" the Clown
Ed Stephan
"Dumbbell" the Clown
Moderated by
Elizabeth Berkowitz
Art Historian and Digital Interpretation Manager, The Fritz Ascher Society in New York
One of the more appealing aspects of the clown subject to artists like Fritz Ascher was the divide between a public persona committed to joy and happiness, and the pain or sadness that might lurk beneath the real, human surface. Hospital or healthcare clowns straddle this divide every day of their professional lives—working to bring happiness to child patients who are often in circumstances that might otherwise inspire grief or pain. This roundtable features three professional hospital or healthcare clowns who will reflect upon their experiences in the field, their most popular programming, as well as coping mechanisms they use to ensure that their audience receives only positivity from their encounter.
Part of "Send in the Clowns," an interactive two-week digital initiative, which explores the clown as a figure between tragedy and comedy, between self- identification and stage–a character designed to (literally) mask the performer's true feelings behind a facade of happiness. "Send in the Clowns" uses the prominence of the "clown" figure in Fritz Ascher's work as a lens through which to explore the duality of the clown both historically and today.
Generously sponsored by Allianz Partners.
Giora Seeliger is a renowned clowning expert, actor and director. He founded RED NOSES in 1994 in Austria/Europe and built up 11 RED NOSES organizations in Europe and the Middle East as well as many artistic programs as "Emergency Smile", where clowns work worldwide with people affected by crisis. As he is responsible for the high artistic quality within the group, he developed a rigorous curriculum that every clown has to go through.
Harry Page retired from Chrysler Corporation in 2001 and shortly thereafter moved with his wife to Knoxville, Tennessee. In the development where they lived there was a group of people who organized the Volunteer Clowns of Tellico Village, and Harry soon joined. The clown trope visited assisted living, nursing homes, and the area hospitals, and Harry soon focused solely on hospital clowning at Fort Loudon Hospital and the University of Tennessee Medical Center. In 2016, Harry and his wife moved to Marco Island, FL, where he has been clowning at Naples Community Hospital and the Golisano Children's Hospital.
Ed Stephan is currently clowning at Golisano Children's Hospital in Ft. Myers, Florida. As "Dumbbell," Ed entertains children, staff, and visitors. Ed's work at Golisano Children's Hospital includes participating in special events held at the Hospital and the offsite offices.
Elizabeth Berkowitz is an art historian specializing in European modernism and modern art historiography. She currently serves as the Fritz Ascher Society's Digital Interpretation Manager, and previously was the Mellon/ACLS Public Fellow at the Rockefeller Archive Center. She has extensive experience as a university and museum educator, and her writings have appeared in both popular and academic publications.
Share This