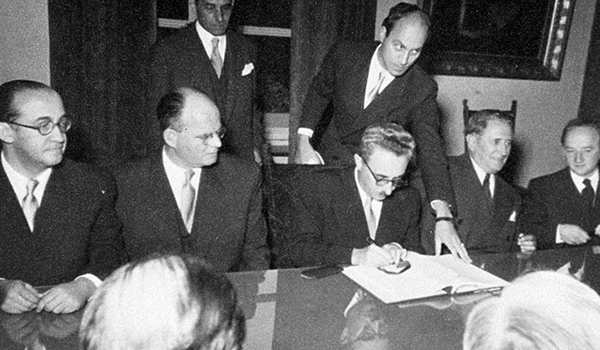 RECKONINGS – The First Reparations
Film Screening at Marlene Meyerson JCC Manhattan
Followed by Q+A with Gideon Taylor and Karen Heilig
November 21, 2022 @ 7:00 pm

-

9:00 pm

|

$16.00
In the aftermath of the Holocaust, the unprecedented destruction and plight of survivors prompts the unthinkable – German and Jewish leaders meet in secret to grapple with the first reparations in history, resulting in the groundbreaking Luxembourg Agreements of 1952.
Screening followed by Q+A with Gideon Taylor and Karen Heilig, from the Conference on Jewish Material Claims Against Germany.
In the aftermath of the Holocaust, German and Jewish leaders met in secret to negotiate the unthinkable – compensation for the survivors of the largest mass genocide in history. Survivors were in urgent need of help, but how could reparations be determined for the unprecedented destruction and suffering of a people? Directed by award-winning filmmaker Roberta Grossman, RECKONINGS is the first documentary feature to chronicle the harrowing process of negotiating German reparations for the Jewish people, which resulted in the groundbreaking Luxembourg Agreements of 1952.
Filmed in six countries, this engrossing film brings these moments to life with dramatized scenes and interviews with historians as well as Ben Ferencz, the one surviving participant from these historic talks, who had previously served as prosecutor at the Nuremberg War Crimes Trials. By confronting the past, the German and Jewish leaders charted a better future for a desperate and traumatized people. Their actions led to the first time in history that individual victims of persecution received material compensation from the perpetrators.
Learn more about the film at https://reckoningsfilm.org/.
Screening at
Marlene Meyerson JCC Manhattan
334 Amsterdam Ave
New York, NY 10023
Tickets must be purchased before your arrival at the JCC.
Organized by the Marlene Meyerson JCC Manhattan.
In partnership with 3GNY, The Fritz Ascher Society for Persecuted, Ostracized and Banned Art, and American Society for Yad Vashem.
YOUR SUPPORT MAKES OUR PROGRAMS POSSIBLE. THANK YOU.

Share This