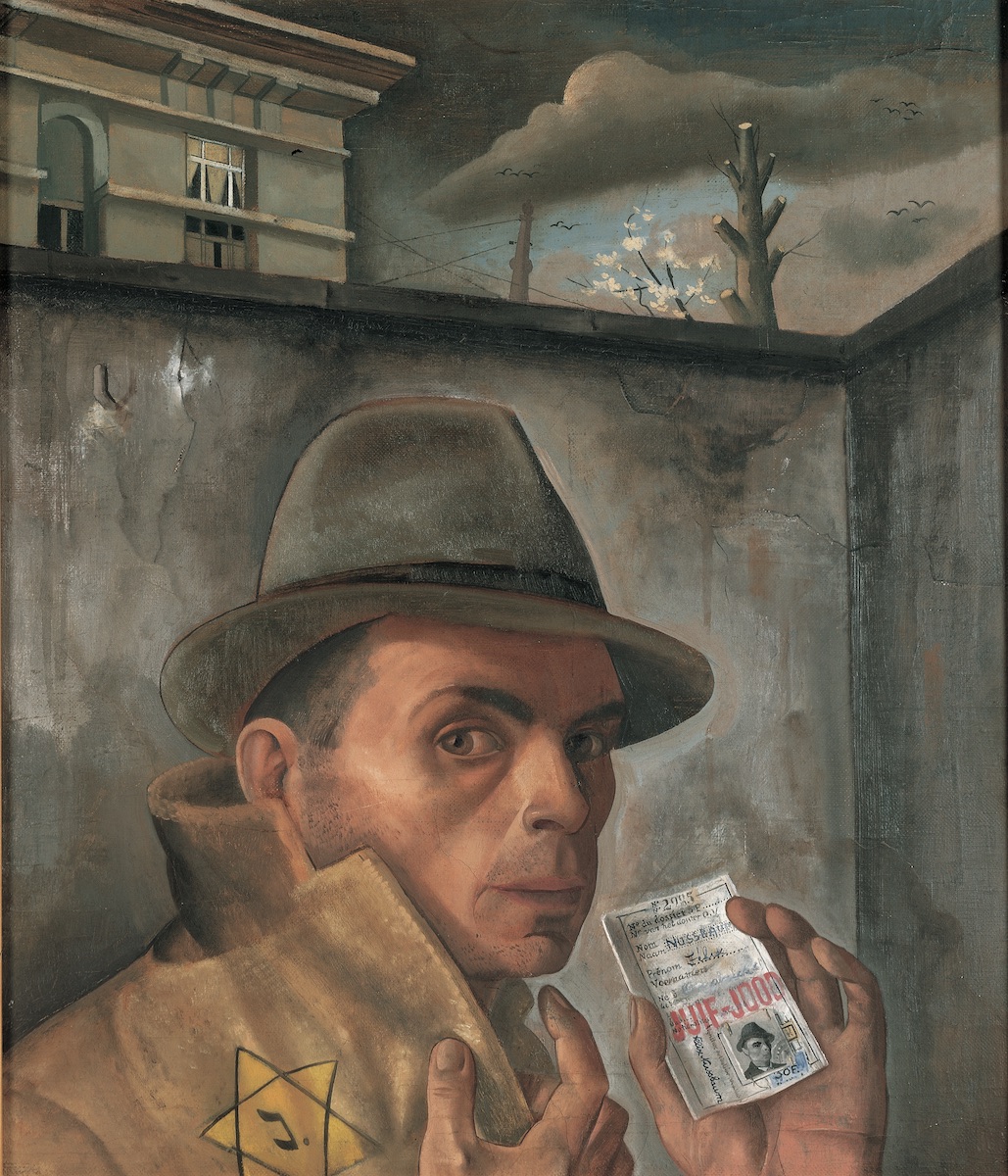 Painting as an Act of Resistance.
The artist Felix Nussbaum (1904-1944)
Anne Sibylle Schwetter, Osnabrück
October 7, 2020 @ 12:00 pm

-

1:00 pm

|

Free
WATCH THE RECORDING OF THIS EVENT HERE.
Lecture featuring
Anne Sibylle Schwetter, Curator of the Felix Nussbaum Collection in the Felix Nussbaum House in the Osnabrück Museum Quarter, Osnabrück
Moderated by
Rachel Stern, Executive Director of the Fritz Ascher Society in New York
The German-Jewish artist Felix Nussbaum (1904 Osnabrück – 1944 Auschwitz) started a promising career in Berlin around 1930, which ended abruptly when the National Socialists came to power in 1933. Years in exile in Italy and Belgium followed. In 1942 Nussbaum went into hiding in Brussels. The artist's last paintings were created here from June 1943 until shortly before his arrest in June 1944. A little later he was murdered in Auschwitz.
Like hardly any other painter of his generation, Nussbaum reflected on personal experiences in the context of the time in his pictures and developed his own artistic style within figurative-representational modernism. Nussbaum was forced to concentrate on his own survival at the height of his artistic work. However, the increasingly difficult conditions in exile and the life-threatening situation in hiding did not lead to artistic stagnation. On the contrary, Nussbaum condenses his painting in his later works into a simile imagery that gives the existential themes of his pictures a timeless dimension.
The lecture explores the life and work of Felix Nussbaum and outlines the artistic strategies of the painter, for whom painting became an act of resistance against dehumanization and against oblivion.
Anne Sibylle Schwetter is the curator of the Felix Nussbaum Collection in the Felix Nussbaum House in the Osnabrück Museum Quarter. She studied art history and German in Osnabrück and Münster. In her master's thesis she researched the subject of "Big City, Technology and Sport. Aspects of Modernism in Felix Nussbaum's Early Work". Since 2004 she has been editing the catalog raisonné of the artist Felix Nussbaum. In 2006 she designed the publication as an online catalog raisonné. She curated numerous exhibitions on Felix Nussbaum, including "Danse macabre. Dance and Death in Art of the Early Twentieth Century" (2017) and exhibitions on ostracized artists. Together with Rachel Stern, she organized the exhibition "Leben ist Glühn. The Expressionist Fritz Ascher" at the Felix-Nussbaum-Haus. Most recently she curated the exhibition on Felix Nussbaum as part of the Digital Art Hall in cooperation with ZDF-Kultur as well as the temporary collection exhibition in the Felix Nussbaum House "Seeing Nussbaum differently. New Perspectives on the Collection" (until November 1, 2020).
The event is part of our monthly series
Flight or Fight. stories of artists under repression, which is generously sponsored by Allianz Partners.
Image: 
Felix Nussbaum,
Self Portrait with Jewish Passport [Selbstbildnis mit Judenpass]
, ca. 1943, oil on canvas, 56 x 49 cm. Felix-Nussbaum-Haus im Museumsquartier Osnabrück, Loan from Niedersächsischen Sparkassenstiftung.
Malen als Akt des Widerstands – Der Künstler Felix Nussbaum
Der deutsch-jüdische Künstler Felix Nussbaum (1904 Osnabrück – 1944 Auschwitz) startete in Berlin um 1930 eine vielversprechende Karriere, die mit der Machtergreifung der Nationalsozialisten 1933 abrupt beendet wurde. Es folgten Jahre im Exil in Italien und Belgien. 1942 tauchte Nussbaum in einem Versteck in Brüssel unter. Hier entstanden ab Juni 1943 die letzten Gemälde des Künstlers bis kurz vor seiner Verhaftung im Juni 1944. Wenig später wurde er in Auschwitz ermordet.
Wie kaum eine andere Malerin oder ein anderer Maler seiner Generation hat Nussbaum in seinen Bildern die persönlichen Erfahrungen im Kontext der Zeit reflektiert und dabei in Auseinandersetzung mit der figurativ-gegenständlichen Moderne einen eigenen künstlerischen Stil entwickelt. Nussbaum war gezwungen, sich auf dem Höhepunkt seines künstlerischen Schaffens auf das eigene Überleben zu konzentrieren. Die zunehmend schwierigen Bedingungen im Exil und die lebensbedrohliche Situation im Versteck führten jedoch nicht zu künstlerischer Stagnation. Im Gegenteil, Nussbaum verdichtet seine Malerei in den späten Werken zu einer gleichnishaften Bildsprache, die den existenziellen Themen seiner Bilder eine zeitlose Dimension verleiht.
Der Vortrag geht Leben und Werk Felix Nussbaums nach und wird die künstlerischen Strategien des Malers skizzieren, für den die Malerei zu einem Akt des Widerstands gegen die Entmenschlichung und gegen das Vergessen wurde.
Anne Sibylle Schwetter ist Kuratorin der Sammlung Felix Nussbaum im Felix-Nussbaum-Haus des Museumsquartiers Osnabrück. Sie studierte Kunstgeschichte und Germanistik in Osnabrück und Münster. In ihrer Magisterarbeit beschäftigte sie sich mit dem Thema "Großstadt, Technik und Sport. Aspekte der Moderne im frühen Werk Felix Nussbaums". Seit 2004 bearbeitet sie das Werkverzeichnis des Künstlers Felix Nussbaum. 2006 konzipierte sie die Publikation als Online-Werkverzeichnis. Sie kuratierte zahlreiche Ausstellungen zu Felix Nussbaum, u.a. "Danse macabre. Tanz und Tod in der Kunst des frühen zwanzigsten Jahrhunderts" (2017) sowie Ausstellungen zu verfemten Künstler:innen. Zusammen mit Rachel Stern hat sie 2016 die Ausstellung "Leben ist Glühn. Der Expressionist Fritz Ascher" im Felix-Nussbaum-Haus organisiert. Zuletzt kuratierte sie die Ausstellung zu Felix Nussbaum im Rahmen der Digitalen Kunsthalle in Kooperation mit ZDF-Kultur sowie die temporäre Sammlungsausstellung im Felix-Nussbaum-Haus "Nussbaum anders sehen. Neue Perspektiven auf die Sammlung" (bis 1. November 2020).
Share This