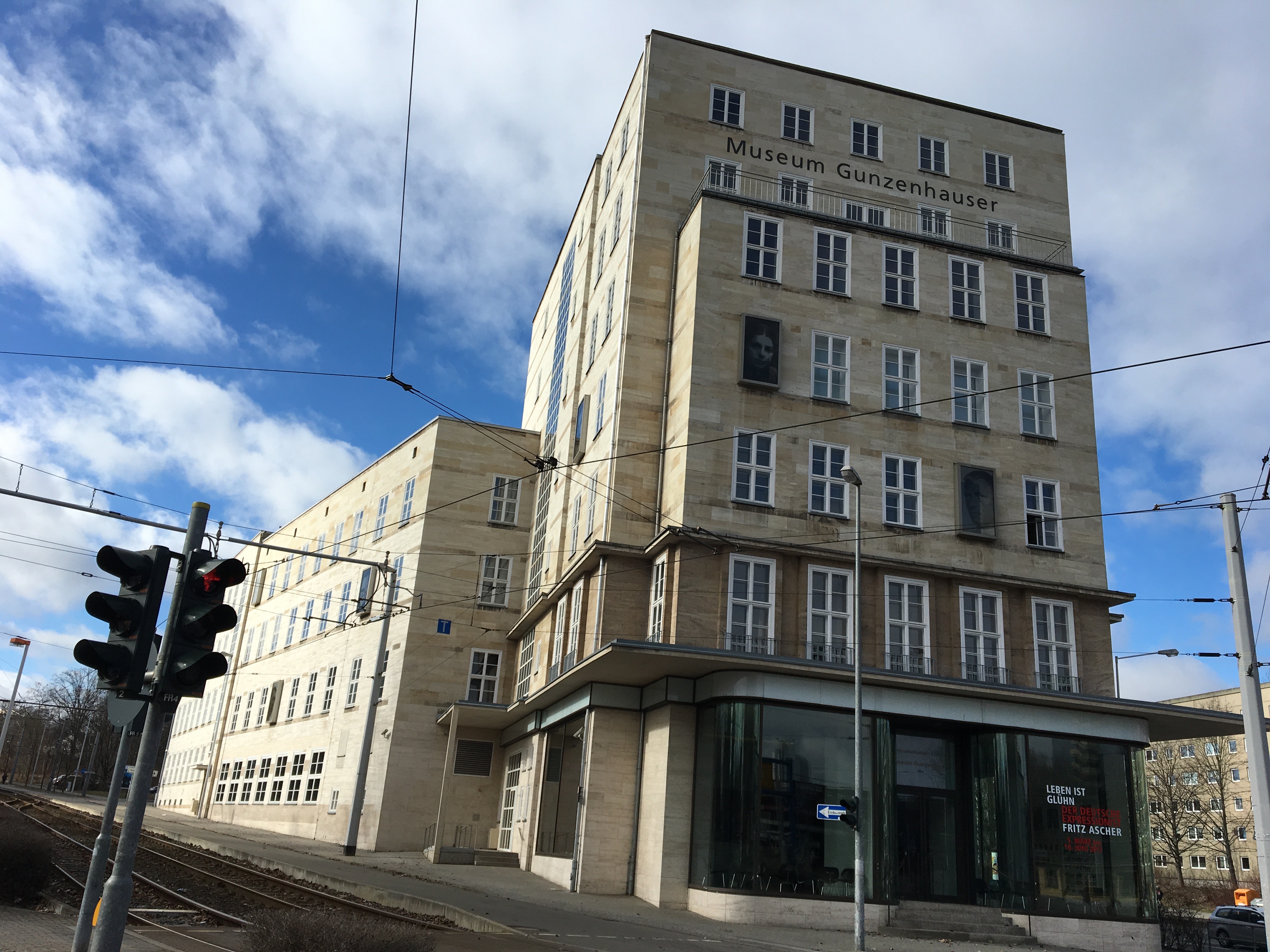 "Leben ist Glühn" Der Expressionist Fritz Ascher 


Kunstsammlungen Chemnitz MUSEUM GUNZENHAUSER, Chemnitz (Germany)
March 5, 2017

-

June 18, 2017
The worldwide first Fritz Ascher Retrospective is on view at the Kunstsammlungen Chemnitz – MUSEUM GUNZENHAUSER from March 5 to June 18, 2017. (website link)
The main focus of the presentation at the Kunstsammlungen Chemnitz – MUSEUM GUNZENHAUSER is on the artist's important early masterworks like "Golgatha" (1915), "Bajazzo and Artists" (ca. 1916) and "The Tortured" (ca. 1916).
For the first time ever, Fritz Ascher's "Golem" from the collection of the Jewish Museum Berlin will here be reunited with other works the artist created between 1913 and 1933.
The Kunstsammlungen Chemnitz is home to an important collection of German Expressionism, dominated by artwork of the locally founded Expressionist group Brücke and especially Karl Schmidt-Rottluff, who grew up in Chemnitz, along with Ernst Ludwig Kirchner and Erich Heckel. The MUSEUM GUNZENHAUSER is home to the vast Expressionist art collection of Alfred Gunzenhauser, with the worldwide largest collection of works by Otto Dix (1891-1969) and Alexej von Jawlensky (1865-1941).
Here, the presentation of Fritz Ascher's work will be complemented by a parallel presentation of Expressionist art from the museum collection. This allows the viewer to experience Ascher's work in the context of the artists who surrounded him.
The exhibition is under patronage of the German Minister of Culture and Media Prof. Monika Grütters.
A comprehensive German/English catalogue with essays by Jörn Barfod, Eckhart Gillen, Wiebke Hölzer, Ingrid Mössinger, Ori Z. Soltes and Rachel Stern accompanies the exhibition. (catalogue link)
Here is a first review. (link)
The Fritz Ascher retrospective opened at the Felix-Nussbaum-Haus in Osnabrück (September 25, 2016 – January 15, 2017) and will travel from Chemnitz to the Museum Charlottenburg-Wilmersdorf at Villa Oppenheim in Berlin (December 8, 2017 – March 11, 2018) and the Potsdam Museum (December 10, 2017 – March 11, 2018), and the Kallmann Museum in Ismaning (September 30 – November 24, 2018). Afterwards it will be shown in the US.
Photos: ©2017 László Tóth at Kunstsammlungen Chemnitz and Rachel Stern
Share This