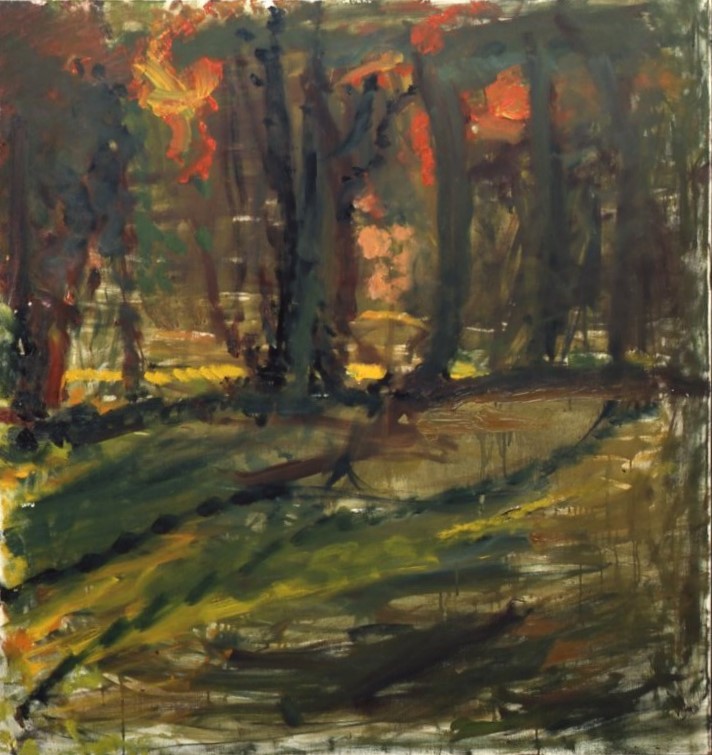 Fritz Ascher (1893-1970):
Coming back to Life
Featuring Karen Wilkin and Elizabeth Berkowitz, PhD
December 8, 2021 @ 12:00 pm

-

1:00 pm

|

Free
Fritz Ascher (Berlin 1893 – 1970 Berlin) almost made it out of Germany as the persecution of the Jews was developing. SINCE HE HAD been arrested and released from concentration camp and prison after several months, friends managed to book passage on a ship to Shanghai, but the German Nazi bureaucracy refused to let him leave the country. Ascher found refuge in the basement of his deceased mother's friend, Martha Grassmann–in a house located in the Grunewald, the heart of the Nazi brass residential neighborhood in Berlin. In hiding–an interior migration–he shifted from vibrantly expressionist paintings and drawings to dense poetry. AFTER the war he emerged to a Germany very different from the one he had known before and began painting again, still with a dynamic, expressionistic style, but with a profound change in subject matter. The changes in his art may in part reflect his sensitivity to the altered realities of the world in which he lived–and we STILL live.
Image above: Fritz Ascher, Wooded Landscape, c. 1959. Oil on canvas, 100 x 95 cm. Private collection © Bianca Stock
Featuring
Karen Wilkin, Independent Curator and Writer, New York and
Elizabeth Berkowitz, PhD, Art Historian currently serving as the Executive Director of the American Trust for the British Library, New York
Moderated by
Rachel Stern, Director and CEO of the Fritz Ascher Society, New York NY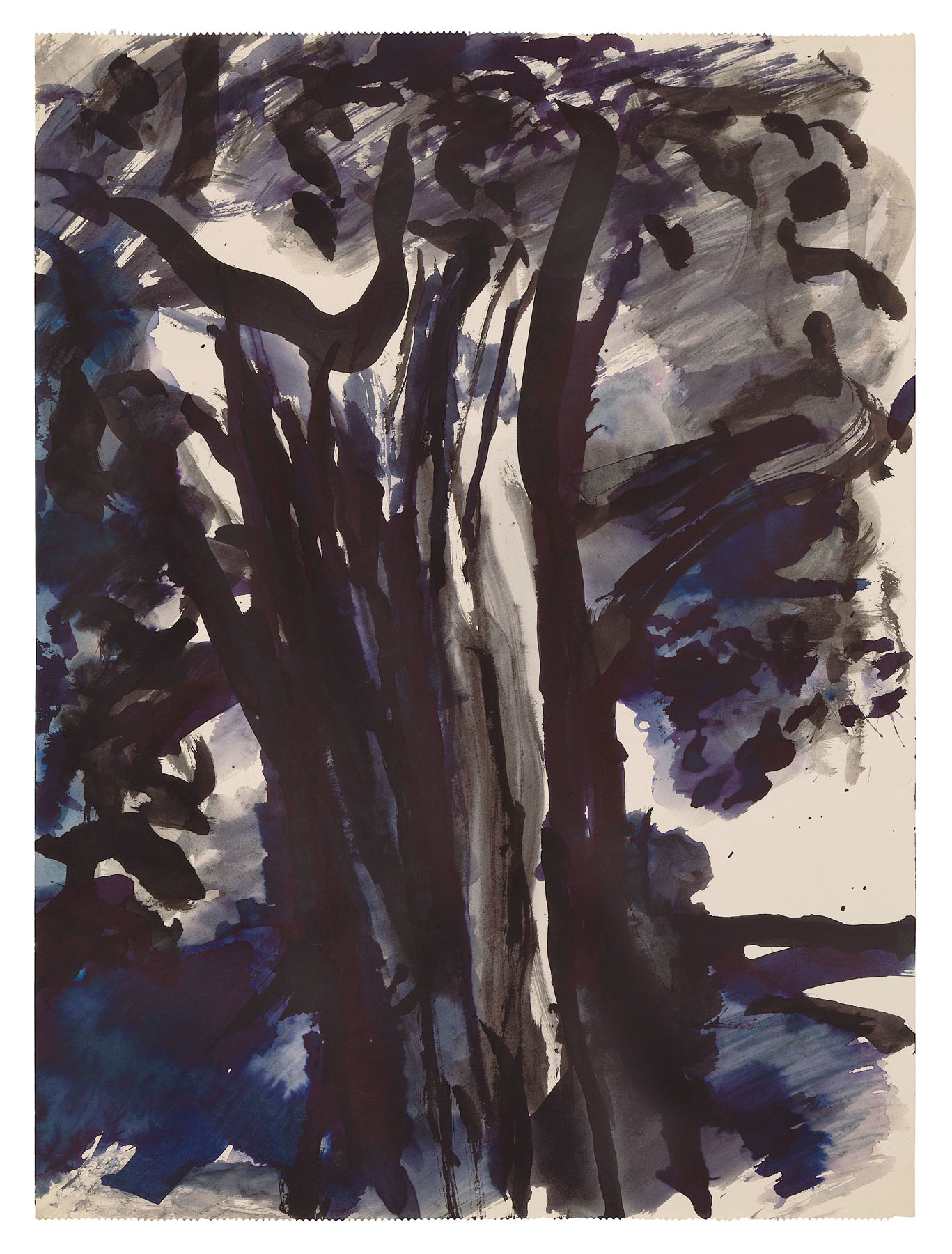 Fritz Ascher, Tree, c. 1960. Black ink and watercolour on paper, 15.7 x 11.6 in. (40 x 29.5 cm) Private collection © Bianca Stock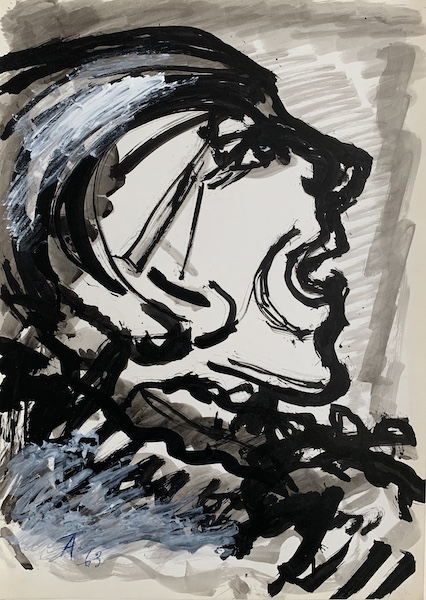 Fritz Ascher, Bajazzo (Clown), 1963. White gouache over black ink on paper, 24.5 x 17.38 in. (62.2 x 44.2 cm). Private collection. © Bianca Stock
Karen Wilkin is a New York-based curator and critic. Educated at Barnard College and Columbia University, she is the author of monographs on Stuart Davis, David Smith, Anthony Caro, Isaac Witkin, Kenneth Noland, Helen Frankenthaler, Giorgio Morandi, Georges Braque, and Hans Hofmann, and has organized exhibitions of their work internationally. She was a juror for the American Pavilion of the 2009 Venice Biennale and a contributing editor of the Stuart Davis and Hans Hofmann Paintings Catalogues Raisonné. The Contributing Editor for Art for the Hudson Review and a regular contributor to The New Criterion and the Wall Street Journal, Ms. Wilkin teaches in the New York Studio School's MFA program.
Elizabeth Berkowitz, PhD, is an art historian currently serving as the Executive Director of the American Trust for the British Library. She holds a doctorate in art history from the Graduate Center, CUNY, as well as an MA in Modern Art from Columbia University and a Graduate Certificate in Museum Studies from Tufts University. Elizabeth most recently served as the Digital Interpretation Manager for the Fritz Ascher Society and previously was the Mellon/ACLS Public Fellow and Outreach Program Manager at the Rockefeller Archive Center. As an art historian, Elizabeth emphasizes interdisciplinarity, and her academic areas of specialization are modern art and museum historiography as well as European, British, and American twentieth-century painting. Elizabeth has been an educator in both university and museum settings, and her writings have appeared in both popular and print publications.
Rachel Stern is the Founding Director and CEO of The Fritz Ascher Society for Persecuted, Ostracized and Banned Art in New York. Born and educated in Germany, she worked for ten years in the Department of Drawings and Prints at the Metropolitan Museum of Art in New York. Stern is a 2018 recipient of the Hans and Lea Grundig Prize, in recognition of the exhibition and book The Expressionist Fritz Ascher (Cologne: Wienand 2016). In 2020, she published a selection of poems by Fritz Ascher, Fritz Ascher. Poesiealbum 357 (Wilhelmshorst: Märkischer Verlag) and edited, with Julia Diekmann, the exhibition catalogue The Lonely Man. Clowns in the Art of Fritz Ascher (1893-1970) / Der Vereinsamte. Clowns in der Kunst Fritz Aschers (1893-1970) (Holzminden: Verlag Jörg Mitzkat).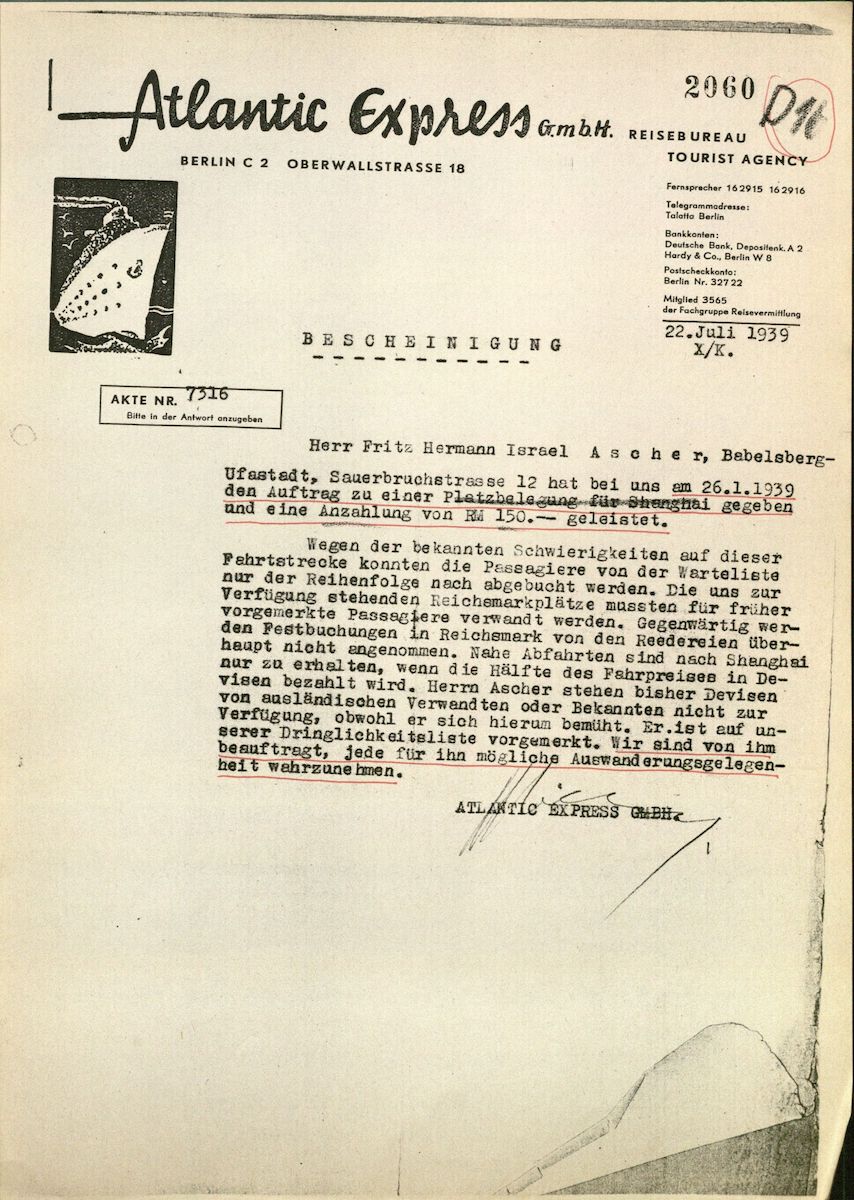 Fritz Ascher's reservation for a boat ticket to Shanghai, July 22, 1939. LABO Berlin, BEG-Akte Reg.-Nr. 002 060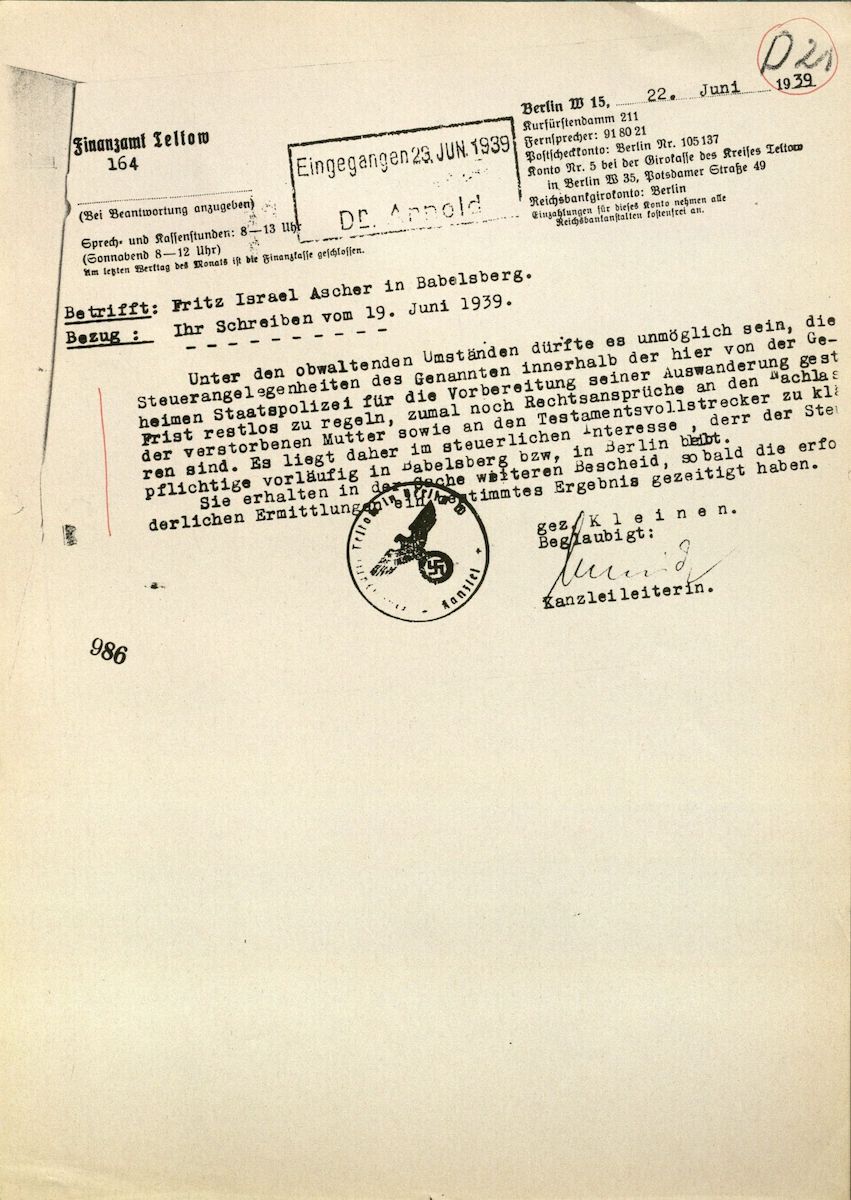 Letter from tax office to Fritz Ascher refusing him to leave the country , June 22, 1939 . LABO Berlin, BEG-Akte Reg.-Nr. 002 060
This is an event of our online project "Identity, Art and Migration" in which we investigate US immigration of European refugees during the first half of the 20th century through the lens of seven artist case studies: Anni Albers, Friedel Dzubas, Eva Hesse, Rudi Lesser, Lily Renee, Arthur Szyk and Fritz Ascher.
What is it that defines human identity? DNA? Language? Culture? Landscape? Polity? Or is it a combination of all of these factors? How do the sources of identity make it easy or difficult for individuals who migrate from one location to another—by choice or under duress—not merely to adapt but to become fully comfortable within their new home? How do artists, with their particular set of sensibilities—and who are purveyors of, respondents to, and shapers of culture—respond to their own migration? How do they transfer the diverse identity norms of the worlds they leave behind to the new worlds into which they arrive? Can they translate from one language of images to another? 
Each one of the seven artists featured in this project was affected in different ways by Nazi policies and came as a refugee to the United States, to remain or not to remain here—or hiding within Germany throughout the war. The life and work of each of these artists addresses the issue of identity and the particulars of its expression from slightly different angles. As a compendium, they all serve as an intensified and emphatic articulation of the broader issues of relocation, transformation and the psychological and cultural self as a centerpiece of human being.
Generously sponsored by the Consulate General of the Federal Republic of Germany in New York.
Share This