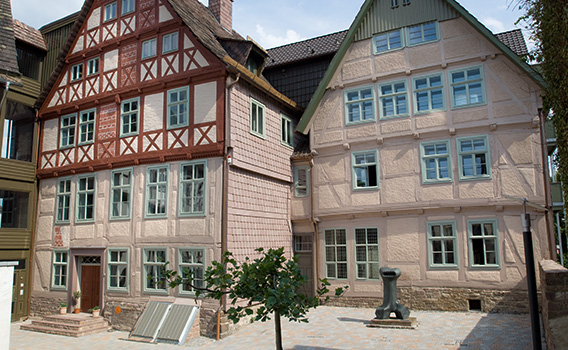 "Der Vereinsamte. Clowns in der Kunst Fritz Aschers"
Forum Jacob Pins, Höxter, Germany

September 6, 2020

-

November 29, 2020
"The Loner. Clowns in the Art of Fritz Ascher (1893-1970)"
Watch the German language video of the opening lecture by Julia Diekmann, Curator at Forum Jacob Pins HERE.
Watch a short German language video about the installation of the exhibition HERE.
You can order the bilingual (German/English) exhibition catalogue HERE.
On the occasion of the 50th anniversary of the artist's death, Forum Jacob Pins shows around 40 paintings and works on paper by the Expressionist Fritz Ascher (1893-1970). Persecuted by the National Socialists as a "degenerate" artist and as a born Jew, Ascher lived through two world wars, existential social and political unrest, the persecution by the National Socialists and the development of a divided Germany. The exhibition for the first time shows Ascher's entire group of works on the subject of the clown, which occupied the artist throughout his life, and contrasts these works with the soul landscapes that dominated his work after 1945.
Whether in dramatic context or as individual figure, the harlequin always plays the role of the outsider, of the one opposite the many. He is laughed at and ridiculed, is the fool, despised, and humiliated, always operating from the margin.
From about 1916 Fritz Ascher has dealt intensively with the figure of the clown, the Bajazzo, in paintings, drawings, lithographs and poems, at about the same time with artists such as Max Beckmann, Marc Chagall, or Pablo Picasso. Based on the opera I Pagliacci by Ruggero Leoncavallo (1857-1919), which was popular in the 1920s, he created both scenic representations of the tragic love burlesque and studies of the bajazzo, the Pagliaccio or the clown as a single figure. The intensity in the artistic expression of the figure refers to analogies to himself, the increasing parallelism between role and own artistic self.
Fritz Ascher was born into a Jewish family in Berlin on October 17, 1893 and baptized in 1901 at the age of eight. At the age of 16, he attended the Königsberg Art Academy on the recommendation of the renowned painter Max Liebermann, followed by studies with Lovis Corinth, Adolf Meyer and Curt Agthe in Berlin. He soon joined the city's avant-garde art circles. Influenced by Expressionist painters such as Edvard Munch, Emil Nolde and Wassily Kandinsky, he found his own artistic language alongside his contemporaries Max Beckmann, Georges Rouault and Ludwig Meidner, in which he combined elements of Expressionism and Symbolism and chose expressive brushstrokes and intense colors with descriptive outlines and combined a flat application of paint. In numerous drawings he recorded Berlin society and the increasing political and social polarization. At the same time, the artist was interested in mystical and spiritual topics. With paintings like "Bajazzo and Artists" (1916/1945) and "Bajazzo", (1924/1945) "Beethoven" (1924/1945), "Golgatha" (1915) and "Golem" (1916) he created important major works, which often depict traditional themes in a radically new way.
In 1933, this very fruitful creative period came to an abrupt halt. 12 long years of persecution by the National Socialists followed, in which the Jewish-born Ascher, who created "degenerate" art, was in constant fear of death, hiding for three years in the basement of a residential building.
When Ascher started painting again in 1945, he initially revised earlier works. But soon he turned to nature. The artist worked with new immediacy and urgency and simplified forms and media. Thick, light pigments suggest both lively, life-affirming joy and, in the rough nature of its brush strokes, a dark, inner fear that turns into light.
The exhibition explores the importance of the Bajazzo theme in Ascher's work and in a historical context, but also in direct comparison with the clowns that Jacob Pins (1917-2005) created. The figure of the fool plays a special, always reflexive role in Pins' work, to whom the forum is dedicated. While Pins, a generation younger, has varied the motif again and again since the 1950s, with Ascher the otherness of the clown comes to the fore over time, misunderstood and suffering, in the struggle for life and in existential loneliness.
The exhibition is accompanied by a richly illustrated, bi-lingual catalogue.
It is co-organized by The Fritz Ascher Society for Persecuted, Ostracized and Banned Art, Inc., New York and the Jacob Pins Gesellschaft Kunstverein Höxter e.V., and is co-curated by Rachel Stern and Julia Diekmann. The exhibition is sponsored by the Ministry for Culture and Science of North Rhine Westphalia. Support for the catalogue was provided by the Arbeitskreis Ausland für kulturelle Aufgaben e.V. and by Reinwald GmbH, Leipzig.
The exhibition is on view September 6 – November 29, 2020 at Forum Jacob Pins, Westerbachstr. 35/37, 37671 Höxter, Tel .: 05271-694 74 41, www.jacob-pins.de, Tuesday – Sunday 10:00 .m. – 5:00 pm.
DEUTSCH
Anlässlich des 50. Todestages des Künstlers zeigt das Forum Jacob Pins rund 40 Gemälde und Grafiken des Berliner Spät-Expressionisten Fritz Ascher (1893-1970). Von den Nationalsozialisten als "entarteter" Künstler und geborener Jude verfolgt, überlebte Ascher zwei Weltkriege, existentielle soziale und politische Unruhen, die Verfolgung durch die Nationalsozialisten und den Aufbau eines geteilten Deutschlands. Die Ausstellung wurde in Zusammenarbeit mit der Fritz Ascher Society for Persecuted, Ostracized and Banned Art in New York organisiert und zeigt erstmalig Aschers gesamte Werkgruppe zum Thema des Clowns, das den Künstler sein Leben lang beschäftigte, und stellt diesen Arbeiten die nach 1945 dominierenden Seelenlandschaften gegenüber.
Ob in szenischem Zusammenhang oder als Einzelfigur, der Clown nimmt immer die Rolle des Abseitigen ein, die des Einzelnen gegenüber Vielen. Er wird belacht und verlacht, ist Narr, Verachteter und Erniedrigter, handelt immer aus einer Randposition heraus.
Seit etwa 1916 setzt sich Fritz Ascher in Gemälden, Zeichnungen, Lithografien und Gedichten intensiv mit der Figur des Clowns, des Bajazzo auseinander, etwa gleichzeitig mit Künstlern wie Max Beckmann, Marc Chagall, oder Pablo Picasso. Ausgehend von der in den 1920er Jahren beliebten Oper I Pagliacci von Ruggero Leoncavallo (1857 – 1919) kreiert er sowohl szenische Darstellungen der tragischen Liebesburleske als auch Studien des Bajazzo, des Pagliaccio oder Clowns als Einzelfigur. Die Intensität im künstlerischen Ausdruck der Figur verweist auf Analogien zu ihm selbst, die zunehmende Parallelität zwischen Rolle und eigenem künstlerischem Ich.
Fritz Ascher wird am 17. Oktober 1893 in eine jüdische Familie in Berlin geboren und 1901 im Alter von acht Jahren getauft. 16-jährig besucht er auf Empfehlung des renommierten Malers Max Liebermann die Kunstakademie Königsberg, gefolgt von einem Studium bei Lovis Corinth, Adolf Meyer und Curt Agthe in Berlin. Bald schliesst er sich den avantgardistischen Kunstkreisen der Stadt an. Beeinflusst von expressionistischen Malern wie Edvard Munch, Emil Nolde und Wassily Kandinsky findet er neben seinen Zeitgenossen Max Beckmann, Georges Rouault und Ludwig Meidner seine eigene künstlerische Sprache, in der er Elemente des Expressionismus und des Symbolismus vereint und ausdrucksstarke Pinselstriche und intensive Farben mit beschreibenden Umrissen und einem flachen Farbauftrag kombiniert. In zahlreichen Zeichnungen hält er die Berliner Gesellschaft und die zunehmende politische und soziale Polarisierung fest. Gleichzeitig interessiert sich der Künstler für mystische und spirituelle Themen. Es entstehen wichtige Hauptwerke, wie "Bajazzo und Artisten" (1916/1945) und "Bajazzo", (1924/1945) "Beethoven" (1924/1945), "Golgatha" (1915) und "Golem" (1916).
1933 kommt diese sehr fruchtbare Schaffenszeit zu einem abrupten Halt. Es folgen 12 lange Jahre der Verfolgung durch die Nationalsozialisten, in denen der jüdisch geborene Ascher in permanenter Todesangst lebt, davon drei Jahre versteckt im Keller eines Wohnhauses.
Als Ascher 1945 wieder anfängt zu malen, überarbeitee er zunächst frühere Arbeiten. Aber schon bald wendet er sich der Natur zu. Der Künstler arbeitet mit neuer Unmittelbarkeit und Dringlichkeit und vereinfachte Formen und Medien. Seine dicken, hellen Pigmente suggerieren sowohl lebendige, lebensbejahende Freude als auch in der rauen Natur seiner Pinselstriche eine dunkle, innere Angst, die sich in Licht verwandelt.
Die Ausstellung im Forum Jacob Pins erkundet die Bedeutung der Bajazzo Arbeiten im Werk Aschers und im historischen Kontext, aber auch im direkten Vergleich mit den Clowns, die Jacob Pins (1917-2005) nach 1945 schafft. Auch in Pins´ Werk spielt die Figur des Narren eine besondere, stets reflexiv angelegte Rolle. Während der um eine Generation jüngere Pins das Motiv seit den 1950er Jahren immer wieder variiert, tritt bei Ascher im Verlauf der Zeit dieAndersartigkeit des Clowns in den Vordergrund, missverstanden und leidend, im Kampf ums Leben und in existenzieller Einsamkeit.
Zur Ausstellung erscheint ein zweisprachiger, reich illustrierter Katalog.
Die Ausstellung wurde von der Fritz Ascher Gesellschaft für verfolgte, geächtete und verbotene Kunst, Inc., New York in Zusammenarbeit mit der Jacob Pins Gesellschaft organisiert und von Rachel Stern und Julia Diekmann kuratiert. Die Ausstellung wird vom Ministerium für Kultur und Wissenschaft Nordrhein-Westfalens gesponsert. Der Katalog wurde unterstützt vom Arbeitskreis Ausland für kulturelle Aufgaben e.V. und von der Reinwald GmbH, Leipzig.
Die Ausstellung ist zu sehen vom 6. September bis 29. November 2020 im Forum Jacob Pins, Westerbachstr. 35/37, 37671 Höxter, Tel.: 05271-694 74 41, www.jacob-pins.de, Di. – So. 10:00 – 17:00 Uhr. Die Vernissage findet am 6. September um 11:30 Uhr statt. Aufgrund der Corona-Schutzbestimmungen ist die Teilnehmerzahl begrenzt und somit eine Anmeldung erforderlich.
Share This