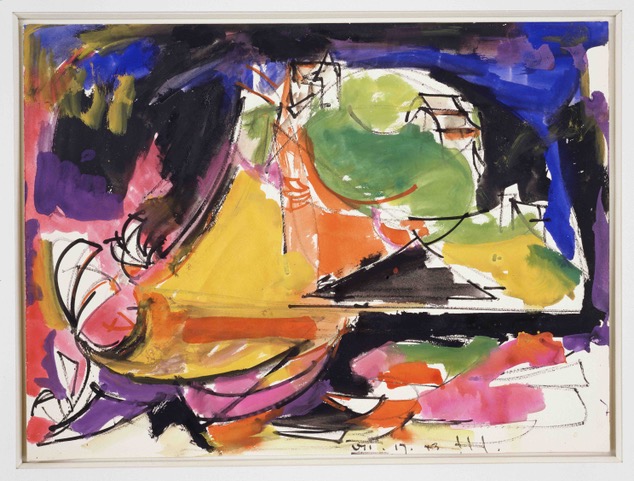 Flight or Fight. stories of artists under repression

Hans Hofmann:
Coming to America
Lecture by Karen Wilkin, NY
July 1, 2020 @ 5:00 pm

-

6:00 pm

|

Free
Watch the video of this zoom event HERE
Lecture featuring
Karen Wilkin, Independent Curator and Critic
Moderated by
Rachel Stern, Director of the Fritz Ascher Society in New York
Hans Hofmann (1880-1966) first arrived in the US from Munich in 1930, to teach a summer art course at the University of California, Berkeley. He returned twice more, extending his 1932 visit to pursue teaching opportunities. In 1933, he decided to remain in the US, opening the Hans Hofmann School of Fine Arts in 1934. He did not return to Europe until 1949, for an exhibition in France, and to Germany until 1962, for a touring retrospective. Before coming to America, Hofmann had only drawn for 15 years, because of the demands of running his Munich school. While he initially used drawing to record his discovery of the US, he began to paint again in 1934. Many other milestones followed: publication of his book of art theory, important exhibitions, representing the US at the Venice Biennale and Documenta, and more. This talk explores Hofmann's response to his new country and his New York colleagues.
Karen Wilkin is a New York-based curator and critic specializing in 20thcentury modernism. The author of monographs on Stuart Davis, David Smith, Anthony Caro, Kenneth Noland, Helen Frankenthaler, Giorgio Morandi, Georges Braque, and Hans Hofmann, she has organized exhibitions of their work internationally. She was a juror for the American Pavilion of the 2009 Venice Biennale. The Contributing Editor for Art for the Hudson Reviewand a regular contributor to The New Criterionand the Wall Street Journal,Ms. Wilkin teaches in the New York Studio School's MFA program.
Rachel Stern is the Director and CEO of The Fritz Ascher Society for Persecuted, Ostracized and Banned Art, Inc. in New York. Her book, The Expressionist Fritz Ascher, was co-edited with Ori Z. Soltes and published by Wienand in 2016. Raised in Germany and educated at Georg-August Universität Göttingen with an MA in Art History and Economics, she immigrated to the US in 1994. She worked at the Metropolitan Museum of Art and as an independent writer and curator. Rachel is a recipient of a 2002 NEA Grant and the 2017 Hans and Lea Grundig Prize.
The event is part of our monthly series
Flight or Fight. stories of artists under repression
Sponsored by Allianz Partners.
Share This