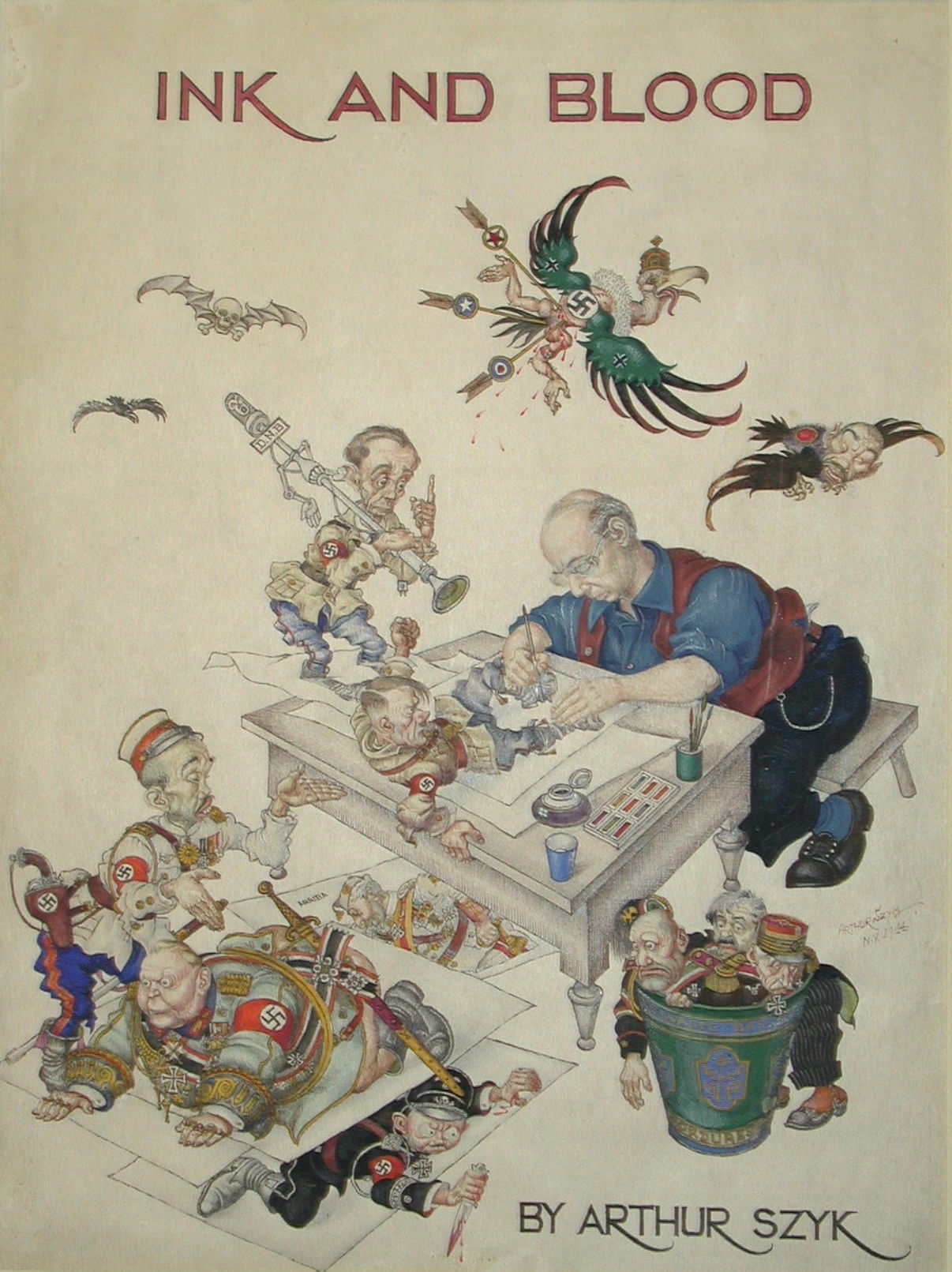 Cartoon Crusader:
Arthur Szyk's War against Nazism
Steven Luckert, Washington DC
April 7, 2021 @ 12:00 pm

-

1:00 pm

|

Free
During the first four decades of the twentieth century, Polish Jewish artist Arthur Szyk (1894–1951) was best known for his richly detailed book illustrations and magnificent illuminations on Jewish themes. He portrayed the Jews as a heroic nation that had resisted oppression through the ages and eventually triumphed. His Jews were fighters for their own freedom and the freedom of others. Szyk sought to redefine how the Jews viewed themselves and how others viewed them. His works thus challenged the notion that Jewish history was merely one long saga of suffering and, at the same time, refuted the then common antisemitic canard that the Jews were a cowardly people.
With the coming to power in Germany of Adolf Hitler in 1933, Szyk immediately perceived the threat that Nazism posed to the Jews and to the world. That year, he began using his pen to attack Nazi antisemitism and racism. When World War II broke out in 1939, Szyk devoted his energies to defeating Nazi Germany and its allies and calling the world's attention to the mass murder of Europe's Jews. His brilliant wartime cartoons and caricatures filled the pages of American newspapers and magazines, earning him a reputation as a "one-man army" in the Allied cause. His moving portrayals of Jewish suffering and heroism bespoke a political activism that demanded "action—not pity." By 1943, Arthur Szyk had become perhaps this country's leading artistic advocate for Jewish rescue.
IMAGE: Arthur Szyk, Ink and Blood, 1944. United States Holocaust Memorial Museum Collection, Gift of Joseph and Alexandra Braciejowski
Lecture featuring
Steven Luckert
Senior Program Curator, United States Holocaust Memorial Museum in Washington DC

Introduced by
Rachel Stern
Executive Director of the Fritz Ascher Society in New York
Steven Luckert is Senior Program Curator in the Levine Institute for Holocaust Education at the United States Holocaust Memorial Museum in Washington, DC. He served for 20 years as the Curator of the Museum's acclaimed permanent exhibition, The Holocaust. In addition, he curated eight special exhibitions, including The Art and Politics of Arthur Szyk and State of Deception: The Power of Nazi Propaganda. He has appeared in the following media outlets:  CSPAN, CNN, NBC Nightly News, Associated Press, Reuters International, History Detectives, The History Channel, Huffington Post, ZDF (German Television), PBS, Fox, The Washington Post, The New York Times, The Wall Street Journal, National Geographic Channel, National Public Radio, Telemundo, Iranwire, Al-Hura, The Atlantic, The Forward, Boston Globe, Cox News Service, USA Today, Jewish Telegraphic Agency, and Tass.  Steven Luckert received his Ph.D. in Modern European History from the State University of New York at Binghamton and has published on German history, the Holocaust, and Nazi propaganda.
The event is part of our monthly series
Flight or Fight. stories of artists under repression, which is generously sponsored by Allianz Partners.
Share This