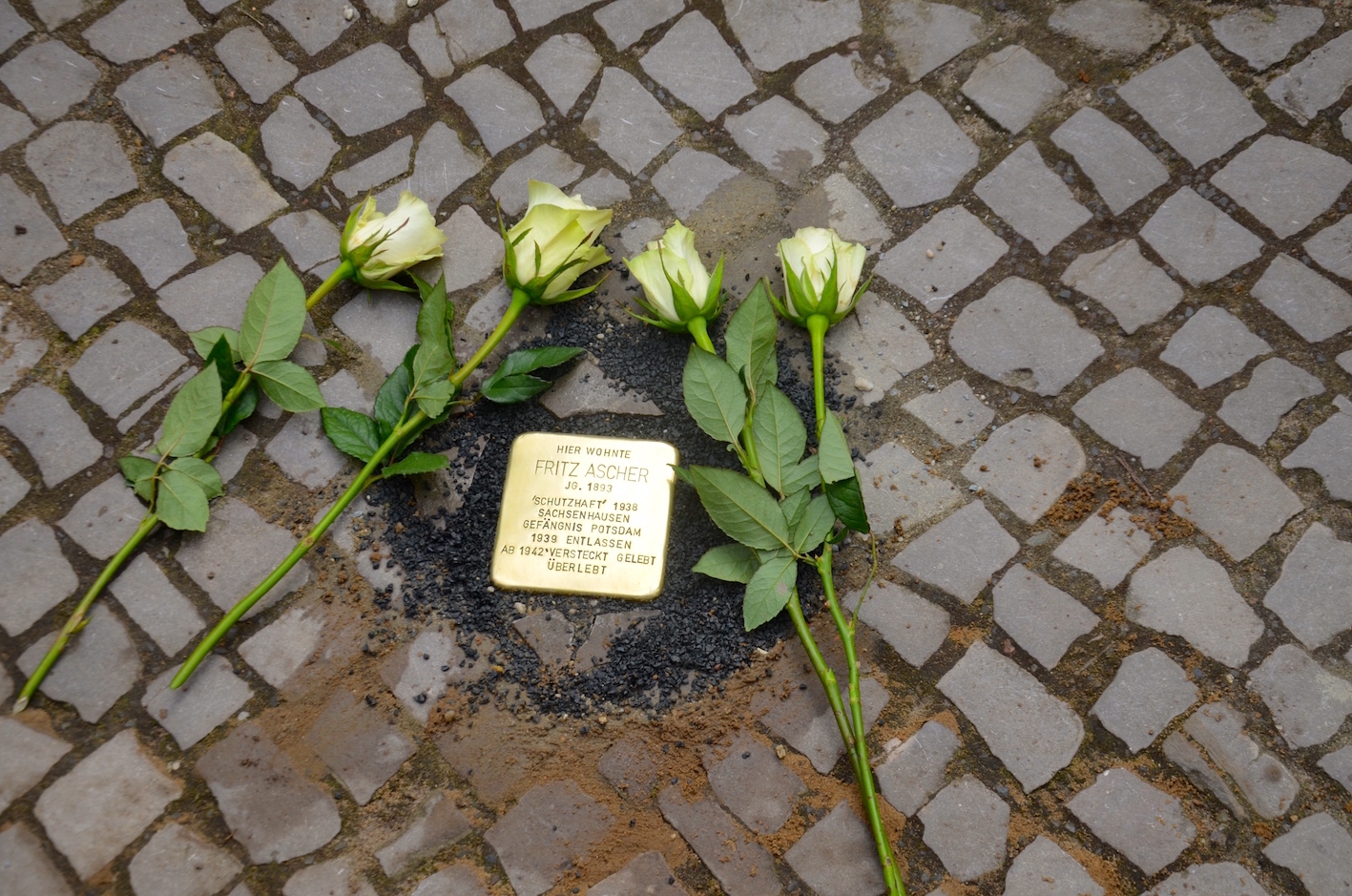 Ceremony placing "Stolperstein"
Niklasstraße 21/23, Berlin (Germany)
February 21, 2018 @ 11:00 am

-

12:00 pm
Ceremony placing "Stolperstein"
Niklasstraße 21/23, Berlin (Germany)
February 21, 2018, 11:00-12:00am
A "Stolperstein" (stumbling block) was placed as memorial in front of Niklasstraße 21/23 in Berlin-Zehlendorf, where Fritz Ascher's family lived from 1909
On Wednesday, February 21, 11:00am at Niklasstr. 21/23 in Berlin-Zehlendorf Fritz Ascher got a "Stolperstein" (stumbling stone):
"HERE LIVED
FRITZ ASCHER
BORN 1893
"PROTECTIVE IMPRISONMENT" 1938
PRISON POTSDAM
1939 RELEASED
FROM 1942 IN HIDING
SURVIVED"
"Stolpersteine" (stumbling stones) is a project of the artist Gunter Demnig. The project commemorates people who were persecuted by the German Nazis between 1933 and 1945.
"Stolpersteine ' are concrete blocks measuring 10 x 10 cm, which are laid into the pavement in front of the last voluntarily chosen places of residence of the victims of the Nazis. Their names and fate are engraved into a brass plate on the top of each "Stolperstein".
Since 1996, thousands "of Stolpersteine" were installed in Berlin. Today, "Stolpersteine" can be found in 1099 German cities and in 20 European countries. More information about this project can be found at https://www.stolpersteine-berlin.de/en.
I was touched by how many neighbors and friends from near and far came out into the chilly but sunny winter day to celebrate Fritz Ascher and recognize his persecution by the National Socialists by laying a "Stolperstein" (stumbling block) at Niklasstraße 21/23 in Berlin-Zehlendorf. Here, his family had lived from 1909. Thank you to the anonymous donor for making this event possible, to Dirk Jordan (AG Stolpersteine), Michael Rohrmann (Projekt Stolpersteine) and Wolfgang Ellerbrock for organizing it, to Cornelie von Bismarck for creating a beautiful context, and to Sabine Witt, director of Museum Charlottenburg-Wilmersdorf in Berlin and Jutta Götzmann, director of Potsdam Museum for supporting it. A special thank you to the students from Potsdam for reciting poems by Fritz Ascher – these and the speeches helped commemorate an extraordinary artist and human being, whose creative output in paintings, drawings, lithographs and poems is now accessible again.
Share This